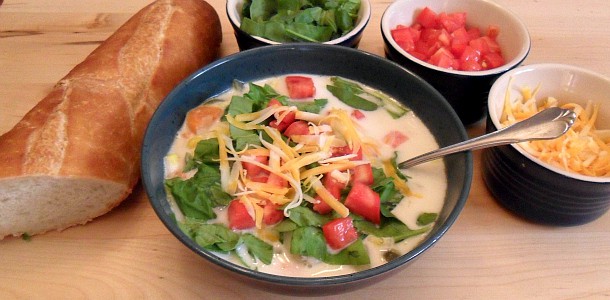 During the weeks and months before I bought my Bradley Smoker, I researched what kind I would get. I looked at the Big Green Egg brand and even considered building my own. I often thought of all the things I would smoke. I never realized that my absolute favourite thing to smoke in the summer of 2011 would be chickens!
I cannot recall if I ever had smoked chicken before. The first time I did it myself I was not only amazed at the mild smokey flavour but I also could not believe the bird was so moist. Smoked chicken has turned out to be the most tender and moist chicken I think I have ever had.
Throughout the summer, I have smoked chicken countless times. Also, the smoker can hold 8 (yes 8!) whole birds at a time. It is not uncommon for me to smoke a bunch and freeze some for a later date.
On Friday I walked the kids to school and it was a cool day here. There is no escaping the reality that summer is over, fall is on the way and winter as well! Experiencing the cool weather immediately gave me a craving for soup. I went into the freezer and pulled out some smoked chicken. I looked in the fridge and pantry and got an idea of the soup I wanted to create. My family loves cream soups that have a lot of chunky ingredients, so this one was an immediate hit! The garnish of tomatoes, spinach and cheese was a really nice touch.
If you want to make this recipe, smoked chicken is not necessary. The smokey flavour was awesome in the soup, but you could easily use roast chicken and I am sure it would come out great. This could be the perfect idea for leftover 'store bought' rotisserie chicken.
Smoked Chicken Chowder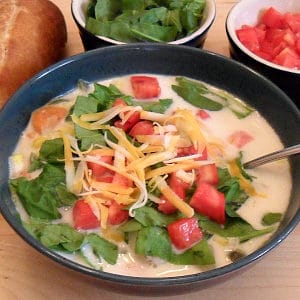 Print
A great soup for leftover roast or smoked chicken. Creamy, chunky and packed with flavour, this soup is the perfect meal for a cold fall or winter day.
Servings: 6 people
Ingredients
6 cups chicken broth
4 cups table cream
3 medium potatoes
1 onion , minced
2 carrots
2 jalapeno peppers
1/2 cups frozen corn
1 1/2 cups smoked chicken
salt
pepper
1 tomato
1 cup baby spinach
1 cup grated cheddar
Instructions
Get the ingredients ready first. Start by peeling and dicing the potatoes and carrots. Cut them so that they are 1/2 inch cubes. Dice the onion, seed and mince the jalapeno peppers and cut the chicken into small chunks.

In a large soup pot bring the broth to a boil. Add the potatoes, carrots, jalapeno peppers and onion. Cook the vegetables in the broth for 10 minutes. Add the chicken, salt and pepper and cook 15 minutes longer.

Pour in the cream and bring the soup back to a boil. Lower the heat to a simmer and cook for 15 minutes.

Ladle the soup into a bowl and garnish with fresh diced tomatoes, baby spinach, and grated cheddar.