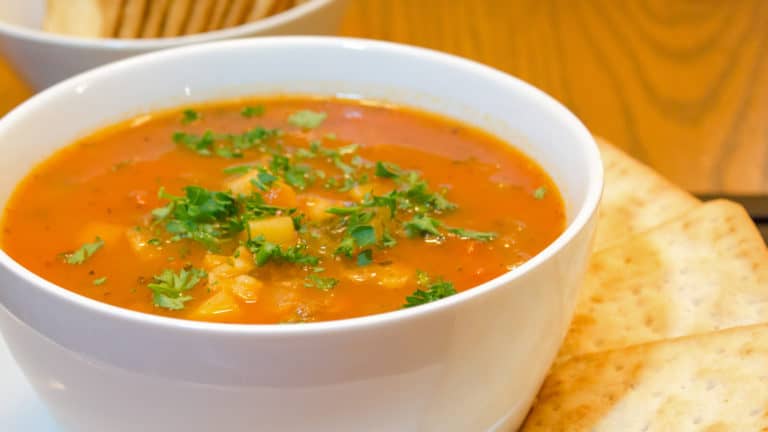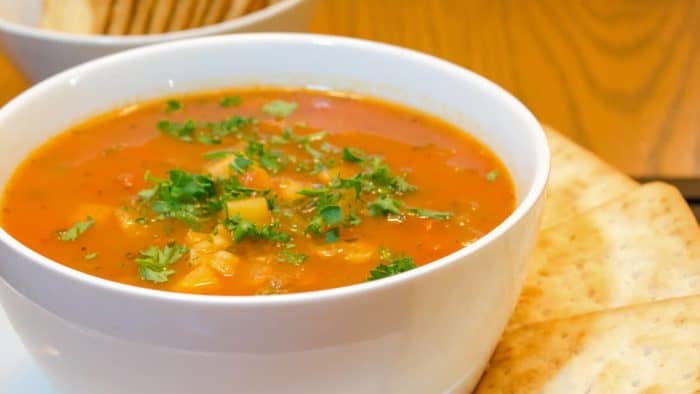 Sunday is the biggest sporting event of the year. The New England Patriots will face off against the New York Giants in the Superbowl. This is a rematch as they played each other in the 2008 Super Bowl. The Giants won then, spoiling the Pats perfect season.
The Patriots now have the opportunity to settle the score but Brady will have to come up big and the New England defense will need to figure a way to stop Eli, who seems to be the 3rd down hero! Either way, it looks like this is going to be a great game!
The regions where these teams are from are developing quite a rivalry now on the football field, but they have a long standing rivalry going back decades. This rivalry has nothing to do with football or sports.
Instead, New England and New York have been competing for many years over who has the best kind of clam chowder. New England is home to, what would arguably be the most popular kind, the cream based clam chowder.
The New York version, known as Manhattan clam chowder, has no cream but is a tomato based broth.
Each region will claim that theirs is the superior bowl of chowder.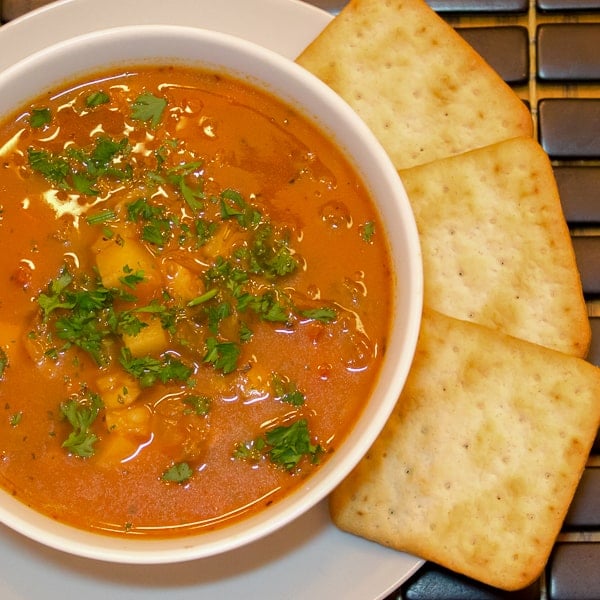 To settle the score I thought it would be good to lead into the Super Bowl football game with a Super Bowl Chowder Battle. The Patriots and Giants will battle it out on the football field and I will lead the battle in the soup bowl!
I must confess that, even though I regularly make soup, I have never made either kind of clam chowder. To prepare for this I have done plenty of research to understand the distinctions found in each.
Here is the link for the recipe for: New England Clam Chowder
Today's soup is the Manhattan Clam Chowder. I read over many different recipes and articles regarding what 'should' be in Manhattan clam chowder. After learning a great deal, here is my recipe for Manhattan Clam Chowder. I must say, it was incredible! Some people use fresh clams or clams in a can. There is an Asian grocery store near me and they sell bags of frozen clam meat. Each bag was about half a pound of clam meat. I tried these and it was easy and tasty! Fresh or canned would work great as well.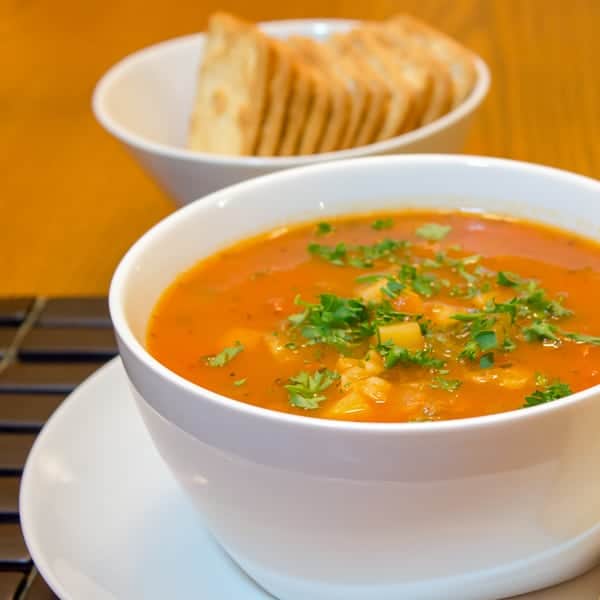 Manhattan Clam Chowder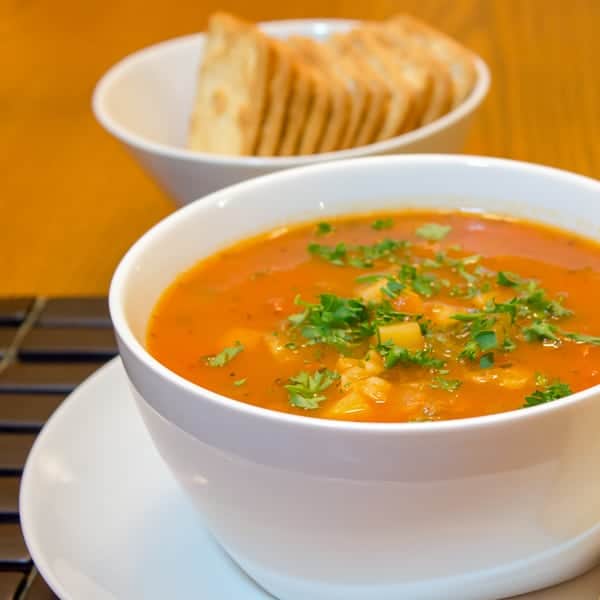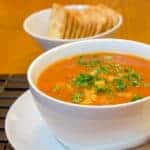 Print
This Manhattan version of clam chowder has a tomato broth with potatoes, celery and onions. You can use fresh, canned or frozen clams. The soup is easy to make and it tastes delicious!
Servings: 8
Ingredients
5 strips bacon
2 onion minced
2 celery stalks minced
3 cloves garlic minced
4 medium potatoes peeled and cubed
1 tsp thyme
1 tsp marjoram
1 tsp basil
1 tsp salt
1/2 tsp black pepper
6 cups water and/or clam juice
3 cups tomato juice
4 plum tomatoes diced
1/2 pound clam meat
1/4 cup fresh parsley chopped
Instructions
Cut the bacon into small pieces and fry in a large soup pot. Once the bacon is crisp remove about half of the drippings.

Add the onions, celery and garlic. Cook, stirring often, until the vegetables are soft, about 5 minutes.

Add the potatoes, spices, water/clam juice and tomato juice. Bring to a boil. Lower heat so that it is a low boil. Cook until the potatoes are tender, approximately 15-20 minutes.

Add the chopped tomatoes and clam meat. Cook for another 15 minutes.

A few minutes before serving, stir in the fresh parsley.