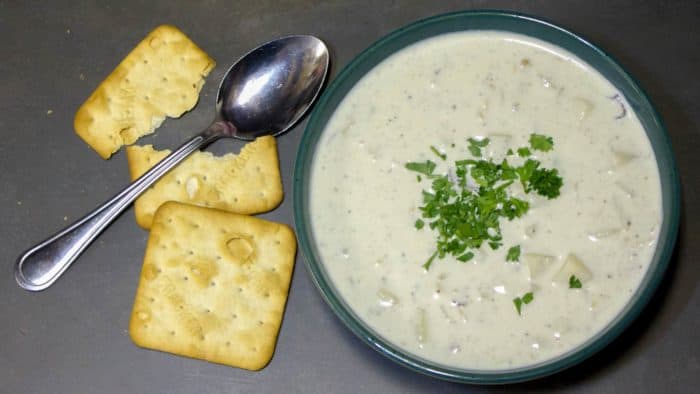 It is just a couple days away from Super Bowl XLVI (46 for those of us not used to Roman numerals!) I am stoked and cannot wait to watch it. I love that it is a rematch from the 2008 Super Bowl. I watched that game this past week to remind myself how the game played out.
I obviously remembered that the Giants won and spoiled the Patriots perfect season, but I forgot who scored when and how it all went down. It was fun to re-watch it and I am so ready for Sunday!
Yesterday we started the Super Bowl Chowder Battle. Both New England and New York have their own versions of clam chowder, each claiming to be superior.
These are drastically different tasting soups and first we looked at the New York version, called Manhattan Clam Chowder. It is a tomato based broth and even though it is not as popular as the New England variety, I must tell you, it does taste awesome. It is a hearty soup, reminiscent of tomato vegetable soup, but the flavour of the clams kicks it up. Check out the post yesterday to see the recipe.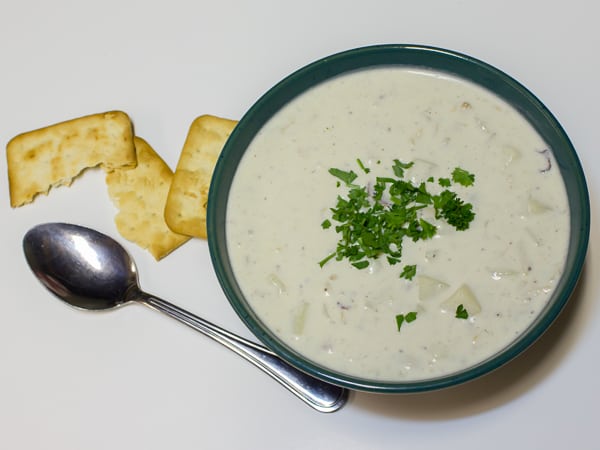 Today we are looking at the version of clam chowder that has more widespread exposure. When people think of clam chowder, most likely, this New England variety comes to mind. Where the Manhattan was a tomato based broth, this New England version is a cream based soup.
Some recipes on the net use milk, I on the other hand used heavy cream. I figure, if I am going to make the New England Clam Chowder, I am going to do it right. It was rich, creamy and delicious. I also minced the clams in this version compared to the clams being left whole in the Manhattan.
So, there you have it. New England and New York are battling it out in the Super Bowl on Sunday but they have been battling it out for chowder supremacy for much longer.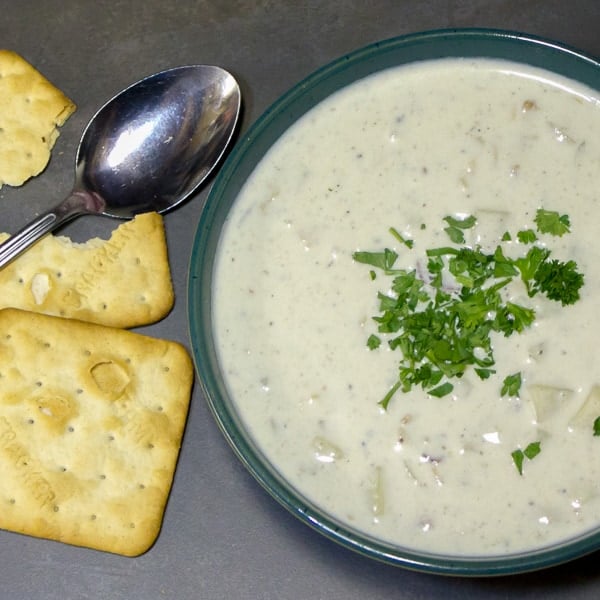 Which one gets your vote: The tomato based Manhattan that is packed with flavour or the New England that is rich and creamy?
New England Clam Chowder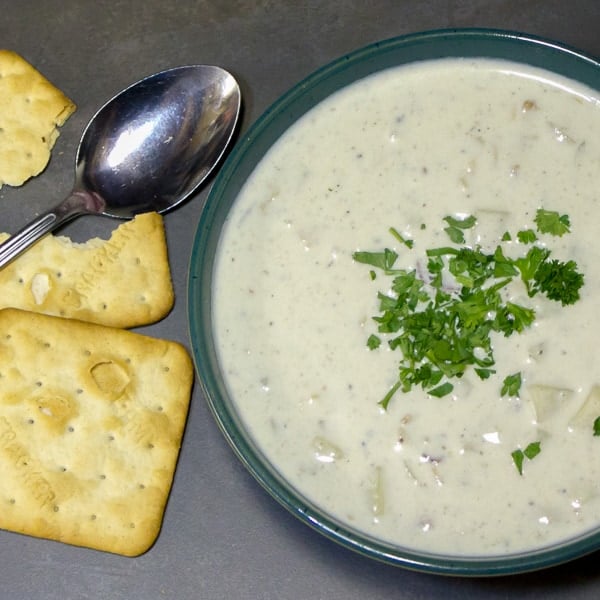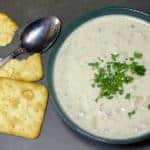 Print
This New England Clam Chowder soup recipe is rich and creamy. There are lots of minced clams and cubed potatoes in this hearty soup and the heavy cream make the broth silky smooth.
Servings: 8 people
Ingredients
5 strips of bacon
2 onion minced
2 garlic cloves minced
4 tbsp flour
6 cups water or clam juice
5 medium potatoes peeled and cubed
2 bay leaves
2 tsp salt
1 tsp pepper
1/2 pound clam meat minced
4 cups heavy cream
1/4 cup fresh parsley minced
Instructions
Cut the bacon into small pieces and fry in a large soup pot until the bacon begins to crisp.

Add the onions and garlic. Stir often so it does not stick to the bottom of the pot. After a couple minutes the onions should soften. Stir in the flour, mixing it with the bacon drippings, to make a roux.

Slowly mix in the water or clam juice. Bring to a boil and then throw in the potatoes. Lower the heat so that it is just hot enough to keep a very low boil. Cover the pot and cook until the potatoes are tender, approximately 20 minutes. Stir every few minutes to make sure nothing sticks to the bottom of the pot. If a lot of the water seems to be evaporating, add a bit more.

Once the potatoes are tender, stir in the bay leaf, salt, pepper and minced clams. Cook for 10 minutes.

Stir in the heavy cream. Heat the soup back up again but make sure is does not come back up to a boil.

Serve with some fresh chopped parsley.