Cream of Broccoli and Cheddar Soup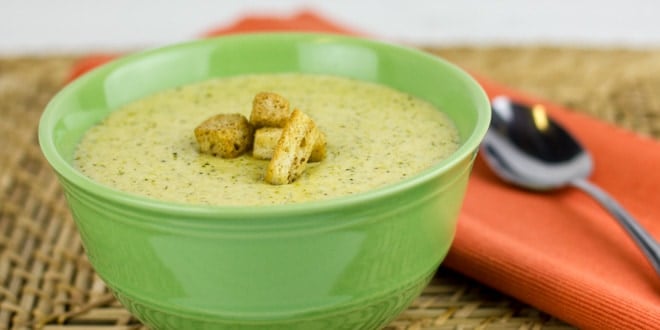 I love soup and it does not need to be a cold day for me to enjoy a warm bowl. My favorite lunch would be a nice bowl of soup with a small salad and I would enjoy that any day of the week, any month of the year! I feel a soup should be hearty and will fill you up. It can be a chunky broth based soup, a thick stew or chili. This soup is neither but instead is creamy, cheesy and totally comforting. I need to confess that I love cream soups. Cream of mushroom, potato, clam chowder, cream of cauliflower – I love them all!
One of my favorite cream soups is cream of broccoli. Broccoli works perfect in soup, because it is a mild flavor that does not dominate. Adding some grated cheddar is critical. I think cheese makes almost anything better. This is amazing before a meal or serve it with a salad, bun or garlic bread and it works even as the meal itself.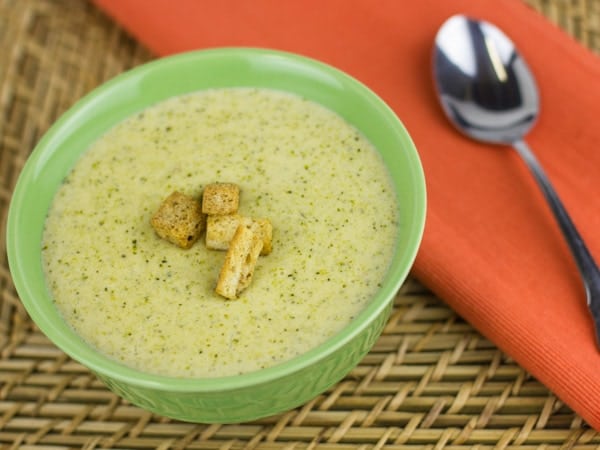 I used an immersion blender to puree the broccoli, but if you want a chunkier soup, a potato masher would also work. A stand blender is another option, but it might require you to work in batches.
This soup is perfect with something crunchy like crackers or croutons as seen in the picture.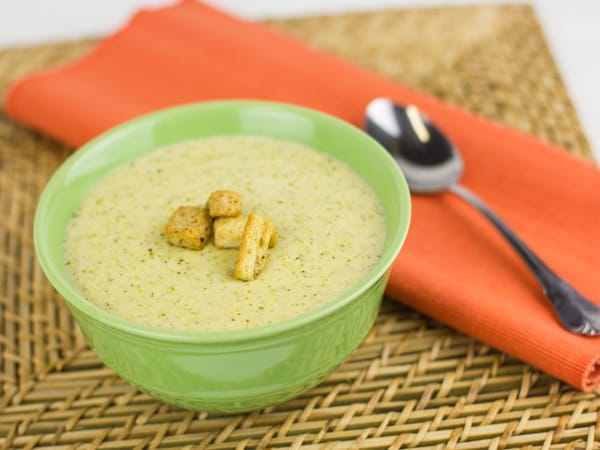 Cream of Broccoli and Cheddar Soup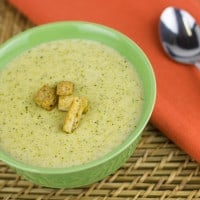 Print
Servings: 6 -8
Ingredients
1/3 cup butter
6 shallots , finely diced
2 garlic cloves , minced
1/3 cup flour
3 cups half and half (10% cream)
3 cups milk (I used 2%)
6 cups broccoli florets , chopped (about 3-4 heads of broccoli)
2 1/2 cups grated cheddar cheese
1 tsp salt
1/2 tsp pepper
Instructions
In a large pot, melt butter on medium high heat. Add shallots and garlic. Cook for 5-7 minutes, stirring until the shallots are cooked through and caramelized.

Lower heat to medium low and slowly whisk in the flour to create a roux. Cook, whisking constantly, for 1-2 minutes.

Slowly whisk in the half and half and the milk. Heat through until just before the boiling point.

Toss in the chopped broccoli and place a lid on the pot. Continue to cook until the broccoli is cooked through, about 30 minutes. During this time, make sure you are stirring the soup and scraping the bottom of the pan to prevent scorching.

Stir in the cheese, salt and pepper.

Using an immersion blender, break down the broccoli until it is a smooth, creamy soup. It is ok if there are a few small chunks of broccoli.