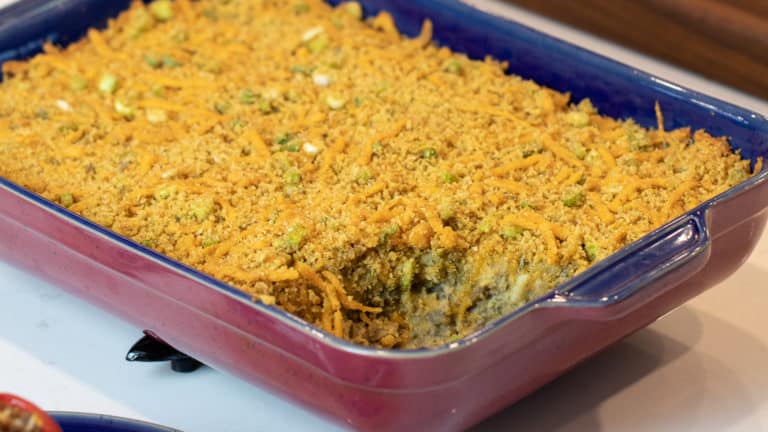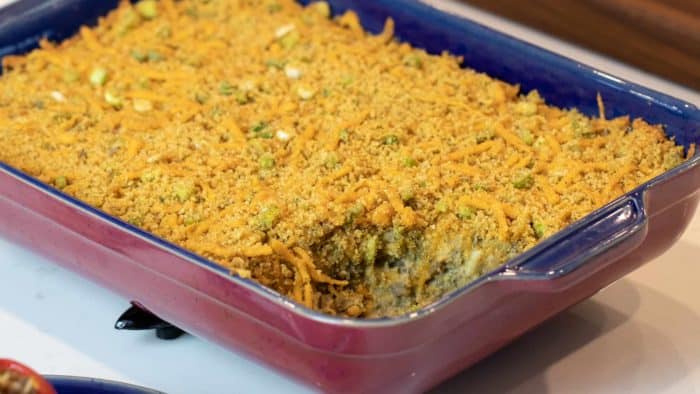 Over the last number of years I have enjoyed discovering popular dishes from around the world. One vegetable that surprised me as to its international popularity is eggplant. Eggplant is popular in Thai, Indian, Egyptian and Chinese cuisine along with other regions. I always thought that eggplant was hated everywhere but instead it is common and loved.
I remember seeing eggplant as a child. I was not interested in eating it at all! There were some vegetables that I would eat – I was a fairly adventurous kid when it came to eating – but eggplants did not make the cut. I know that I am not alone. It seems that eggplant is generally hated among many people in North America.
Personally, I think it is because people do not know how to cook it. It does not have a dominant taste like some other vegetables (brussel sprouts anyone??), eggplant can actually take on the taste of whatever it is cooked with.
Many moons ago, as a child, my mom made a casserole with eggplant that forever changed my opinion of the vegetable. The recipe came out of a cookbook my parents purchased on a trip in the southern United States The cookbook, likely out of print, is called The Gulf Gourmet. I also have a copy and it has some great dishes.
This recipe is adapted from the one my mom used to make. It is creamy, cheesy and totally delicious. The base filling is made with sautéed eggplant, onions and mushrooms mixed with cream of mushroom soup and bread crumbs. I love veggie casseroles with cream of mushroom soup!
The casserole is topped with a buttery crumble that has cheddar cheese and green onions. Not only is the base filling super tasty, but the topping is addictive.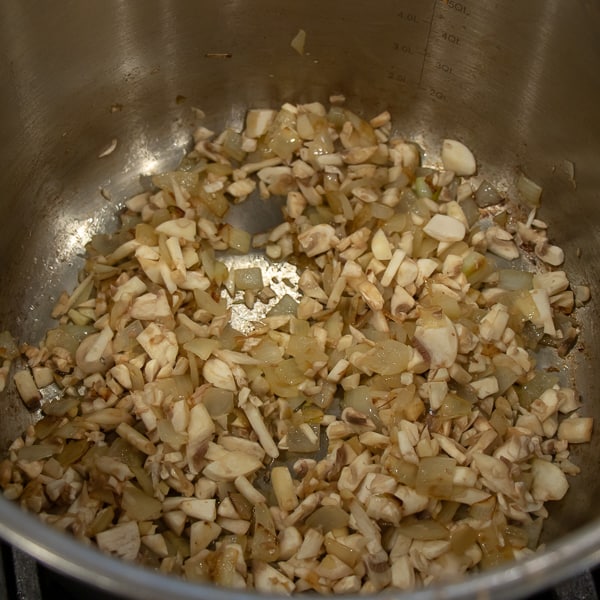 Get this casserole started by sautéing the onion, garlic and mushrooms with the butter in a large saucepan over medium to medium low heat. Keep stirring so they don't scorch or stick to the bottom of the pan.
Cook for 6-8 minutes, or until the vegetables are tender, the onions are transparent and just starting to brown and caramelize.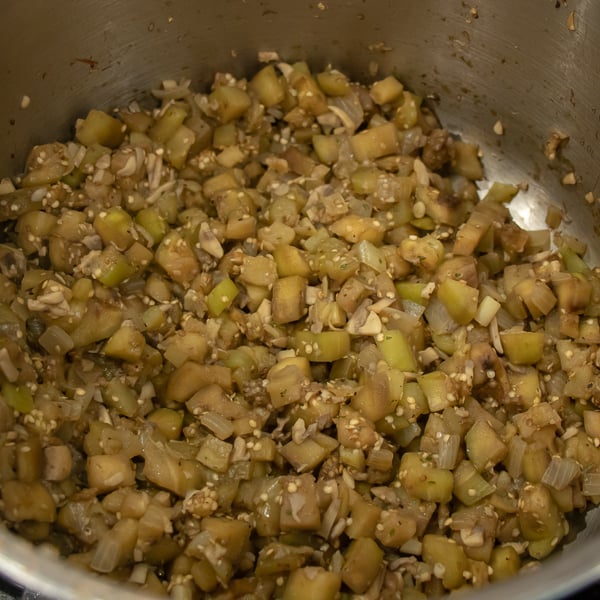 Once the onions are transparent, add the eggplant and water. The water gives some moisture which helps the eggplant almost steam as the sauté.
Make sure to keep stirring the eggplant so all the pieces cook. You will notice the colour of them change as they cook and they will reduce in size by almost half. This takes 10-15 minutes.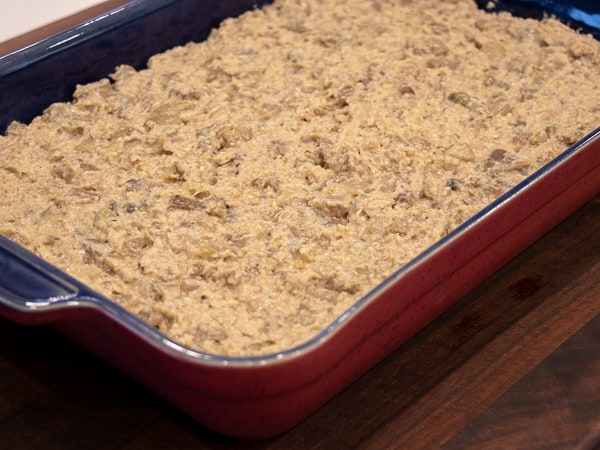 Mix the sautéed vegetables with the bread crumbs and spices. In a separate bowl, whisk together the cream of mushroom soup and the milk. Stir until smooth and there are no more chunks of condensed soup.
Pour the soup and milk in with the eggplant mixture and stir well so that it is evenly incorporated. Dump the mixture in a large baking dish. I use a rectangular lasagna dish.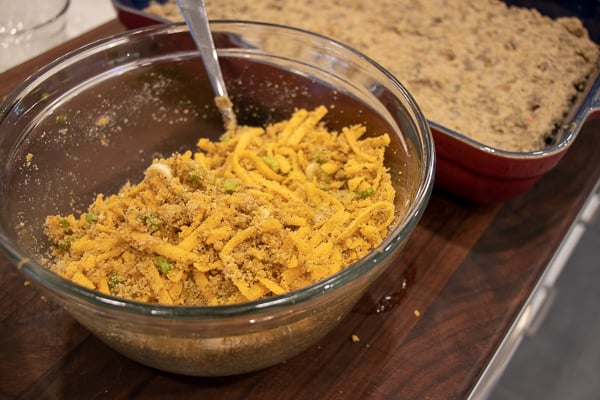 Now it is time to make the crumble topping.
First, pour the melted butter in with the bread crumbs and stir until the butter is soaked into the bread crumbs. They will be wet and clumpy but still crumbly.
Next, stir in the grated cheddar cheese and sliced green onions.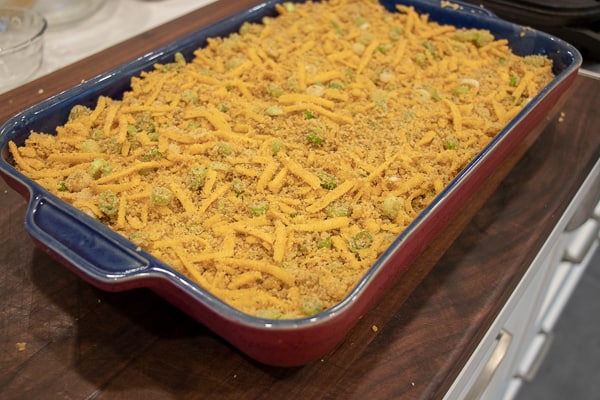 Evenly spread the crumble topping all over the egg mixture.
Now it is ready to go in the oven. Bake in a 350F preheated oven for 30 minutes.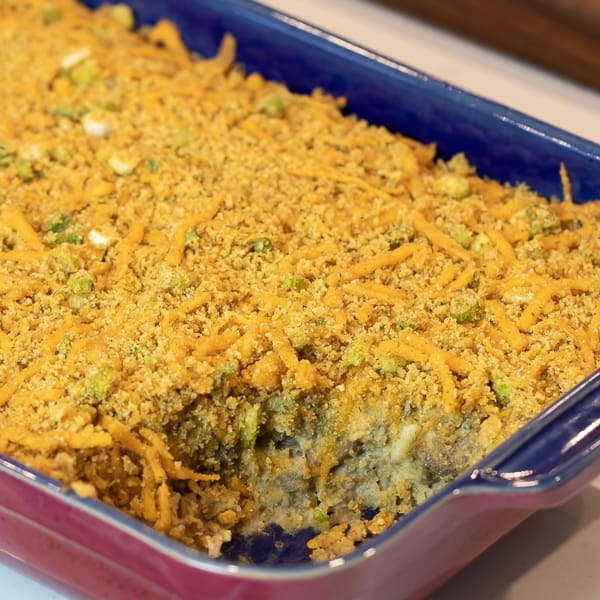 This dish is so good! The eggplant filling is creamy and a great way to cook eggplant. The topping is incredible. It is buttery, cheesy and I love the green onions!
Be careful, you may find yourself scraping some extra topping onto your plate. It is THAT good!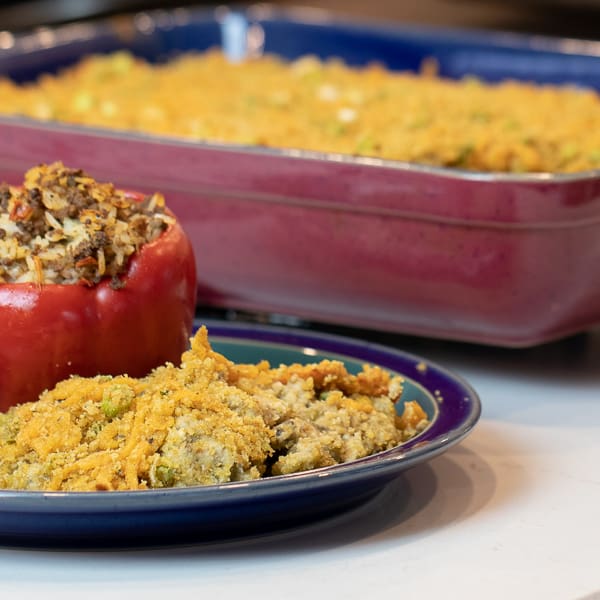 Whether you are a fan of eggplant or not, I would highly encourage you to give this casserole a try. It tastes fabulous and it might change your opinion of the vegetable, like it did to me.
It is a great vegetable side that goes great next to many other dishes. Here are some recipes that complement this eggplant casserole very well.
Baked Eggplant Casserole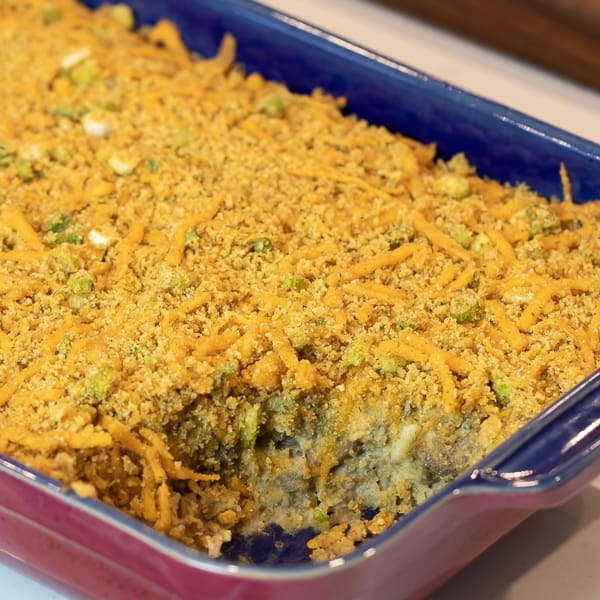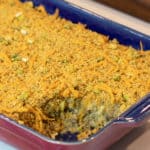 Print
Easy baked cheesy eggplant casserole recipe. How to make with cream of mushroom soup and baked with cheddar cheese, bread crumbs and green onions.
Servings: 8
Ingredients
3 tbsp butter
1 medium onion diced
3 cloves garlic minced
5 fresh mushrooms diced finely
8 cups eggplant peeled and cubed
1/2 cup water
1 tsp salt
1/2 tsp black pepper
1 tsp parsley
1 1/2 cups bread crumbs
2 cans cream of mushroom soup
1 cup milk
Topping
1/2 cup melted butter
1 cup bread crumbs
2 cups cheddar cheese grated
5 green onions sliced
Instructions
Melt butter over medium heat in a large saucepan.

Add the onions, garlic and mushrooms and sauté until tender, about 6-8 minutes.

Add in the cubed eggplant and water. Cook, stirring often until the eggplant are cooked. This should take 10-15 minutes and the eggplant will reduce in size by around half.

Remove from the heat and mix in the salt, pepper, parsley and bread crumbs.

In a separate bowl, whisk together the cans of cream of mushroom soup with the milk until smooth. Pour in with the eggplant mixture and stir until well combined. Spread the mixture in a large baking dish like a lasagna pan.

In a separate bowl, stir together the bread crumbs and melted butter. The bread crumbs should absorb the butter but still have a crumbly consistency. Mix in the grated cheddar cheese and sliced green onions. Sprinkle the cheesy crumble on top of the eggplant mixture.

Bake in a 350F oven for 30 minutes.

Serve