Herb and Garlic Roasted Potatoes
These oven roasted 'home fries' are the perfect potato side dish. The herb and garlic seasoning makes these crispy potatoes pop with flavour!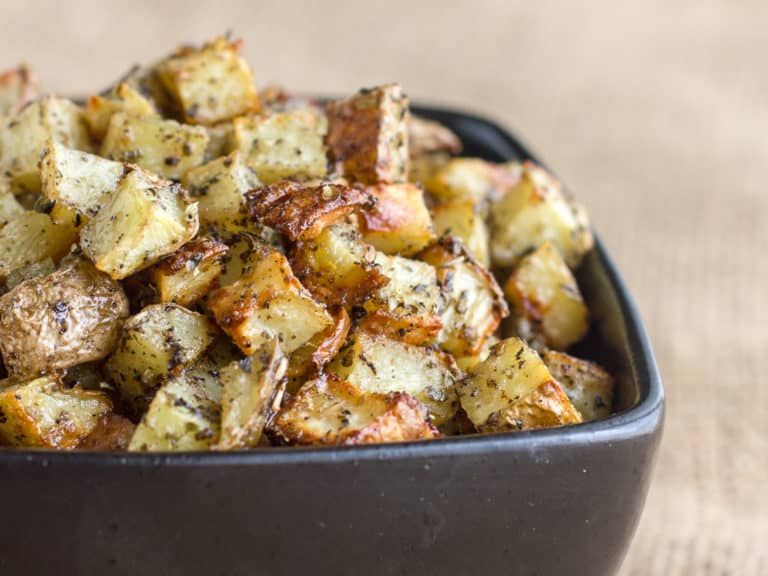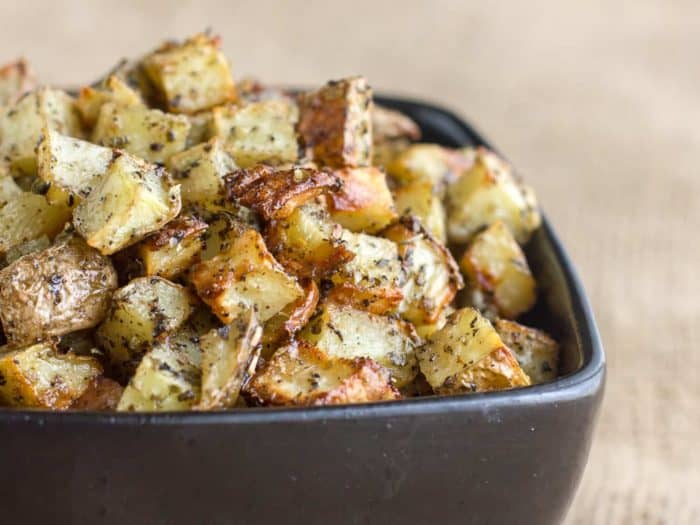 Oven roasted potatoes is such a popular side dish! If you have ever wondered how to roast homemade hash brown style potatoes, then this dish is for you! Potatoes are so common, probably cause they are so versatile. You can do so many things with them, from mashing, boiling, frying, baking and more.
Easily one of my favourite ways to cook potatoes is by roasting them. My favorite way to roast them is by cubing the potatoes and then tossing the cubes in oil and whatever seasoning mixture you might be using. Then I lay them on a baking sheet and roast them at 400F for 45 minutes to an hour, flipping after about 25 minutes.
Potatoes roasted this way come out similar to french fries or hash browns and are crispy on the outside but soft and fluffy in the middle.
The seasoning in today's recipe is an herb and garlic mix, which give the potatoes a bright flavour. They go great with chicken, pork, beef ….. well, pretty much anything!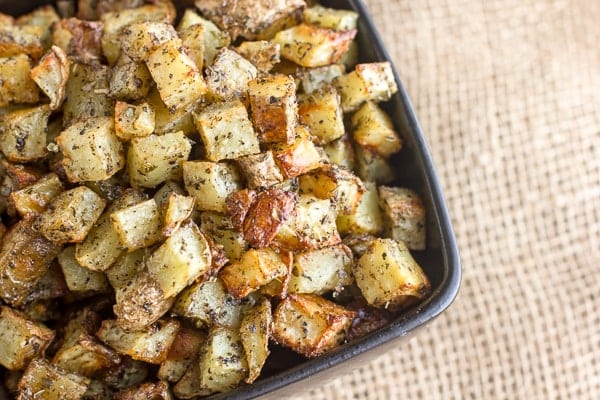 I cut the potatoes into cubes that are a little bit less that 1 inch in size. This way, they are able to not only cook up well, but crisp the outsides.
It is best to toss the potatoes mid way through the roasting. But, definitely wait for a good 25-30 minutes before flipping. This allows the bottom of the potato cubes to crisp up before flipping. If you flip them too soon, they might crumble.
The seasoning is bright and full of flavour. The first few times I made these I didn't use onion powder in the mix, but the last couple times I did and I was surprised how much it added to the flavour.
I served these potatoes with some sloppy joes and they were amazing. I always forget how quickly they disappear. I need to make a double batch next time!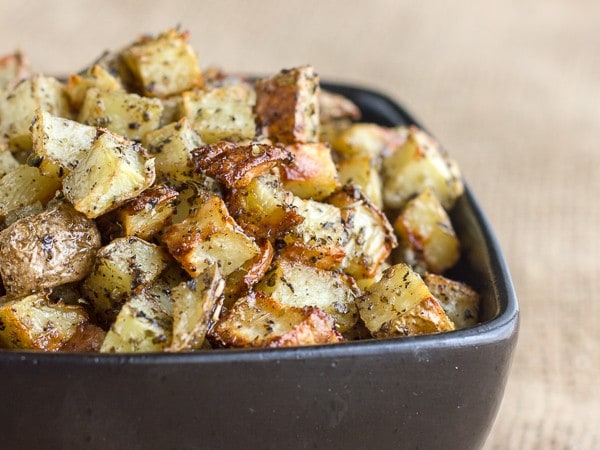 The best way I find to roast the potatoes is to use parchment paper. This ensures that the potatoes do not stick to the baking sheet. I keep stock of parchment paper on hand all the time cause I use it so much!
After the hour, the potatoes are so crispy and delicious. They will be very popular to anyone you serve them to. I know that my family loves them and they are gobbled up super fast.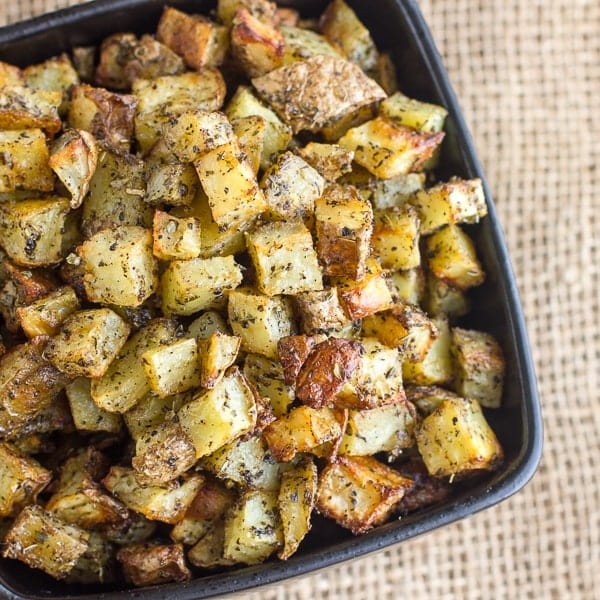 Other Roasted Potato Recipes
Herb and Garlic Roasted Potatoes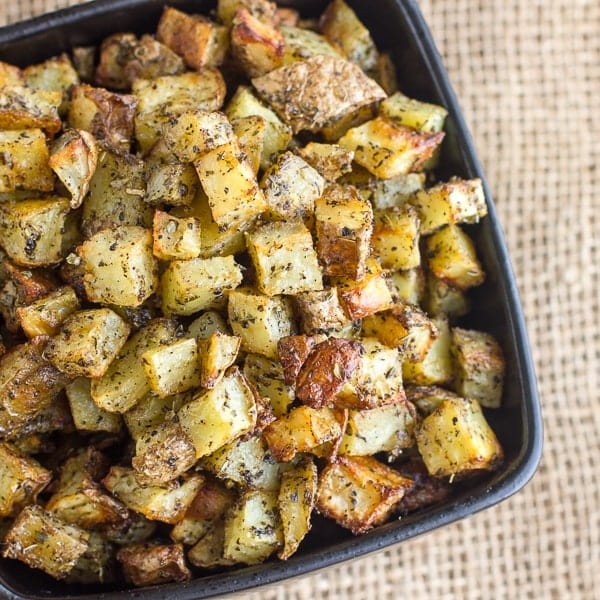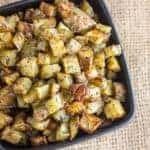 Print
Oven roasted hash brown potatoes with an herb and garlic seasoning. Crispy and delicious. Great with russet, yellow, red and many other potatoes.
Servings: 4 people
Ingredients
5 medium potatoes
1/3 cup oil
1 tsp onion powder
1 1/2 tsp garlic powder
1 tsp oregano
1 tsp basil
2 tsp salt
Instructions
Scrub the potatoes thoroughly and cut roughly into 1 inch cubes.

Toss with the remaining ingredients and spread on a baking sheet.

Bake in a 400F oven for 45 minutes to 1 hour, flipping/turning them 25 minutes into cooking time. Potatoes are finished after they are cooked through and starting to brown around the edges.
Nutrition
Per serving:
Calories: 326.2kcalCarbohydrates: 34.68gProtein: 7.13gFat: 18.97gSaturated Fat: 1.46gSodium: 1190.53mgFiber: 7.05gSugar: 0.08g