Every spoonful of this soup is packed with flavours. This is great served with tortilla chips and a lime wedge!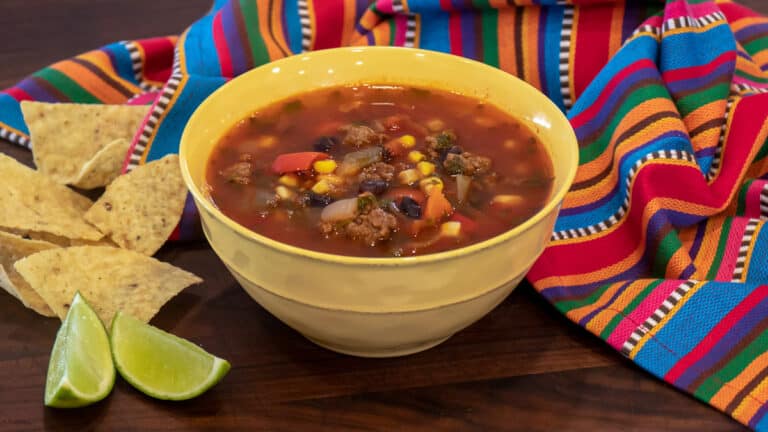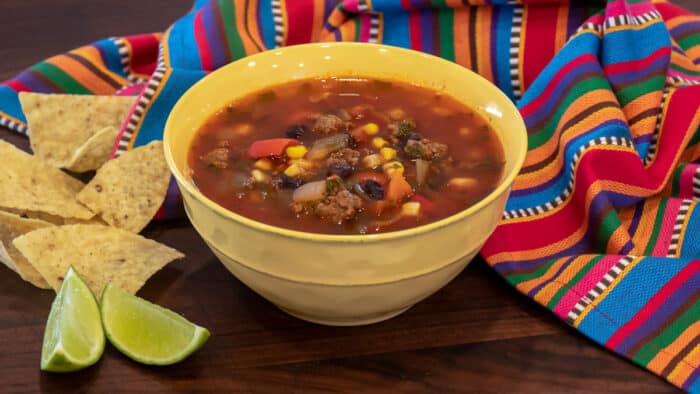 During cold months, I make big pots of soup all the time. Not only is a warm bowl of soup comforting on a winter day, it is also economical and can feed a crowd.
Today's recipe is one of my favourite soups that I make. Our family loves the flavours in Mexican cuisine so this soup is always popular at our house. This soup has ground beef, black beans, corn, tomatoes and Tex Mex spices. It is so good!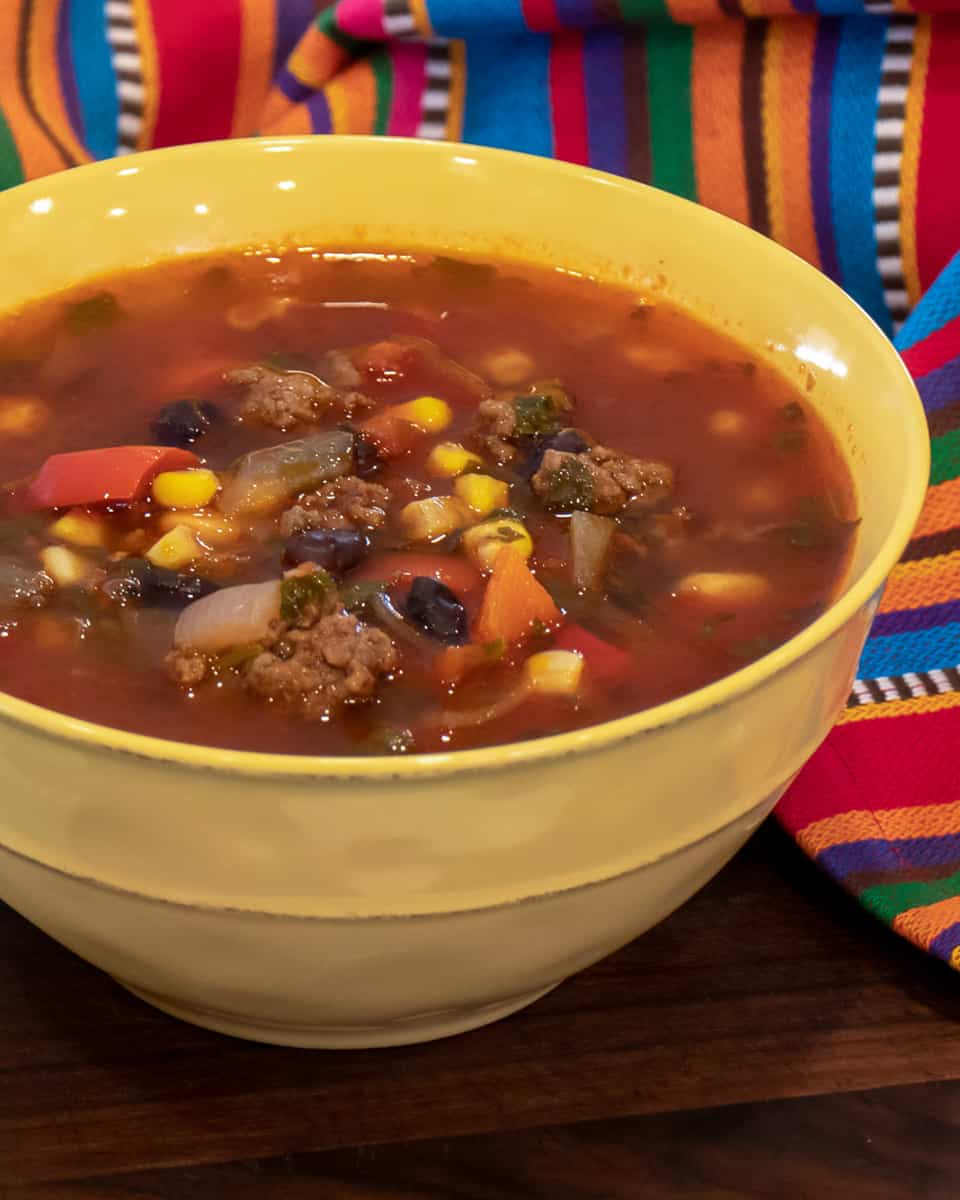 Ingredients You Will Need
ground beef
onion
red pepper
garlic
corn
black beans
can of diced tomatoes
tomato paste
vegetable or chicken broth
spices
hot sauce
cilantro
Expert Tip! This is not the first Mexican style soup on the website. While this soup uses ground beef, there is also a version that uses chicken and it can be found here: Chicken Tortilla Soup
How To Make Mexican Soup
To get started on the soup, the first thing you need to do is brown the beef in a large soup pot. Once browned, drain the grease.
Add the diced onion, pepper and garlic. Cook, stirring often, for 5-7 minutes, or until the vegetables are cooked and soft.
Expert Tip! Any time I am making soup, I like to make a big pot because it is so great for leftovers. The photos of this soup are actually the recipe doubled. Since I figured not everyone would want such a big pot of soup, I made the recipe half the amount I normally make. If desired, feel free to double it as well!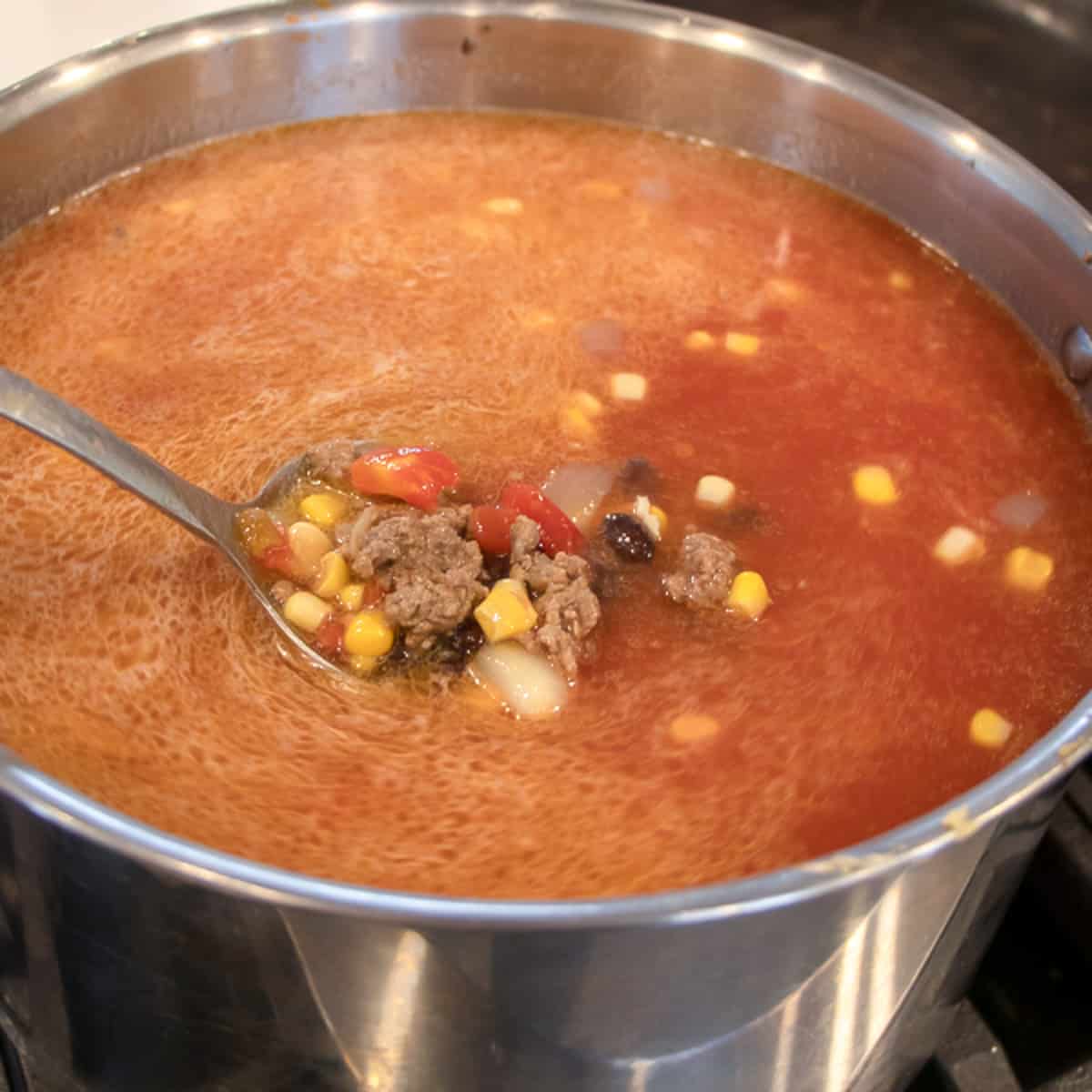 Add the remaining ingredients and bring to a boil. Once the soup starts to boil, lower the heat so that it is just barely boiling. Let the soup simmer for a good hour. This draws all the flavours together for a delicious soup.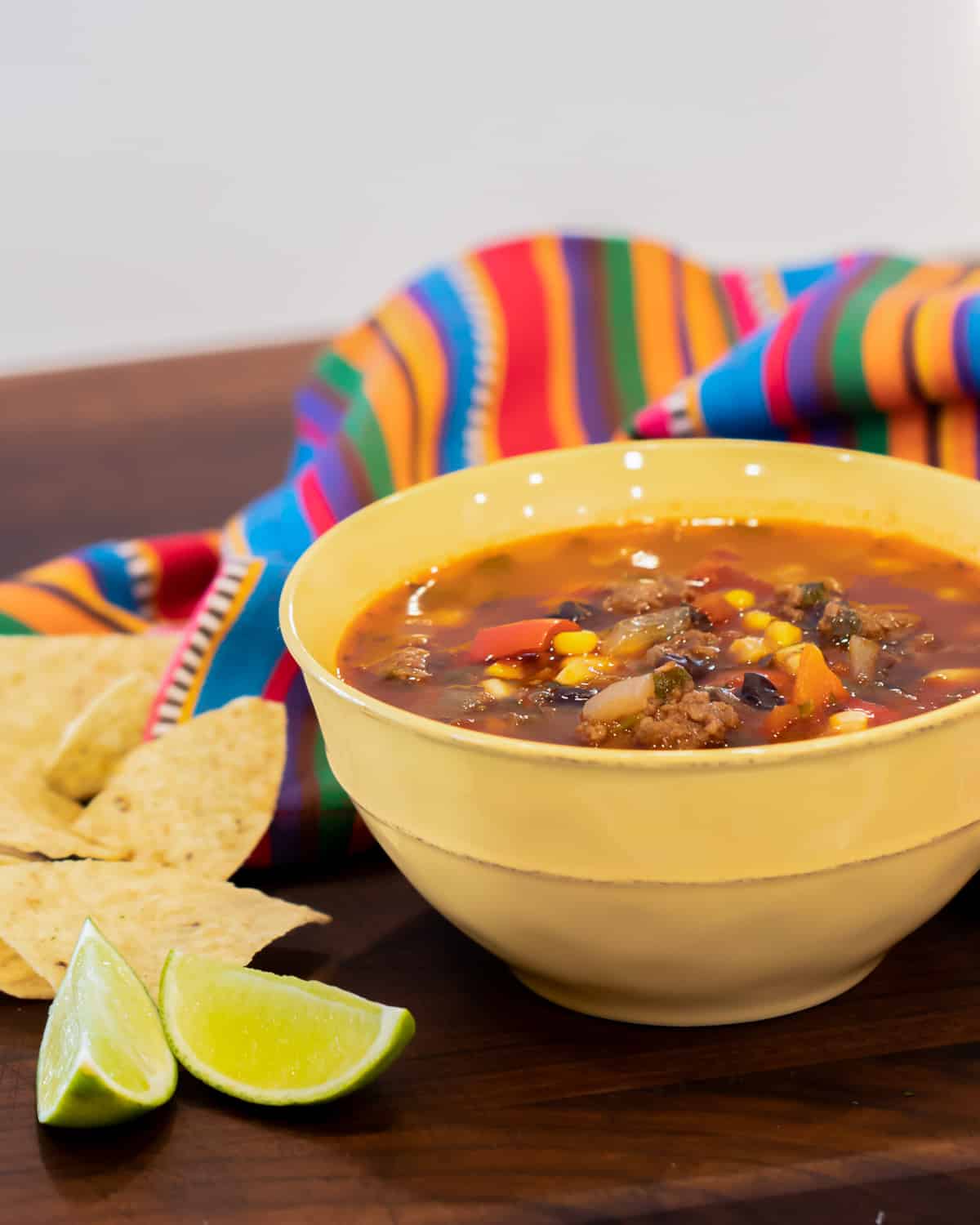 Ladle the soup into a bowl and serve. If desired, you can squeeze a little fresh lime juice on top.
This soup is excellent on a cold winter day and is excellent with crumbled crackers or tortilla chips in the soup.
Mexican Soup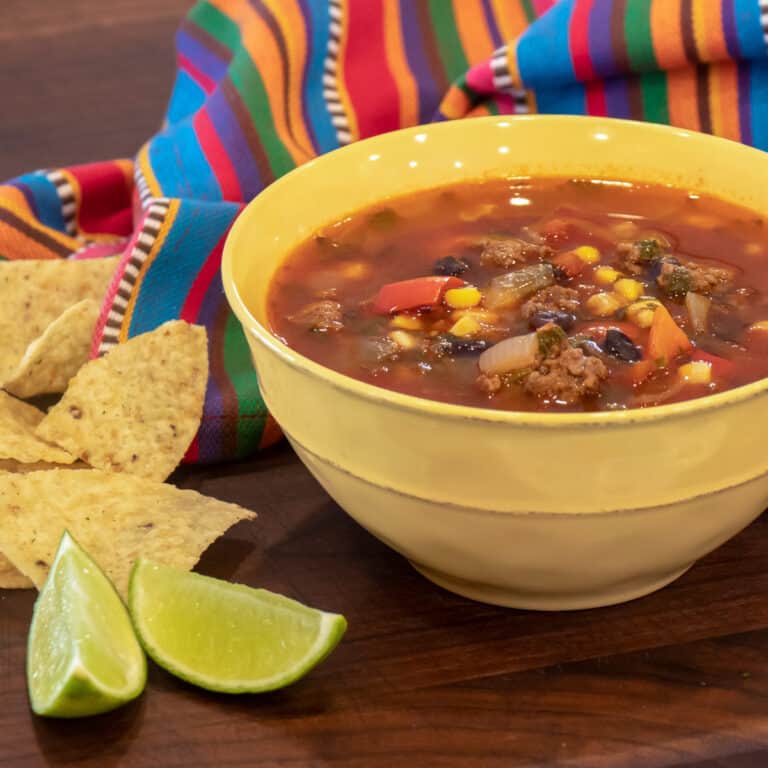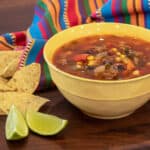 Print
Easy to make recipe for soup full of Mexican inspired flavours. Ground beef, tomatoes, black beans, corn chili powder and more.
Servings: 8 servings
Ingredients
1 pound ground beef
1 medium onion peeled and diced
1 red pepper cored and diced
2 cloves garlic minced
1 1/2 cups frozen corn
1 can black beans rinsed and drained
8 cups vegetable broth or water
3 tbsp tomato paste
1 28oz can diced tomatoes
1 1/2 tbsp chili powder
1/2 tsp ground cumin
1/2 tsp salt
2 tsp hot sauce more or less depending on heat preference
1/3 cup fresh cilantro minced
Instructions
Brown beef in a large soup pot over medium heat. Drain grease.

Add the onion, pepper and garlic and stir. Cook until the onions are transparent, approximately 5-7 minutes.

Add remaining ingredients and bring to a boil. Lower heat to a simmer so that the soup is just barely boiling.

Cook for an hour on low, stirring often, ensuring that nothing sticks to the bottom of the pan.
Nutrition
Per serving:
Calories: 182.13kcalCarbohydrates: 22.1gProtein: 16.77gFat: 3.59gSaturated Fat: 1.42gCholesterol: 35.15mgSodium: 1225.02mgFiber: 4.9gSugar: 4.08g