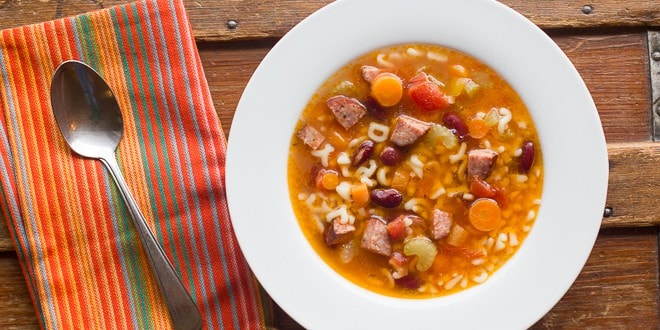 Soup is the perfect meal on those cold wet days and that is exactly what we have been experiencing for what seems like weeks. I always find that cold rain can chill you right to the core and soup is a great way to warm up those bones. One of my favourite soups is minestrone. Very delicious and full of hearty healthy ingredients.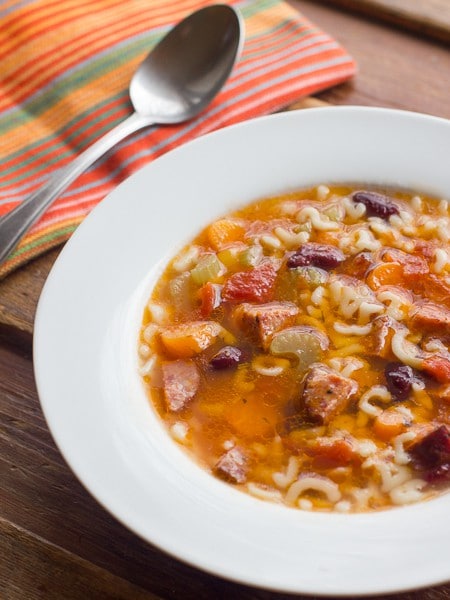 Every time I make minestrone it is different. That is the great thing about a soup like this. I have used kidney beans, black, romano and black eyed peas. There are many different options for veggies from carrots, corn, peas, cabbage and even zucchini. For pasta, all that I try to do is make sure that it is small pasta, good for scooping with a spoon. So, alphabet, mini shells and macaroni all work great.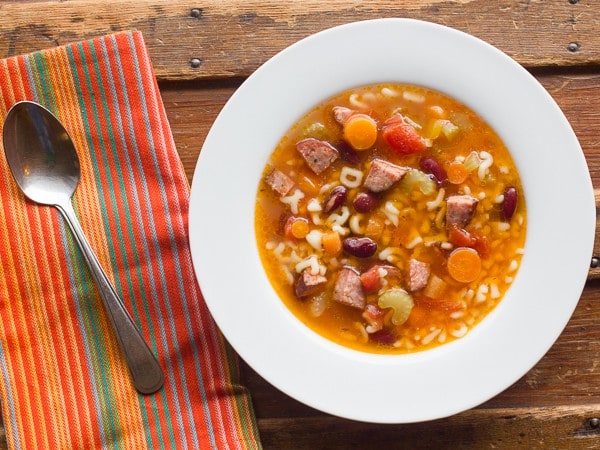 Kielbasa Minestrone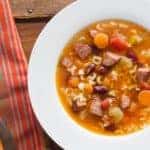 Print
Ingredients
1 1/2 pound kielbasa , cut into small chunks
2 onion , diced
4 celery stalks , diced
2 cups diced carrots
1 can (28 oz) crushed tomatoes
12 cups of chicken broth (or more if needed)
1 can kidney beans , drained
2 bay leaves
1 tsp dry thyme
1 tsp oregano
salt and pepper to taste
2 cups dry pasta (small shapes for soup like alphabet, macaroni or mini bows)
Instructions
In a large soup pot, heat oil and add kielbasa, onions, celery and carrots. Cook on medium heat until the onions are transparent and carrots are getting soft. Add the crushed tomatoes, broth and beans and bring to a boil.

Lower heat to a simmer so that the soup is just barely boiling. Add the herbs, salt and pepper and let the soup cook for about 20 minutes.

Stir in the pasta and let the soup cook until the pasta is tender, about 10 minutes. Check the thickness of the soup and add a bit more broth or water if needed.