Rotisserie Chicken Minestrone Soup
This minestrone soup is a perfect way to use some leftover rotisserie chicken. It is perfect for a fall or winter meal!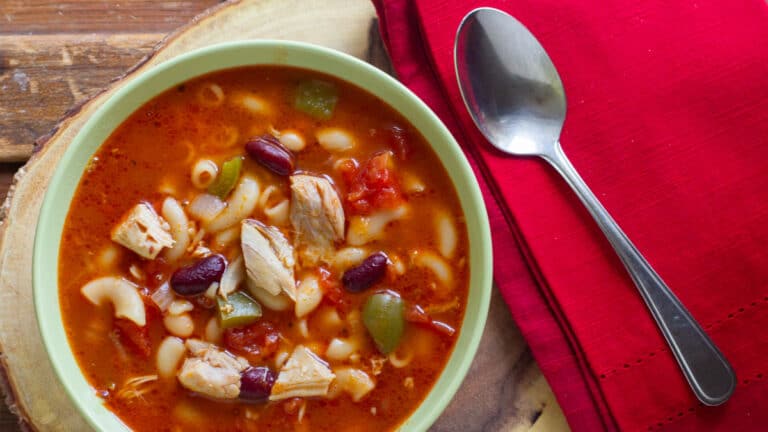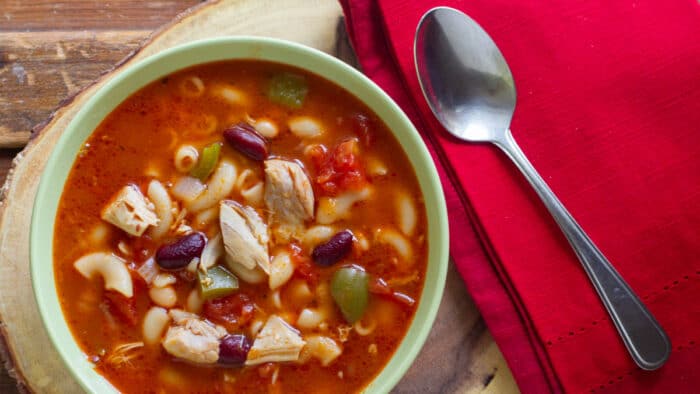 Leftover rotisserie chicken is a regular occurrence in our home. We love buying the rotisserie chicken from local supermarkets. They allow you to make a quick dinner and the chicken meat can be used in wraps, chicken caesar salad, chicken salad sandwiches and more.
Making some soup with the chicken carcass is an excellent way to stretch a rotisserie chicken into another whole meal. I am always looking for ways to make our groceries go further, and making soup from roast chicken, ham bone or lamb bones is a great way to get more out of your groceries.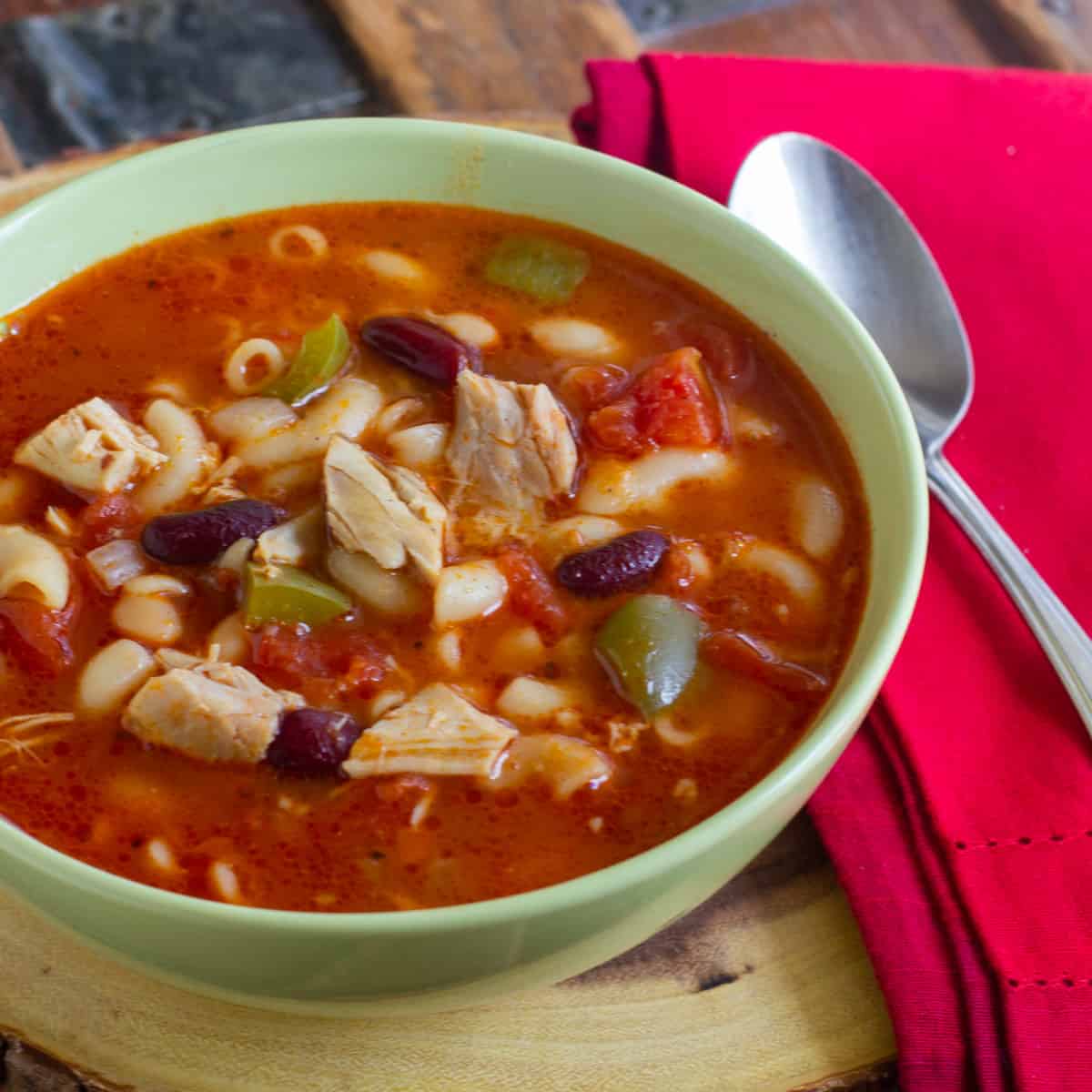 There are many different chicken soups that I have made with leftover rotisserie chicken. I love this minestrone soup because it is hearty and has a great combination of ingredients. Chicken, vegetables, beans and pasta are all part of this super healthy soup!
How To Make Chicken Stock
The first step in this soup is to make a nice chicken stock. That is what makes the carcass of a rotisserie chicken so great for this soup.
Bringing a stock pot full of water to a boil with the carcass and letting it simmer for a good 1 1/2 hours provides a wonderfully rich chicken broth that is better than any store bought chicken stock you could buy.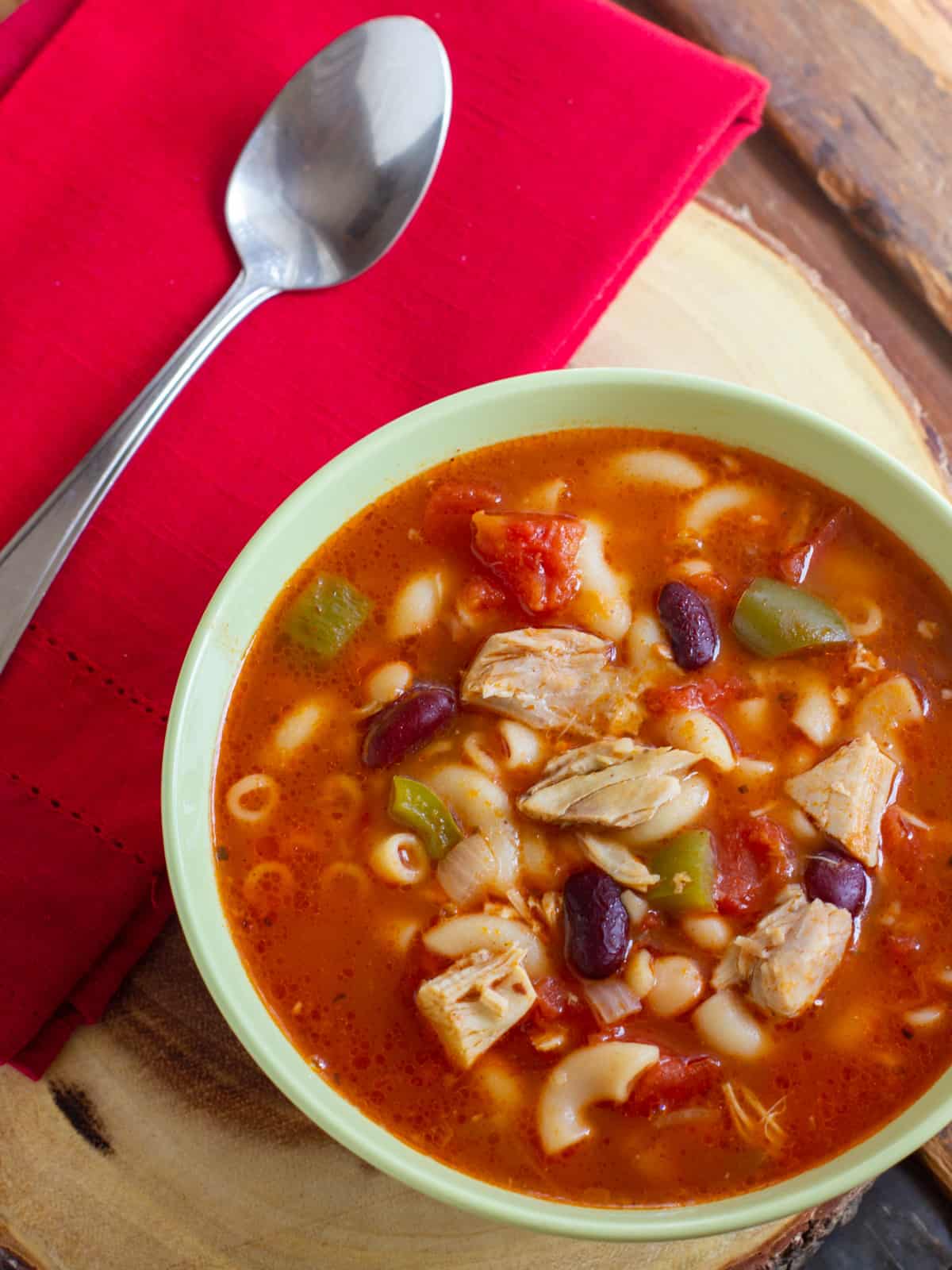 Once the chicken stock is made, remove the carcass and strain any loose chicken pieces out of the broth. Add everything else, minus the macaroni noodles and bring the broth back to a boil.
Once it is at a boil, lower it to a low simmer and cook for another 30 minutes. Stir in the macaroni noodles and cook a bit longer until the noodles are tender. Then your soup is ready to serve.
It is that easy!
Other Great Soup Recipes
Rotisserie Chicken Soup Recipe - Minestrone Noodle Style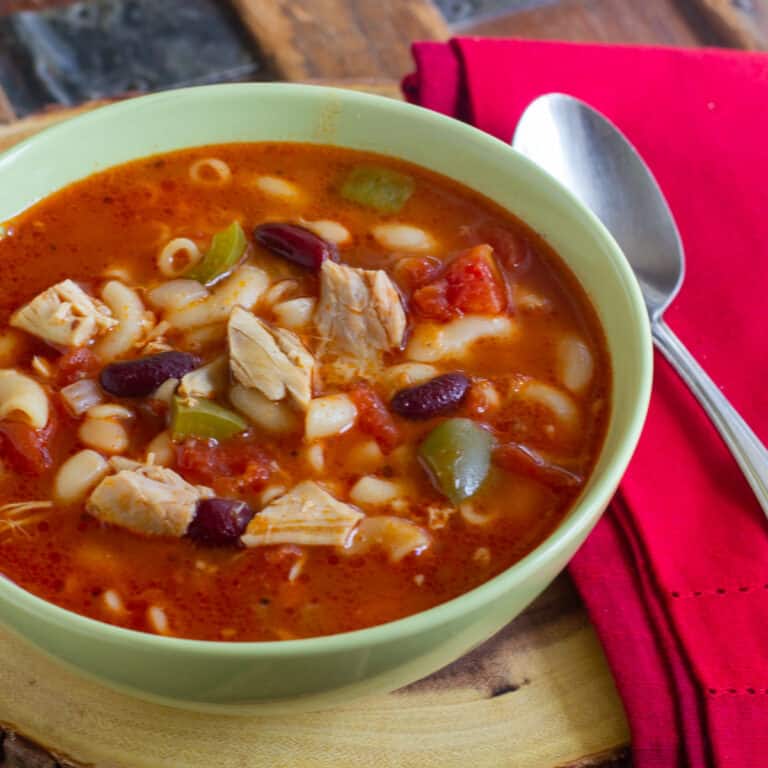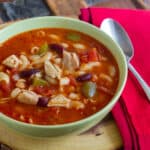 Print
Leftover rotisserie chicken makes a great broth and excellent for this delicious minestrone soup. Kidney beans, noodles and tomatoes with store bought chicken.
Servings: 10
Ingredients
1 rotisserie chicken carcass
16 cups water
1 onion diced
1 green pepper diced
1 can diced tomatoes 28oz
1 can kidney beans drained
1 can navy beans drained
1 can tomato soup
1 1/2 cups cooked chicken meat cubed
1 tbsp chili powder
1 tsp salt
1/2 tsp black pepper
2 1/2 cups dry macaroni noodles
Instructions
Bring chicken carcass and water to a boil in a large stock pot. Lower heat and let simmer for 1 1/2 hours to develop a nice chicken broth

Remove the carcass from the broth and strain.

Add the remaining ingredients, except the dry macaroni, to the broth. Bring to a very low boil and simmer for 30 more minutes.

Stir in the dry macaroni and cook until the noodles are tender.

Ladle into soup bowls and serve!
Nutrition
Per serving:
Calories: 317kcalCarbohydrates: 29gProtein: 39gFat: 5gSaturated Fat: 1gCholesterol: 103mgSodium: 834mgFiber: 3gSugar: 6g