Crock Pot Chicken Noodle Soup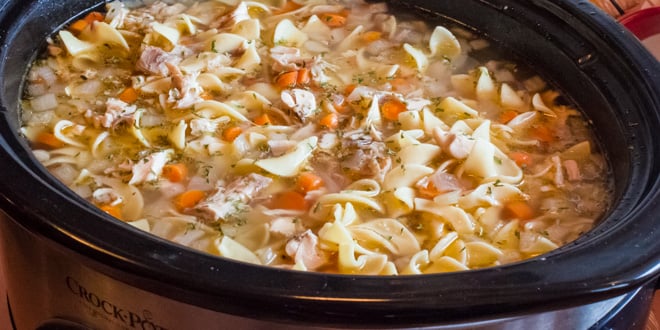 My kids had a big cross country race today and that meant I was going to be there, with 1000s of people, cheering all three of them on. I would not get home until just before dinner and that makes things stressful on Thursdays, since the kids have drums and piano lessons right after dinner.
Wanting to get dinner going before I left to watch the races, I pulled out the Crock Pot. That is one of the things I love most about using slow cookers, you can get everything going in the morning, head to work and the food is ready once you come home.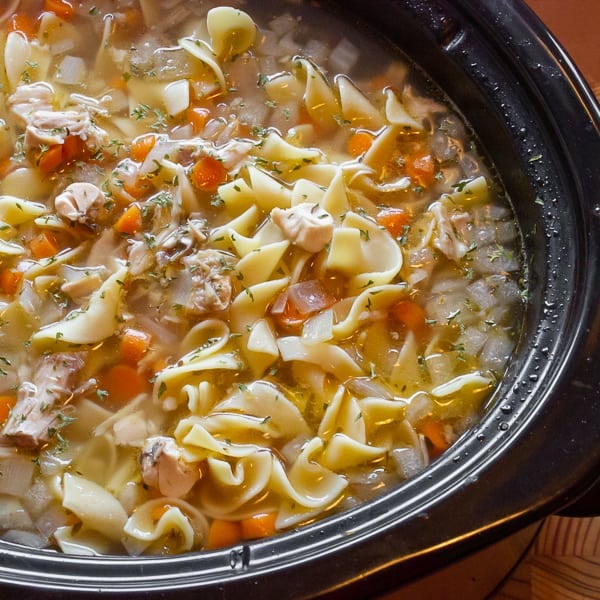 We buy rotisserie chicken all the time from the grocery store as it is great for chicken caesar salad, wraps, chicken on a bun and more. To make the most of the bird, I always make sure to keep the carcass as it is perfect for soup. This recipe for chicken noodle soup is so crazy simple to make, it tastes wonderful and is perfect for a cool fall day.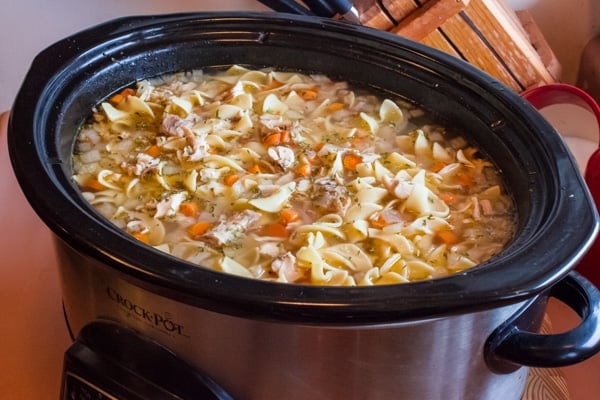 Crock Pot Chicken Noodle Soup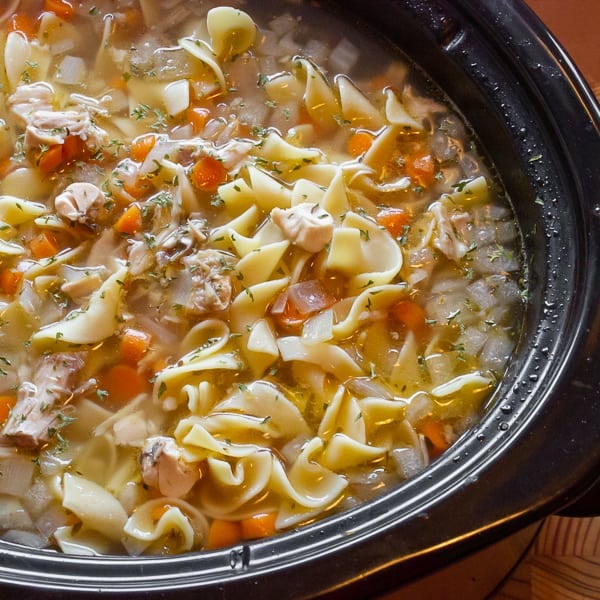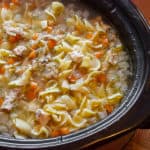 Print
Super simple directions for homemade chicken noodle soup made in a slow cooker. Perfect for leftover chicken with carrots, onion, and egg noodles.
Servings: 6 servings
Ingredients
1 leftover chicken carcass
12 cups water
1 onion diced
3 cups diced carrots
3 cups cooked chicken meat chopped
1 bay leaf
2 tsp salt
1 tsp fresh ground black pepper
1/2 tsp garlic powder
1/2 tsp thyme
1 tsp oregano
2 tsp parsley
1 12 oz package egg noodles
Instructions
Add all ingredients, except the egg noodles, to the slow cooker.

Cook on low for 6-8 hours.

Remove chicken bones and bay leaf.

Stir in the egg noodles and cook until tender, about 45 minutes.

Serve.
Notes
If desired, add 2 stalks of diced celery as well!