Homemade Chicken Noodle Soup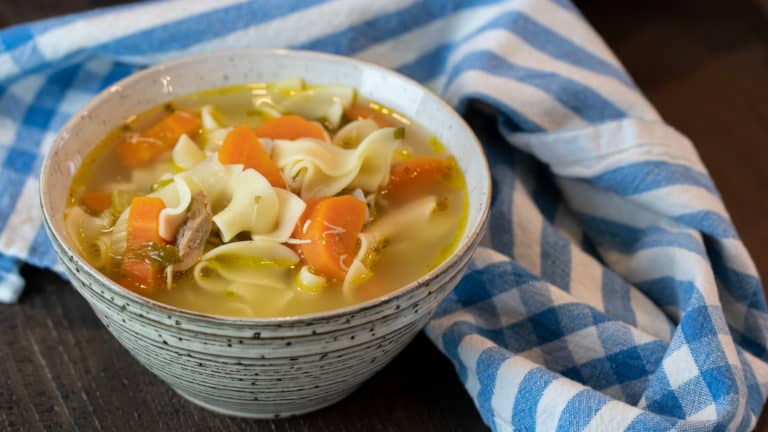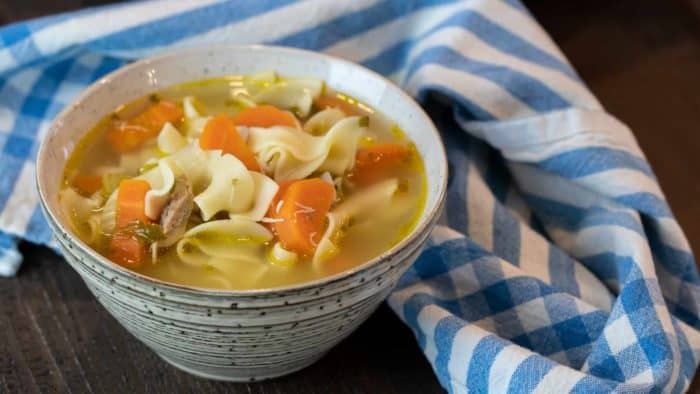 Chicken noodle soup is one of those classic homemade dishes that my mom used to make quite often. It is super easy to make and a great way to use up some leftover chicken. I remember that my mom would make this soup anytime one of use got sick with a cold. It was delicious and so comforting!
This recipe uses homemade chicken broth made with a roasted chicken carcass. This gives a rich and flavourful broth.
I like my soup to be hearty, so I ass lots of veggies: onions, carrots and celery. Sometimes I even add some chopped parsnip to the soup as it gives a nice added flavour to chicken noodle soup.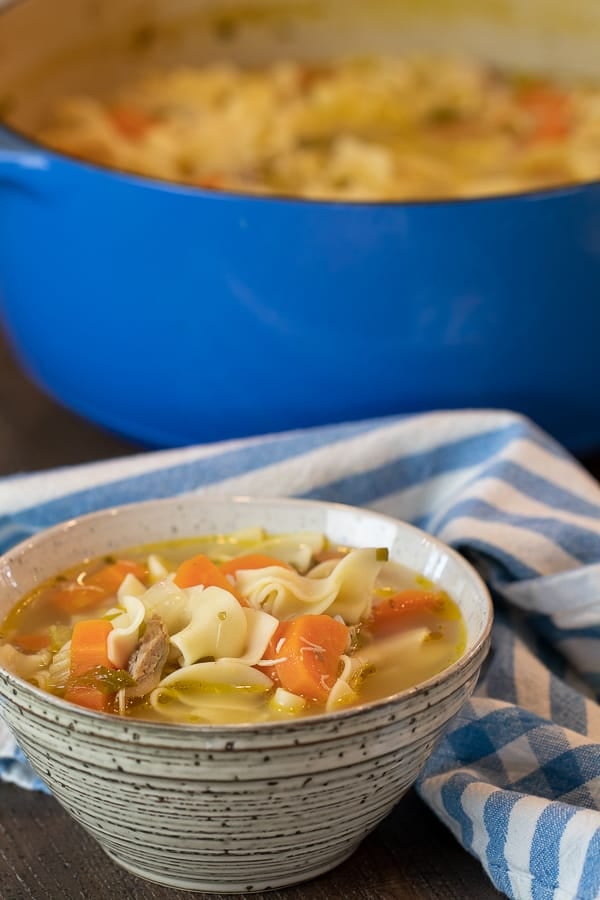 Chicken noodle is, by far, the soup I make at home most often. While I normally making it on the stovetop, chicken noodle soup can also be made in the slow cooker.
Check out the recipe link here: Crock Pot Chicken Noodle Soup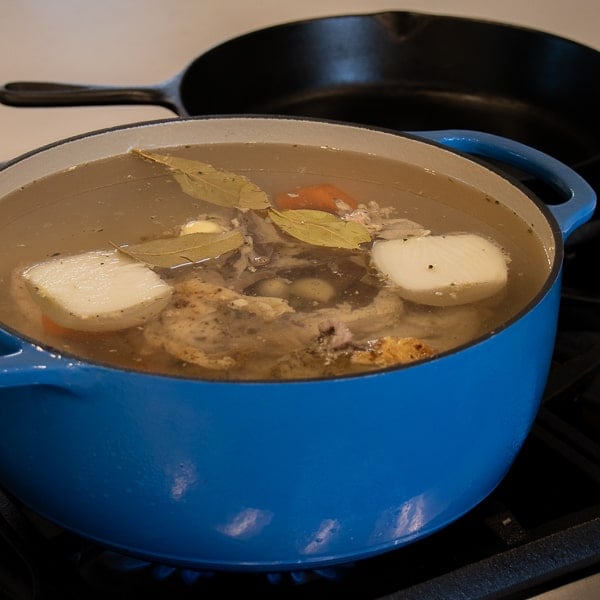 The first step to making delicious homemade chicken noodle soup is to make the broth. While you can skip this step and use store bought broth, I far prefer the flavour of homemade broth. It reminds me of the soup my mom used to make!
To make the chicken broth for this soup I used the carcass from a roasted chicken we had for dinner the night before. Most of the time I use the carcass from a rotisserie chicken when bought at the super market. We love rotisserie chickens as they are amazing to be used in many different meals, including wraps, chicken caesar salad, casseroles and more. The chicken goes so much farther when you can use the remains to make some broth!
Put the chicken carcass in a big pot or dutch oven and fill it with water. For this broth, I added 16 cups (4 litres) of water. I also threw in an onion, a chopped up carrot, some garlic cloves, a few bay leaves, salt and pepper.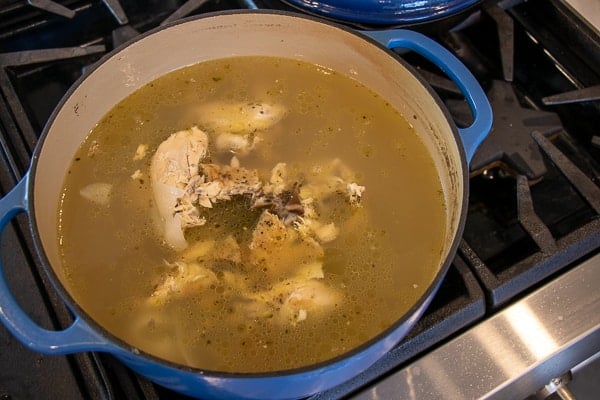 Bring the water to a boil and then lower to medium heat. You want the broth to be simmering with a low boil. I let the broth simmer for a good 3 hours or so. Just let it simmer while you are doing other things around the house!
Once you have finished making the, scoop out the carcass, scoop out the carcass, veggies and bay leaves. Make sure to strain out all the little bits of stuff so that you have a nice clear broth.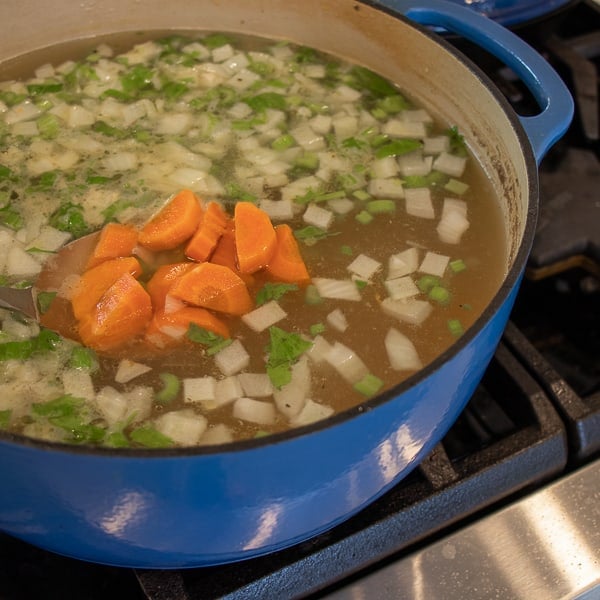 Stir in the chopped up onion, carrots, celery, chicken and parsley. Bring to a boil and lower heat to a simmer. Let the soup simmer for about 30 minutes, or until the vegetables are soft and tender.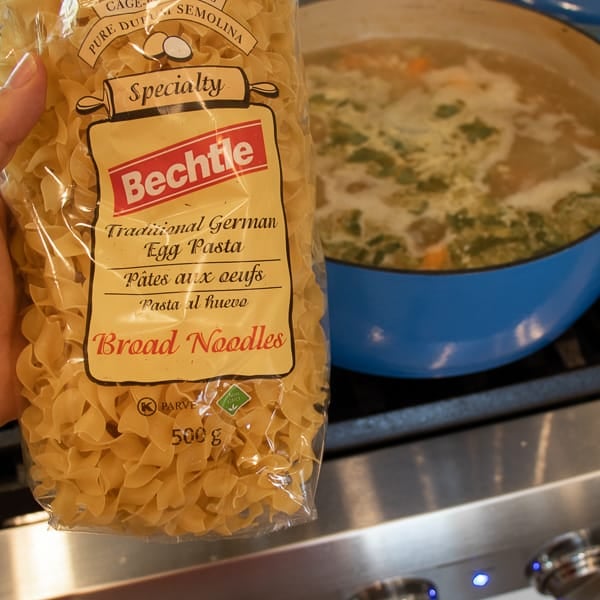 The last step is to stir in the noodles. I like to use broad egg noodles. I find them excellent for chicken noodle soup. The package in the picture above is a 500g of noodles. I did not want to add it all cause I knew that once expanded, it would be more noodles than I would want in the soup. So, I mixed in about 2/3 of the package.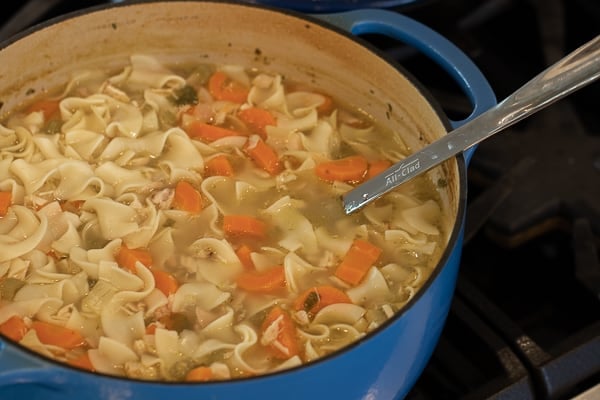 It takes about 10-15 minutes for the noodles to soften. As the noodles cook, they will absorb some of the broth. If you find that you don't have enough broth, feel free to pour in a little more water.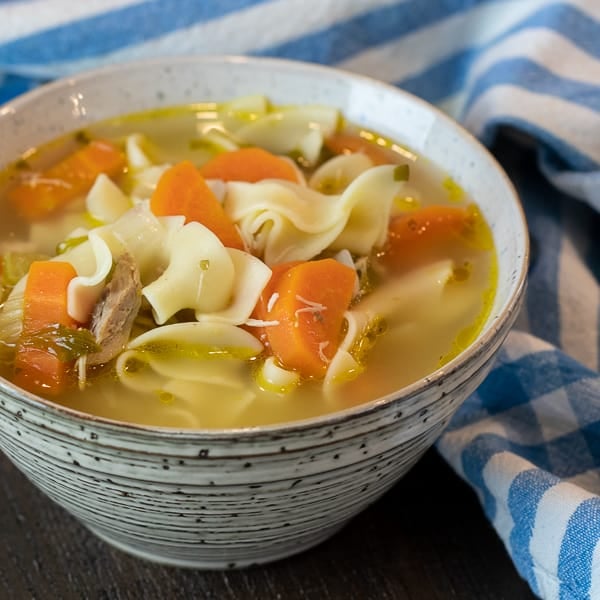 Once the noodles are soft, the soup is ready to serve. It is so good and this tastes like classic down home comfort food.
I find that I make this soup a lot. Is is such an economical meal, especially if you had chicken (roast or rotisserie) the night before for dinner.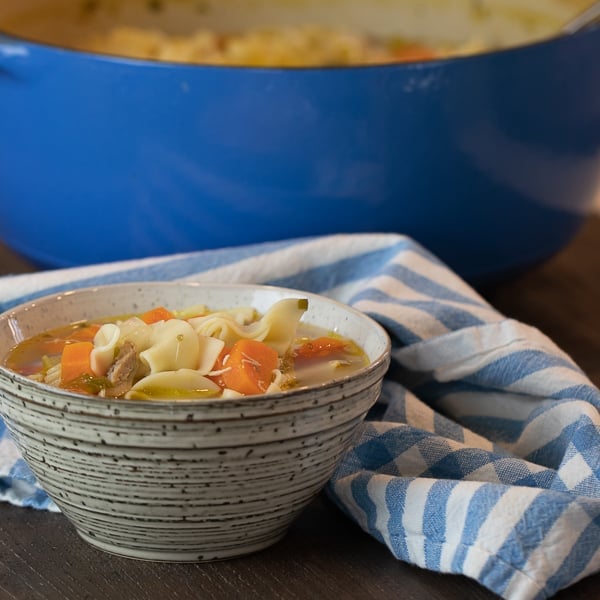 Over the years, there have been many soup recipes posted on the site. Here are a few of them:
Homemade Chicken Noodle Soup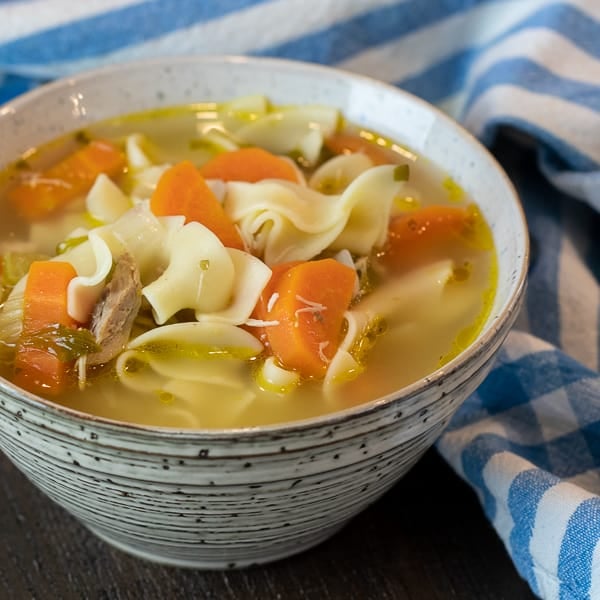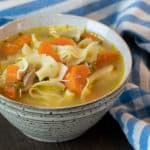 Print
The best chicken noodle soup recipe that is super easy. Broth made with roasted or rotisserie chicken carcass. Soup has egg noodles, carrot, celery & onion.
Servings: 8 people
Ingredients
Chicken Broth Ingredients
16 cups water 4 litres
1 chicken carcass from roasted or rotisserie chicken
1 medium onion peeled and halved
1 medium carrot peeled and cut into 4 pieces
3 bay leaves
1 tsp salt
1/2 tsp black pepper
4 garlic cloves
Soup Ingredients
1 cup cooked chicken meat cubed
1 medium onion peeled and diced
3 medium carrots peeled and cut into chunks
4 ribs celery cut into chunks.
1 tbsp parsley
3/4 pound dry egg noodles approx 350g
Instructions
Place all the chicken broth ingredients in a large pot or dutch oven. Bring to a boil and let simmer over medium heat for 3 hours. This will allow a nice rich broth to develop. Scoop out the carcass and other ingredients from the pot to leave only the broth.

Add the remaining ingredients, minus the noodles to the pot and bring back to a boil. Reduce heat to medium and let the soup have a rolling boil for about 30 minutes.

Stir in the egg noodles and cook until tender.

Ladle and serve.
Notes
You may find that the broth has reduced significantly during the simmering process. If this is the case, you can add some additional water to the pot. It is not uncommon for me to add 3-4 more cups of water.