Split Pea Soup with Ham Bone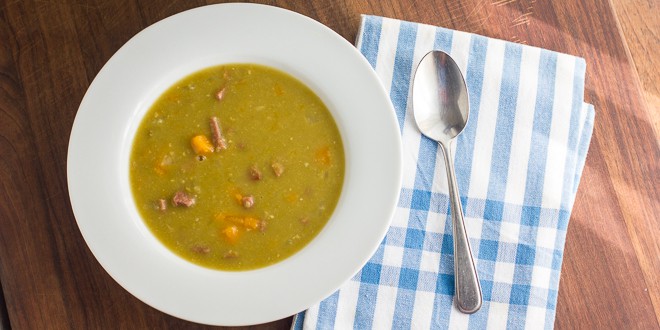 This is a family classic.
I remember, as a kid, that a couple of days after we had ham for dinner we would always have pea soup. I loved it, especially with lots of crackers! It is a great soup, especially on a cold day.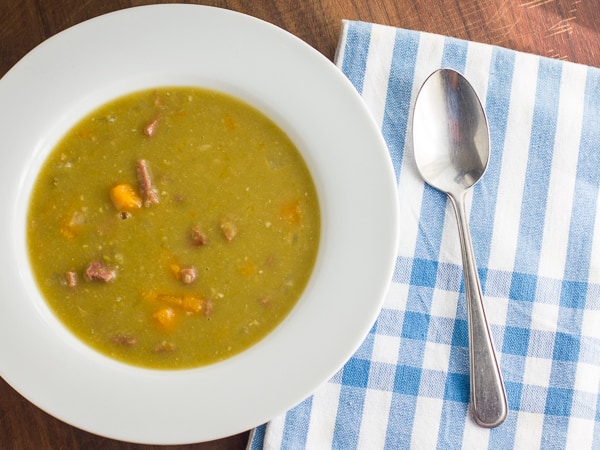 Split Pea and Ham Soup Recipe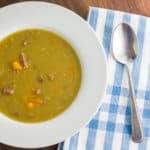 Print
Split pea soup with ham bone recipe made on the stove in a stock pot. Carrots, onions also a part of this easy to make soup that is comfort food for the fall.
Servings: 6 people
Ingredients
1 ham bone
1 1/2 cups ham , cubed
1 pound dried split peas
1 onion , diced
5 carrots , sliced
2 tsp salt
Instructions
In a 10 qt pot bring water, with the ham bone in pot, to a boil. Have the water at a low rolling boil for about 45 minutes.

Remove ham bone and skim the broth. Remove broth so that about 10 cups remain in the pot. Keep the extra broth in case you need to add more later.

With the 10 cups of broth at a low boil, add remaining ingredients. Lower heat and stir often.

The peas will expand and soak up the water. Eventually the peas will turn into a thin paste. If you need to add water, add at about a cup at a time.

After about an hour of cooking the peas should be dissolved and you will have a nice consistency in the soup.

Serve with crackers or croutons.
Nutrition
Per serving:
Calories: 371kcalCarbohydrates: 52gProtein: 27gFat: 7gSaturated Fat: 2gCholesterol: 22mgSodium: 1238mgFiber: 21gSugar: 9g