Spicy Butternut Squash Soup
This creamy soup is perfect for a fall or winter day. It will warm you up and the flavours of the coconut milk and curry powder work very well with the butternut squash!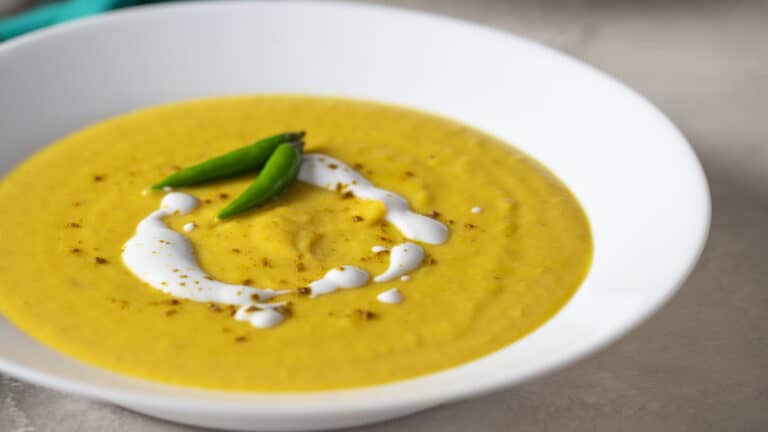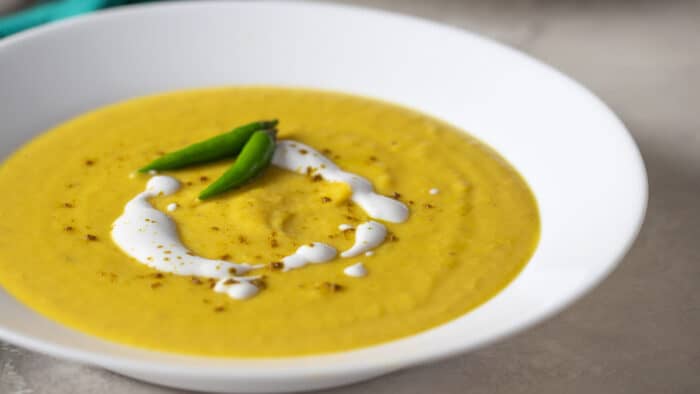 I like soup any time of year, but when the fall season arrives, I make it all the time. One of the recipes that i make multiple times a year is butternut squash soup. This kind of squash works great for for soup and it is smooth, creamy and very delicious.
This soup is perfect for a dinner party and the perfect way to start a meal. Every single time I have made this soup, people always rave about it and often ask for seconds.
The curry powder and coconut milk add a wonderful flavour profile. A couple Thai chilies give some nice heat and it can be adjusted by adding more or less, depending on your preference.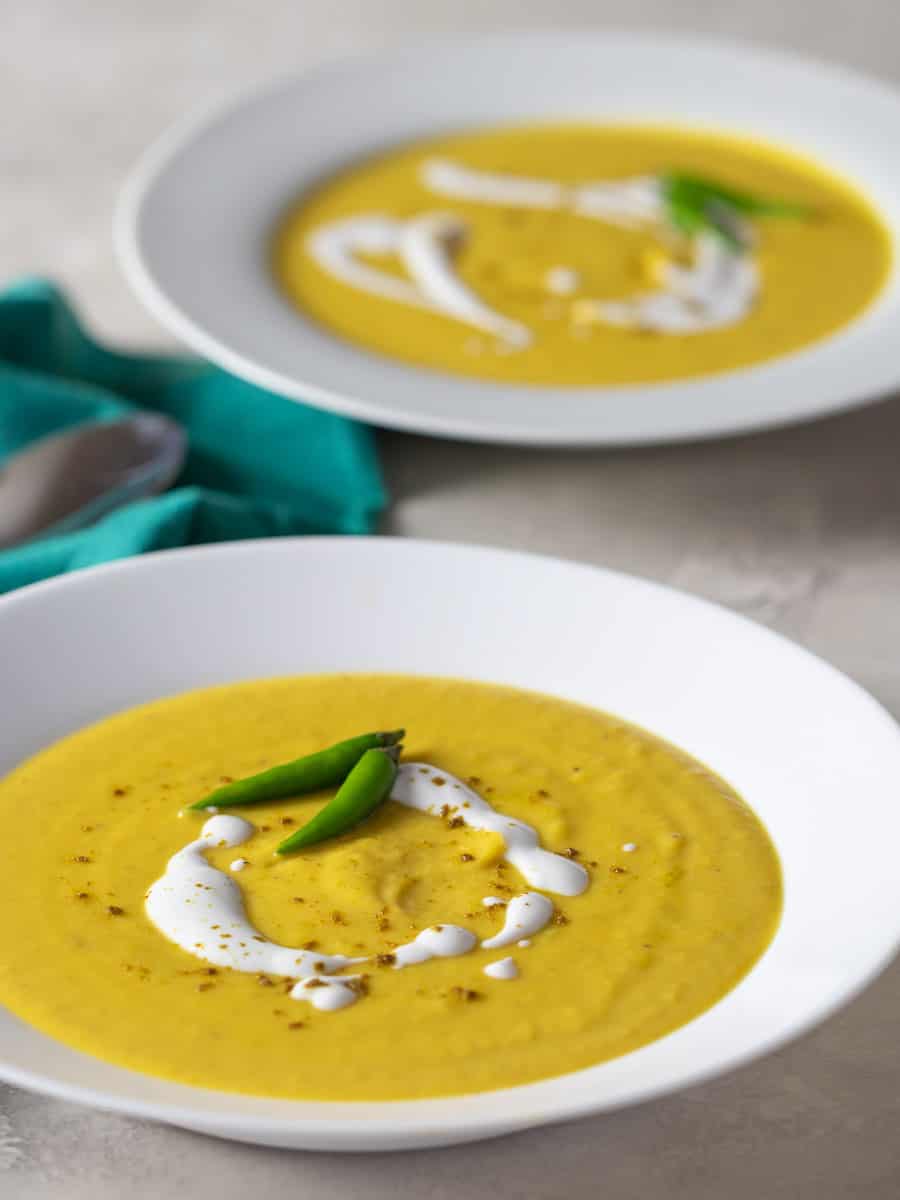 One of the great things about this butternut squash soup is that it can easily be made vegan. Since this uses oil instead of butter, coconut milk instead of cream, and using vegetable broth in place of chicken stock ensures that this is one delicious vegan soup.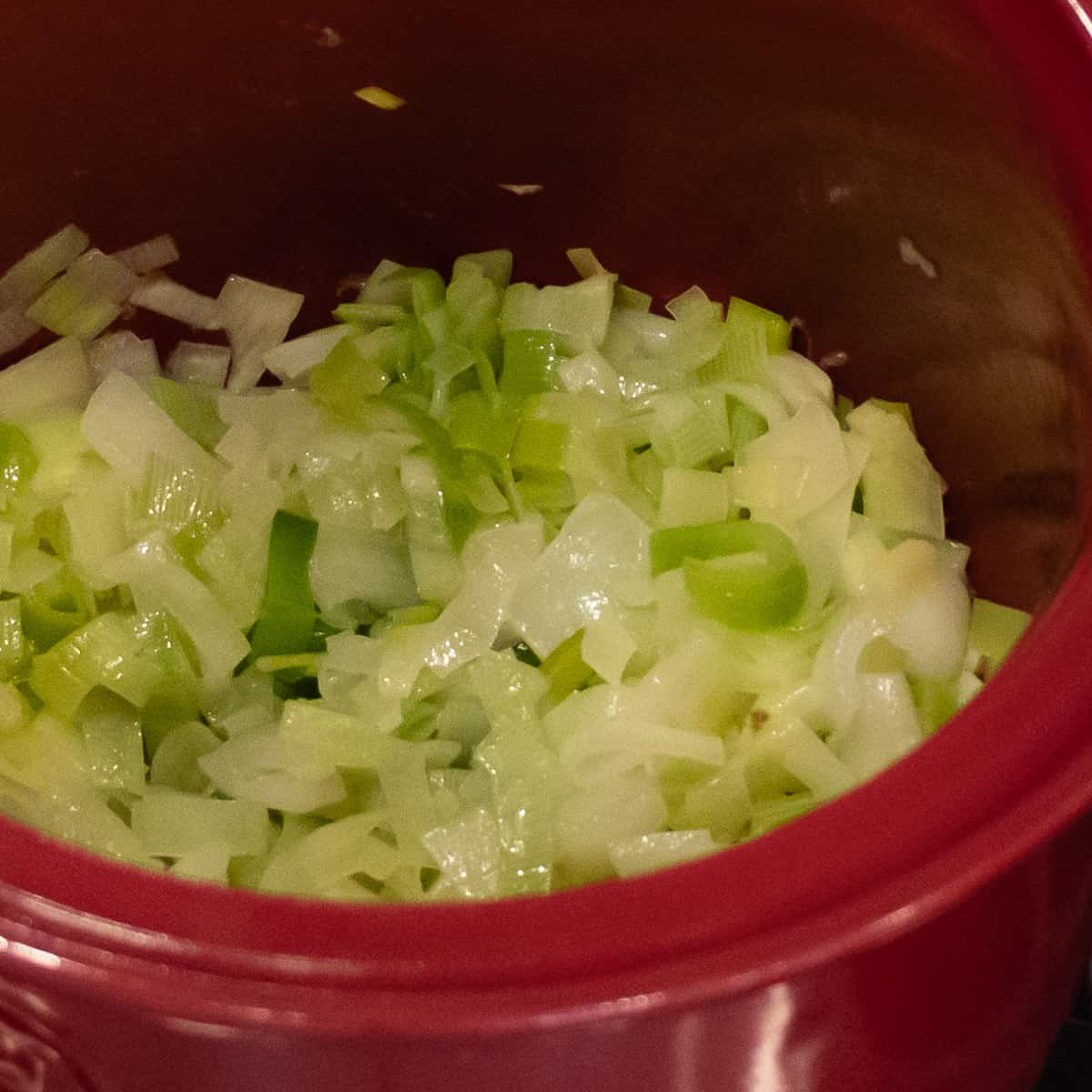 Making squash soup is quite easy. I first like to sauté the onions and leeks in some oil. Let them start to brown and caramelize, as this will enrich the flavour of the soup.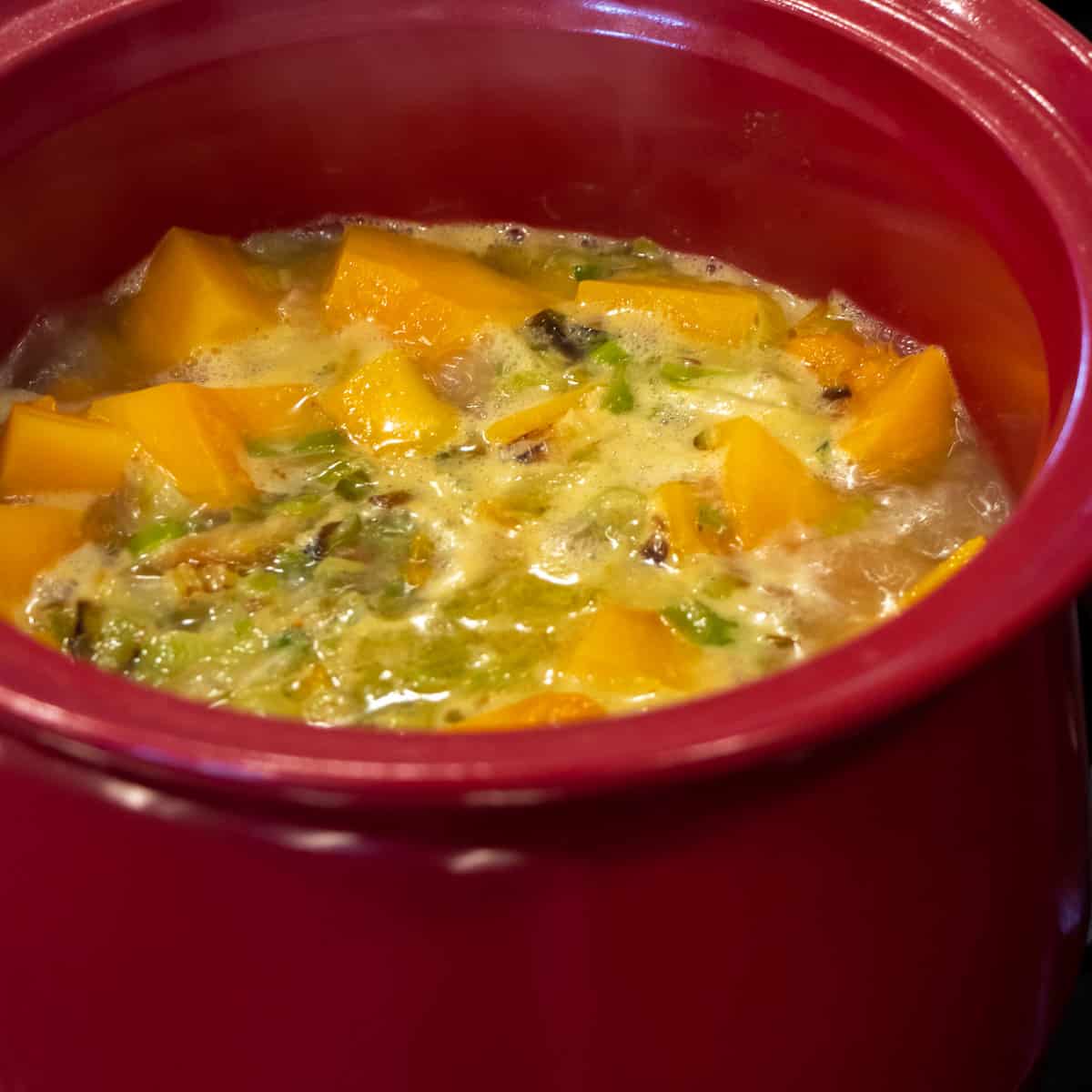 Once the onion and leeks have had a chance to sauté for 5 to 7 minutes, dump in the butternut squash, broth, curry powder and Thai chili peppers. Bring to a boil and then lower the heat to medium low. Essentially, you want to allow the soup to simmer at a low boil for about 20 minutes or so.
Stir the soup ever few minutes and make sure to scrape the bottom of the pot so that nothing scorches and burns at the bottom. This is not likely at a low simmer, but regularly giving the soup a good stir should prevent it from happening.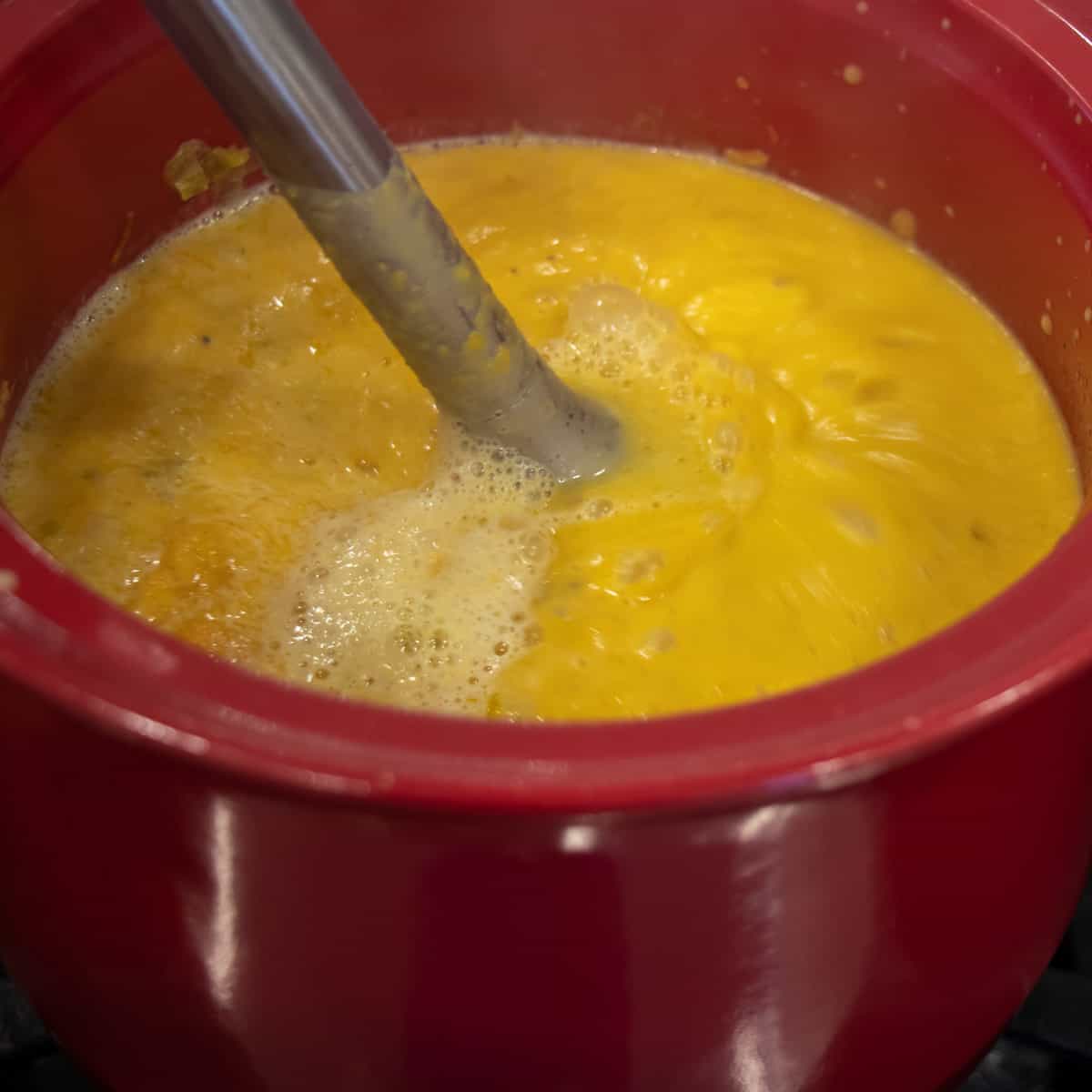 How to puree
The last step so making this butternut squash soup is to blend it so that it is smooth and creamy. I find that an immersion blender works the best because you can cream the soup right in the pot. Just make sure to move the blender all around the pot to ensure that you get all the little bits.
A stand blander will also work but you will likely have to blend it in batches.
As you blend the soup, if it seems like it is too thick, you can add some more broth, or even add a little milk to thin it out.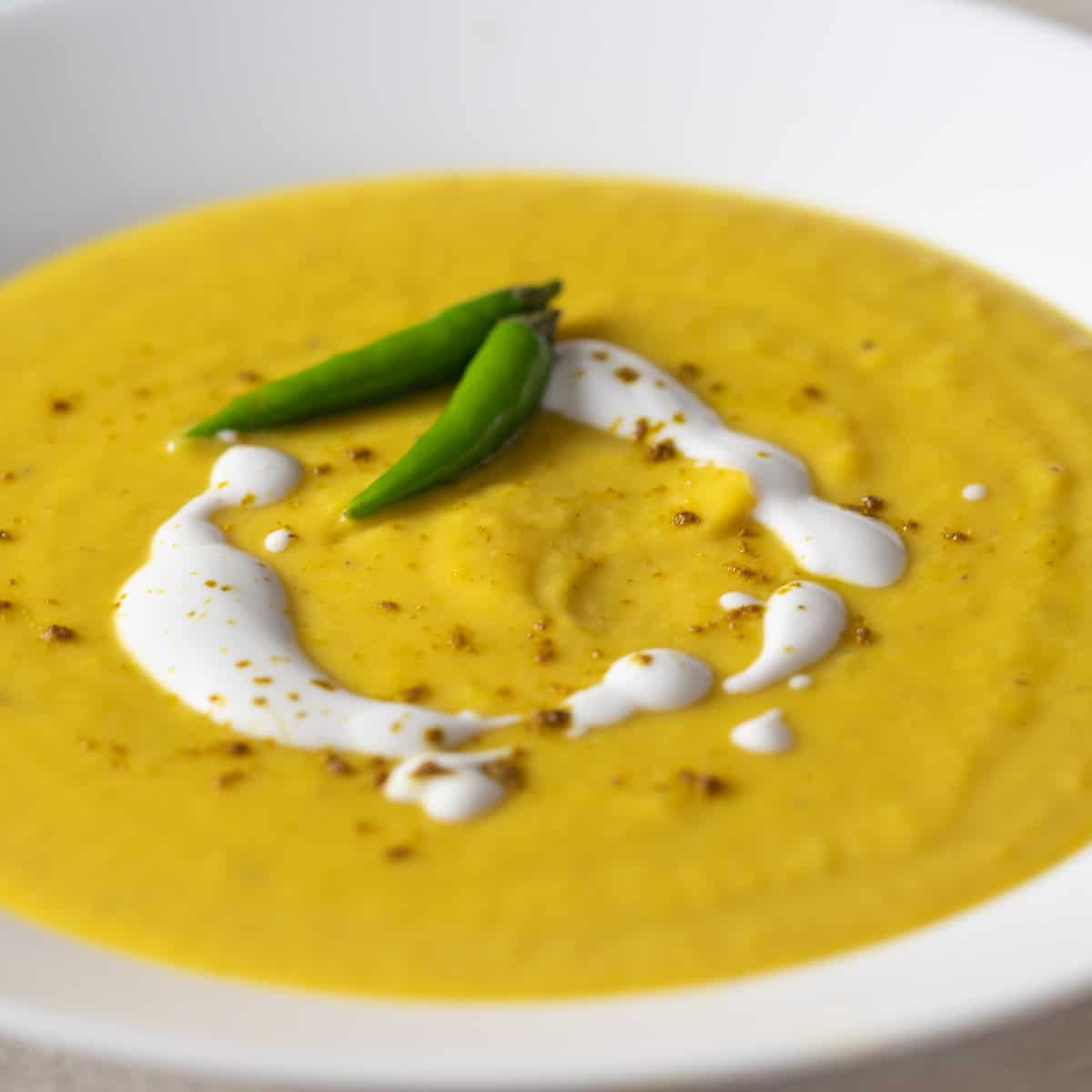 Other soup recipes
I make soup any time of the year and here are some other great soups that I am sure you will love!
Spicy Butternut Squash Soup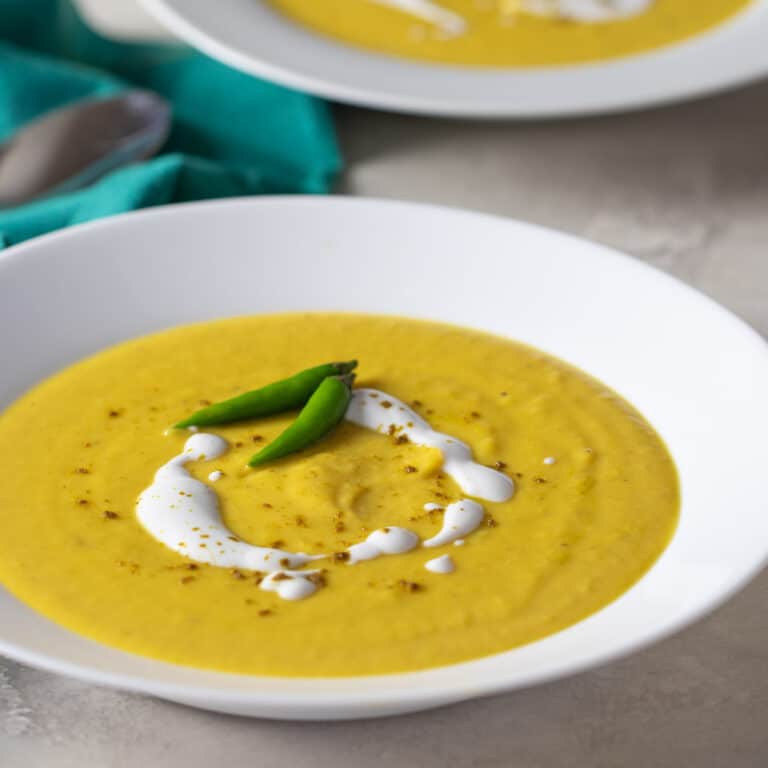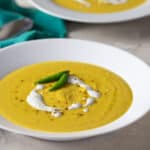 Print
Easy recipe for how to make the best butternut squash soup recipe. Creamy from the coconut milk and spicy from the curry powder and Thai chili peppers.
Servings: 8
Ingredients
3 tbsp oil
1 onion , diced
2 leeks , washed thoroughly and sliced
2 garlic cloves , minced
4 cups butternut squash , cut into cubes
1-3 Thai chili peppers , halved and deseeded
2 tsp curry powder
2 cups vegetable or chicken broth
3/4 cups coconut milk
salt and pepper to taste
Instructions
Heat oil in a pot on medium heat.

Add onion, leeks and garlic. Stir often so they do not burn. Cook until tender and beginning to caramelize, about 5-7 minutes.

Add the cubed butternut squash, Thai chili peppers, and chicken broth. Bring to a boil, lower heat to a simmer and cover pot with a lid. Cook until the squash is tender, about 20 minutes.

Remove from the heat and stir in the coconut milk. Puree with an immersion blender or upright blender. If needed, add more broth or some milk to reach the desired thickness. Add salt and pepper, to taste.

Serve hot and ladle into a soup bowl. If desired, drizzle some extra coconut milk and sprinkle a little curry powder on top.
Nutrition
Per serving:
Calories: 145kcalCarbohydrates: 14gProtein: 2gFat: 10gSaturated Fat: 4gSodium: 226mgFiber: 2gSugar: 3g