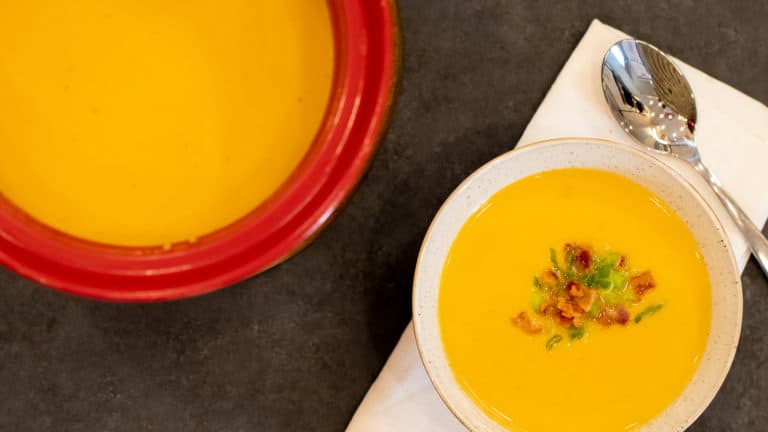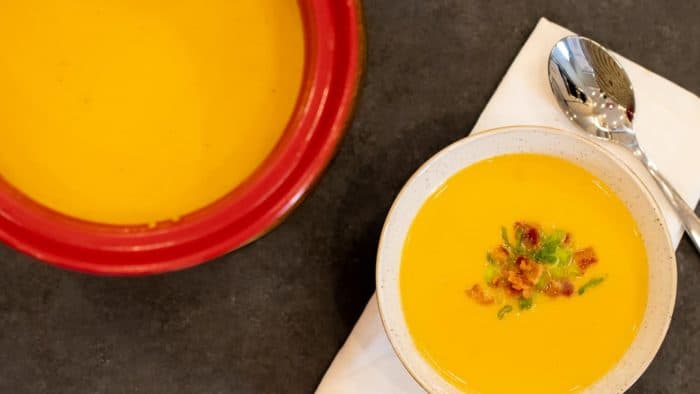 Pumpkin spice does not work in everything!
I feel like I needed to make that confession. It seems that every single autumn, pumpkin spice is added to every conceivable dish and beverage.
Sure, I enjoy the flavours of cinnamon, ginger, nutmeg, allspice and cloves. I love pumpkin as well. But, I do not need to have that flavour in my cereal, salsa, potato chips or chicken wings. Yes, there are pumpkin spice flavoured chicken wings! Oh the horror!
Even though some of those items do not appeal to me, I do really enjoy the spices and many of the flavours associated with fall. I absolutely love harvest season and many of the vegetables that are more prevalent once September comes around.
Butternut squash is one of those vegetables that I seem to buy far more frequently in the fall. Sure, my local supermarket sells it all year long, but it is not until summer is over that I get a craving for butternut squash soup – by far, my favourite way to cook this squash.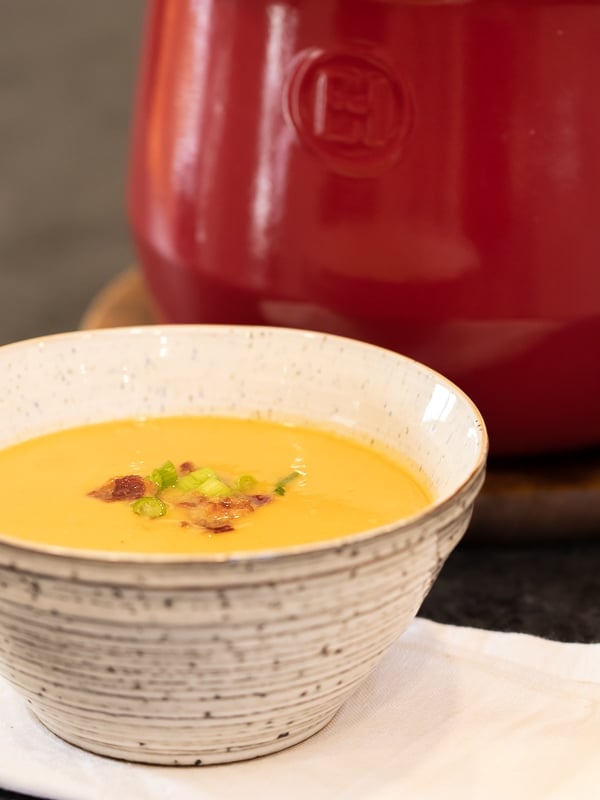 I have recently discovered a new squash that is amazing as well. It is called the butterkin and you may have seen it over the last few years. Butterkin, while still a new hybrid squash, is growing in popularity and after I have tried it, I am not surprised at all.
I brought a couple butterkin squash home and decided to make some soup with it. Wow, was it ever delicious! This squash is ideal for a smooth and creamy soup.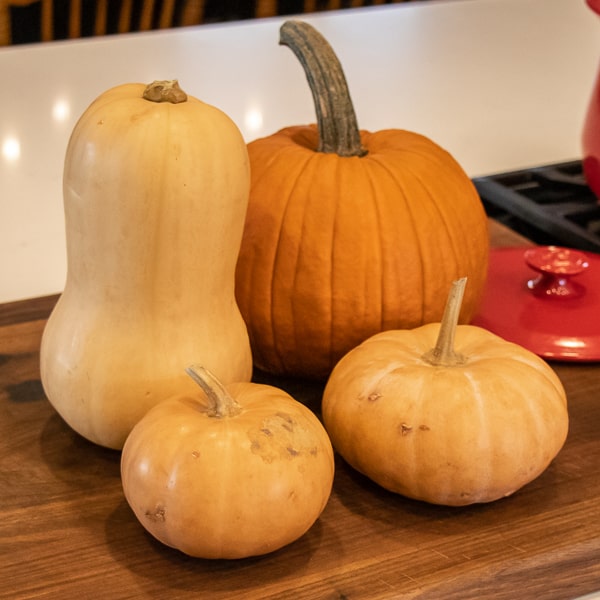 What is a butterkin squash?
If you go to a local farmers market or vegetable stand, you may see a small round squash that looks like it might be a small sized pumpkin, but it has the colour of a butternut squash. That little guy is a butterkin and as you can see in the picture above, it is smaller than both a butternut and a sweet pie pumpkin.
A butterkin squash is a hybrid of a butternut and pumpkin.
Butternut + Pumpkin = Butterkin!
That name is better than pumpnut I must say!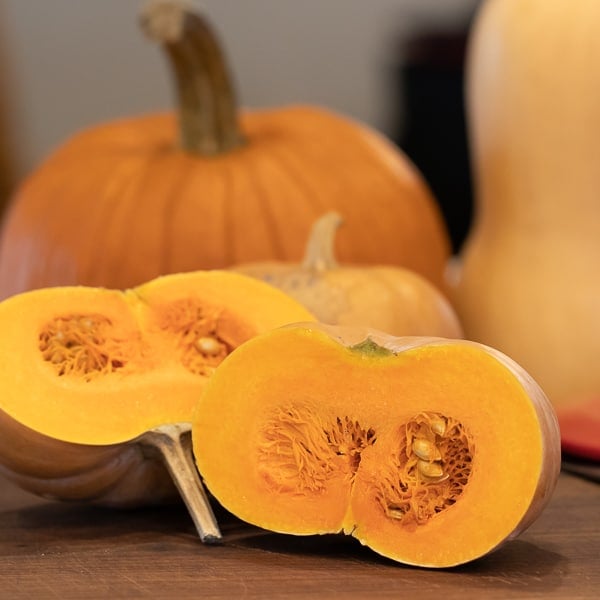 What does a butterkin squash taste like?
A butterkin squash has a very smooth buttery texture and is quite sweet, once cooked. Sometimes cooked butternut squash has a stringy texture, but this butterkin is far creamier. I also find that it is a tad sweeter than a butternut.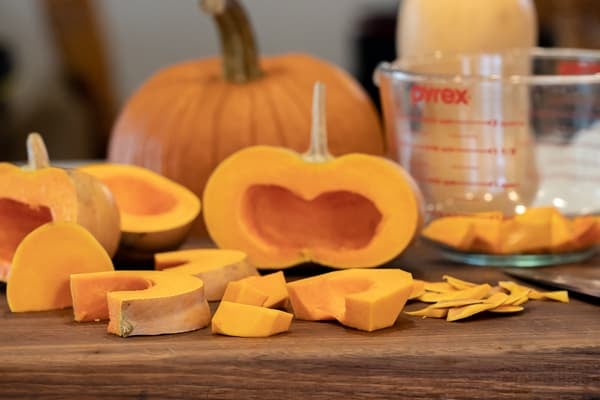 How can I cook with a butterkin squash?
Well, any recipe or dish that you have cooked with a pumpkin or a butternut squash, can be switched with a butterkin just fine.
This squash is delicious roasted and used in salads or pasta dishes. It can be used in casseroles, soups and even in baking. Butterkin, just like butternut and pumpkin, is an extremely versatile vegetable.
To prepare the butterkin for the soup, I cut the squash in half. Scoop out and clean the inside of all the seeds and stringy bits. Then, I like to slice it into 1 inch strips and the cut the outer peel away. Cut the inner flesh into fairly evenly sized chunks of around 1 to 1 1/2 inch pieces.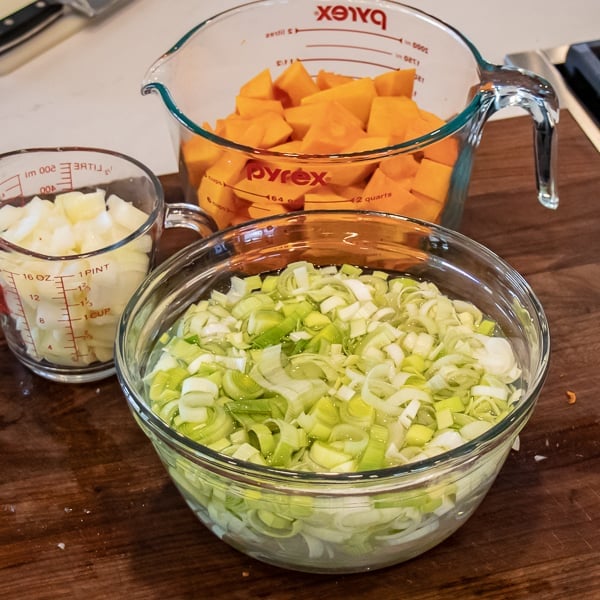 To go along with the butterkin squash, I also sautéed some onion and leeks. Leeks, in particular, are amazing in soup. Make sure to thoroughly rinse the leeks to wash all the sand and grit away.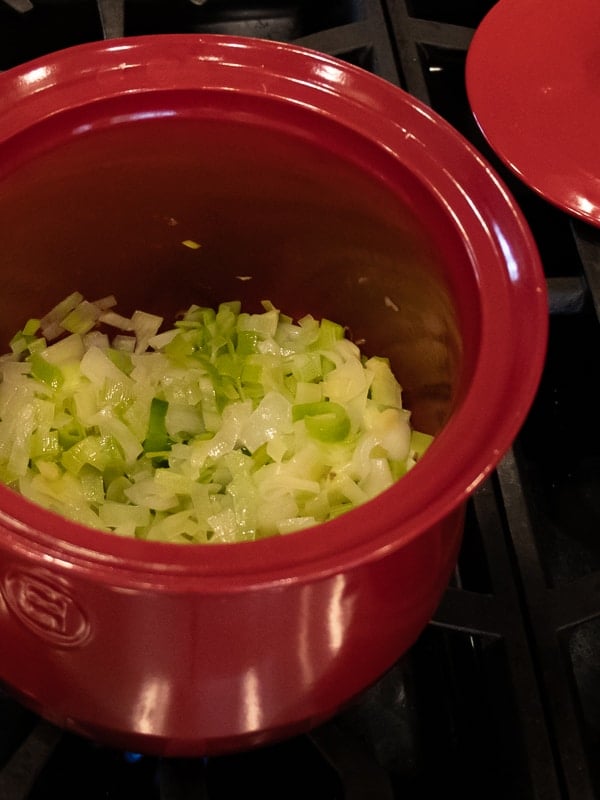 Heat the butter over medium high heat, in a large pot, like this Emile Henry 4.2qt Soup Pot. Add the diced onion and sliced leeks and sauté until tender. This should take about 5 minutes.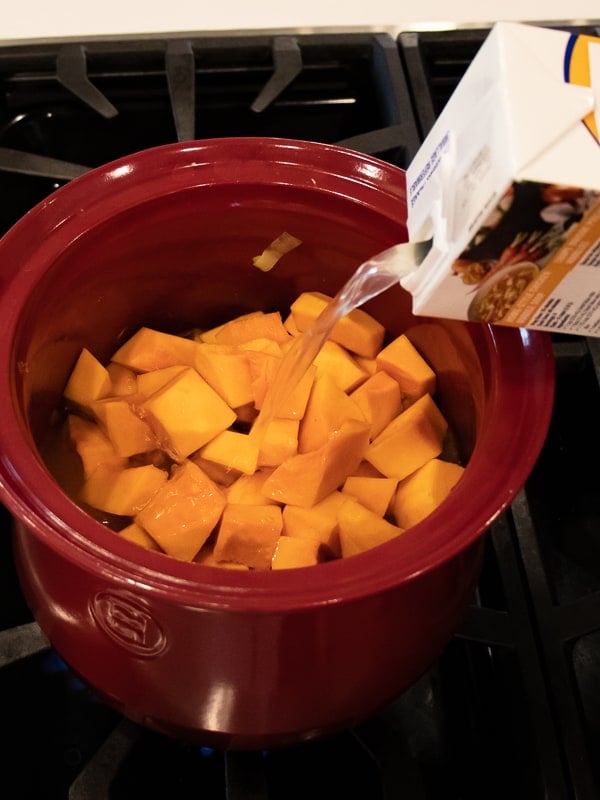 Once the onion and leeks are tender, add the butterkin squash, chicken broth and spices. Bring to a boil and lower heat to a simmer so that it is a very light boil.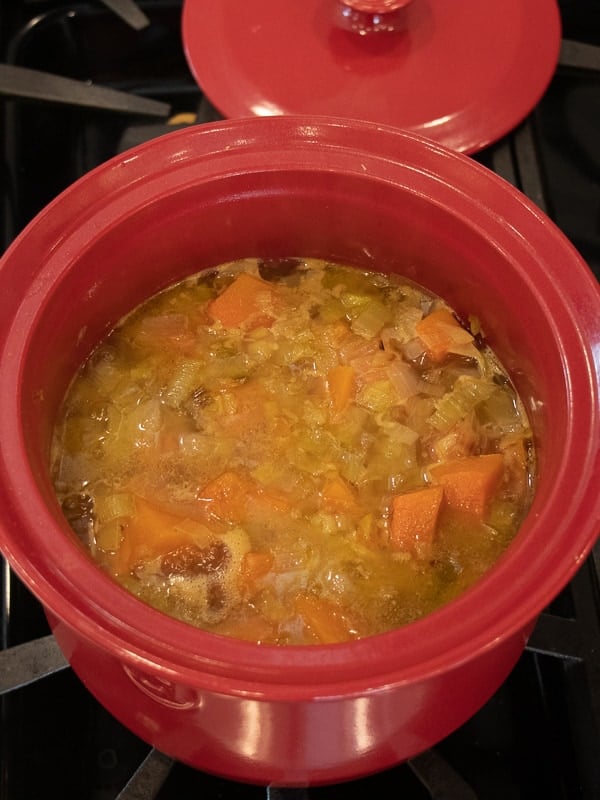 Continue to cook the soup until the squash is very soft and tender. This should take 15-20 minutes. Once the squash is soft, turn off the heat and add the cream.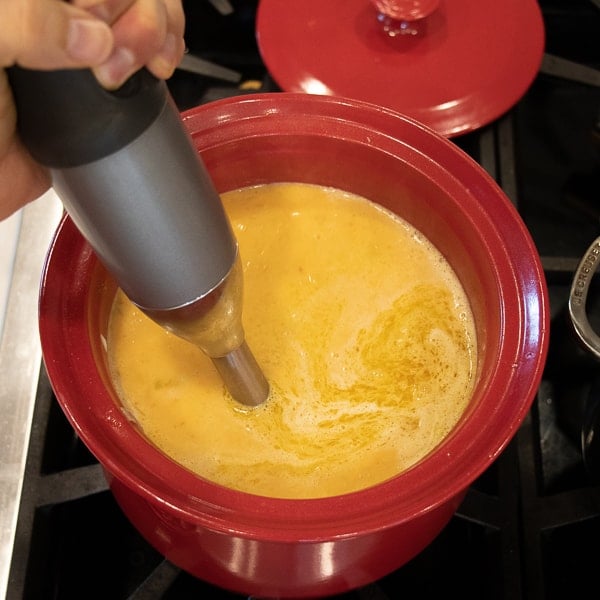 Use an immersion blender to puree the soup. You want to make sure that the soup is smooth and creamy with no chunks. Run the blender for a bit and then, use a large spoon or ladle to stir and check to see if it is smooth enough. If there are still some chunks throughout, blend a little longer.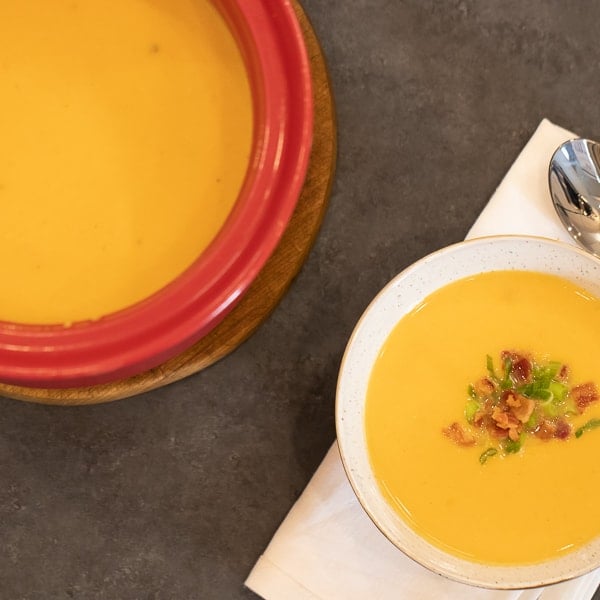 Serve the soup with some crumbled bacon and sliced green onions. Not only do these give the soup some crunchy texture, but the smokey flavour of the bacon and bite from the green onions do really enhance the soup.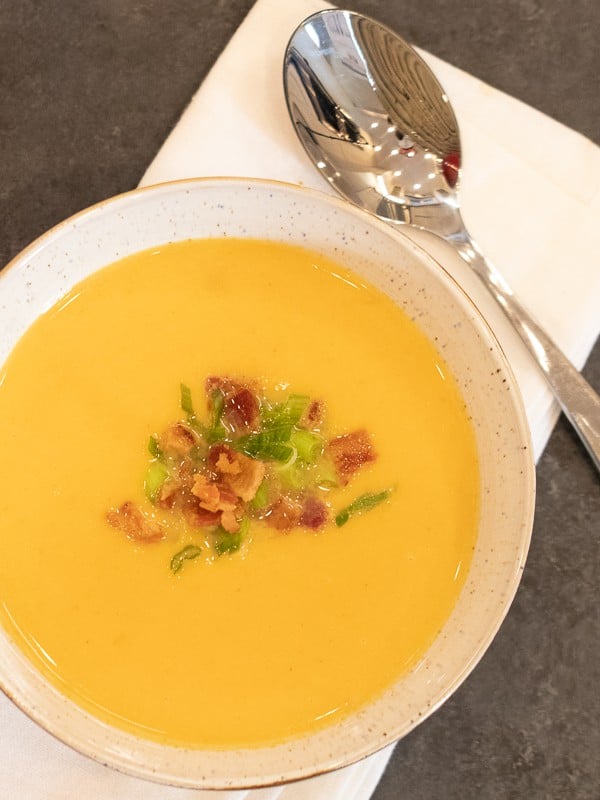 Disclaimer: This recipe post contains affiliate links.
Butterkin Squash Soup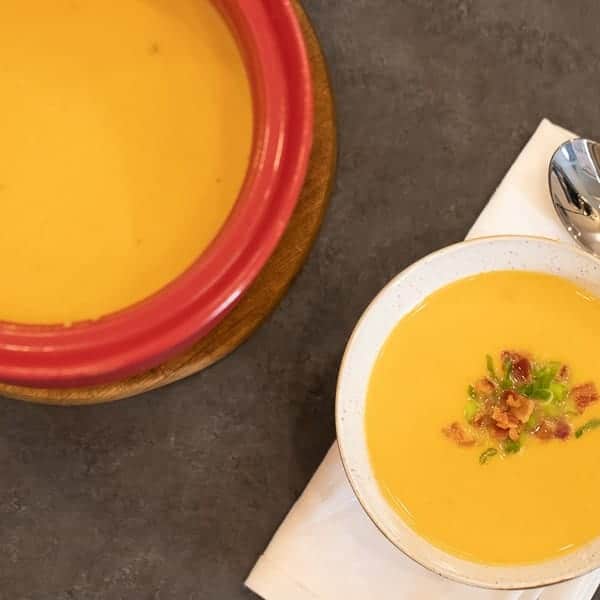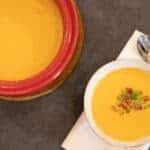 Print
Creamy butterkin squash soup recipe with cream, leek, onion, bacon and green onions. Butterkin squash is a hybrid of butternut and pumpkin.
Servings: 10
Ingredients
3 tbsp butter
2 onions , diced
2 leeks , sliced and well rinsed
6 cups butterkin squash , cubed
6 cups chicken broth
1 tsp salt
1/4 tsp cinnamon
1/4 tsp cayenne pepper
1/2 tsp ground coriander
2 cups cream
4 bacon slices , cooked and crumbled
3 green onions , thinly sliced
Instructions
Melt butter in a large pot over medium high heat.

Add the onions and leeks and sauté until tender, about 5 minutes.

Add cubed butterkin squash, chicken broth and spices. Bring to a boil and lower heat so that it is a low boil. Simmer until the butterkin squash is soft, about 20 minutes.

Add cream and puree with an immersion blender until smooth and creamy.

Ladle soup into a bowl and top with crumbled bacon and sliced green onions.
Nutrition
Per serving:
Calories: 297.27kcalCarbohydrates: 16.83gProtein: 4.16gFat: 25gSaturated Fat: 14.37gCholesterol: 80.05mgSodium: 863.37mgFiber: 2.54gSugar: 3.62g