This simple recipe for how to roast an acorn squash in the oven is perfect for a fall or or winter meal. A delicious sweet and buttery squash side dish.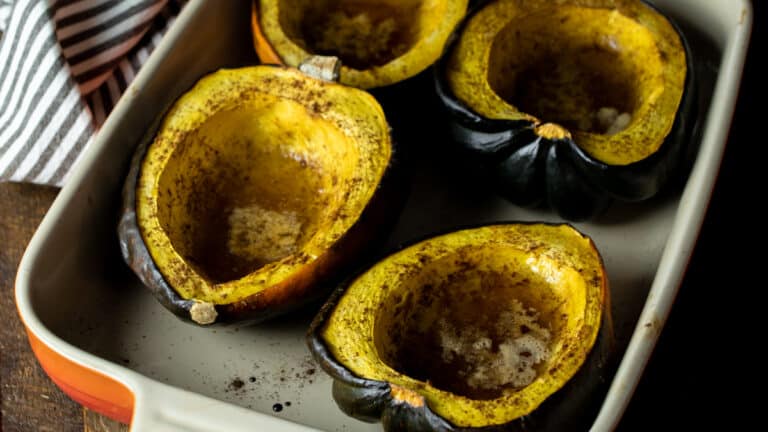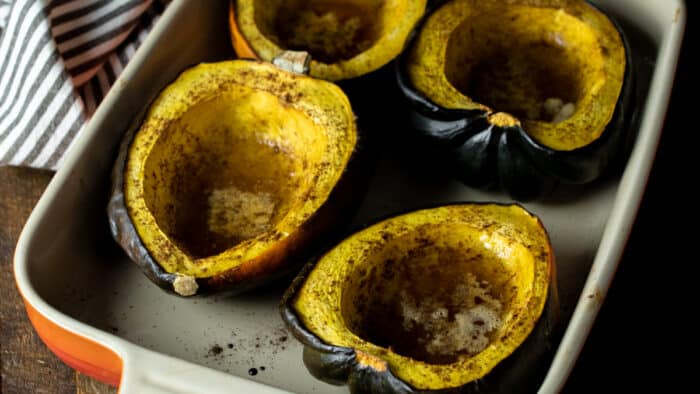 Roasted acorn squash is one of those dishes that is a standard for the fall season in our home. This perennial favourite has that perfect combination of sweet and savoury. If you have ever wondered how to roast an acorn squash this recipe will walk you through the easy steps. It is very simple to make and can be placed in the oven for cooking within minutes, allowing you to work on the rest of the meal.
I love to serve these baked squash just the way they are cooked and half of a squash can be served to one person. It is also possible to serve the squash with a filling/stuffing and there are so many different types of filling including rice, quinoa, chicken, pork and so much more!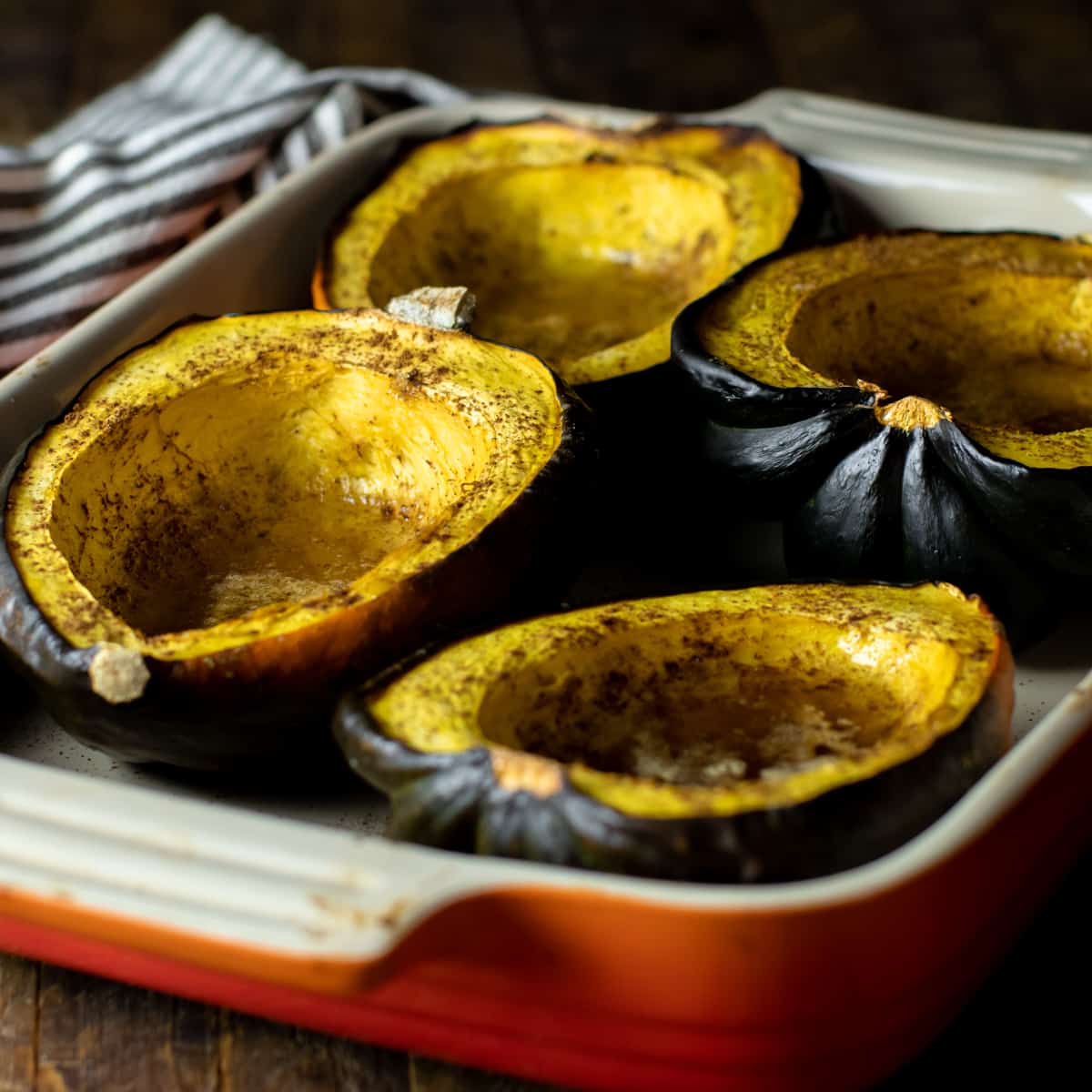 Cooking an acorn squash in the oven uses just a handful of ingredients. Honestly, it is an easy as cut the squash in half and clean it out. Then place the butter, sugar and seasoning in the hollowed part of the squash and bake. That's it.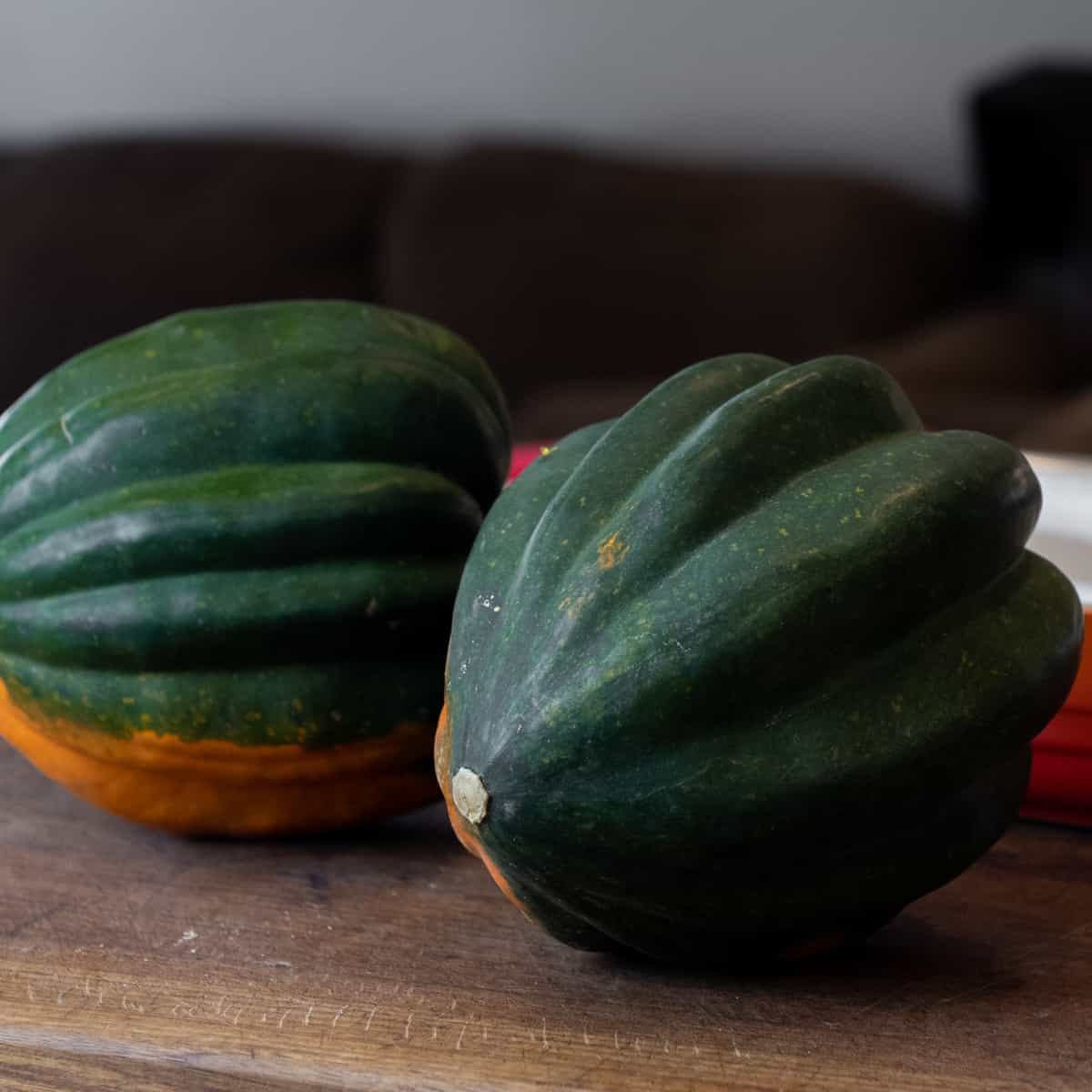 What Is An Acorn Squash?
An acorn squash, sometimes called a pepper squash, is a smaller squash with a that is common during the fall and winter months.
The outside of an acorn squash is a deep green colour with some occasional patches of orange. The distinctive look of an acorn squash is from the long ridges that run from the top to the bottom of the squash.
The inside of the acorn squash is bright yellow, filled with seeds. It looks similar to the inside of a pumpkin but more yellow in colour instead of orange.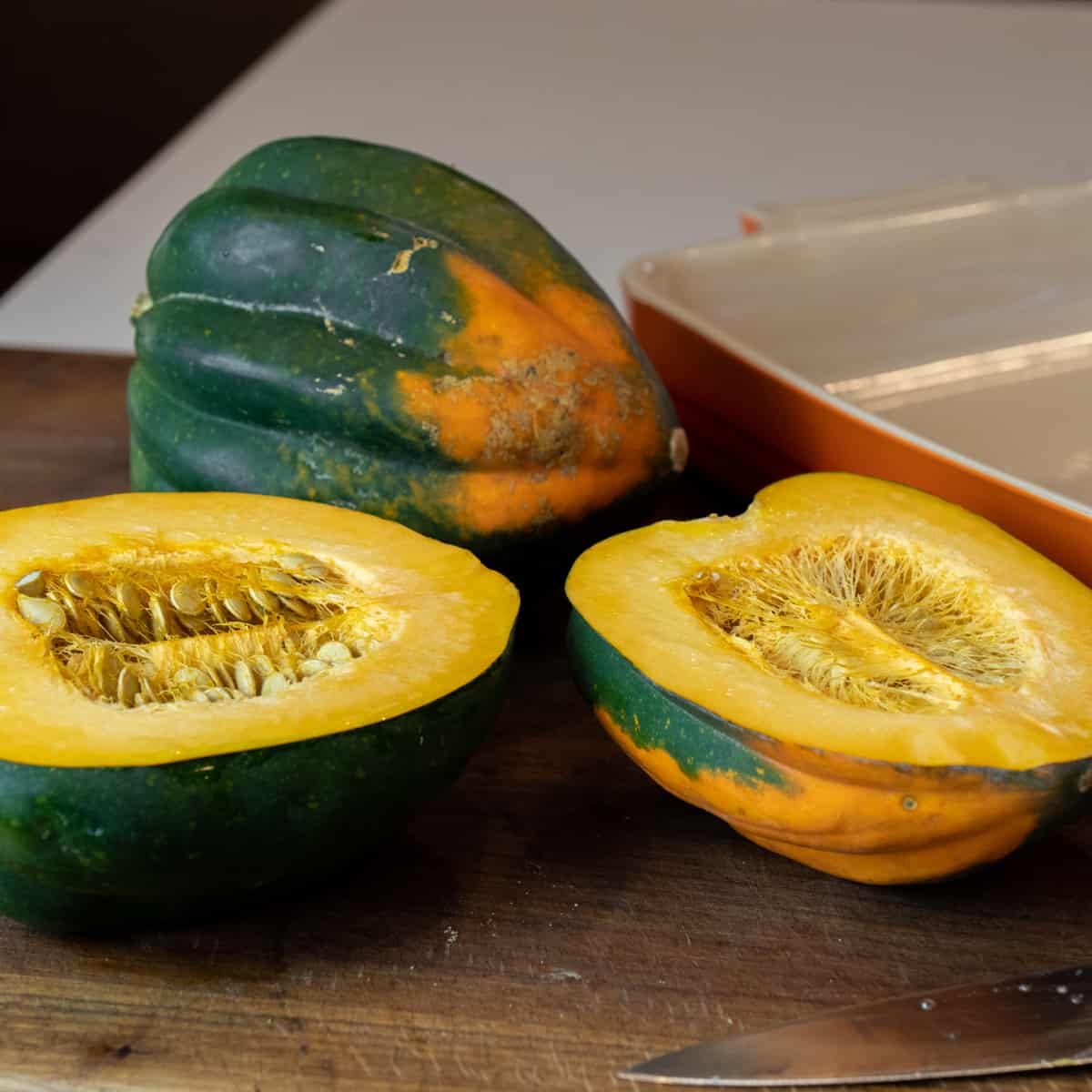 How To Cut An Acorn Squash
Preparation for this dish is very easy. Cut the acorn squash in half and scoop out all the seeds and slimy stuff. The inside is quite similar to a pumpkin. Place them hollowed side up, on a baking sheet.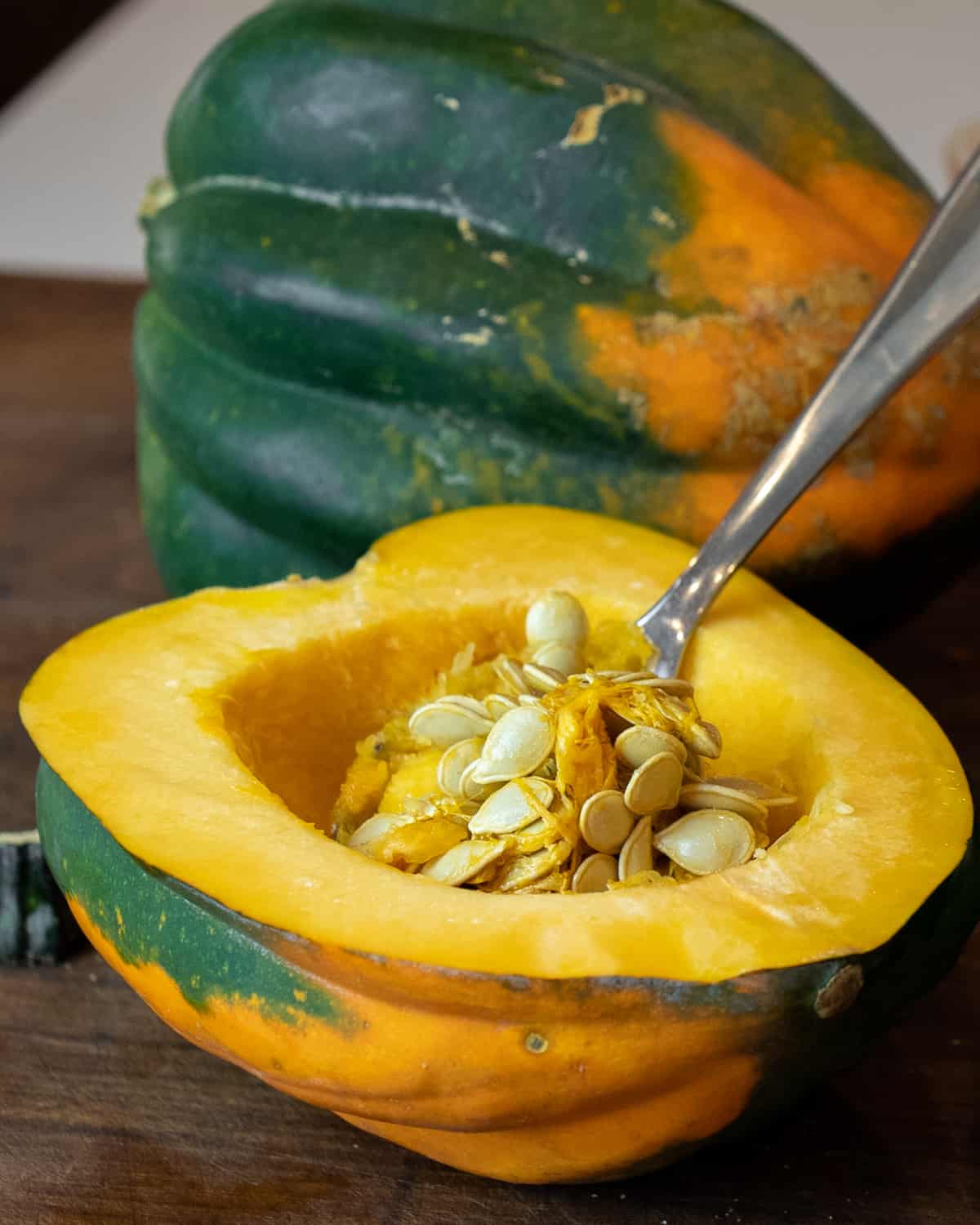 How To Clean Out An Acorn Squash
Cleaning the inside of an acorn squash is very simple. Once it is cut in half, you will see the inside area that is filled with seeds and slimy stringy pulp.
Use a large spoon to scoop out the seeds and pulp. It should clean out quite simply and scrape the inside of the hollowed out area removing any excess stringy bits. You should end up with a nice cleaned out acorn half as you can see in the image below. Do this with the remaining squash halves.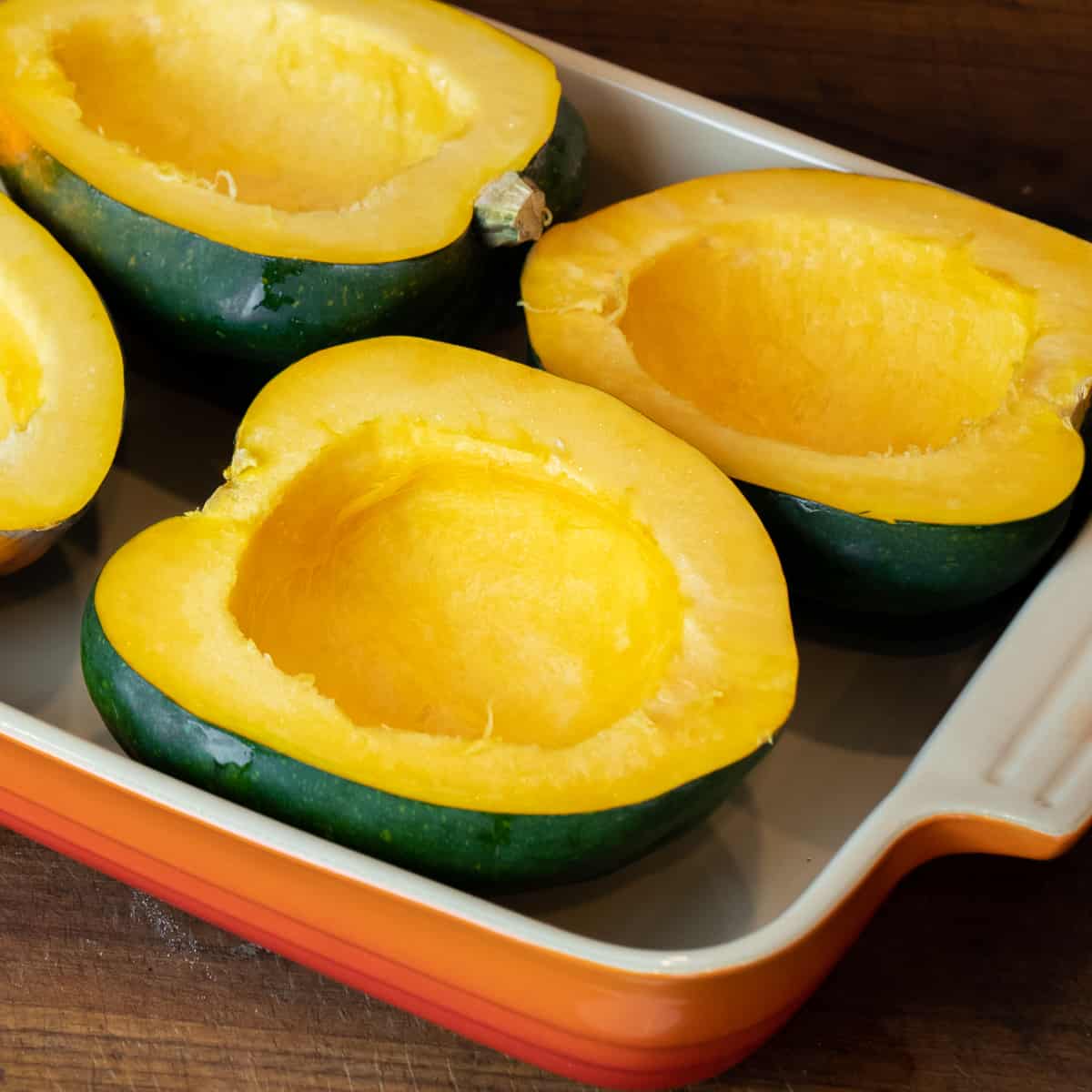 Place the cleaned out acorn squash halves in a baking dish. Roasted acorn squash can be cooked in a stoneware baking dish or a cookie sheet.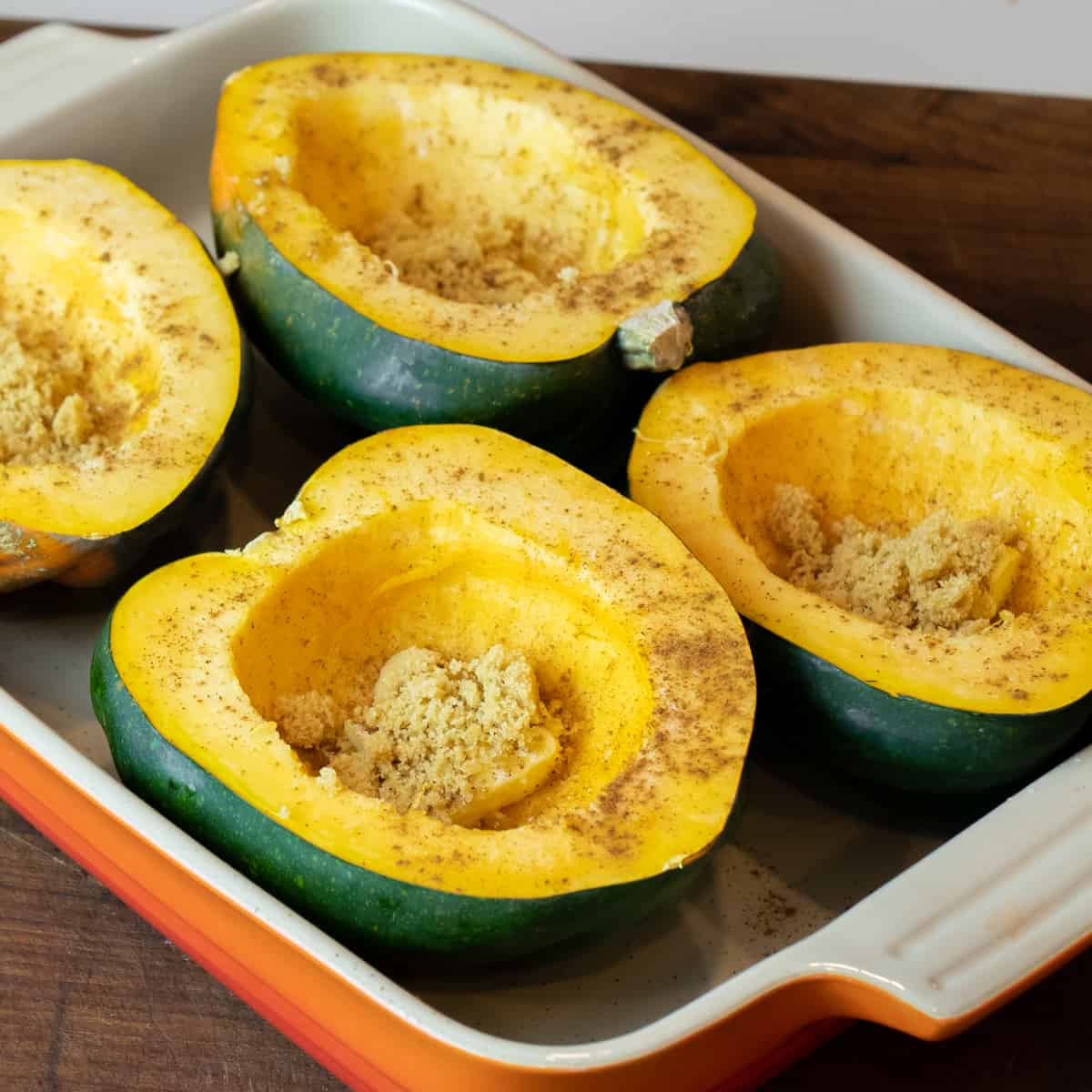 Add The Butter and Seasoning!
The recipe for roasted acorn squash has it cooked with butter, brown sugar, cinnamon and salt. It is sweet, buttery and a perfect fall side dish.
Place some butter in the hollowed out portion of each acorn squash and sprinkle some brown sugar and seasoning on top.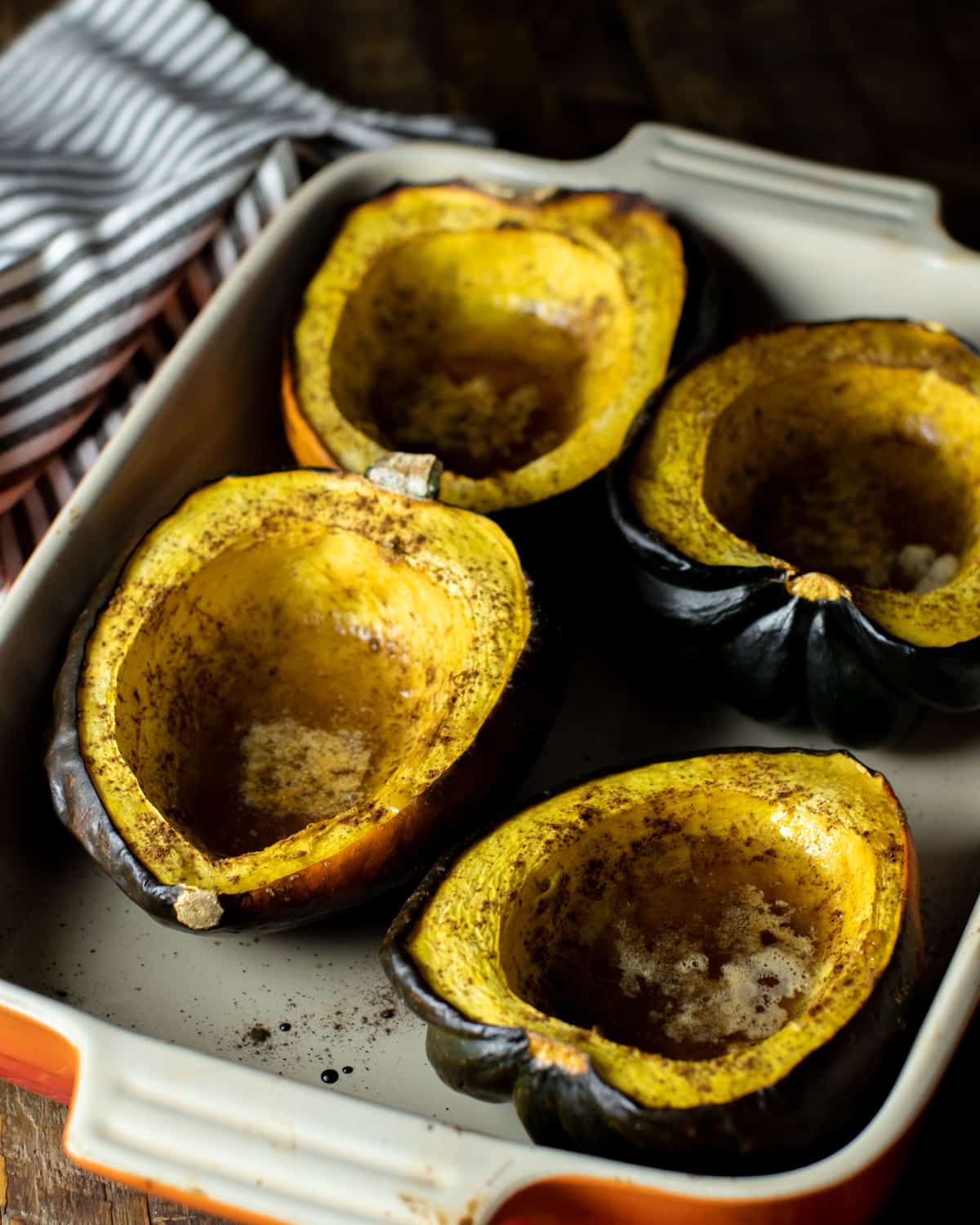 How Long To Cook Acorn Squash?
Preheat the oven to 400F. Place the squash in the oven and cook uncovered for about an hour. The squash is cooked through when it is pierced with a fork or knife and the meat of the squash is soft. If after an hour, the squash still seems hard when poked with the knife, cook a little bit longer and check it again.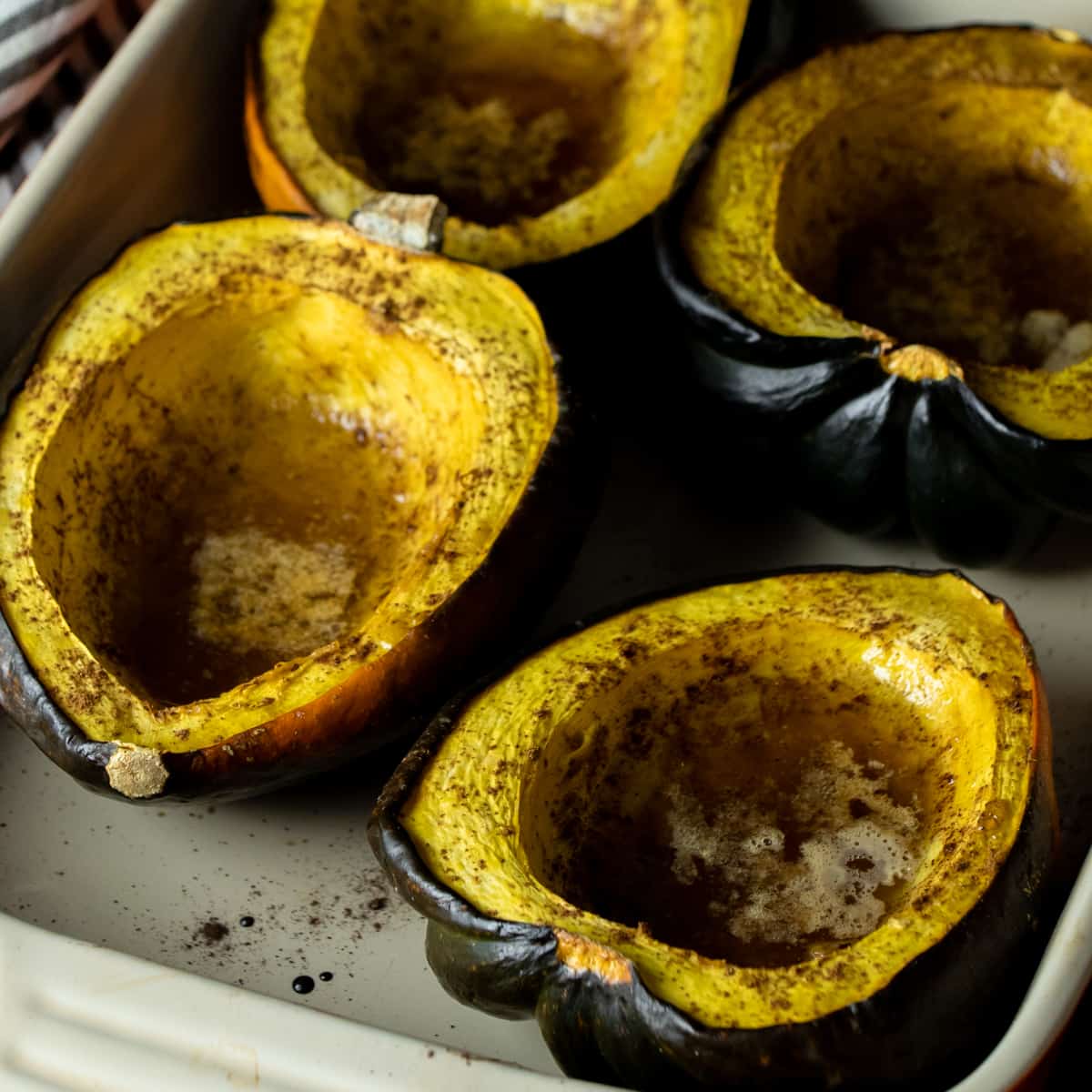 Other Squash Recipes
Squash is a versatile recipe, great with soups, salads and more. Check out these recipes for more ways to cook with squash.
Roasted Acorn Squash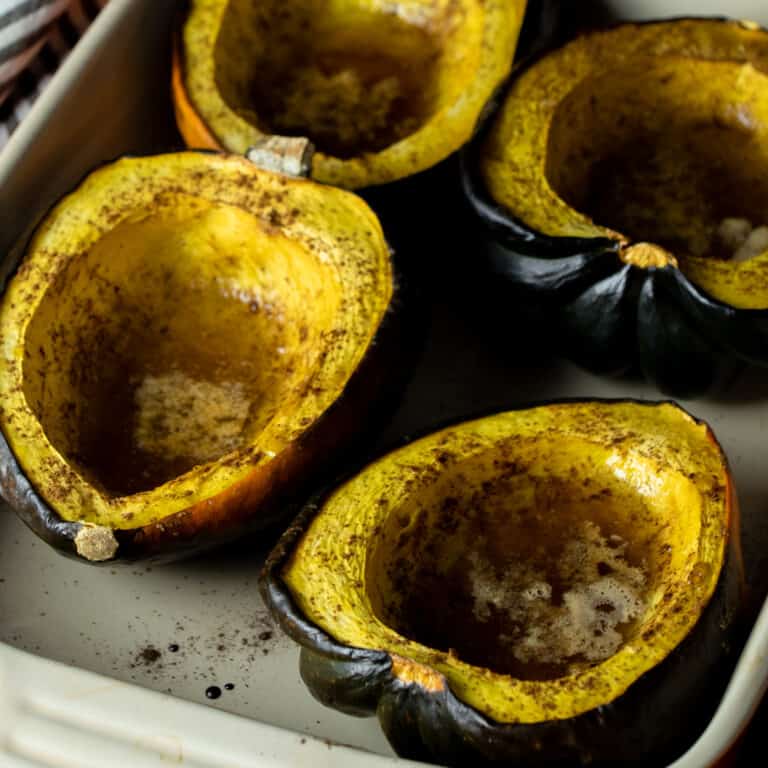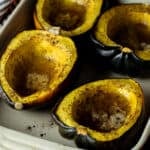 Print
Simple instructions for how to roast an acorn squash in an oven with butter, brown sugar and cinnamon.
Servings: 4 people
Ingredients
2 acorn squash
4 tbsp butter
4 tbsp brown sugar
2 tsp cinnamon
1 tsp salt
Instructions
Preheat oven to 400F.

Cut acorn squash in half lengthwise. Scoop out all the seeds and slime.

Place squash on a baking sheet, cut side up.

In the cavity of each squash, place 1 tbsp butter and brown sugar. Sprinkle cinnamon and salt across the tops of the squash.

Roast squash in the oven for an hour or until the squash is soft, when pierced with a fork.
Nutrition
Per serving:
Calories: 235kcalCarbohydrates: 35gProtein: 2gFat: 12gSaturated Fat: 7gCholesterol: 30mgSodium: 681mgFiber: 4gSugar: 12g