Pepperoni Pizza Spaghetti Squash
Spaghetti squash goes perfect with these pizza toppings and it is so good as a side, or even the main dish. You could vary it up with many different toppings as well.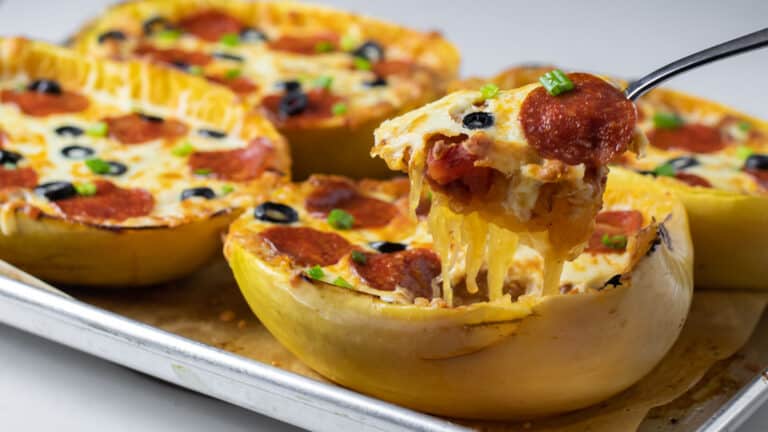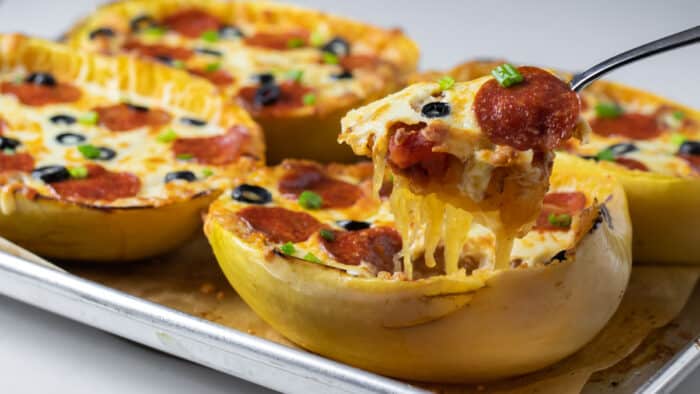 Over the years, spaghetti squash has become one of my favourite vegetables. This winter squash is unique due to its stringy insides which allows it to be used and made into many different dishes. The pizza spaghetti squash recipe here showcases how this squash can be used in some fun ways to create a delicious meal.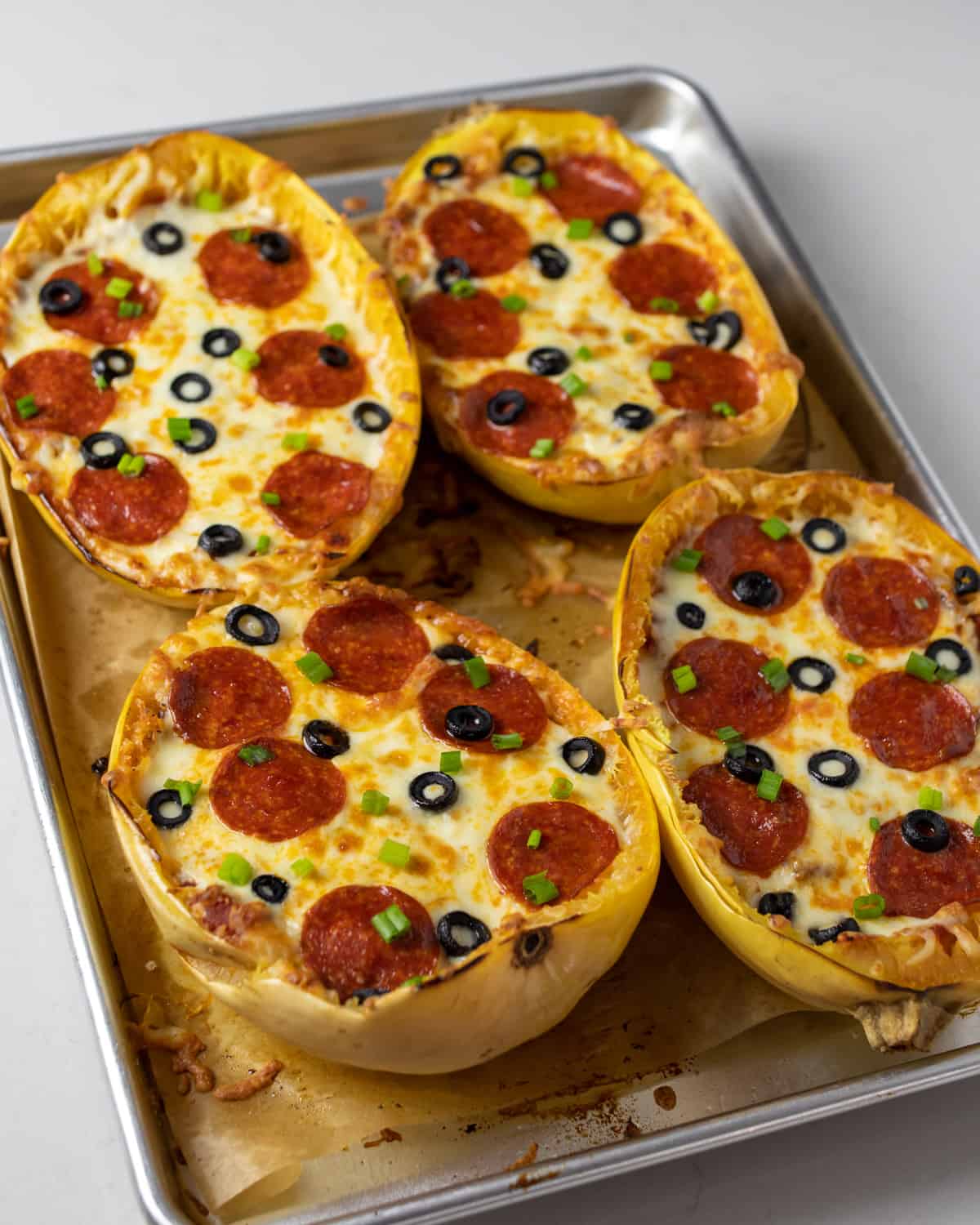 What Is Spaghetti Squash?
Spaghetti squash is a winter squash, like no other, because it has an inner flesh that is naturally stringy and resembles noodles. Once cooked, the inside can be scraped and in a matter of seconds will be full of long strands of the squash and it looks just like spaghetti. Here are a few of the reasons I absolutely love to cook with spaghetti squash.
Versatility – you can cook treat spaghetti squash like any other squash, or you can use it as an alternative to pasta. This makes it an excellent choice for people on gluten free or low carb diets.
Made multiple ways – while this recipe has the squash being baked, it can also be microwaved, boiled or steamed.
Variety – This squash goes with many different sauces and types of toppings. Or, you can serve it with some butter and salt for a simple side dish.
Slightly sweet – this squash has a very mild flavour with a hint of sweetness.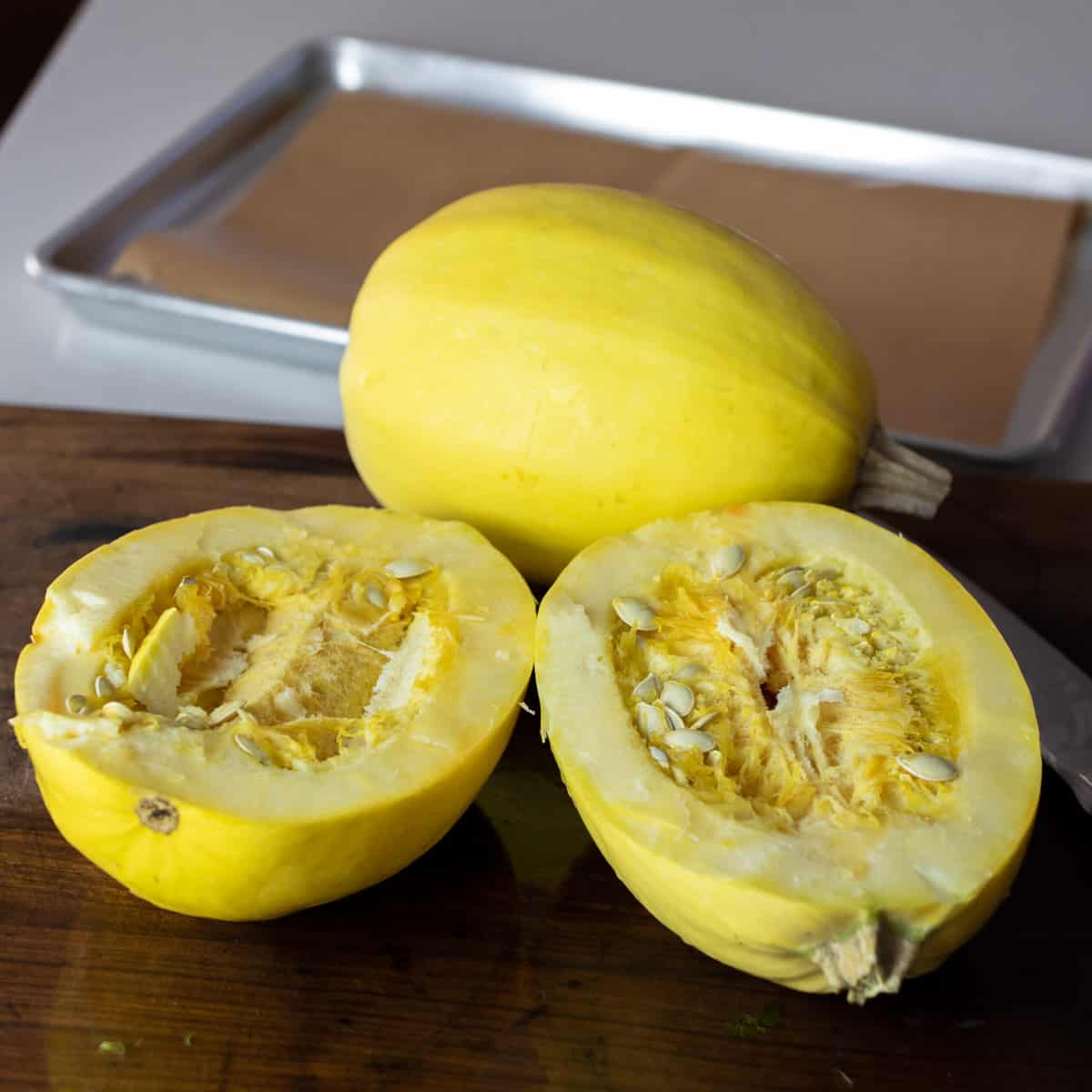 Cutting A Squash
Getting these squash ready for baking is similar to other kinds like butternut and acorn squash. Cut the spaghetti squash in half lengthwise. Be careful as the outer shell is hard and it can be a little difficult to get the knife through.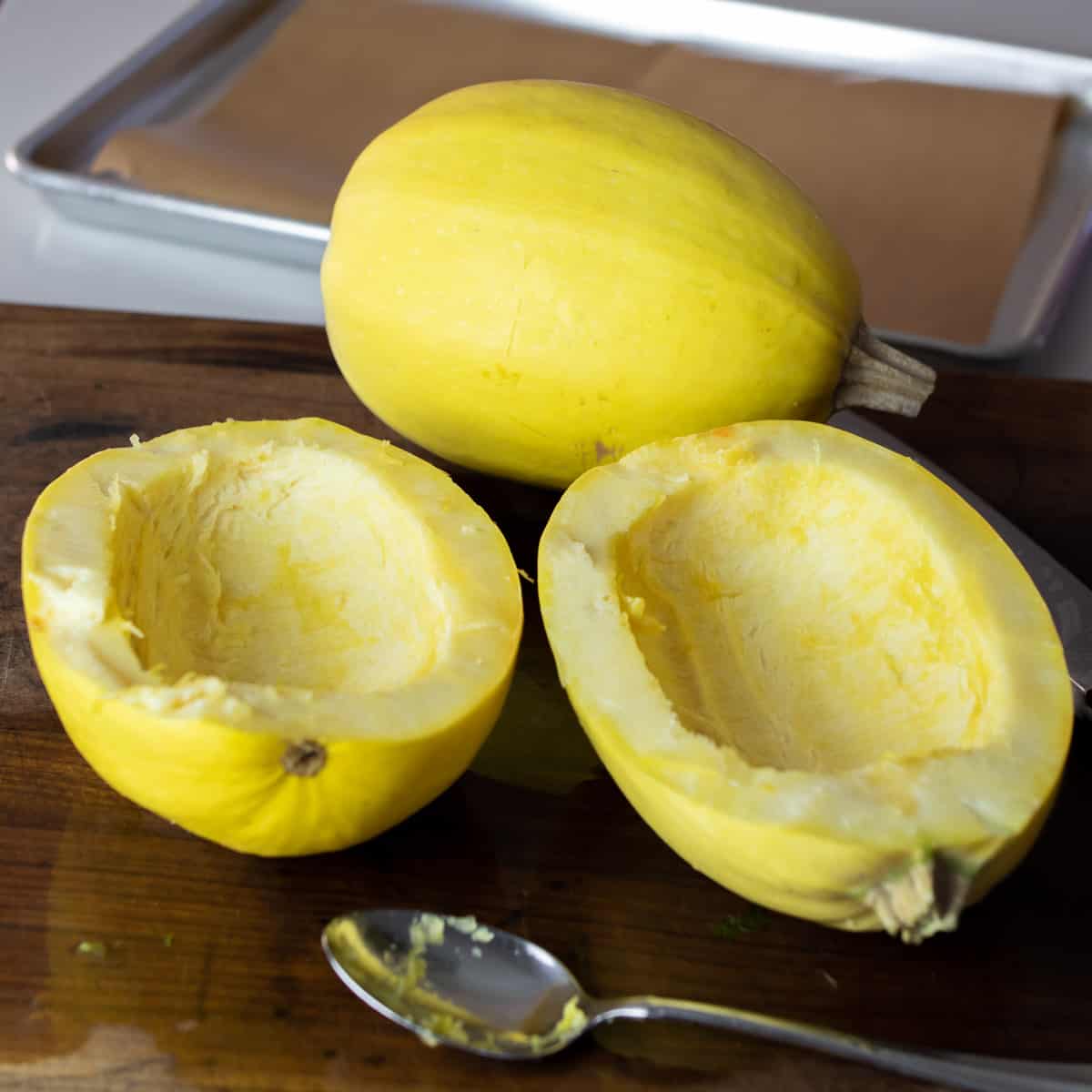 How To Clean A Spaghetti Squash
Just like other squash, there is a bunch of seeds and fibrous pulp. This needs to be removed. Use a spoon to scoop out all the seeds and pulp. Scrap along the inner flesh of the squash to make sure it is all gone. You can discard all the stuff that has been removed.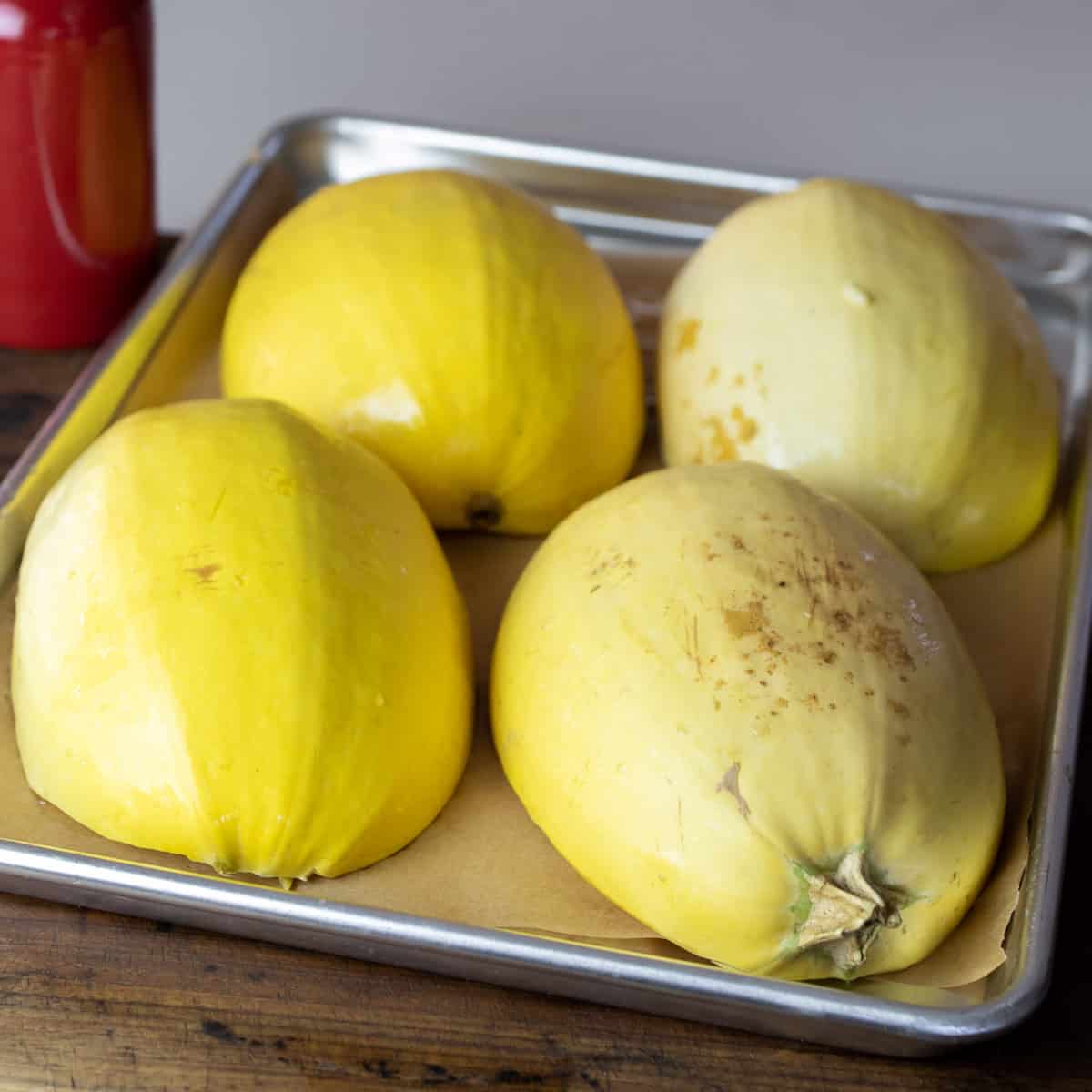 How To Bake Spaghetti Squash
Once the squash has been cut in half and scraped off all the seeds and pulp it is ready to go in the oven. First though, I like to brush the inside of the hollowed out squash with a little bit of oil. Then, place them upside down on a baking sheet lined with parchment paper. Place them in a 375F oven for 40-45 minutes.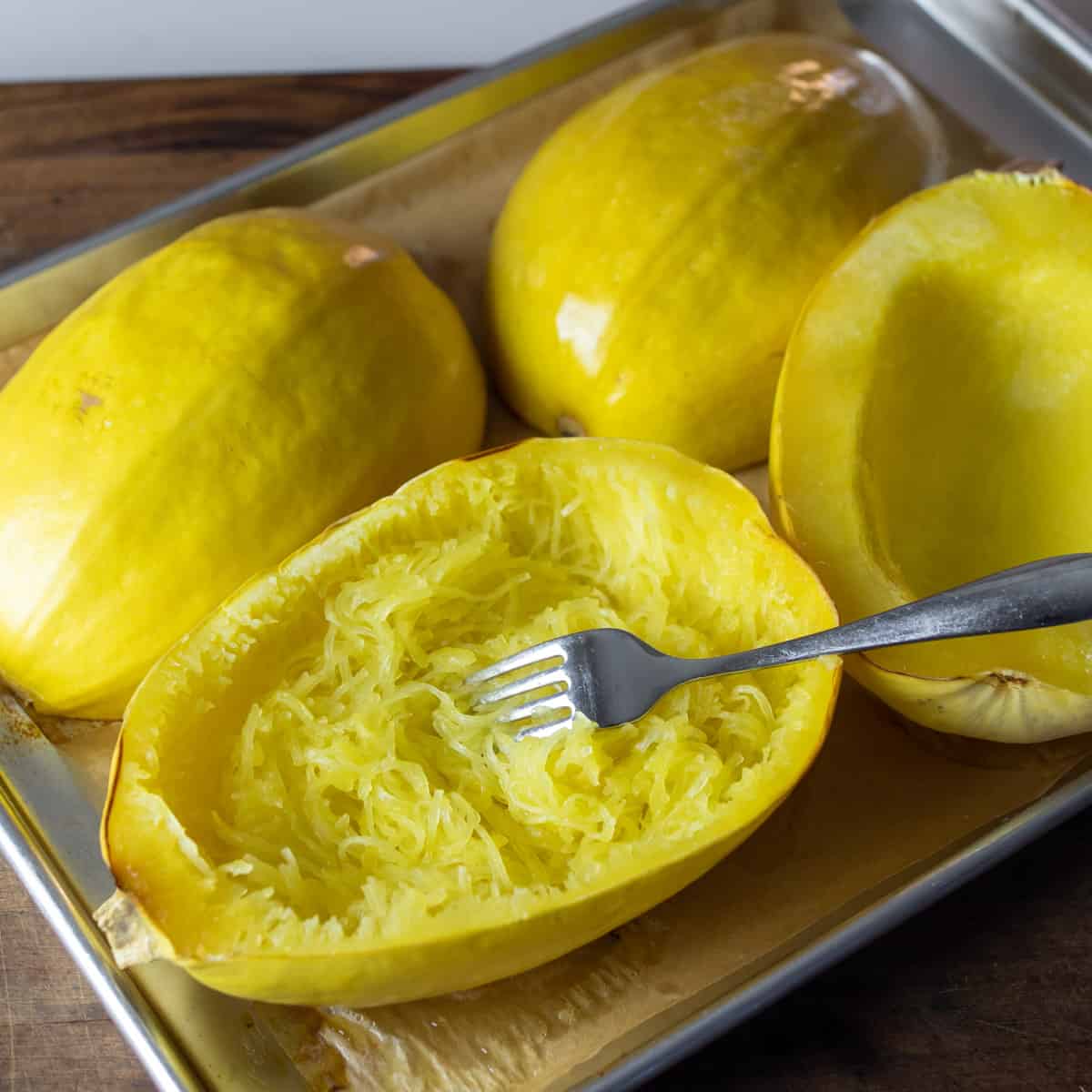 Once the squash has finished baking and comes out of the oven, it is time to flip them over. Take a fork and start scraping the inside of the squash all the strands will fluff up and, in no time, there will be a pile of spaghetti-like strings of squash in the hollowed out half of the squash. Spread the strands out evenly.
Pizza Topping Time
Now that the squash is cooked and ready, it is time to turn this into a pepperoni pizza spaghetti squash. Spread some pizza sauce all over the strands of the squash. You could also use plain marinara sauce as well if you like. When I use marinara sauce, I will sprinkle some dry oregano and fennel seeds on top to give it that pizza sauce flavour!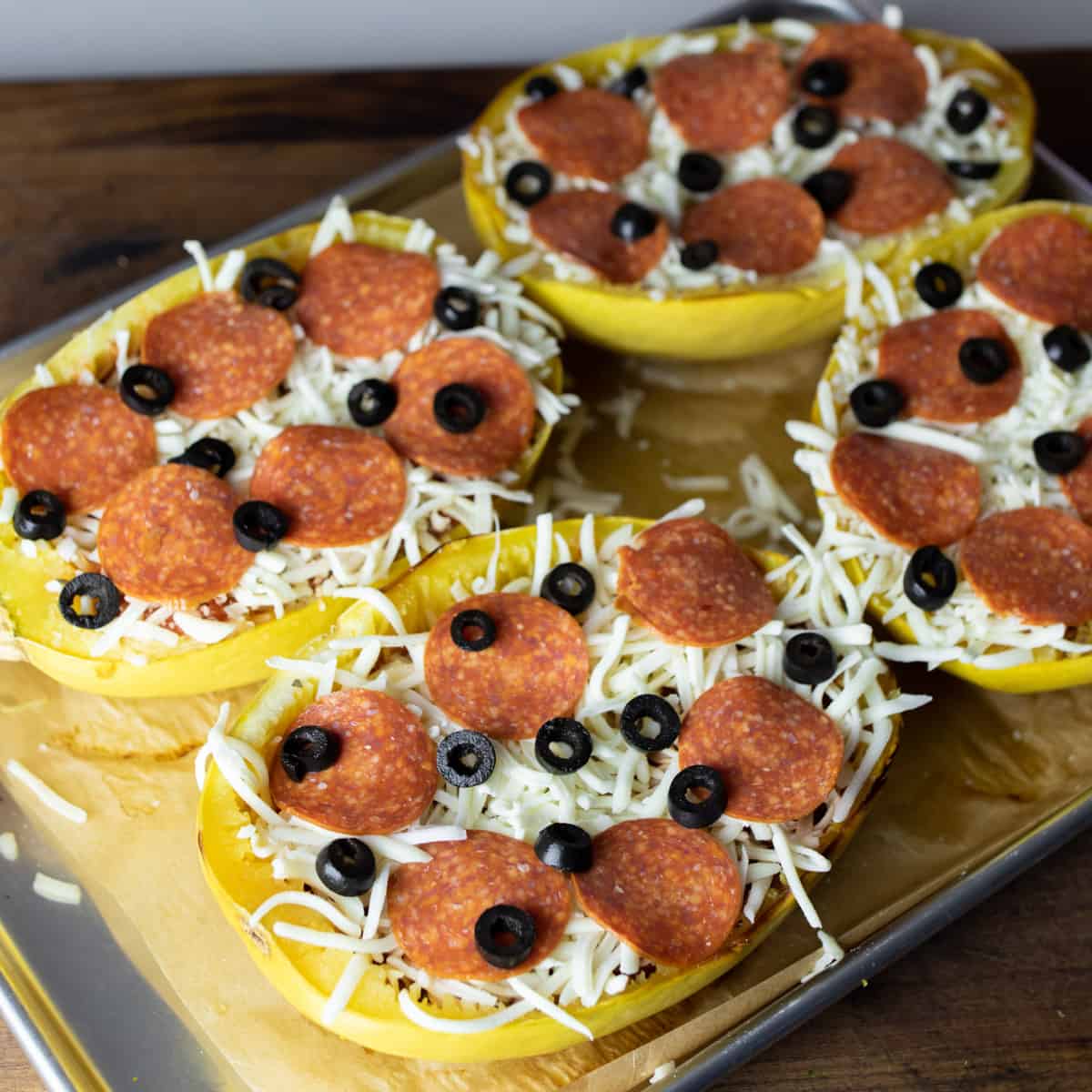 Then, add the grated mozzarella cheese, pepperoni slices and black olives on top.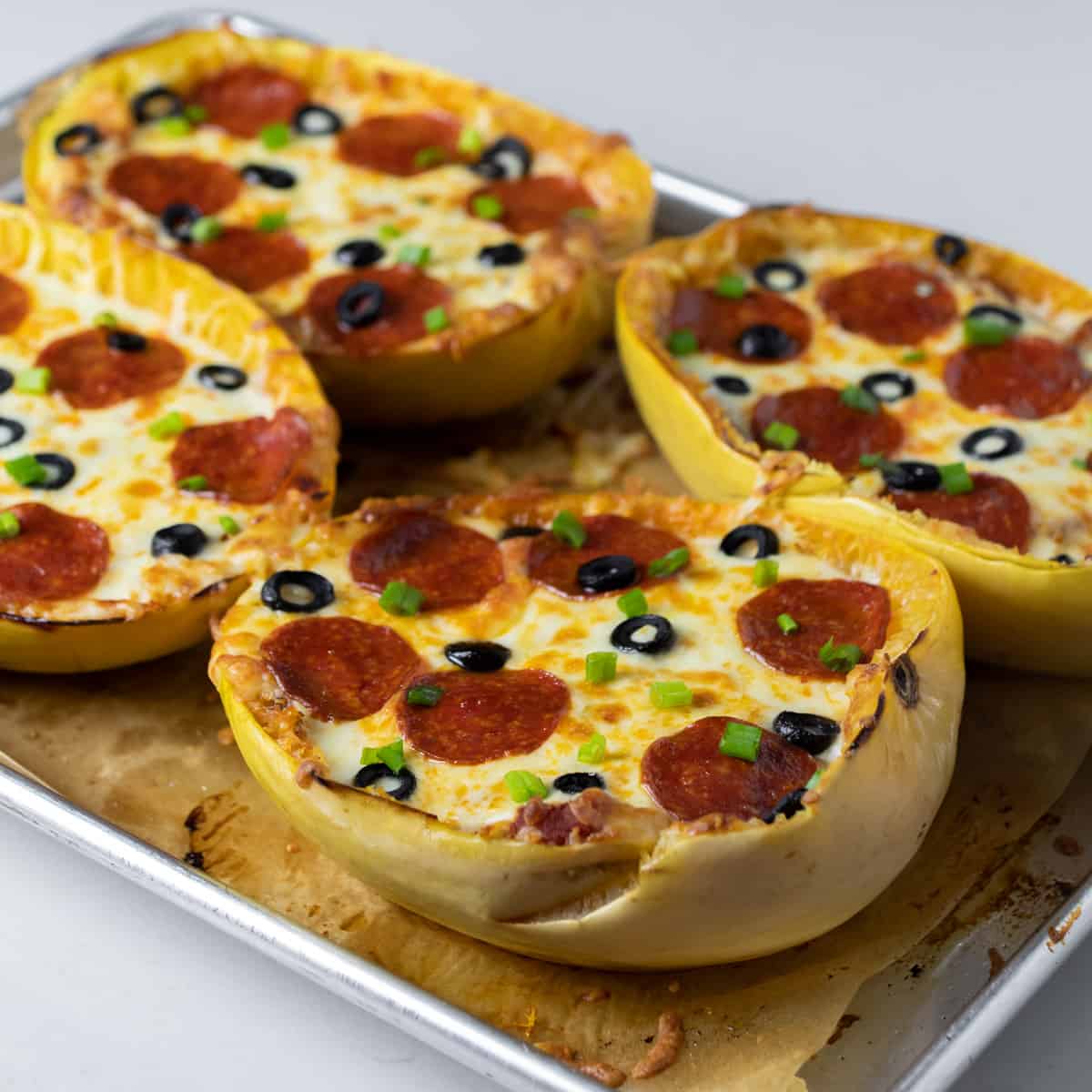 How Long To Bake With Toppings
The pizza squash is ready to go into the oven. Bake in a 425F oven for 10-15 minutes, or until cheese is melted and bubbly and the pepperoni slices are getting slightly crispy around the edges. You want the top to look the very same way that you would look for a pepperoni pizza to look as it comes out of a hot oven. Take it out of the oven and garnish with some sliced green onions.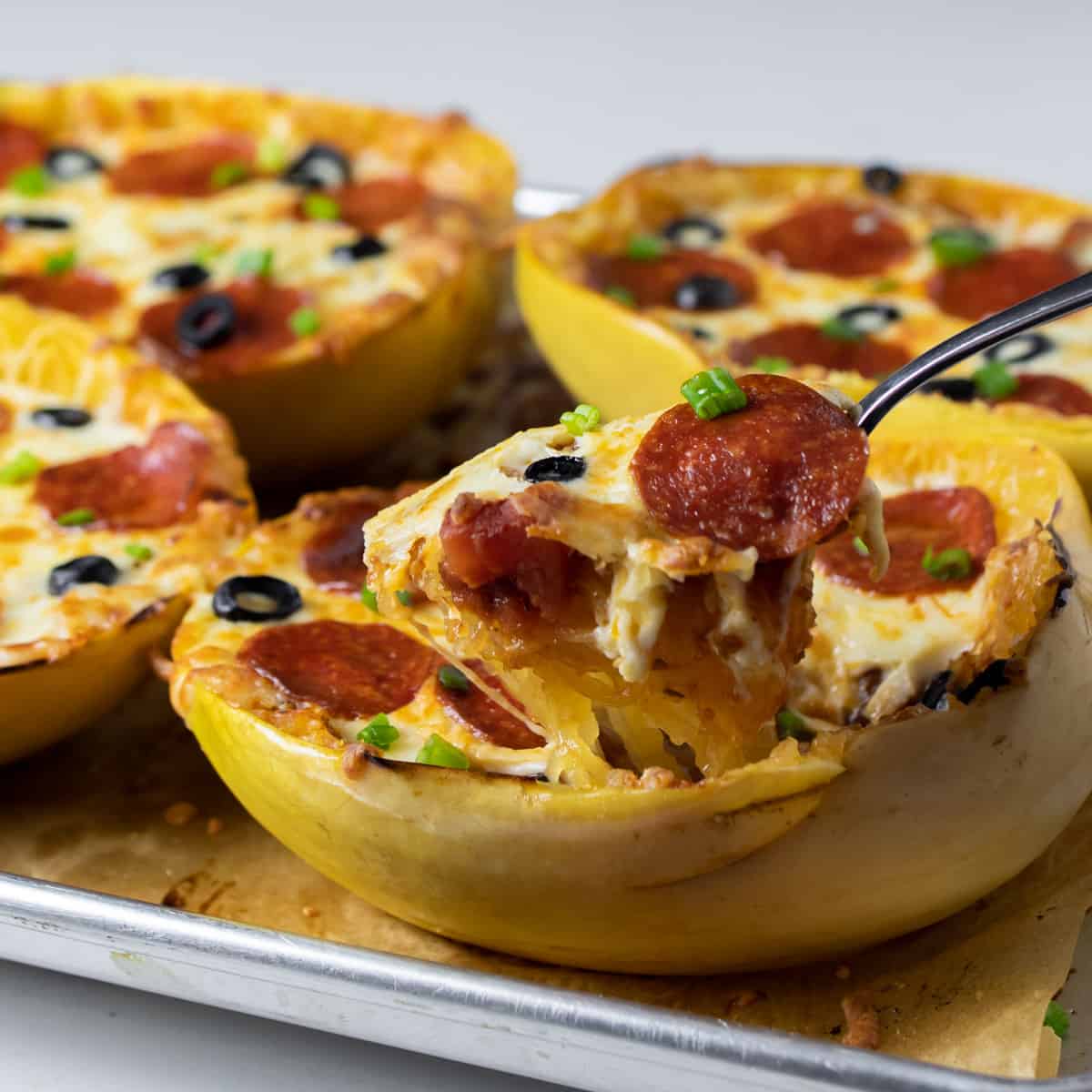 How To Serve Spaghetti Squash
To serve this, you can spoon a hefty portion onto a plate. Make sure that you don't just get the pizza toppings, but you also get down into the strands of squash. If you are serving the pizza spaghetti squash as a main course, you could serve each half to one person and people could eat right out of the half of the squash.
More Great Squash Recipes
Roasted Acorn Squash – simple squash that is baked in an oven with butter, brown sugar and cinnamon.
Sautéed Yellow Squash Ribbons – an easy side dish made with summer squash.
Roasted Butternut Squash – small cubes of squash roasted in the oven. These can be added to many other dishes, or simply served as a side.
Acorn Squash with Turkey Cranberry and Rice Stuffing – the name of this recipe says it all! A perfect dish for fall that is a meal in itself.
Pepperoni Pizza Spaghetti Squash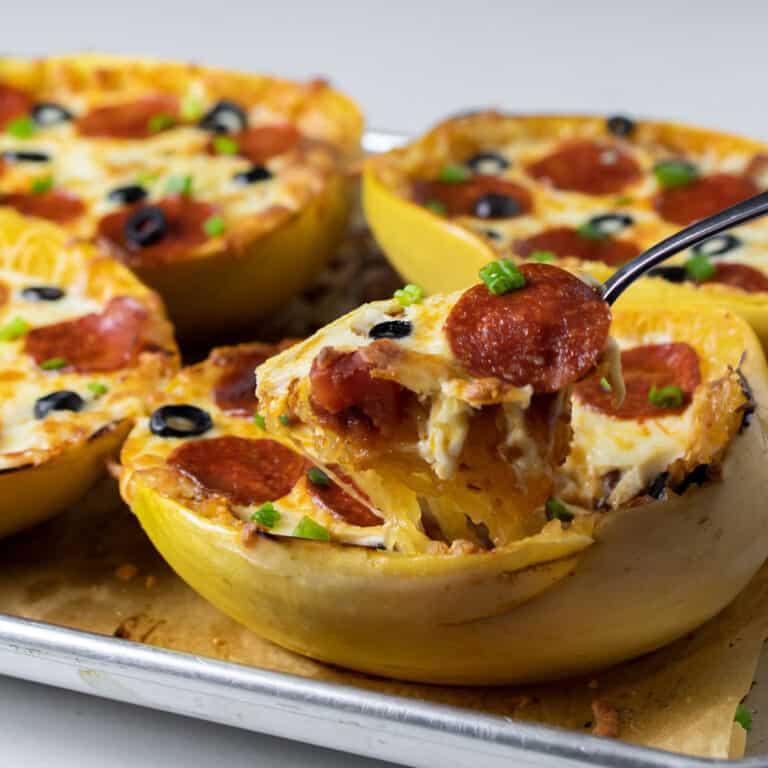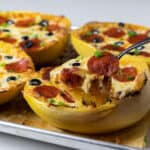 Print
Baked spaghetti squash with pizza sauce, sliced pepperoni and mozzarella cheese!
Servings: 8
Ingredients
2 spaghetti squash
2 tbsp oil
1 1/2 cups pizza sauce
1 cup pepperoni slices
3 cups mozzarella cheese , grated
1/2 cup black olives , sliced
1 green onion , sliced
Instructions
Cut each spaghetti squash in half lengthwise. Use a spoon to scoop out all the seeds and stringy pulp.

Brush the inside of the of the squash halves with oil and place, upside down, on a baking sheet lined with parchment paper. Bake in a 375 oven for 40-45 minutes, or until the inside of the squash is cooked through.

Remove the squash from the oven and flip over. Use a fork to scrape the insides of the squash to pull up all the stringy strands of squash so that it looks like a pile of spaghetti pasta. Evenly spread the strands of squash in the hollowed out half of squash.

Spread pizza sauce all over the strands of squash. Then top with grated cheese, sliced pepperoni and black olives.

Bake in a 425 oven for about 10-15 minutes, or until the cheese melts and is bubbly and the pepperoni just starting to crisp around the edges.

Remove from the oven and sprinkle with some sliced green onion. Serve hot.
Nutrition
Per serving:
Calories: 327kcalCarbohydrates: 21gProtein: 14gFat: 22gSaturated Fat: 9gCholesterol: 47mgSodium: 877mgFiber: 5gSugar: 9g