Is it too early for pumpkin recipes?
During the fall season, the internet is bombarded with all sorts of pumpkin recipes. Facebook, Pinterest and Twitter have countless images of pie, ice cream, bread, lattes, casseroles and more, all made with pumpkin. I love it, but readily admit that by the end of the fall season, I have had my fill of the bright orange squash.
The other day, I had to open up a can of pumpkin puree and there was a bit leftover. Not wanting it to go to waste, I decided to make some pumpkin pie muffins. The blend of cinnamon, ground ginger, nutmeg and cloves along with the pumpkin made these muffins taste just like my favourite thanksgiving pie.
Topped with some toasted shelled pumpkin seeds gave a nice crunch to a very moist muffin.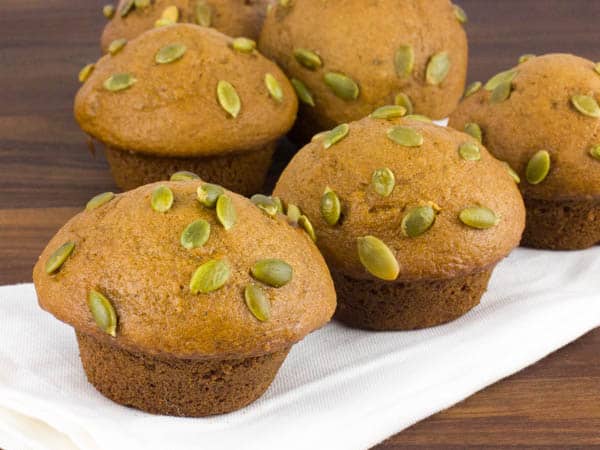 Pumpkin Pie Muffins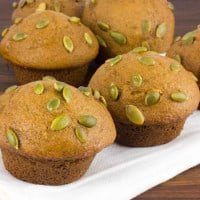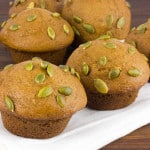 Print
Servings: 18 muffins
Ingredients
1 1/2 cups pumpkin puree
3 eggs
2/3 cup vegetable oil
2 cups brown sugar
1 tsp vanilla
1/3 cup plain yogurt
2 1/2 tsp cinnamon
1 tsp ground ginger
1/2 tsp ground cloves
1/2 tsp nutmeg
3 cups all purpose flour
2 tsp baking soda
1 tsp baking powder
1 tsp salt
1/3 cup toasted shelled pumpkin seeds
Instructions
Preheat oven to 350F.

Grease muffin tins or line them with muffin cups.

Whisk together the pumpkin puree, eggs, oil, brown sugar, vanilla and yogurt until smooth.

In a separate bowl, whisk together the flour, salt, baking soda, baking powder cinnamon, ground ginger, ground cloves and nutmeg.

Fold the flour mixture into the wet mixture until combined and all the dry mixture is wet. Be careful not to over mix.

Spoon into prepared muffin cups. This recipe will make 18 large muffins.

Sprinkle some pumpkin seeds on top of the muffin batter in each cup.

Place on the middle rack of the oven and bake for 20-25 minutes, or until a toothpick inserted into the center comes out clean.

Cool the muffins before removing them from the muffin tin.