This soup is a family recipe that has been passed down through generations. It is hearty, delicious and full of flavour!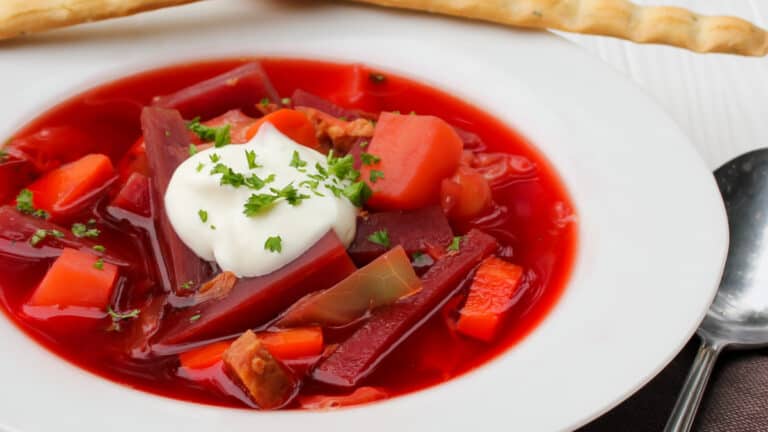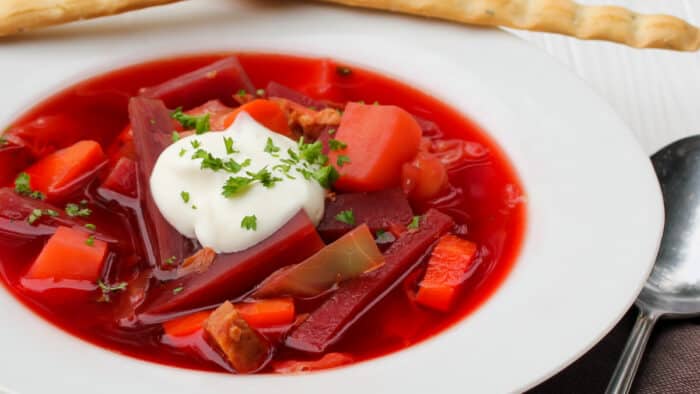 Today's soup is the one I have made more than any other. My ancestry is half Ukrainian, from my father's side. Ukraine cuisine has so many memorable dishes: perogies, cabbage rolls and kielbasa are three of the most famous. Borscht is a soup that is commonly served in Ukraine, Russia and other Eastern and Central European countries. This Ukrainian borscht recipe came from my grandmother. She passed it down to my mom and she taught me.
There are as many variations of borscht as there are people who make it; no bowl is the same as another. I remember having borscht as a young child. Both my mom and grandmother would make it in the fall, when root vegetables were in harvest. There are so many memories I experience each time I have borscht now as an adult. Memories of family and comfort flood me with each spoonful.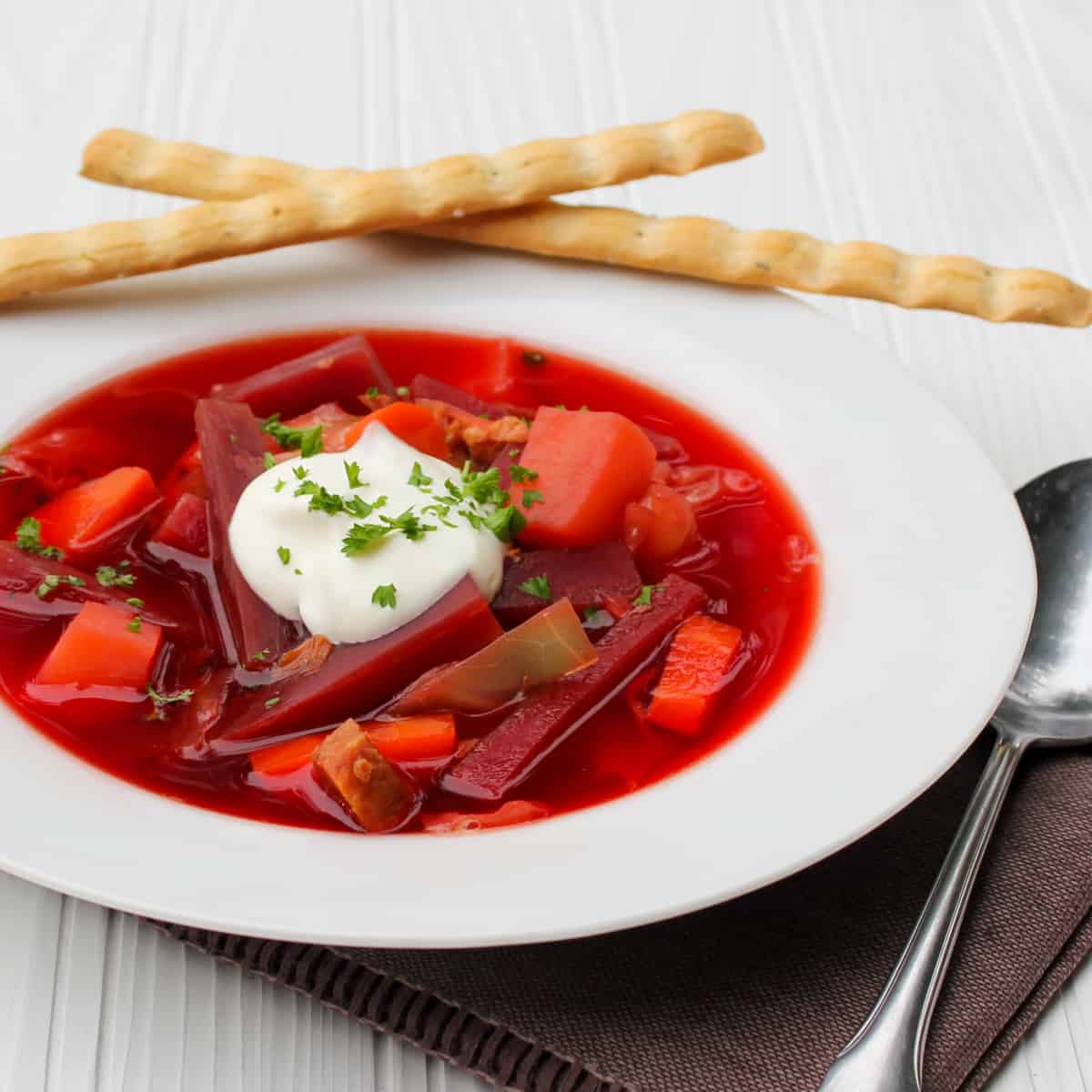 I am so thrilled to share this family Ukrainian borscht recipe with you. Borscht is hearty and chunky with so many ingredients. I use a ham bone to make the stock, and the beets give the broth a deep burgundy colour. In some ways, because of the large chunky vegetables, the soup reminds me of a stew. It is perfect to have on a cool fall day.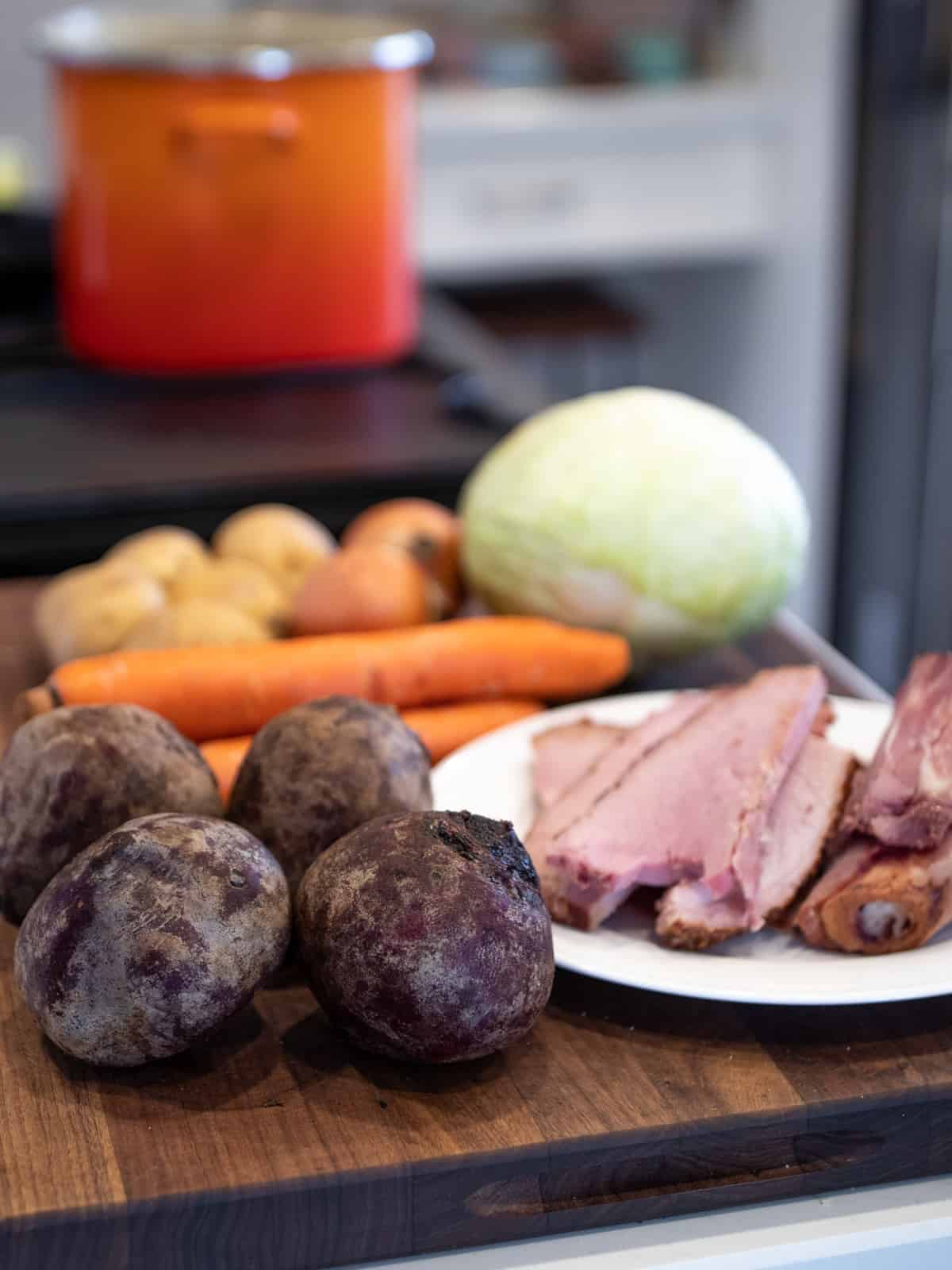 This recipe was one of the more difficult ones to write down. Since it is a family recipe, and I have made it many many times, I cook this dish by feel and by taste. I know what needs to go in and how it is supposed to look and taste so I have never really known exact quantities.
Ingredients you will need:
Ham bone with diced ham.
Beets
Potatoes
Green cabbage
Carrots
Onions
Salt
Pepper
Bay leaves
Sour cream
Parsley
How to Make Stock
The first step in cooking Ukrainian borscht is to make the stock. I like to use a ham bone the is left over from a previous meal. You couple also use a smoked pork hock. Add the ham bone, bay leaves and water to a large pot and bring to a boil. Lower the heat to a simmer so that the water has a low rolling boil.
One thing to monitor, as you are making the stock, is that the water will reduce down. I start with my pot about 3/4 or more full with water and the ham bone. I like the stock to cook for a good 60-90 minutes which would reduce the stock by about 1/3. As you make the borscht, if you feel that more water is needed, feel free to add a little extra.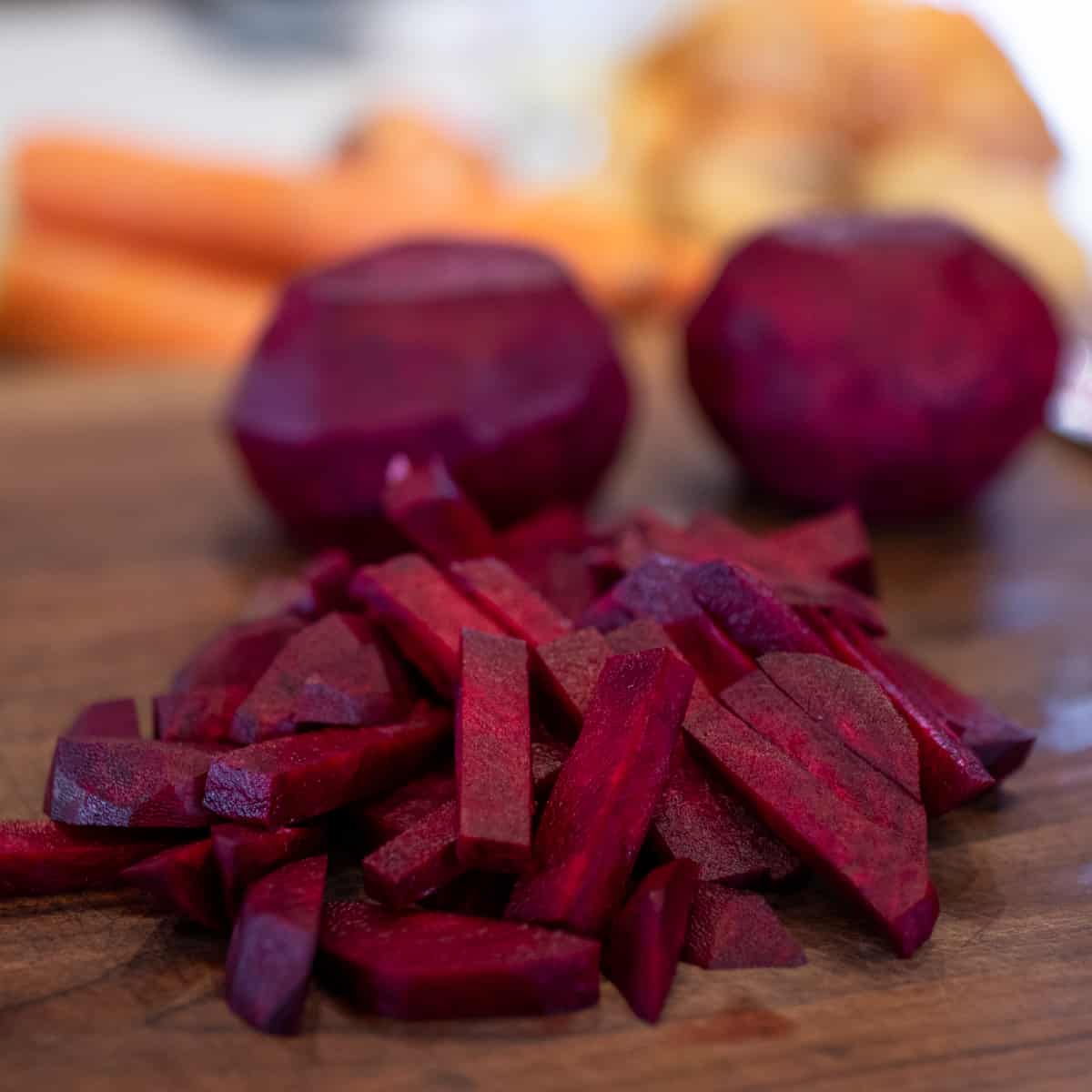 How to Cut the Beets
While the stock is simmering, I cut up all the vegetables. As you peel the beets, you will notice that the purple beet juice will stain your hands. I often use disposable food safe gloves to keep my hands clean. Once peeled, cut the beets into French fry sticks that 1/2 inch deep.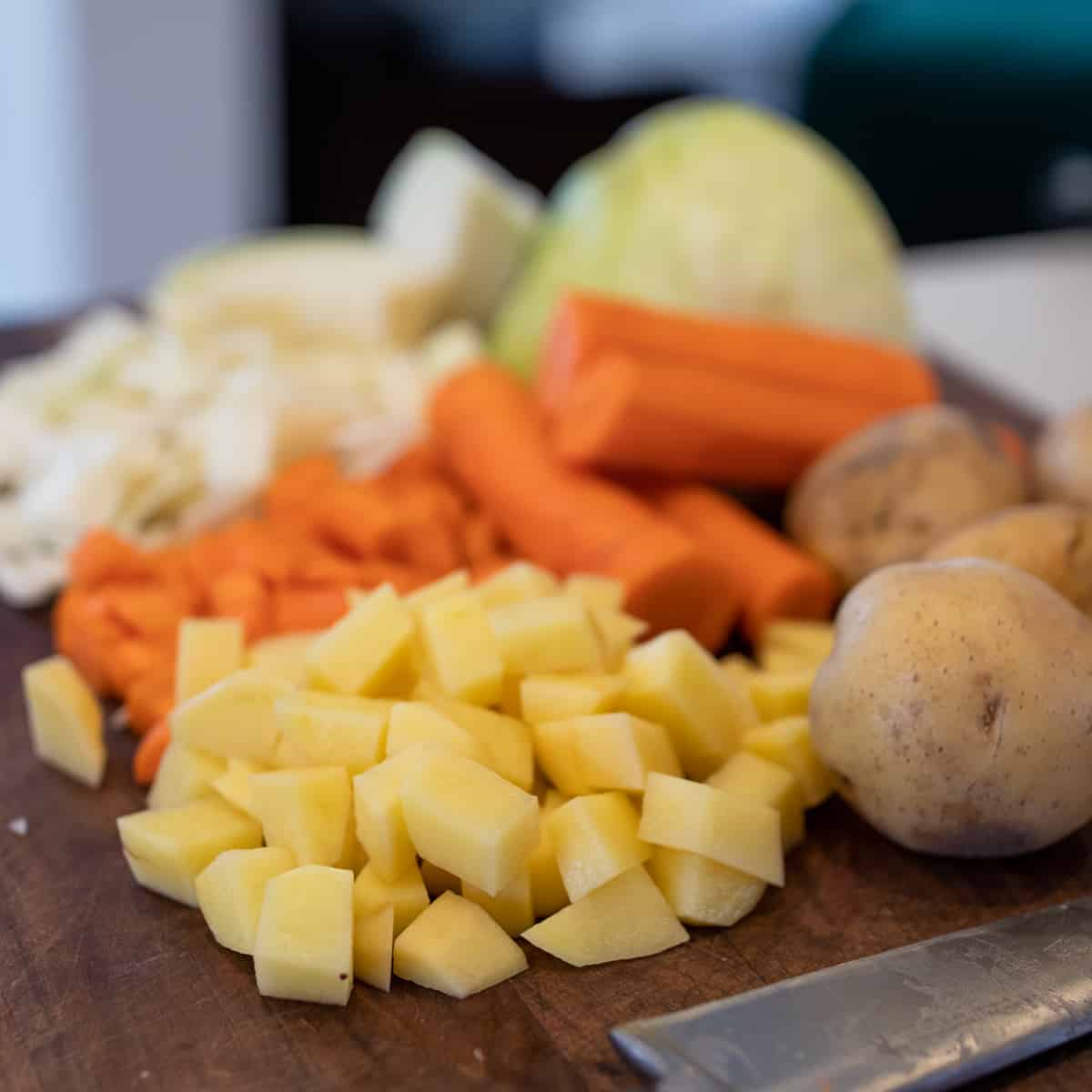 Potatoes, Carrots and Cabbage
Ukrainian borscht is a very hearty soup and besides the beets it is also filled with green cabbage and many other root vegetables. I like to cut them into nice sized chunks. This is the way that I cut vegetables for stews as well.
After the stock has been simmering for at least an hour, you can remove the bone and strain the stock. Add the beets, potatoes, carrots, cabbage and onions to the pot with the stock. Bring back to a boil and lower heat again to a simmer.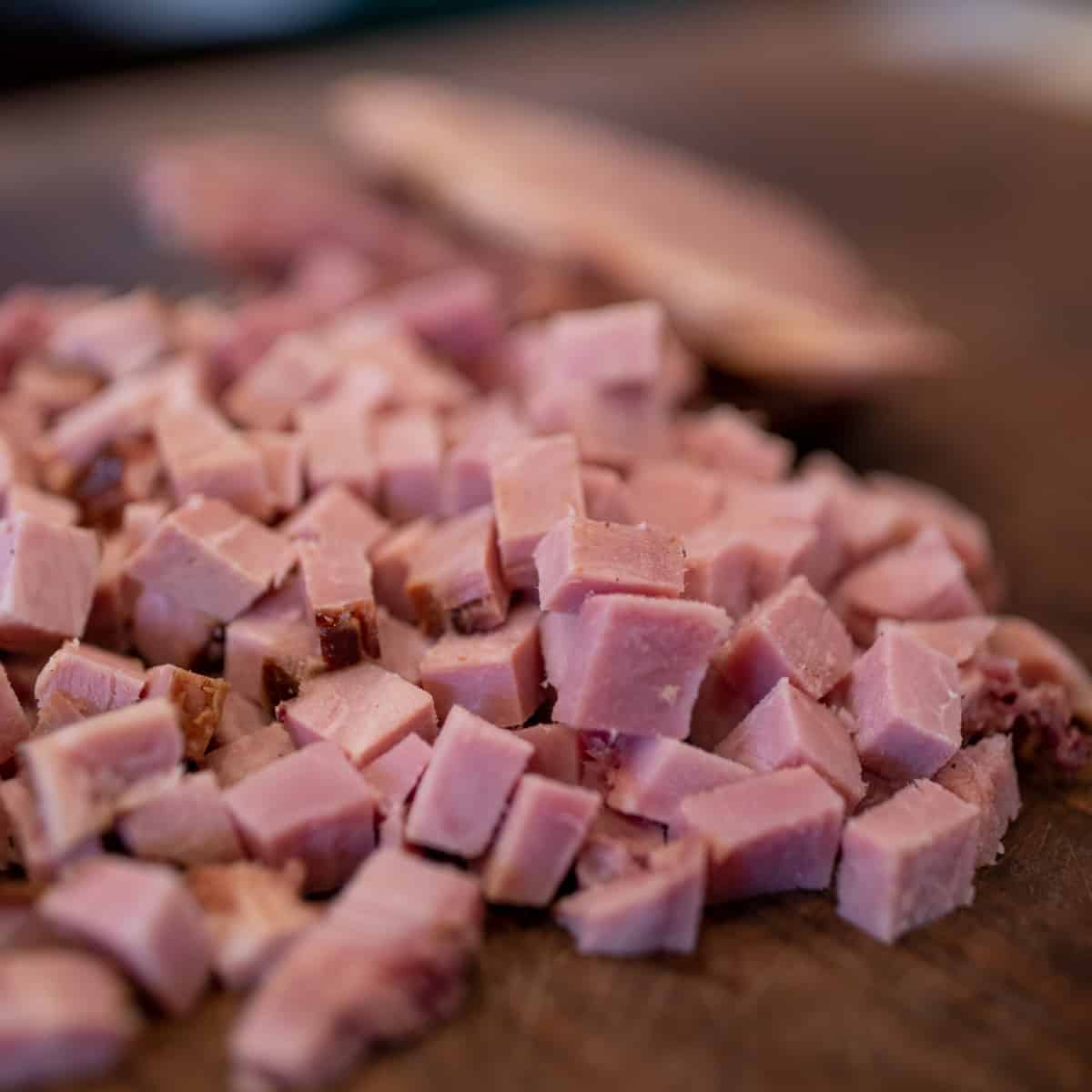 While the stock is simmering, dice up the ham and add it to the soup. I like lots of meat in my borscht so I use around 2 cups worth of diced ham. If you use a smoked pork hock, then cut the meat off the bone and dice it into small pieces.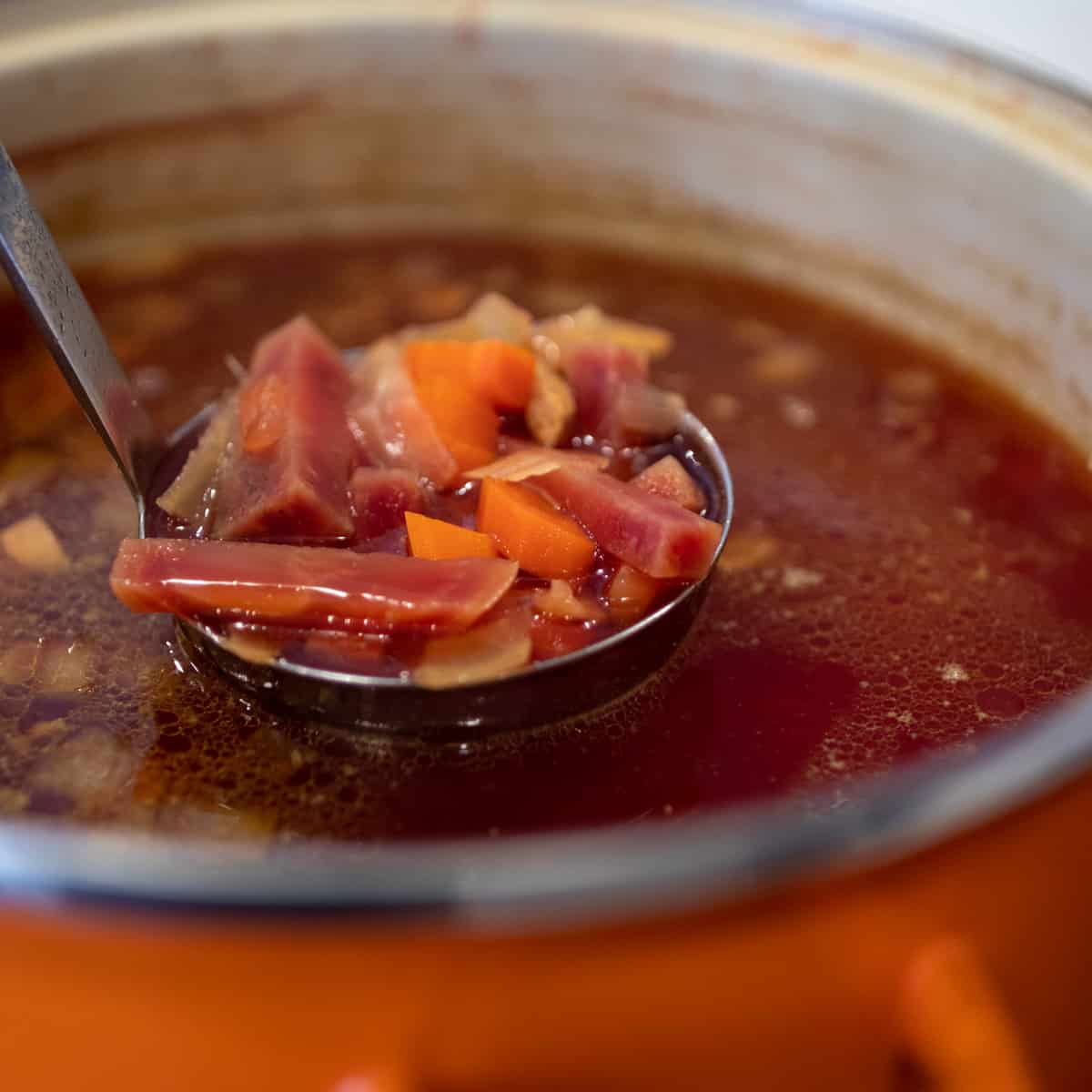 How Long to Cook the Soup
Once you add the chopped vegetables and diced ham to the stock, let it simmer for another 60-90 minutes. Add salt and pepper to taste. Once finished, it is ready to serve.
Ladle soup into a bowl, and top with a dollop of sour cream and fresh minced parsley.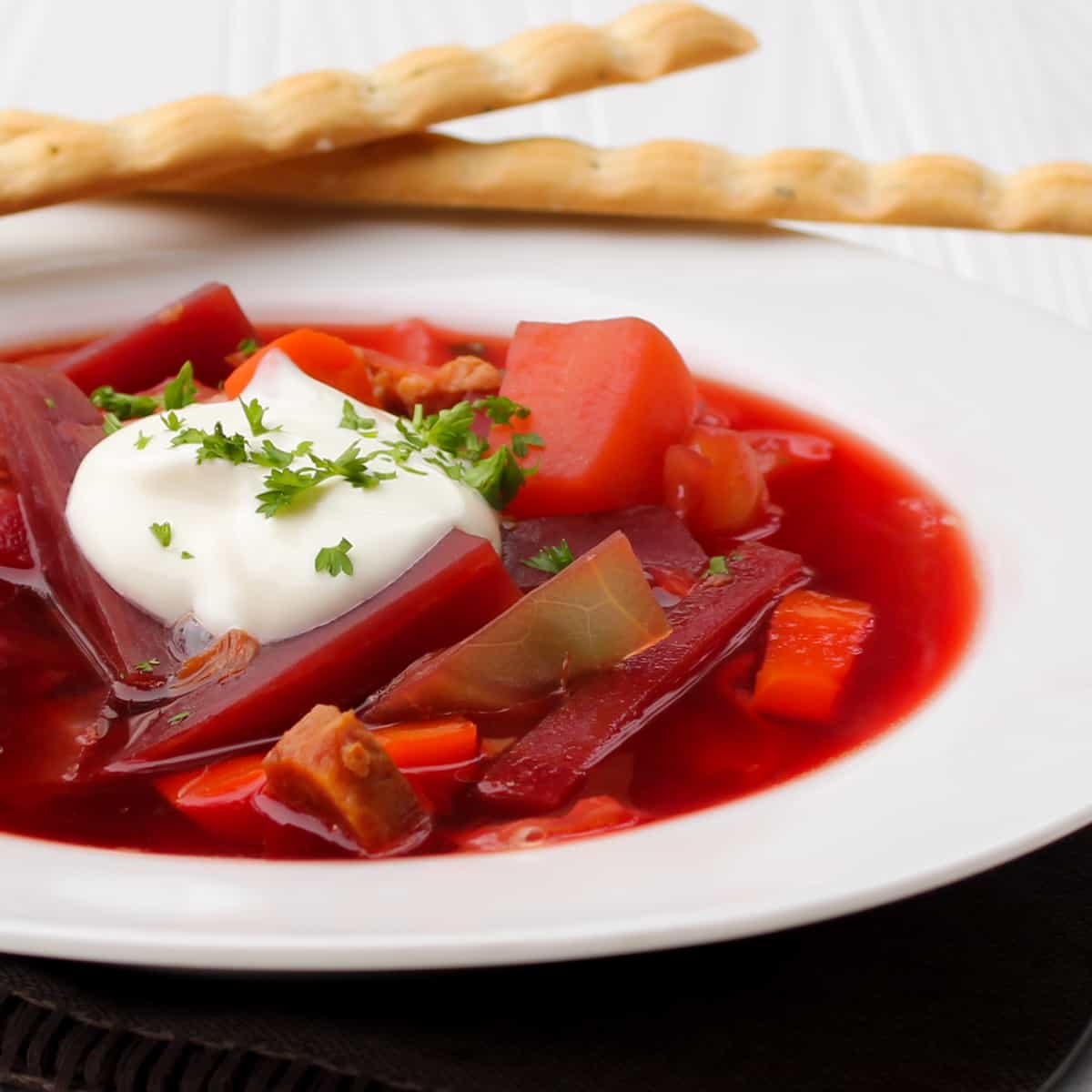 Here are some other Ukrainian family recipes!
If you like this Ukrainian borscht recipe, then check out these other recipes.
Traditional Pierogies – this is the recipes my grandmother used to make and my mom taught me.
Cabbage Rolls – these are popular in many countries and this is my grandmothers recipe.
Ukrainian Borscht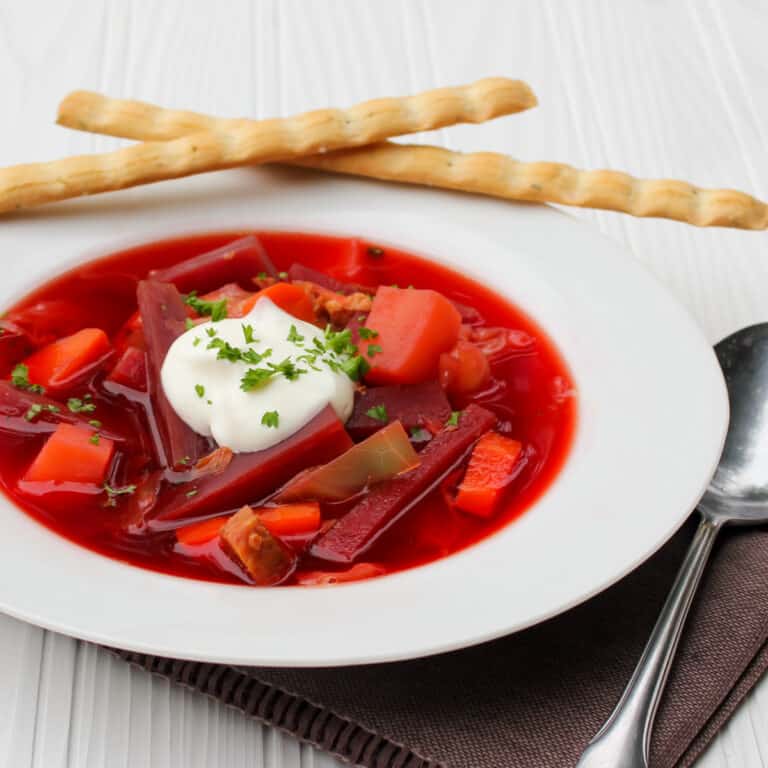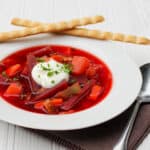 Print
Ukrainian borscht is a classic beet soup recipe. Also popular in Russia, this soup has beets, potatoes, carrots, cabbage, ham and topped with sour cream.
Servings: 8
Ingredients
1 ham bone (1-2 pounds of beef ribs works well also)
15 cups water (more if needed)
2 cups diced ham (or beef if using beef ribs)
6 beets
3 potatoes
3 carrots
1/2 cabbage
1 onion , minced
2 bay leaves
salt and pepper to taste
1 1/2 cups sour cream
1/3 cup fresh parsley
Instructions
Place ham bone and bay leaves in a soup pot with water. Bring the stock to a boil and let it cook for 1 hour.

While the stock is boiling, prepare the vegetables. Peel the beets and cut in long sticks, similar to french fries. Peel the potatoes and cut into 1/2 inch cubes. Peel the carrots and cut in 1/4 inch slices. Cut the cabbage in 1/4 inch strips.

After the stock has boiled for about 60-90 minutes, strain it to remove the bone and any other residue.

Bring the stock back to a boil and add the veggies, diced ham. Lower the heat so the soup is at a low boil and cook it for another 60-90 minutes.

Add salt and pepper to taste.

Serve with a dollop of sour cream and garnish with fresh parsley.

Alternatively, you can stir all the sour cream in the soup pot prior to serving.
Nutrition
Per serving:
Calories: 172kcalCarbohydrates: 15gProtein: 8gFat: 10gSaturated Fat: 4gCholesterol: 41mgSodium: 483mgFiber: 4gSugar: 10g