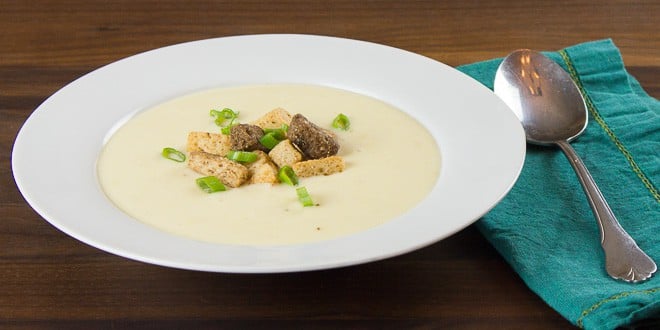 I love soup any time of year and one of my all time favorites is potato and leek soup. Smooth and creamy, this is the perfect soup to go with a salad a light lunch, or as an starter before a main course dinner. It is surprisingly simple to make with very few ingredients. The best part of the soup is the leeks and I especially love the smell of the leeks as they are sauteed with some butter. Leeks are in the onion family and they have a similar flavor but are much milder.
It is best to mash the potatoes by hand and not add them to the blender with the leeks and cream. Blending the potatoes as well can cause the soup to end up gummy/gluey.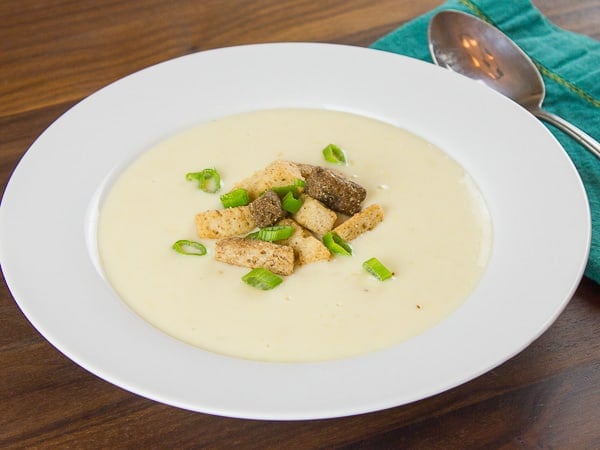 Potato and Leek Soup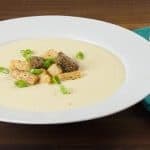 Print
Servings: 6 -8
Ingredients
3 leeks
2 tbsp butter
5 cups water
8 medium size potatoes (about 2 pounds), peeled
1 cup cream
salt and pepper , to taste
Instructions
Cut leeks lengthwise, separate and clean them by rinsing under cold water.

Cut the leeks into 1/2 inch slices.

Place butter and leeks in a skillet or saucepan. Cook on medium/low heat until the leeks are tender. About 10-15 minutes.

In a large pot, add the water and potatoes. Cover and bring to a boil. Lower heat to a simmer and cook until the potatoes are soft. Drain the potato water into a separate bowl for later, if needed.

In a food processor or blender, pulse together the sauteed leeks and the cream until smooth.

Mash the potatoes with a hand masher or potato ricer. Stir in the leek and cream mixture.

Slowly pour in the potato water while stirring until it reaches desired soup cinsistency.