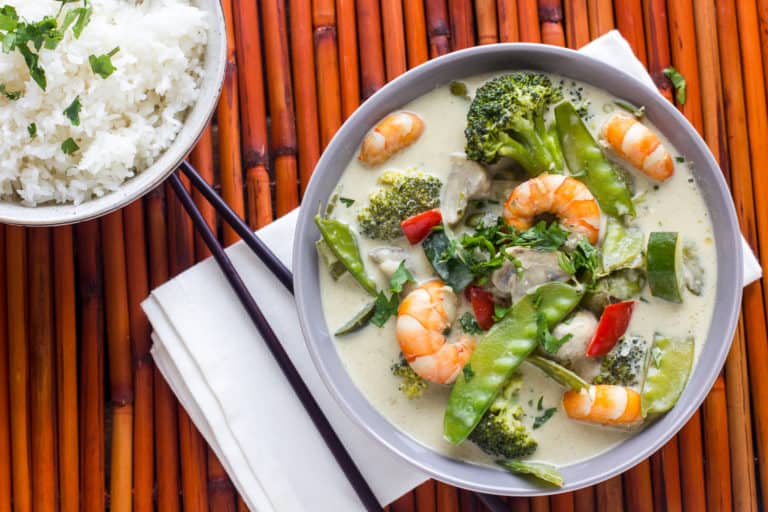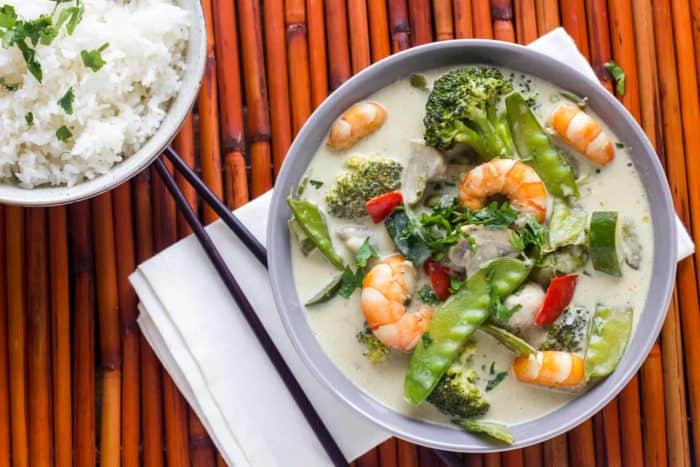 Thai green curry is my absolute favourite dish. If I could only choose one dish to have for the rest of my life, there would not even need to be much thought. Easily, Thai green curry would be my choice.
There are so many different flavours in the green curry sauce and they combine to make something absolutely wonderful. This sauce is so good that I could drink a bowl of just the sauce and would be more than content.
This sauce is primarily made from coconut milk and green curry paste. The coconut milk gives the sauce a creaminess and almost tropical flavour. The curry paste gives this sauce a combination of heat along with bright fresh flavours from the lemongrass, kaffir lime leaves and more. It is so good!
Green curry paste is mixed into the coconut milk and this is what really gives the dish its flavour. While you can buy green curry paste at most Asian grocery stores and some standard supermarkets, you can even make it yourself at home.
I actually have a recipe that you can check out for making your own Green Curry Paste.
If you do not want to make the curry paste yourself, the store bought stuff is great. I use it a lot as well and it makes a great green curry sauce.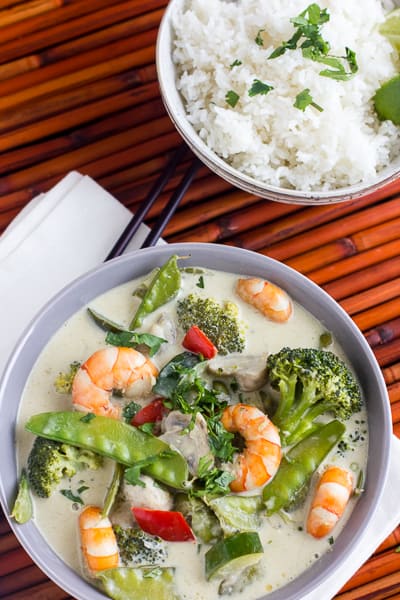 Types of Thai Curry
Thai curry comes in three main varieties and they are known based on their colour. There are some common ingredients used in each of these curries, but also some unique ingredients that provide both their distinct colour and flavour.
Green Curry
Kaffir lime leaves, cilantro and green birds eye chilies are used to make the green flavour and give this curry its unique flavour.
Here is another delicious recipe that uses green curry.
Red Curry
This is generally the hottest of the three curries and using lots of red birds eye chili peppers not only gives the heat but also its red colour.
Here are some recipes that use red curry.
Yellow Curry
Turmeric is used in this curry which provides the bold yellow colour.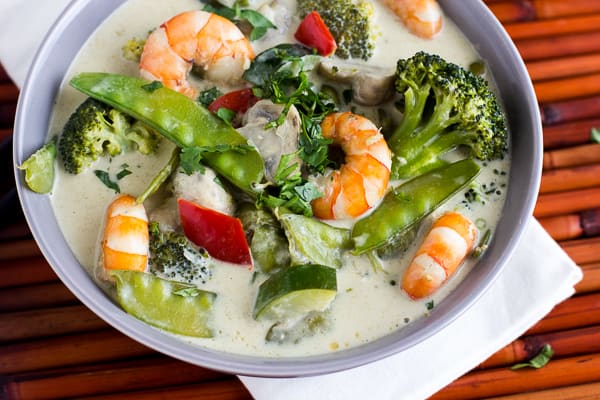 While this dish may seem exotic and challenging to make, it is actually quite simple. Especially if you use store bought curry paste, this could easily be made as a weeknight meal.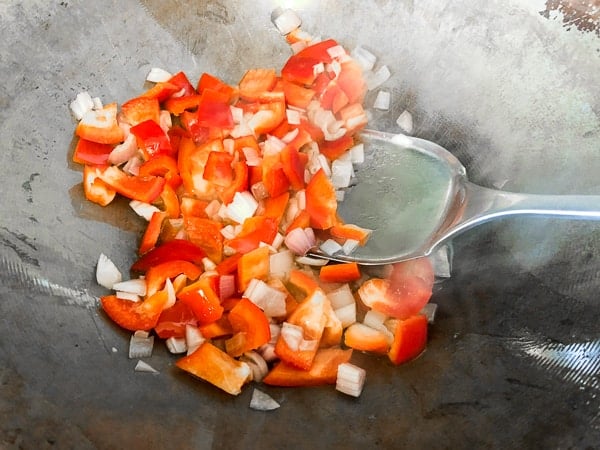 Start by sautéing the shallots and red pepper in a wok with some oil.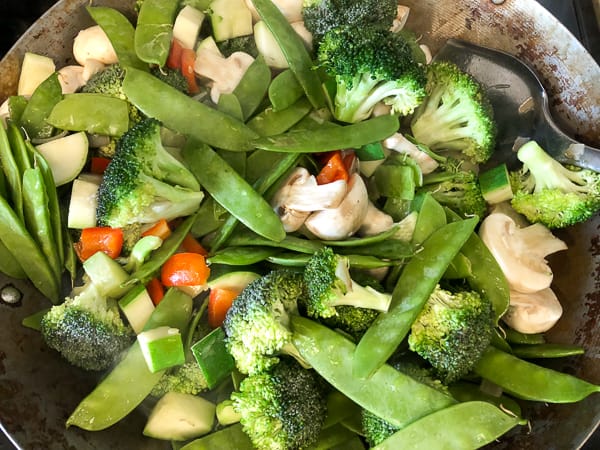 Add the rest of the vegetables to the wok. I add 1/2 cup water to the wok and then cover with the lid. This allowed the vegetables to steam as they cook.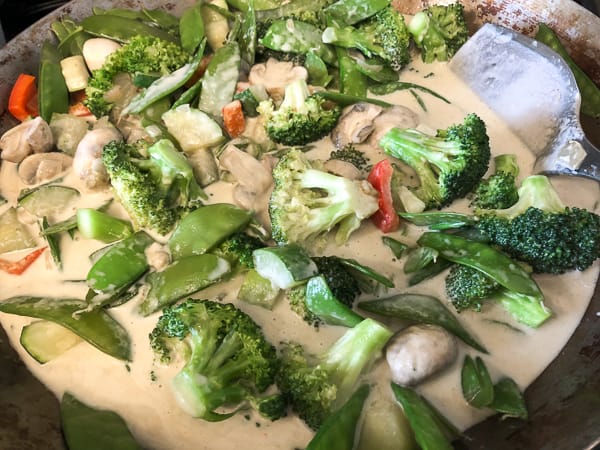 After the vegetables have steam cooked for a bit, I pour in the coconut milk with the curry paste. Make sure to whisk the curry paste into the coconut milk in a separate bowl to ensure the paste is fully dissolved. I also add the juice of one lime and a little brown sugar. The brown sugar adds a welcome sweetness to the sauce that mellows the heat a bit.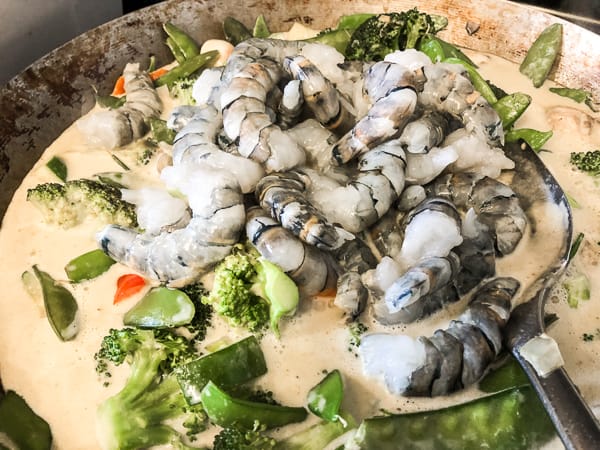 Once the sauce has come to a light boil, reduce the heat to a simmer. Stir in the peeled raw shrimp. Cook for another 10 minutes, stirring often. Essentially, you are just wanting to cook until all the shrimp have been cooked through.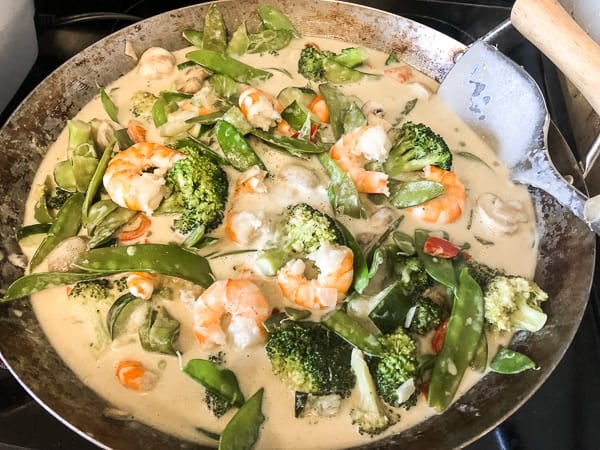 Once the shrimp are cooked, this dish is ready to serve. Stir in the minced fresh cilantro and serve it with some cooked jasmine rice.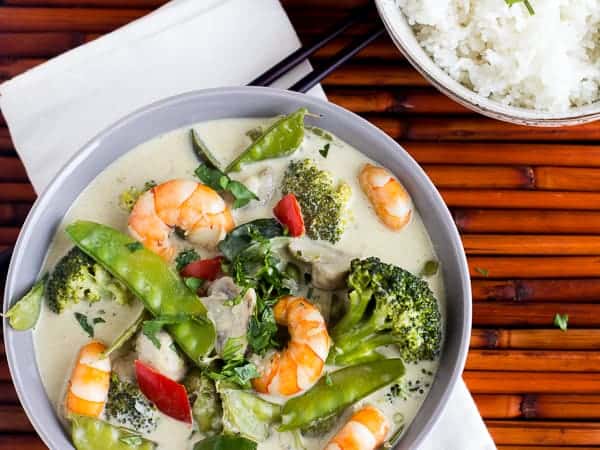 Thai Green Curry Shrimp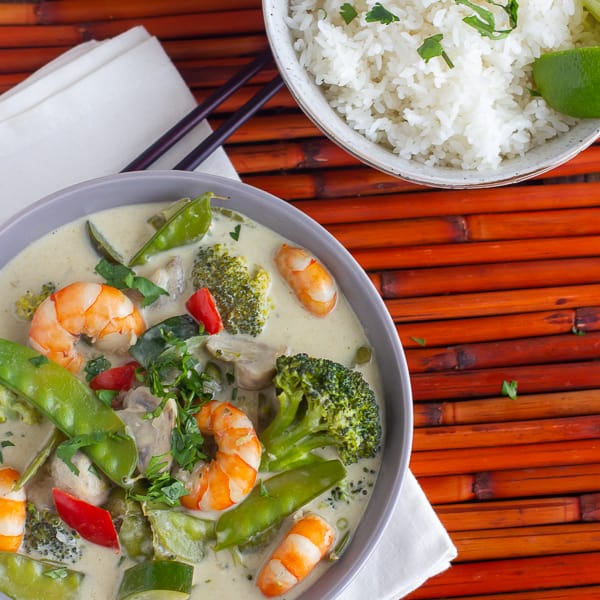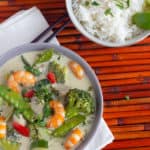 Print
Easy Thai Shrimp Curry with green curry paste and coconut milk. Made with shrimp, broccoli, snow peas, mushrooms, zucchini, pepper and more! Serve on jasmine rice.
Servings: 6 people
Ingredients
2 tbsp oil
4 shallots minced
1 red pepper cored and diced
1 broccoli cut into florets (about 4 cups worth)
2 zucchini cut into chunks
2 cups snow peas
2 cups mushrooms halved
1/2 cup water
28 oz lite coconut milk , approx. 2 cans
3-4 tbsp green curry paste
2 tbsp brown sugar
1 lime juiced
1 1/2 pounds shrimp peeled
1/4 cup cilantro minced
Instructions
Heat oil in a wok or very large skillet on medium high heat. Add the shallots and diced red pepper and sauté for a few minutes, stirring often.

Add the broccoli, zucchini, snow peas, mushrooms and water. Put a cover on the wok or skillet and let the veggies steam for about 5 minutes. Stir and continue to cook for a few more minutes.

In a separate bowl, whisk together the coconut milk, green curry paste, brown sugar and lime juice until the curry paste has dissolved into the coconut milk.

Pour the coconut milk mixture into the wok. Bring just to a boil and then lower heat to a simmer.

Stir in the shrimp and simmer for about 10 minutes or until the shrimp is cooked through.

Remove from heat and stir in the fresh minced cilantro.

Serve with rice.
Nutrition
Per serving:
Calories: 377kcalCarbohydrates: 26gProtein: 30gFat: 16gSaturated Fat: 10gCholesterol: 286mgSodium: 1039mgFiber: 6gSugar: 12g