Thai Red Curry Chicken Wings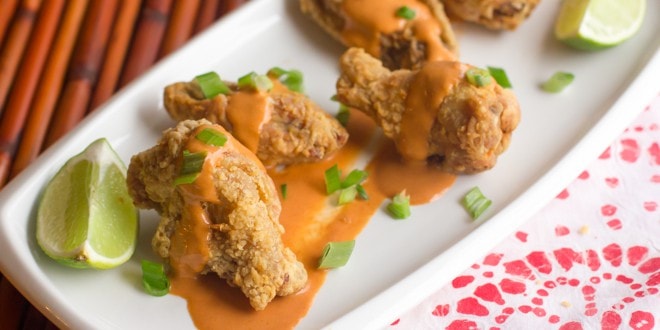 Super Bowl is coming up this Sunday and if I had to choose one snack food for the night, it would have to be chicken wings. I absolutely love wings. They are excellent deep fried, oven roasted or smoked. Deep fried are probably my favourite cause they are crispy and have so many possible variations with the sauce. You can go with a sweet and sticky sauce or a super spicy wing sauce.
This recipe uses a Thai red curry sauce that is tossed on wings that have been deep fried. Below are a few other chicken wing recipes on this site and any of these would be a perfect addition to your Super Bowl Party.
Apricot Habanero Chicken Wings
Strawberry Jalapeno Chicken Wings
Peanut Butter and Jelly Chicken Wings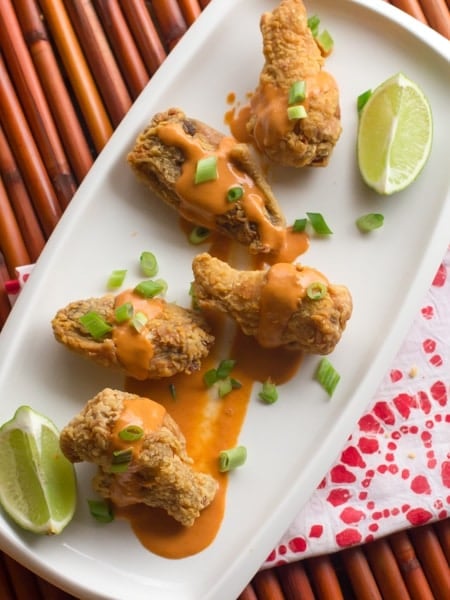 This Thai red curry sauce is quite an exotic flavour that works very well with chicken wings. It is surprisingly simple to make, using store bought red curry paste. The paste does pack a decent amount of heat, so depending on your desired spice level, you can increase or reduce the amount of paste that you use for the sauce.
I like my chicken wings crispy, and dredging them in flour before deep frying results in a super crispy wing. The best way to ensure that they stay crispy is the toss them in the sauce just before serving.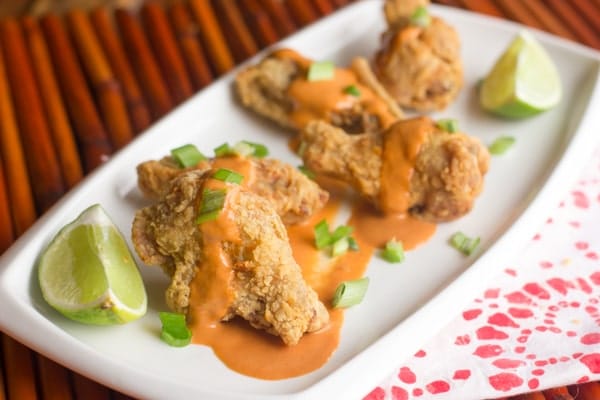 Thai Red Curry Chicken Wings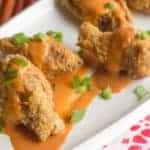 Print
These wings are super crispy and have the exotic flavour of Thai red curry. The curry paste, coconut milk, lime juice and brown sugar are used to make a simple sauce.
Ingredients
2 pounds chicken wings
1 cup flour
1 can coconut milk
3 tbsp Thai red curry paste
2 tbsp brown sugar
1 lime juiced
Instructions
To make the sauce, heat the coconut milk in a small pot on medium heat. Whisk in the Thai red curry paste and brown sugar until dissolved. Stir in the lime juice and let the sauce simmer for a few minutes. Remove from the heat.

Cut the wings into two pieces (drumette and two-bone peice - throwing away the wing tip).

Wash the wings and dredge them in flour. Shake off the excess flour and deep fry them in 350F oil for about 8-10 minutes, or until cooked through.

Place them on paper towels to get the excess oil off and toss them with Thai red curry sauce. If desired, squeeze some more lime juice on top of the wings.