Honey Garlic Chicken Wings
These deep fried wings are crispy with lots of homemade honey garlic sauce. Sticky! Saucy! Seriously Amazing!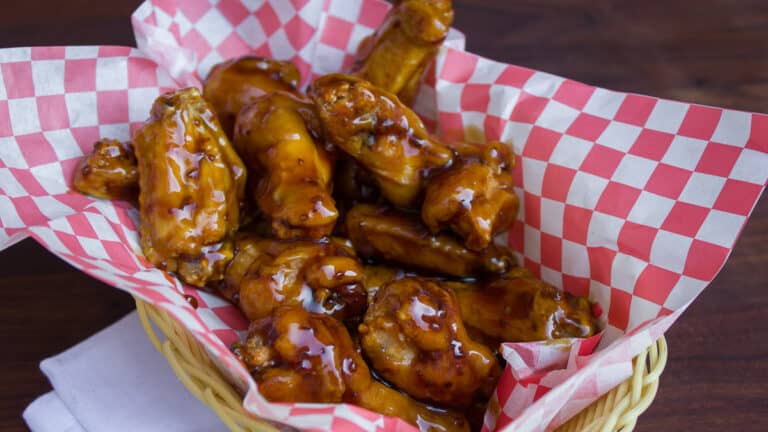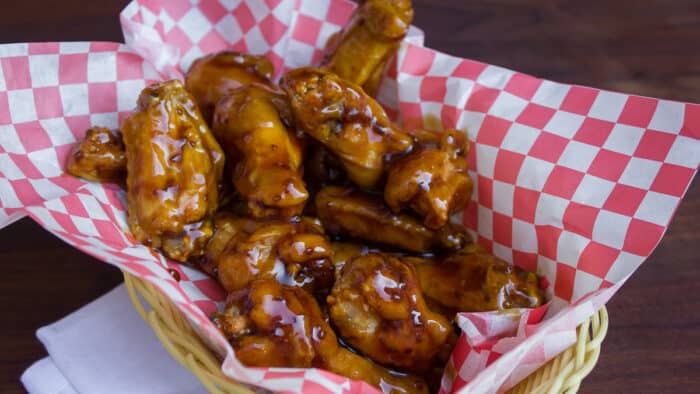 Chicken wings have to be the quintessential football food. Every game day party needs to have a basket of wings and they need to be covered in sauce and packed with flavour.
There are so many different flavours of chicken wings but today's is a classic. Honey garlic chicken wings are so popular in my house and they need to be sticky. The stickier the better!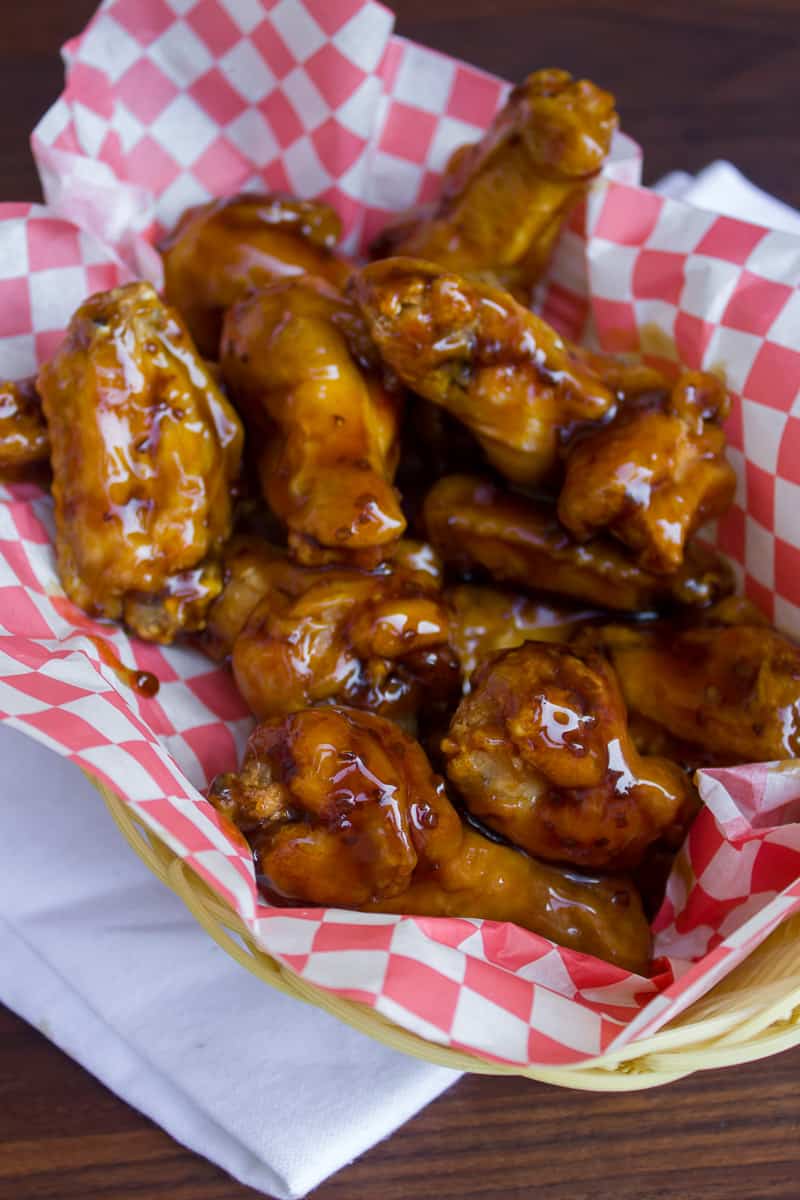 Chicken wings and ribs are both great gamely food and both should be super saucy. These honey garlic chicken wings are tossed in lots of sauce.
I used to purchase a bottle of honey garlic sauce at the supermarket any time I made wings. But, once I decided to make my own sauce, I never went back to store bought. This sauce is easy to make and it is so good!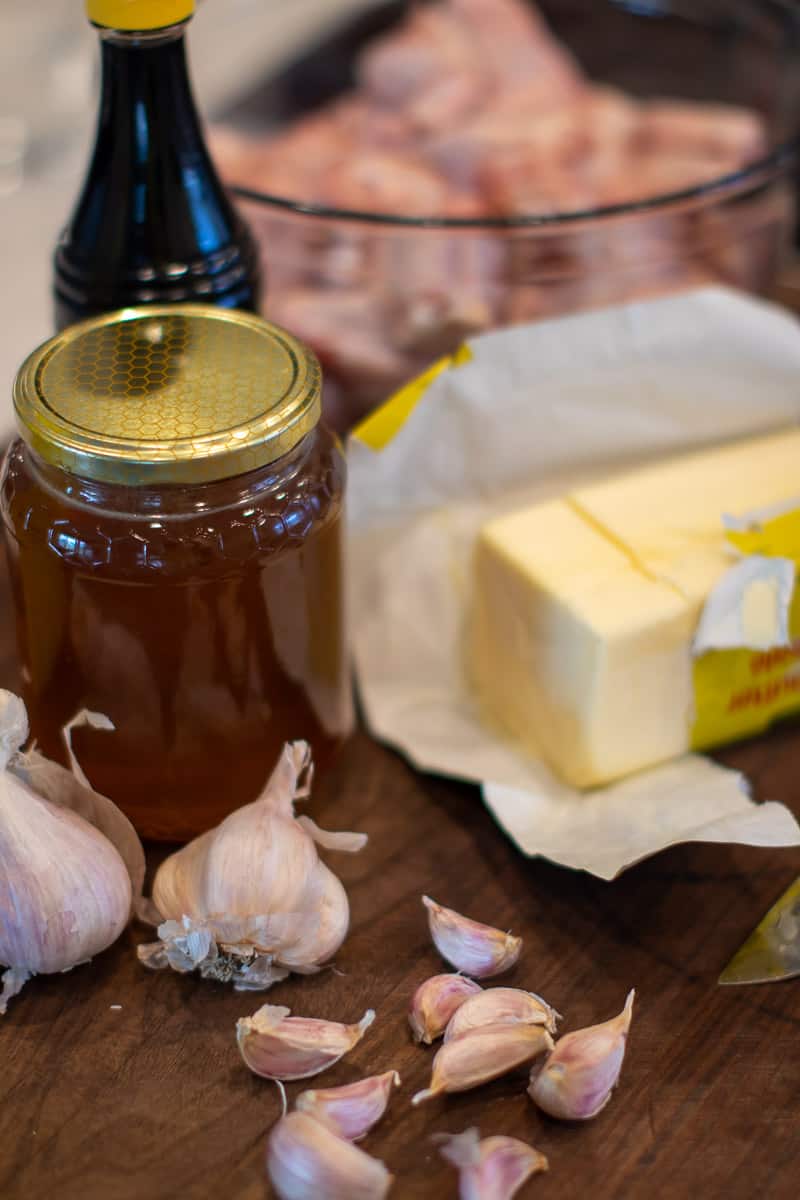 Ingredients for the Honey Garlic Sauce
Making the sauce for these wings is surprisingly easy and it includes ingredients that I regularly have in the kitchen.
butter
minced garlic (lots! I use 8 cloves)
soy sauce
honey
corn starch
water
I make the sauce before frying up the wings. Once the sauce is finished simmering, turn off the heat and let it rest and wait for the wings to fry.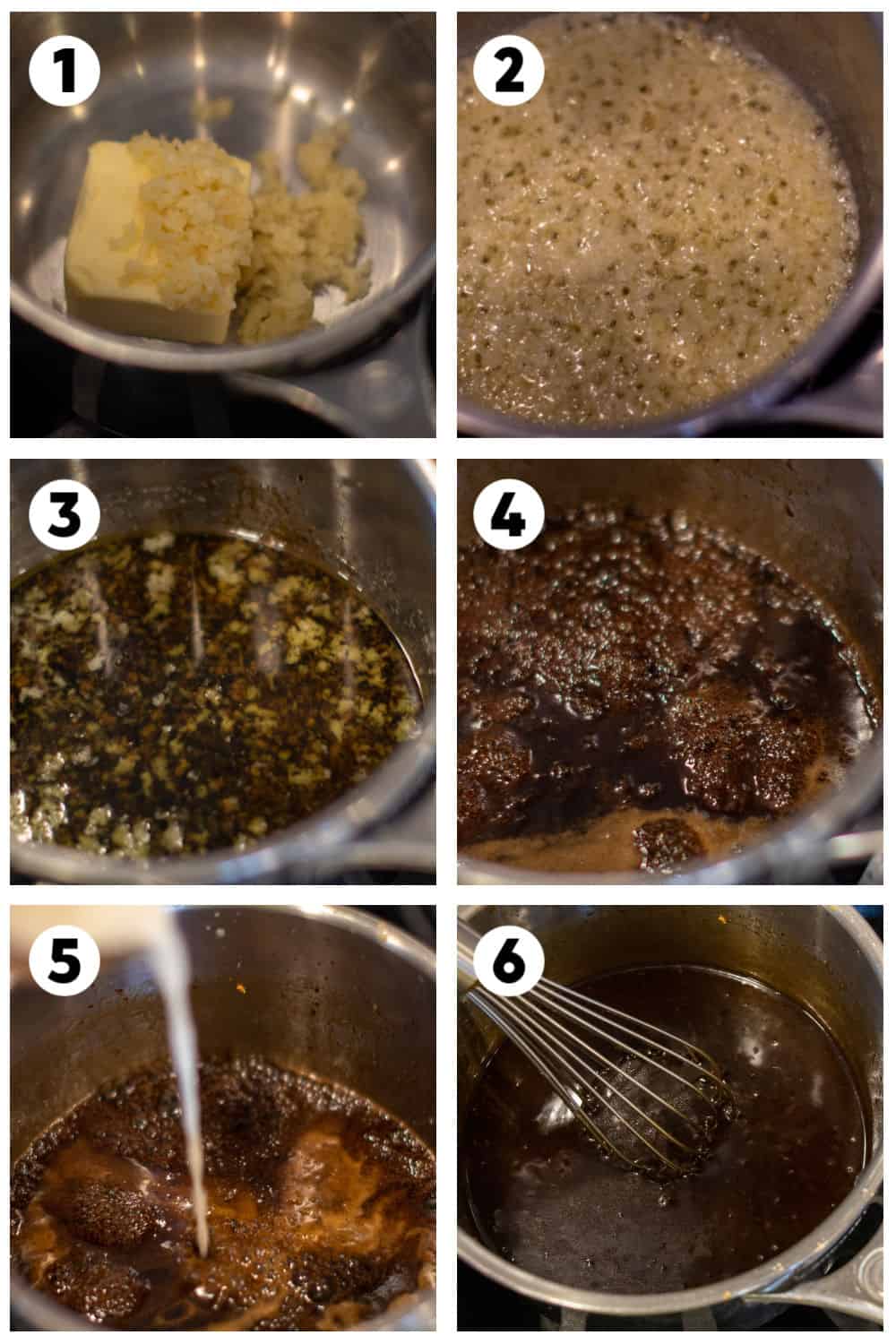 How to Make the Sauce!
Place the butter in a medium sized saucepan. Make sure the saucepan is large enough for you to be able to get nice circular motions with the whisk.
Melt the butter over medium low heat and stir the minced garlic so that it is able to lightly sauté in the butter. Ensure that the heat is not too high or else the garlic might burn.
Once the butter and garlic has had a chance to cook for a few minutes, stir in the soy sauce and honey.
Increase the heat to medium and bring the sauce to a boil. Let it cook at a low rolling boil for about 5 minutes.
Mix together the water and corn starch in another bowl. Pour this slurry into the saucepan and whisk until smooth.
Lower the heat and simmer until the sauce thickens. This can take 5-10 minutes.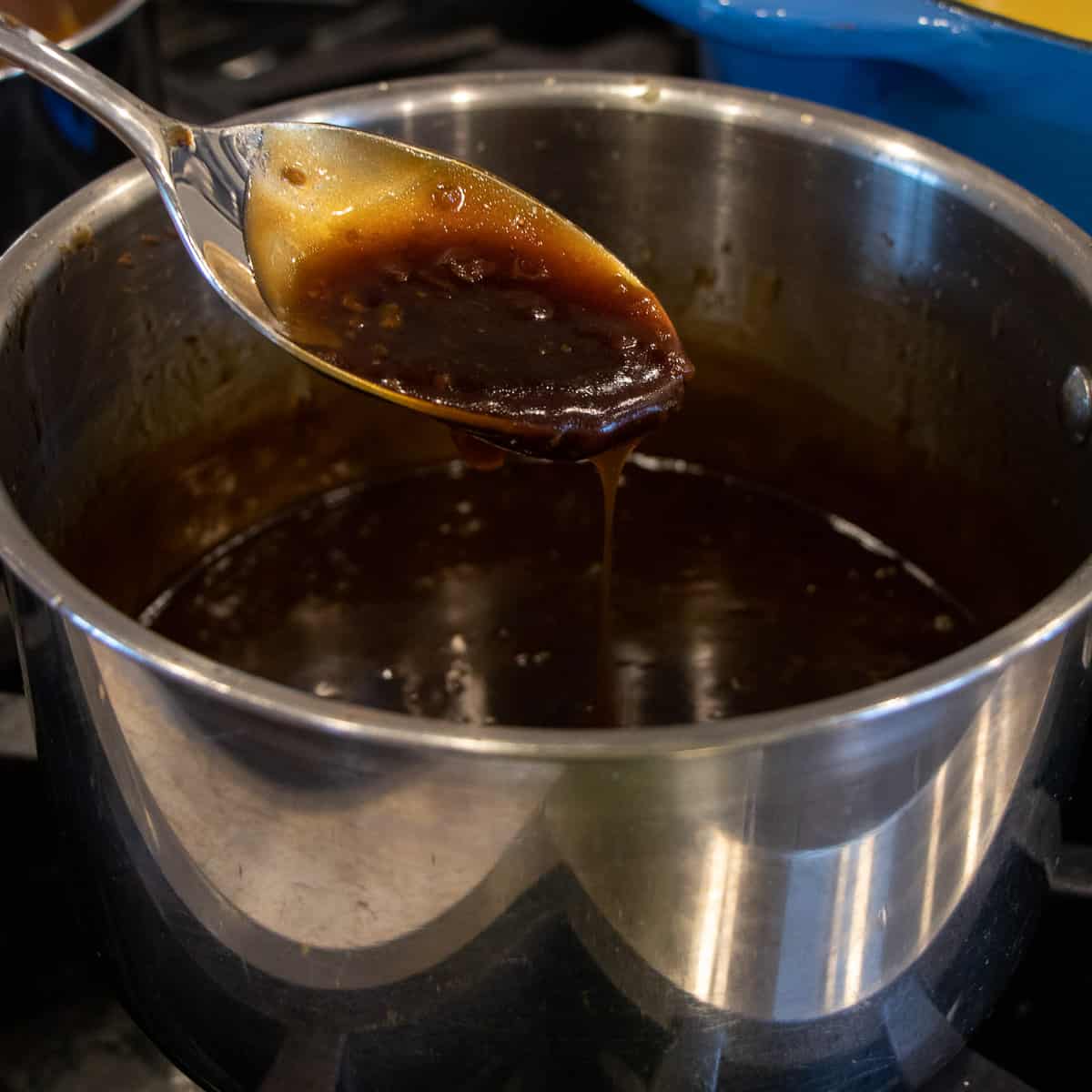 How Thick Should the Sauce Be?
The corn starch is the thickening agent for the sauce and it does a great job making these sticky and saucy honey garlic chicken wings.
As you can see in the picture above, the sauce is nice and thick and coats the spoon. But it is not goopy or clumpy and will still pour. I aim for the sauce to be just a little thicker in consistency to turkey gravy.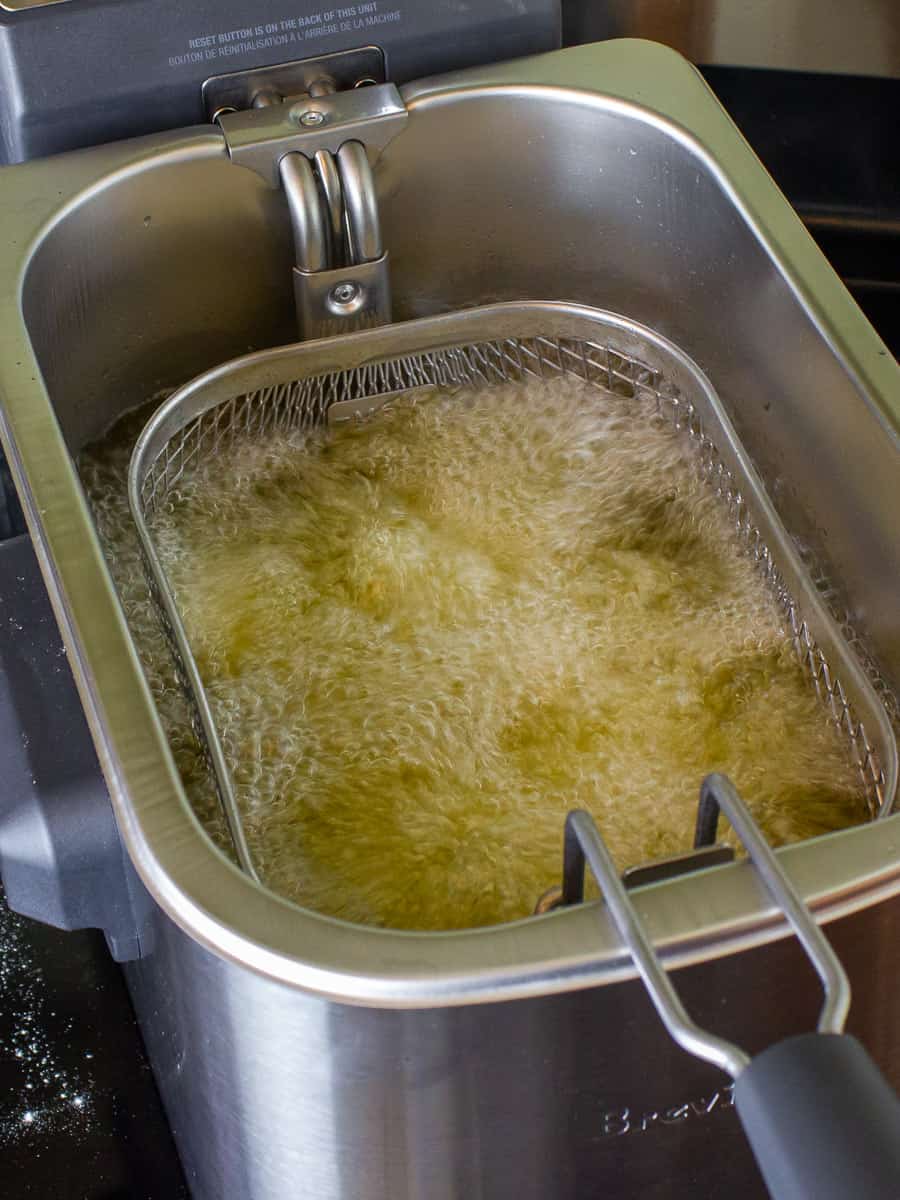 What Should the Oil Temperature Be?
For chicken wings, I like to heat the oil to 350F.
Peanut oil is my favourite kind for deep frying, but it can be hard to find and is also one of the more expensive oils. It is important to use an oil that has a high smoke point. Vegetable oil is a great economical choice. Do not use olive oil, as it is not good for deep frying.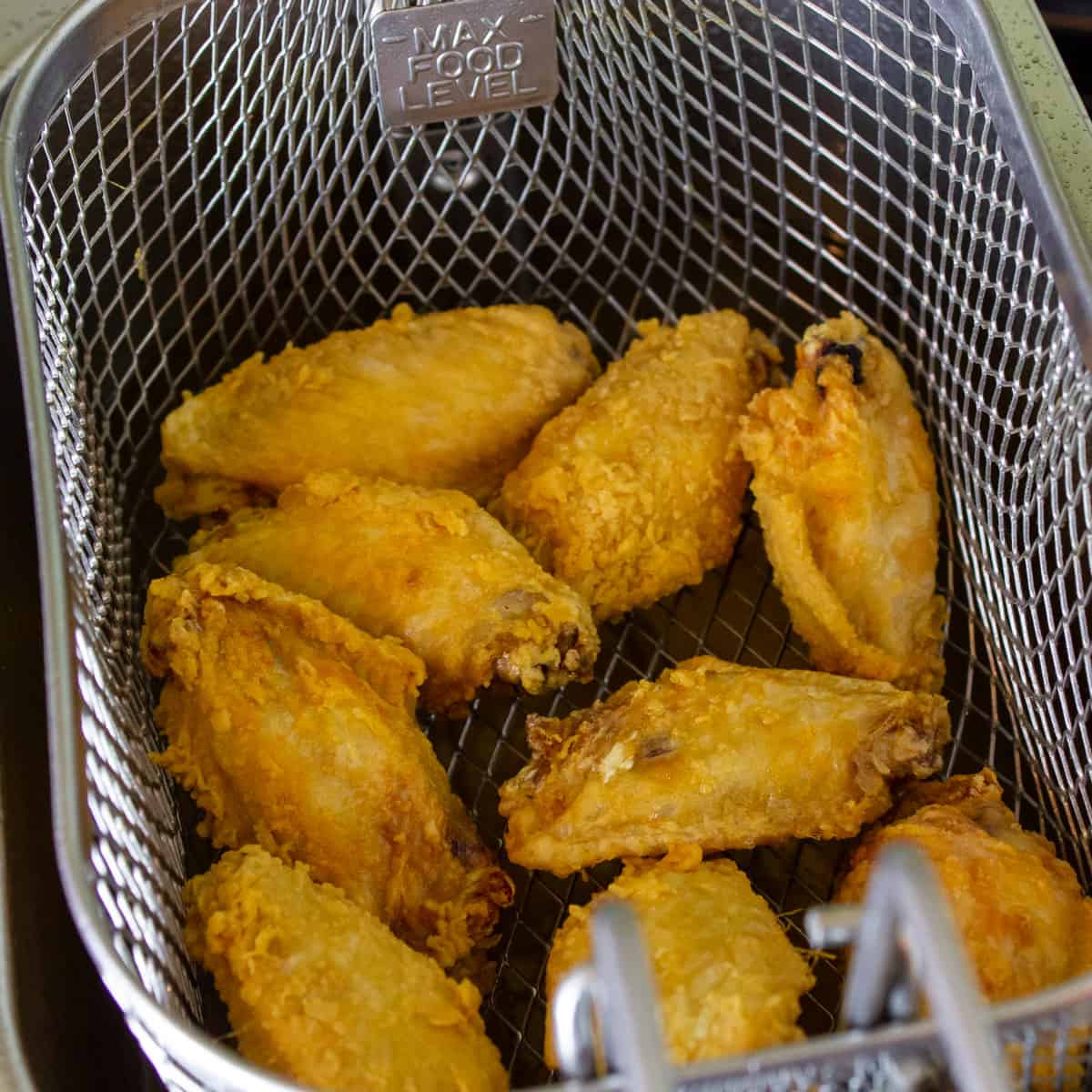 How Long to Deep Fry Chicken Wings?
I dredge the wings in some flour before they go in the fryer. This is not necessary, but I find that the little bit of flour will help make the wings extra crispy and that is always a good thing.
Deep fry the wings in small batches. Depending on the size of your fryer, that may vary, but I typically fry around 8 or 9 wing portions at a time. Make sure when they are lowered into the oil, they are fully submerged and do not seemed crammed together.
Fry the wings for about 8-10 minutes, or until they are cooked through. Lift them out of the hot oil and let them drain for about a minute.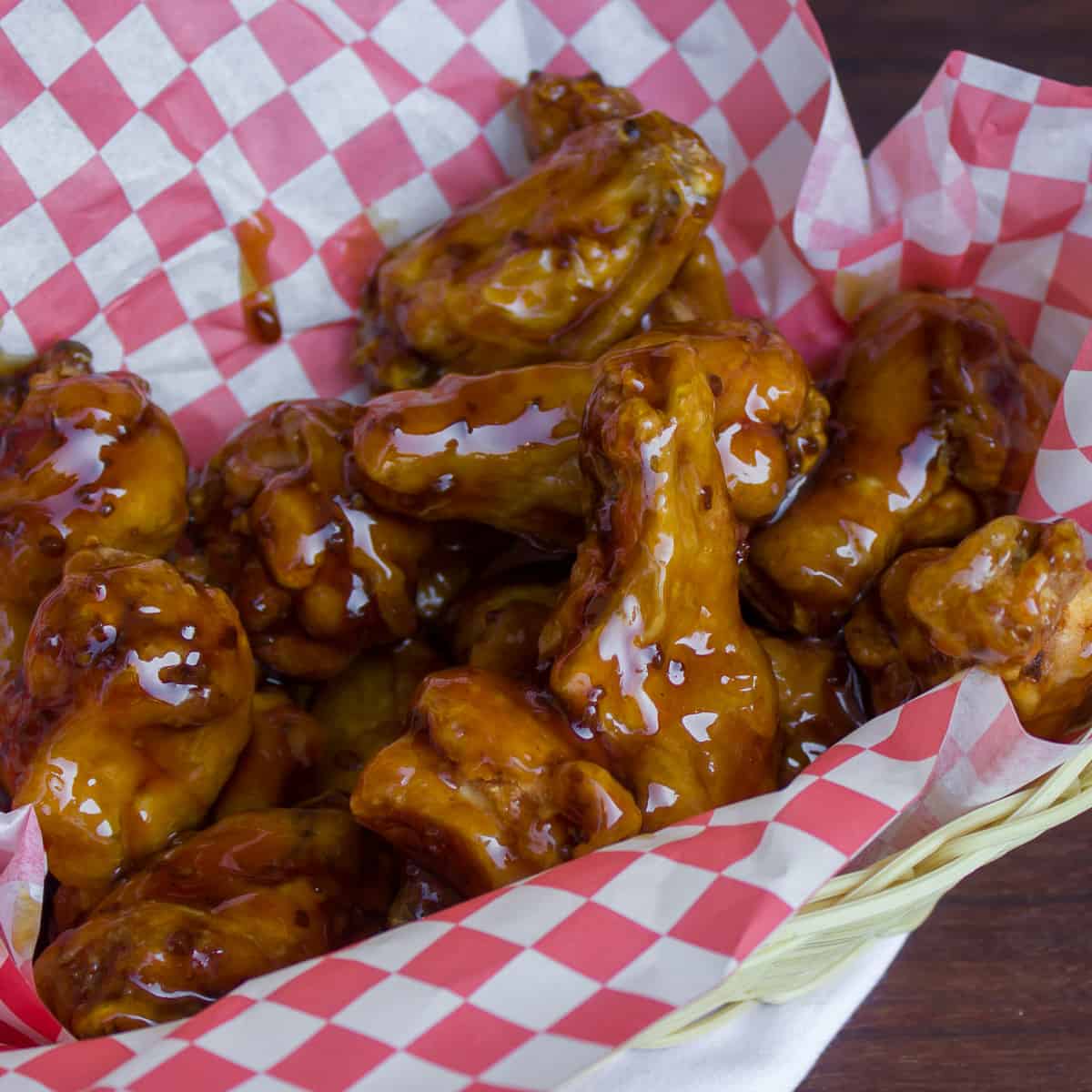 Place the wings in a large bowl and pour over some of the honey garlic sauce. Toss the wings in the sauce to that they are coated all over with the sweet delicious glaze.
Serve immediately because they are still nice and crispy.
Other Wing Recipes!
Whenever I make wings at our house, I never make only one flavour. Here are some other types of sauces that are great for deep fried chicken wings.
Honey Garlic Chicken Wings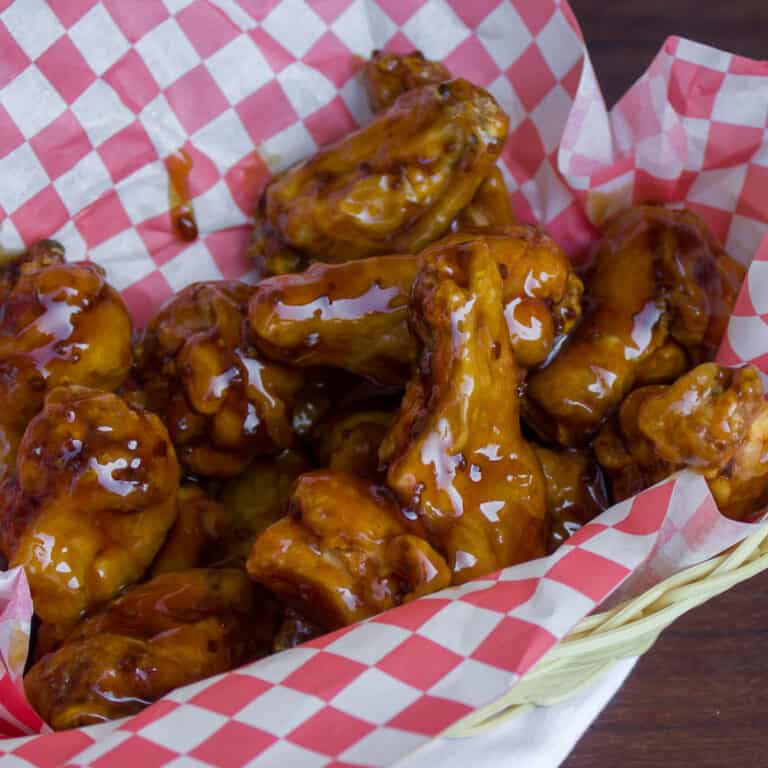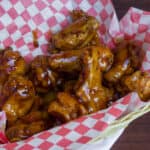 Print
This recipe for deep fried honey garlic chicken wings is the perfect appetizer that tastes as good as a restaurant!
Servings: 4
Ingredients
Honey Garlic Sauce
1/3 cup butter
8 garlic cloves , minced
1/4 cup soya sauce
1/2 cup honey
1/2 cup water
1 1/2 tbsp corn starch
Wings
2 pounds chicken wings
1 cup flour
Instructions
Honey Garlic Sauce
To make the sauce, melt butter in a saucepan with the minced garlic. Cook, over medium heat, for a few minutes to release the flavour.

Add the soy sauce and honey and bring to a boil. Lower the heat and simmer for 5 minutes.

In a separate bowl, whisk the corn starch into the water. Pour into the saucepan and whisk until combined.

Continue to simmer and the sauce will thicken after 5-10 minutes or so. Set aside till later.
Wings
Cut the wings into two pieces (drumette and two-bone peice – throwing away the wing tip).

Wash the wings and dredge them in flour. Shake off the excess flour and deep fry them in 350F oil for about 8-10 minutes.

Place them on paper towels to get the excess oil off and toss them with honey garlic sauce.