Honey Garlic Chicken Wings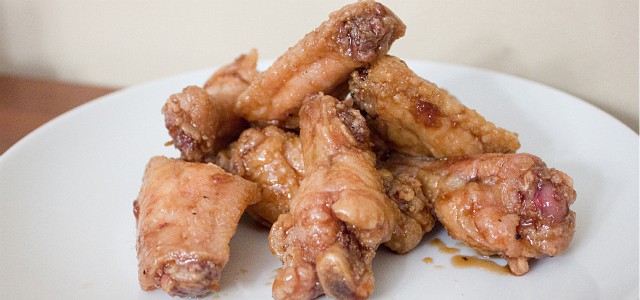 Chicken wings have to be the quintessential football food. Every Super Bowl party needs to have a basket of wings and they need to be covered in sauce and packed with flavour. There are so many different flavours of chicken wings but today's is a classic. Honey garlic chicken wings are so popular in my house and they need to be sticky. The stickier the better!
Whenever I make chicken wings at our house, I never make only one flavour. Hot Buffalo wings are also very popular and I have already posted that recipe on the blog. If you are interested in that click here: Buffalo Chicken Wings.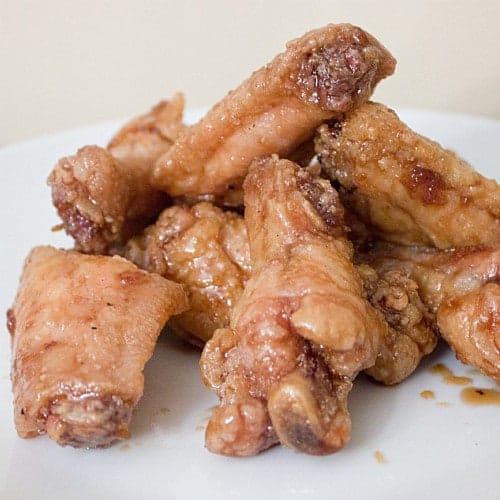 Honey Garlic Chicken Wings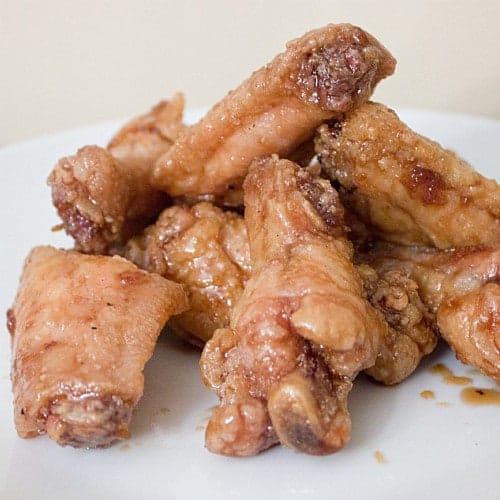 Print
This deep fried honey garlic chicken wings recipe is the perfect appetizer that tastes as good as a restaurant!
Prep Time: 10 minutes
Cook Time: 10 minutes
Total Time: 20 minutes
Servings: 2
Ingredients
2 pounds of chicken wings
1 cup flour
1/3 cup butter
8-10 garlic cloves minced
1/2 cup soya sauce
1 cup honey
Instructions
To make the sauce, melt butter in a saucepan. Add the minced garlic and cook for a few minutes to release the flavour. Add the soy sauce and honey and bring to a boil. Lower the heat to a simmer. The sauce will thicken after 10 minutes or so.

Cut the wings into two pieces (drumette and two-bone peice – throwing away the wing tip).

Wash the wings and dredge them in flour. Shake off the excess flour and deep fry them in 350F oil for about 8-10 minutes.

Place them on paper towels to get the excess oil off and toss them with honey garlic sauce.