Honey Sriracha Chicken Wings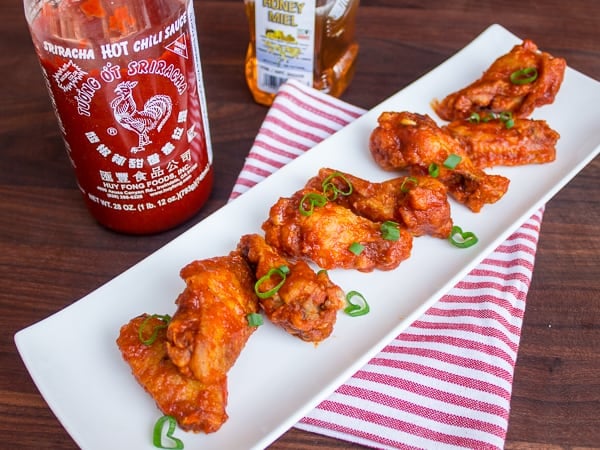 Chicken wings…… oh yeah!
Sriracha sauce…… oh yeah!!
Honey Sriracha Chicken Wings…….. now we are talking!
Buffalo has always been my favourite sauce for chicken wings. I like the heat and it is just a classic wing sauce. Recently I wanted to make a new wing sauce using sriracha and I decided to add some honey to give the sauce a nice little bit of sweetness. The onions and garlic were sautéed until tender and then, once the sauce was heated for a bit, it was pureed until smooth.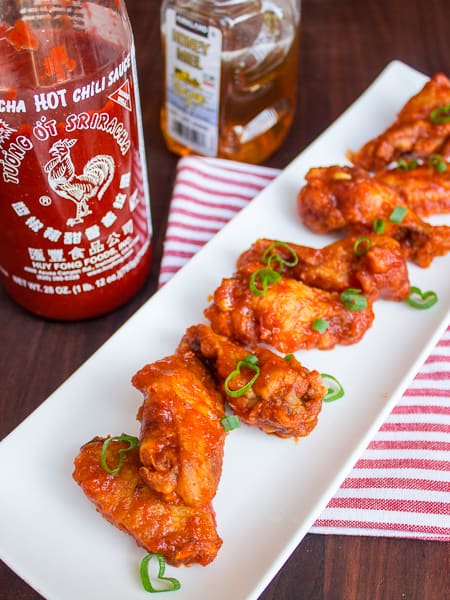 I cook chicken wings many different ways. The grill, oven and smoker are all great for chicken wings, but I gotta say that I really prefer the deep fryer. I know – I know – we should limit how much deep fried foods we eat. But, we are talking about chicken wings right? These are meant to be deep fried!! I dredge them in some flour before dropping them in the oil. The flour gives the wings a little bit of extra crispness. Once they come out of the oil, let them drain on a paper towel for a bit and then toss them in the honey sriracha sauce.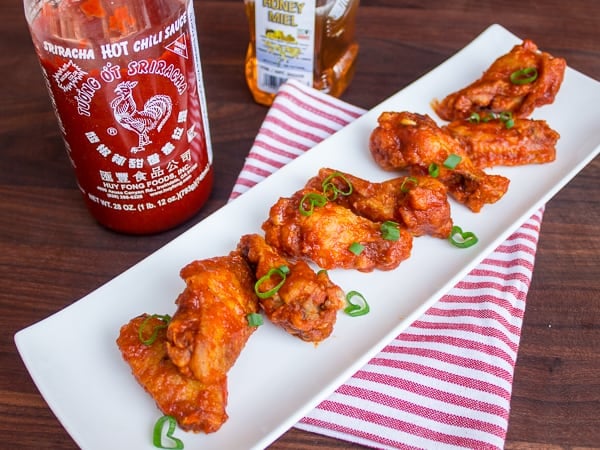 My first bite of the wings was all I needed. I was in love! This new sauce is quite possibly my new favourite wing sauce. There was a lot of heat packed in the sauce from the sriracha, but the honey gave a welcome sweetness and the vinegar provided a little bit of tang.
Honey Sriracha Chicken Wings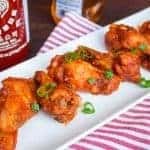 Print
Crispy deep fried chicken wings with a spicy and sweet sauce made from sriracha sauce, honey, garlic, onion and rice vinegar.
Servings: 4
Ingredients
2 pounds chicken wings
1 cup flour
2 tbsp oil
1 onion , minced
4 garlic cloves , minced
2 tbsp rice vinegar
2/3 cup sriracha sauce
1/2 cup honey
Instructions
To make the sauce, heat the oil in a saucepan, on medium heat. Add onions and garlic and cook until tender, stirring often. Stir in rice vinegar, sriracha sauce, honey and bring to a low boil. Cook for a few minutes and then remove from heat. Cool slightly and then process in a blender or food processor, until smooth.

Cut the wings into two pieces (drumette and two-bone peice - throwing away the wing tip).

Wash the wings and dredge them in flour. Shake off the excess flour and deep fry them in 350F oil for about 8-10 minutes.

Place them on paper towels to get the excess oil off and toss them with the honey sriracha sauce.