Thai Green Vegetable Curry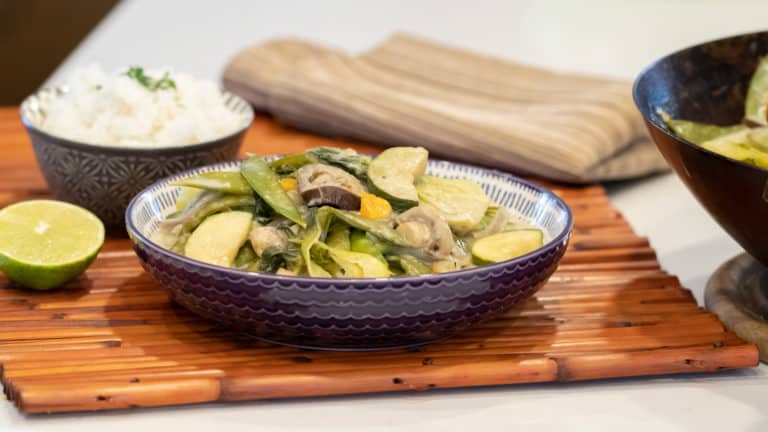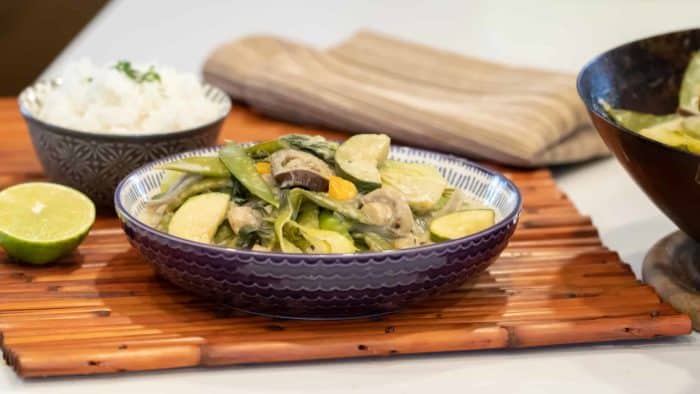 Thai green curry is quite likely the dish I crave more than anything else. Many times when we eat a Thai restaurant I find myself ordering green curry. Other items on the menu might sound good, but the flavour of green curry sauce is oh so good! Making Thai green curry at home is very easy and I have many recipes on this site giving instructions for how to make thai green curry.
While I often make green curry with either shrimp or chicken, I decided to try a meatless version of this dish. I love lots of vegetables in my green curry, so for my veggie version, I used zucchini, asian eggplant, mushrooms, snow peas, baby bok choy, onions and peppers. I loved all the colours and every bite was packed with flavour. The meat was not missed at all!
Green curry sauce is made mostly from coconut milk and green curry paste. The coconut milk gives the sauce a creamy and tropical flavour. The curry paste gives this sauce a combination of heat along with bright fresh flavours from the lemongrass, kaffir lime leaves and more. If you have never had Thai green curry, then you are in for a treat!
You can buy green curry paste at most Asian grocery stores and some standard supermarkets, you can even make it yourself at home.
I actually have a recipe that you can check out for making your own Green Curry Paste.
If you do not want to make the curry paste yourself, the store bought stuff is great. I use it a lot as well and it makes a great green curry sauce.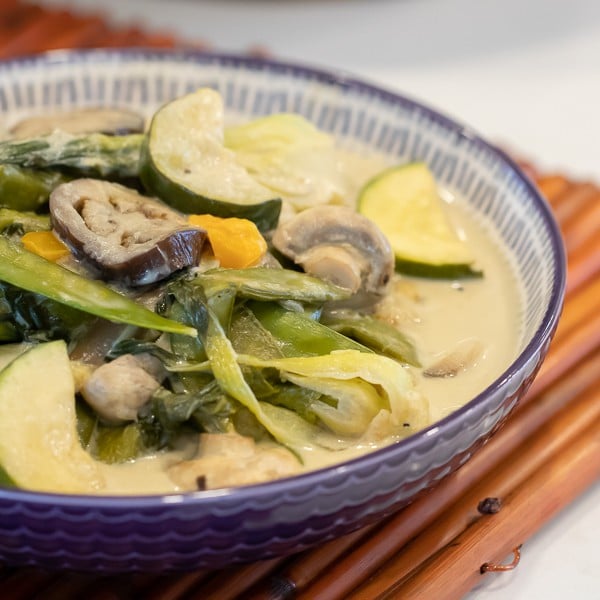 Here are some of my other Thai curry recipes.
Here are some other Thai recipes to compliment this green curry dish.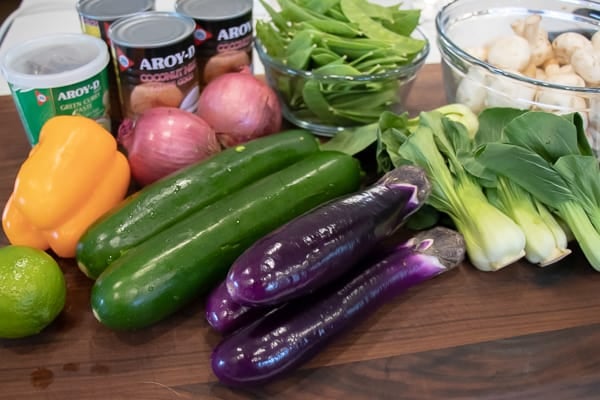 While this dish may seem exotic and challenging to make, it is actually quite simple. Especially if you use store bought curry paste, this could easily be made as a weeknight meal.
I make green curry so often that many times it becomes a "what do I have in the fridge' kind of dish. There are so many ways that you can customize it with different ingredients. While I have used these vegetables in the picture above, you can also use carrots, broccoli, shallots, nappa cabbage and so much more.
Also, while this dish is vegetarian, you can change it up and easily cook in some chicken, shrimp or other protein.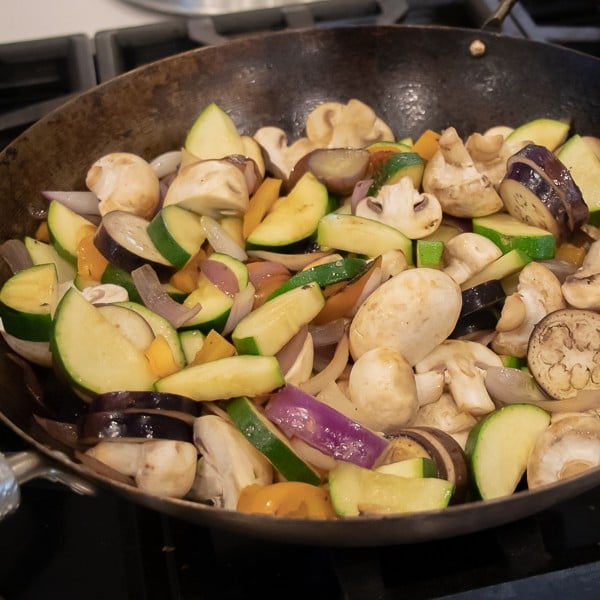 To get this dish started I heat the oil in a wok or large skillet over medium high heat. Add in the onion, pepper, zucchini, eggplant and mushrooms. Let it cook, stirring often, for a few minutes.
I cook these vegetables first because I prefer them to be cooked a little more thoroughly compared to the bok choy and snow peas. I prefer the a little bit more of a crunch from the snow peas and bok choy so I cook them less. Plus the shorter cook time keeps them a brighter green.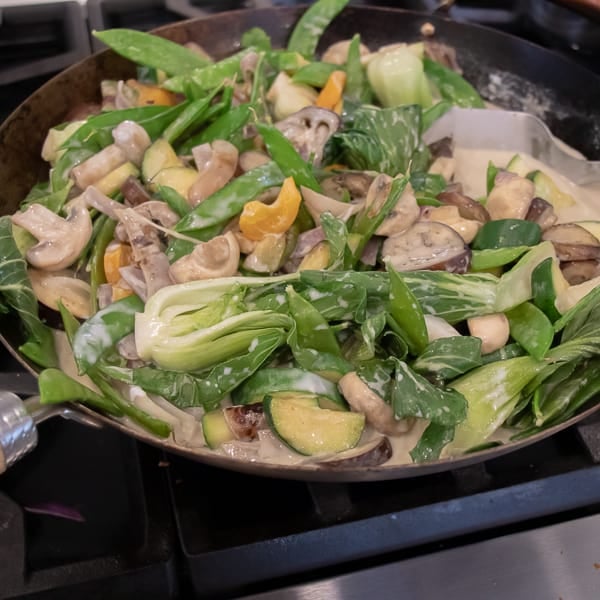 Add in the baby bok choy, snow peas and coconut milk and bring just to a boil.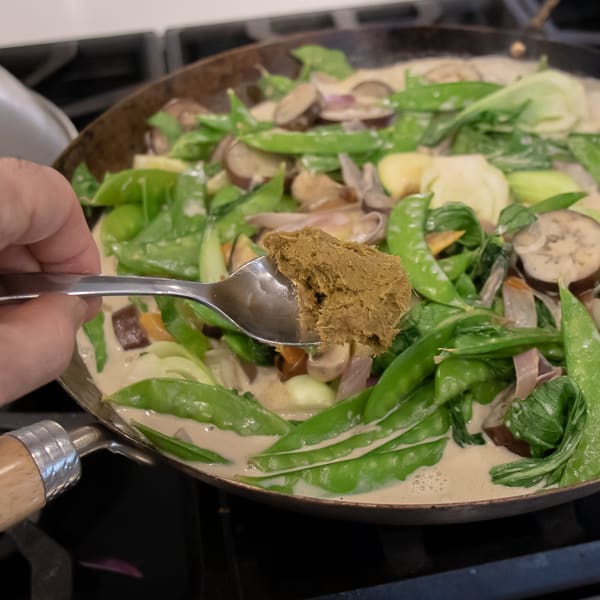 One the coconut milk is heated and just starting to boil, stir in the green curry paste and brown sugar. I find that stirring into warmed coconut milk helps the paste and sugar to dissolve more easily. Keep stirring until the curry paste is completely dissolved into the coconut milk.
The amount of curry paste used is definitely up to personal preference. Some people (like me!) prefer a spicier bolder flavour so lots of curry paste is used. Others, prefer a milder flavour and less curry paste is mixed in.
I have also found that different types of store bought curry paste has different levels of heat. For your first time using a particular curry paste, add a little at a time and taste. Add more according to your preference.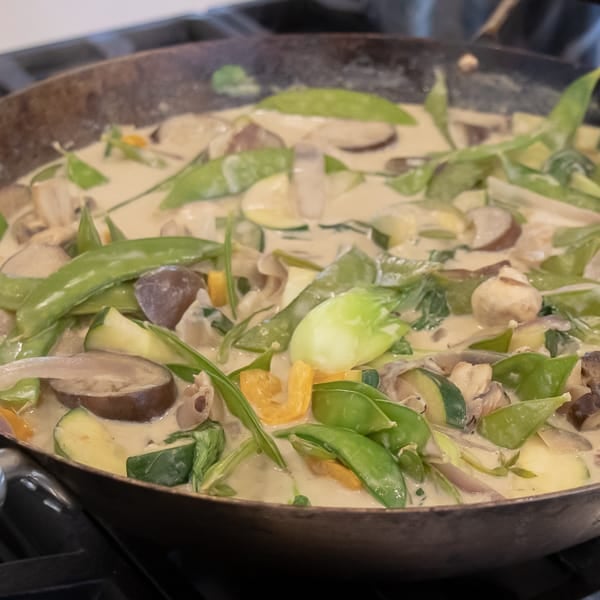 Once the curry paste and brown sugar is dissolved, lower heat to medium low, cover with lid and cook for 5-10 more minutes. Cook until the vegetables are mostly tender, while the snow peas still have a little bite to them.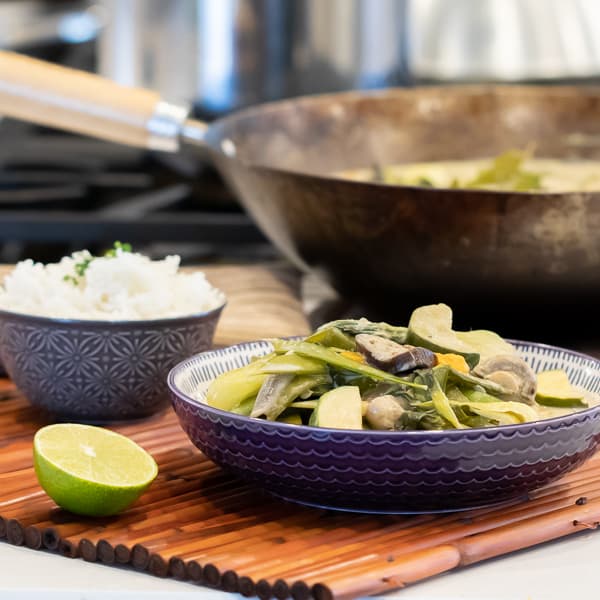 Once the vegetables have finished cooking, you can remove the wok from the heat and stir in the lime juice.
To serve, I like to spoon in on some cooked jasmine rice. This recipe has lots of green curry sauce, because that is what everyone seems to go for. After people scoop some of the vegetables on top of the rice on their plate, they often go for some more of the sauce spooning lots more on top of the rice. I do the same, because the rice gets totally coated in the green curry sauce and every bite is incredible.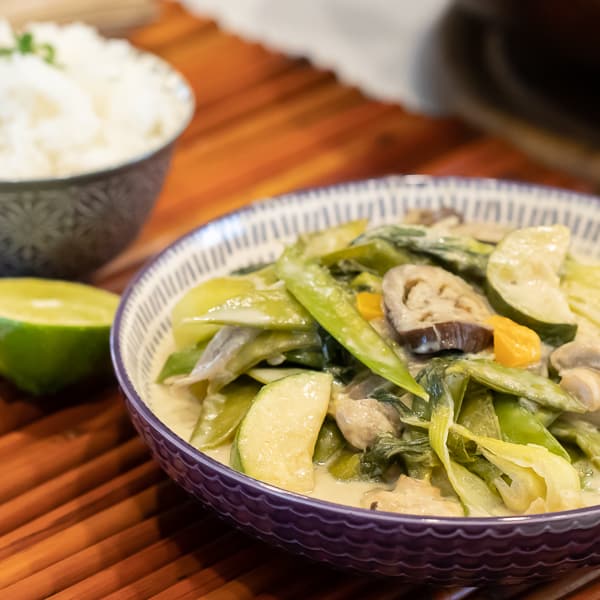 Thai Green Vegetable Curry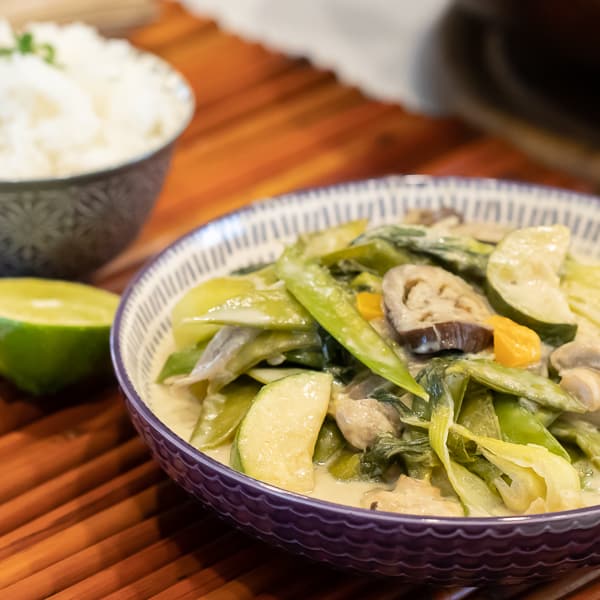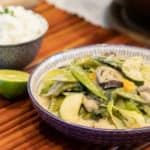 Print
Easy Thai Vegetable Curry with green curry paste and coconut milk. Made with Asian eggplant, baby bok choy, snow peas, mushrooms, zucchini, pepper and more! Serve on jasmine rice.
Servings: 6 people
Ingredients
3 tbsp oil
2 medium red onions cut into strips
1 medium orange bell pepper cored and cut into strips
2 zucchini cut into chunks
3 asian eggplants sliced
5-6 baby boy choy halved
2 cups mushrooms halved
2 cups snow peas
3 cans coconut milk approx. 42oz or around 1200ml
4-6 tbsp green curry paste more or less depending on taste and heat desired
2 tbsp brown sugar
1 lime juiced
Instructions
Heat oil in a wok or large skillet over medium high heat.

Sauté the onion, pepper, zucchini, eggplant and mushrooms for a few minutes.

Add in the baby bok choy, snow peas and coconut milk. Lower heat to medium and heat just till it starts to boil/bubble. This should take just a few minutes.

Stir in the curry paste and brown sugar until dissolved. Cover with lid and let the cook until the vegetables are tender. This should take around 5 minutes.

Remove from heat and stir in the fresh squeezed lime juice.

Serve over rice.