Sous Vide Thai Pork Chops with Green Curry Sauce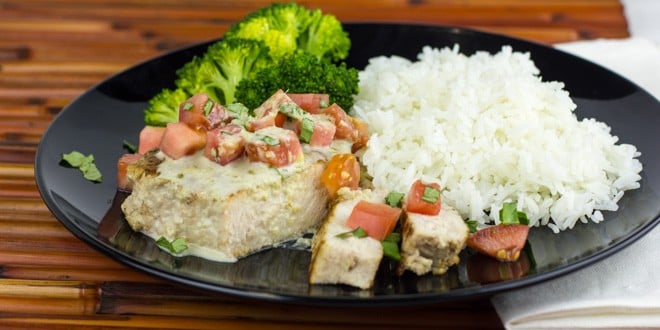 Boneless pork loin chops in the Sous Vide Supreme come out tender, moist and delicious. Add to that, these Thai flavors, and you have a dish worthy of a high end restaurant. The pork chops are marinated and then cooked in garlic, ginger and Thai chilies. After being cooked in the water bath and a quick sear in a skillet, the pork chops are served with a fresh tomato and basil salsa and green curry and coconut sauce.
I make my own green curry paste and the recipe is here. It is really simple to do and far fresher tasting than the store bought kinds. If you are not able to make your own, the kinds available at most stores are perfectly fine.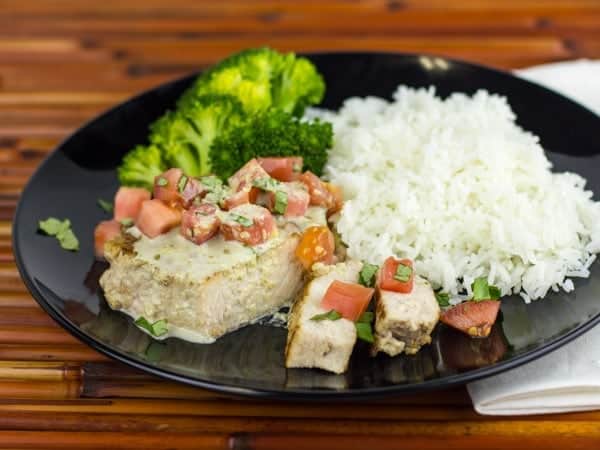 Sous Vide Thai Pork Chops with Green Curry Sauce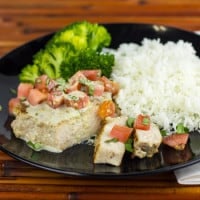 Print
Servings: 4
Ingredients
4 boneless pork loin chops
2 tbsp ginger , minced
2 thai green chili peppers , minced
4 tbsp oil
1 tsp salt
1 can coconut milk
3 tbsp green curry paste
2 tomatoes , diced
4 tbsp fresh Thai basil (or regular basil), minced
Instructions
Fill Sous Vide Supreme with water and set the temperature to 135F.

Make marinade by mixing together the ginger, thai chilies, oil and salt. Toss the pork chops in the marinade and, if desired, place in the fridge for 1-2 hours to marinate before cooking.

Place pork chops in food safe sealing bags making sure to scoop some of the marinade into the bag with the chops. Vacuum seal the bags and place them in the the Sous Vide Supreme.

Cook them in the Sous Vide Supreme for 2 hours. The pork chops are fully cooked after 2 hours, but can stay in the Sous Vide Supreme up to 8 hours and still be tender and delicious!

Prior to searing the pork chops, make the green curry sauce. Place the coconut milk and green curry paste in a small saucepan. Heat till it is just starting to boil and lower heat to low and let the sauce simmer for about 10 minutes.

Mix the diced tomatoes with the minced basil. Set aside.

Heat a cast iron skillet to high heat. Add a little vegetable oil. Remove the pork chops from the bag and pat them with a paper towel to remove excess moisture.

Sear the pork chops, about 30-60 seconds per side.

To plate the chops, place a seared pork chop on a plate. Put 2 tablespoons of the tomato and basil mixture on the chops and drizzle a nice amount of green curry sauce over the chop and tomato.

Serve
Notes
If you do not have a sous vide machine, you can prepare this dish and cook the pork chops on a skillet or grill.