Thai Pork and Cashew Red Curry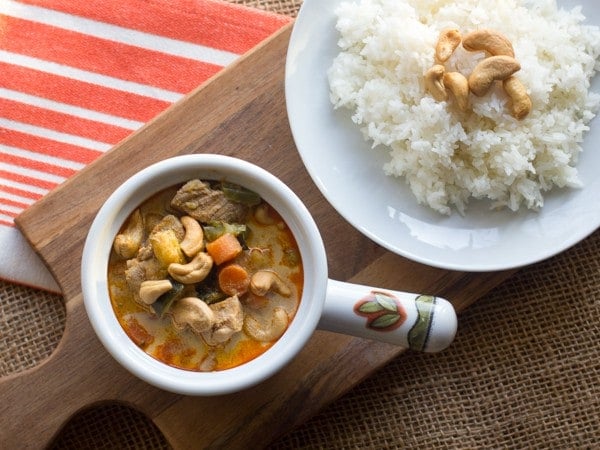 Anytime I go out to a Thai restaurant I face a dilemma. I know that I will get a curry dish, but struggle to decide whether it will be a green curry or red curry. Both are delicious and each have their own unique flavour.
Generally, I prefer green curry with chicken and red curry with seafood. Mussels in a red curry sauce is just incredible. For this dish, pork is the protein and the rich flavour of of a red curry sauce works perfect with this cut of meat.
I cubed up a couple pork tenderloins but really an cut of pork can work. Just cut the pork into 1 inch cubes and they are ready for the dish. While I included zucchini, carrots, peppers and onions in this recipe, there are so many options for vegetables that be used.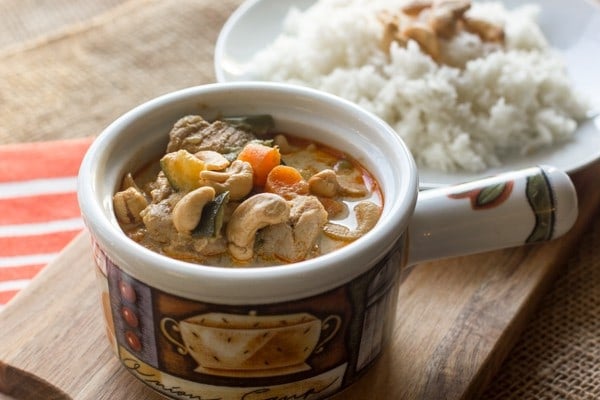 This dish is super simple to make and tastes as good as any restaurant red curry. While I know some people make their own red curry paste, I personally find it easier to use store-bought and the taste is just amazing. A jar of red curry paste and a couple cans of coconut milk stored on a shelf in the pantry is a must for me. That way any time the craving hits me, I can make this dish.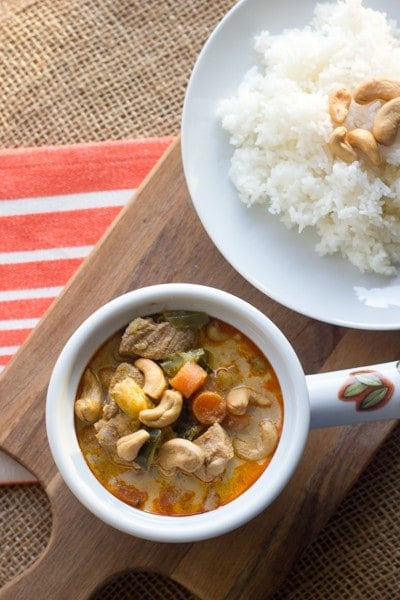 If you are looking for some other recipes with nuts, check out these!
Thai Pork and Cashew Red Curry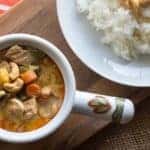 Print
Tender pork tenderloin, zucchini, carrots, pepper and onion in creamy Thai red curry sauce. Delicious recipe topped with toasted cashews. Made with coconut milk and curry paste
Servings: 4 people
Ingredients
2 tbsp oil
1 onion , diced
1 green pepper , cored and diced
2 pork tenderloins , cut into 1 inch chunks
2 medium zucchini , cut into small chunks
2 cups baby carrots , cut into small chunks
3 tbsp Thai red curry paste
1 1/2 cups water
1 can coconut milk
3 tbsp brown sugar
1 lime , juiced
1 cup toasted cashews
cooked rice
Instructions
Heat oil in a dutch oven or large pot on medium heat. Add the onion an pepper and cook until fairly tender, about 5 minutes. Add in the pork tenderloins and cook for about 10 minutes stirring occasionally so they are cooked on all sides.

Add the chopped zucchini and baby carrots.

In a small bowl, dissolve the red curry paste in the water. Pour into the dutch oven.

Bring to a boil and reduce to a simmer. Continue to cook for about 10-15 minutes, stirring occasionally.

Stir in the coconut milk and lime juice and cook for another 15 minutes or so.

Serve on cooked rice. Top with toasted cashews.