Carrot Cake with Cream Cheese Frosting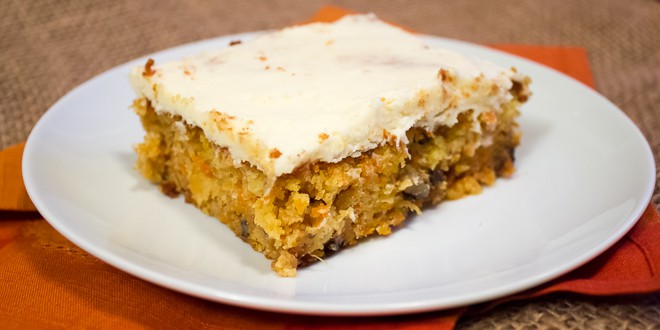 Carrot cake has always been one of my favourite types of cake, but I never had a recipe. Don't get me wrong, I have tried a number of different recipes, but they never were what I wanted. Usually too dry, each cake I made, brought me closer to the assumption that I may never get that ideal carrot cake recipe. All that changed a couple weeks ago. A good friend of my wife made this carrot cake and I fell in love with it. The cake was moist but still fluffy. It was fruity with some crushed pineapple and lots of grated carrot. The walnuts gave the cake a welcome nutty crunch. As important as the cake is, the cream cheese frosting is an essential aspect of carrot cake. This frosting is smooth and creamy and easily spreadable on the cake.
This recipe has been added to my database of essential recipes. Thank you, Corrine!
Carrot Cake with Cream Cheese Frosting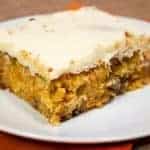 Print
Ingredients
1 1/2 cups vegetable oil
1 cup white sugar
1 cup brown sugar
4 eggs
1 teaspoon vanilla
2 1/4 cups flour
2 teaspoons cinnamon
1 1/2 teaspoon baking powder
1 1/2 teaspoon baking soda
1 teaspoon salt
2 cups grated carrot
1 can (14 oz) crushed pineapple
1 cup chopped walnuts or pecans
1/2 cup cream cheese
1/3 cup butter , softened
1 1/2 cups icing sugar
1 teaspoon vanilla
Instructions
Grease a 13x9 pan.

Preheat oven to 325F.

Beat together the oil, white sugar, brown sugar, eggs and vanilla until smooth.

Whisk together the flour, cinnamon, baking powder, baking soda and salt. Beat the flour mixture with the wet mixture until smooth and there are no clumps.

Fold the grated carrots, pineapple and nuts into the batter.

Pour the batter into the 13x9 pan.

Bake in oven for about 1 hour or until a toothpick inserted in the centre of the cake comes out clean.

Remove from he oven and cool on a wire rack.

Make the cream cheese frosting by beating together the cream cheese and butter. Beat in the icing sugar, a little at a time, until all incorporated and the frosting has a smooth consistency. Beat in the vanilla.

Spread the icing sugar on the cooled carrot cake.