This recipe takes everything that is great about red velvet cake, and puts it in a sheet cake. A moist cake with hints of chocolate and vanilla, but also tangy from the buttermilk. Topped with cream cheese frosting for the ultimate dessert!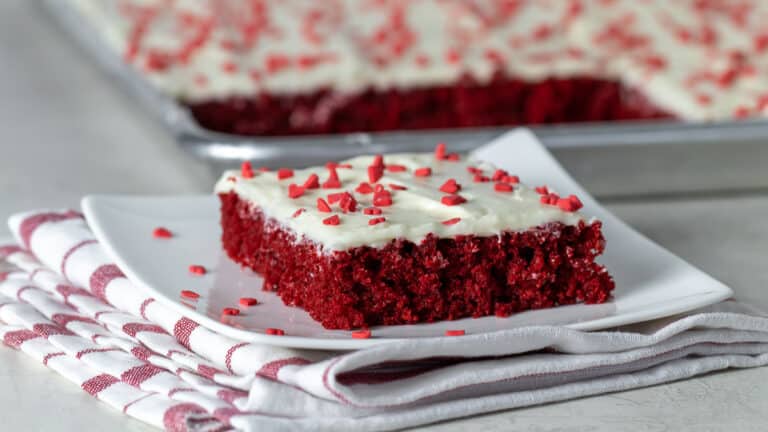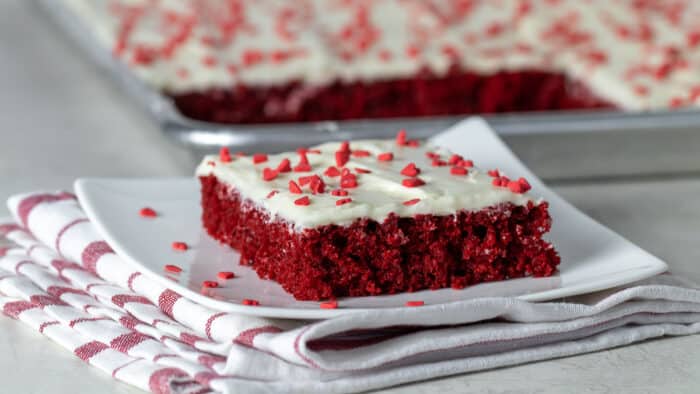 We love sheet cake, and it was only a matter of time, that I made a red velvet sheet cake. It is a beautiful a presentation with the deep red cake and creamy white frosting. But as nice as this cake looks, the taste is absolutely amazing. It is perfect for a birthday party, Valentine's Day, or any day that you want a slice of red velvet!
The texture of sheet cake is a little denser than a standard cake, but lighter than a brownie. Sheet cake is also great because the thinner height means that one portion does not seem like it is as big of a commitment. Also, there is a better cake to icing ratio, and with every bite of cake, you will also get some icing. It is so good.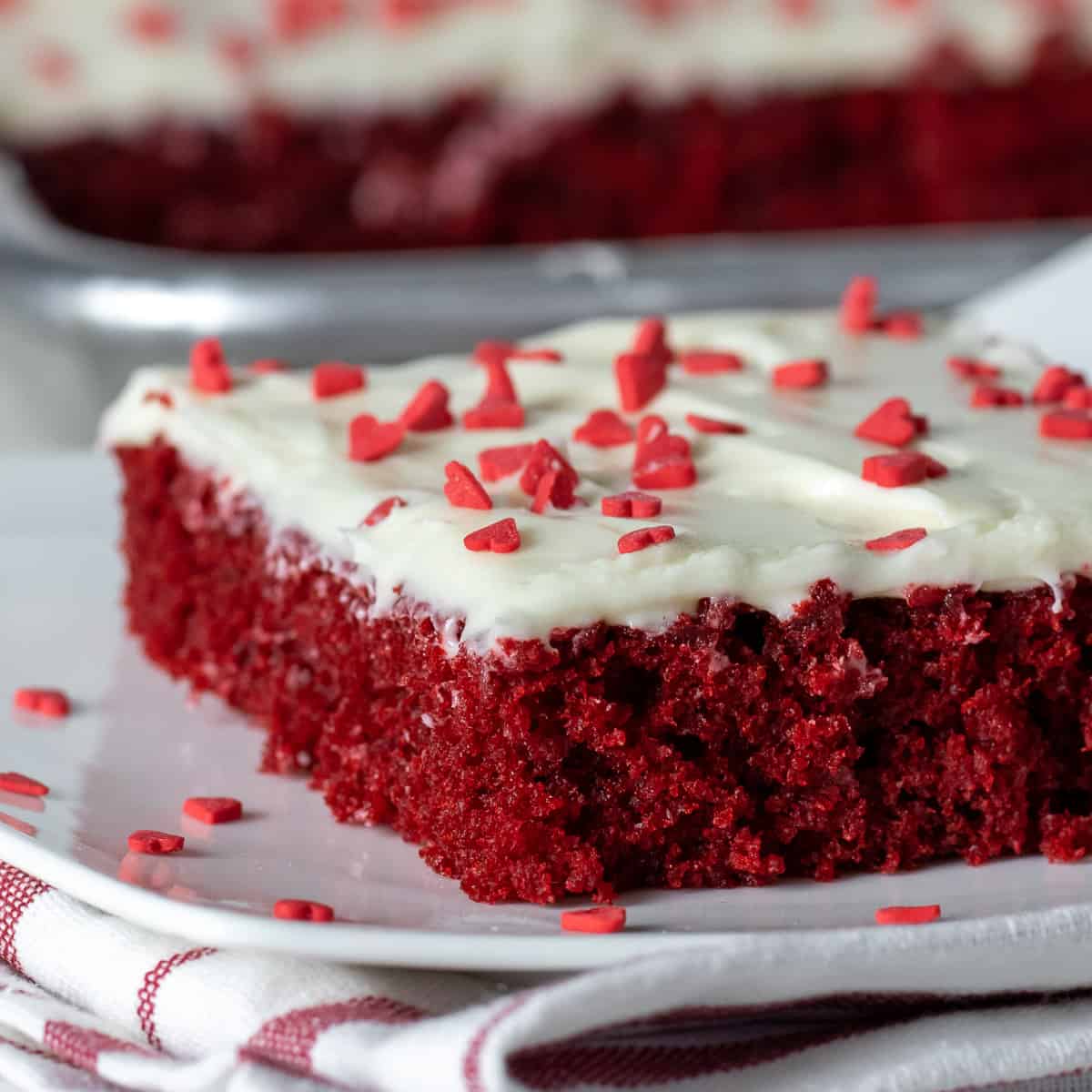 What Makes Red Velvet Sheet Cake So Good?
Red velvet cake has a very unique flavour profile. There is a hint of a chocolate flavour from the cocoa, but not near as much as a chocolate cake. There is also the flavour of vanilla. But, there is also a slight tang that comes from the buttermilk and vinegar.
All of these flavour notes combine together to create a moist and delicious cake that is unlike any other kind out there. Topping this cake with cream cheese frosting makes every bite an experience to remember.
Ingredients You Will Need
butter
cocoa powder
flour
white sugar
red colouring gel
eggs
buttermilk
cinnamon
salt
baking soda
vinegar
vanilla
cream cheese
icing sugar
sprinkles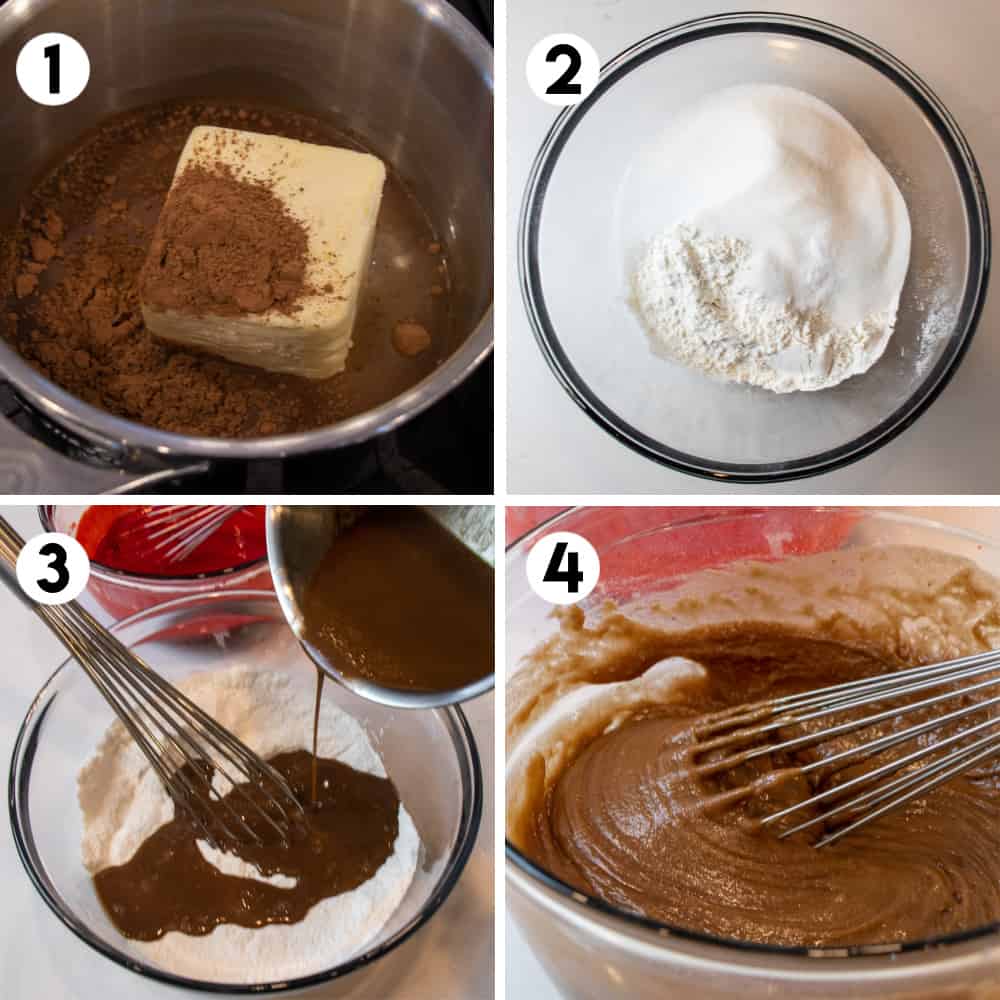 How to make sheet cake
I make this sheet cake in three different portions/stages and then mix it all together.
The first step to making red velvet sheet cake is to heat the water, butter and cocoa in a saucepan. Once the butter has melted, whisk until well mixed, then take off the heat and cool slightly.
Step two of this batter is to dump all the dry ingredients in a separate bowl. Whisk it so that the salt and baking soda is well mixed with the flour and sugar.
Pour the warm cocoa mixture into the bowl with the dry ingredients and mix until there are no more bits of flour and everything is wet.
In another bowl, whisk together the buttermilk, eggs, vanilla, vinegar and red food colouring. Make sure that this wet mixture is smooth and that the food colouring is completely dissolved.
Pour the egg/buttermilk mixture in with the rest of the batter. Whisk it until everything has been mixed together and the batter has a smooth even consistency.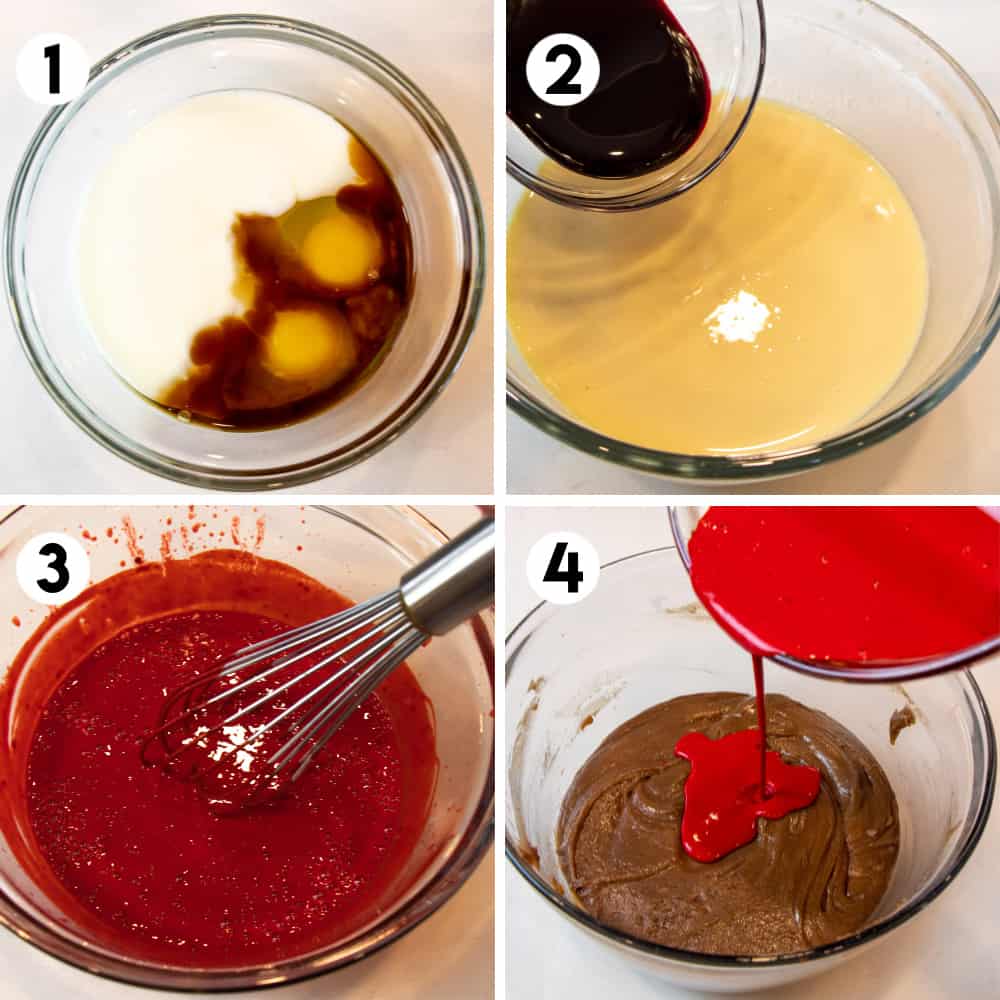 What kind of red food colouring?
There are different types of food colouring that can be used from liquid based drops, to a thicker gel or paste type of food colouring. I find that food colouring gel provides a deeper red colour and is far superior for red velvet cake. This kind will also not affect the consistency of the batter.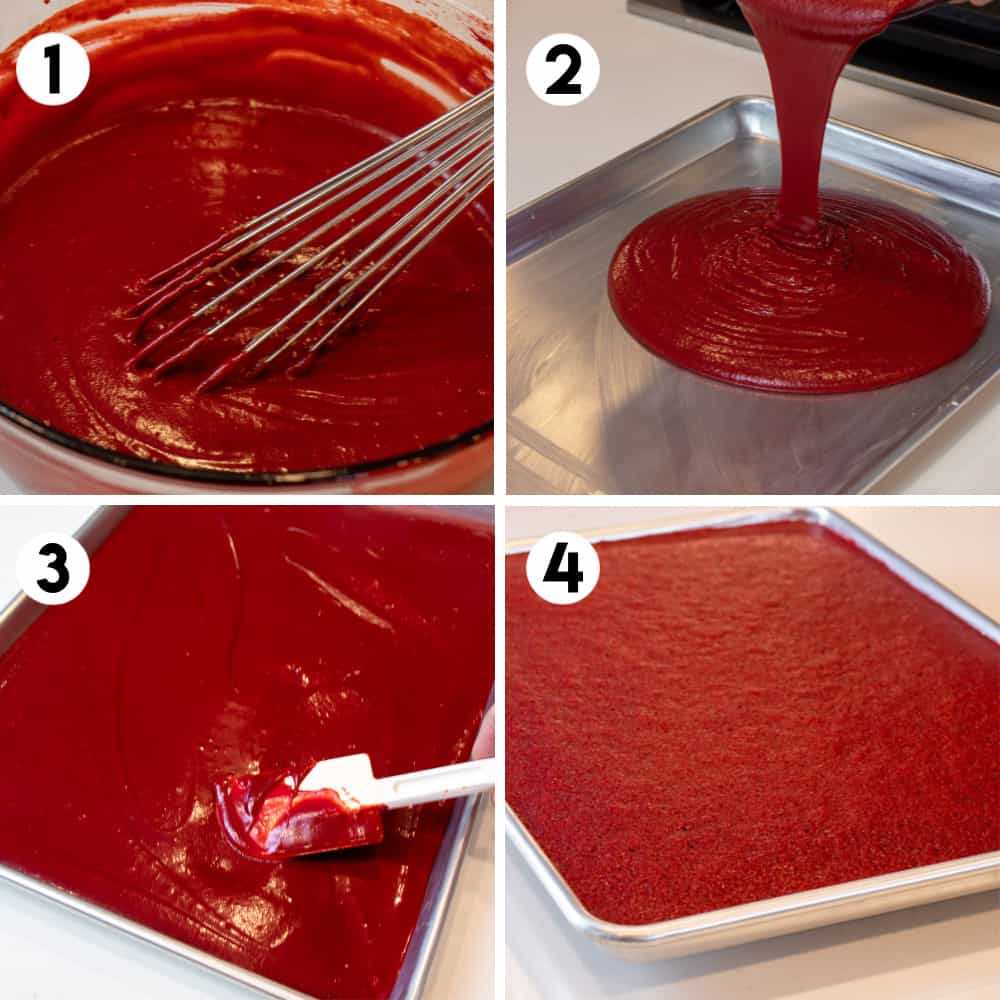 How long to bake sheet cake
Once the cake batter has been well mixed, it can be poured out onto a greased 18×13 half sheet pan. Use a rubber spatula to spread the batter evenly across the pan.
Bake the cake in a 375F oven for 22 minutes. To check doneness, you can stick a tooth pick in the centre of the cake. If it comes out clean, then the cake is done. Take the cake out of the oven and place on a trivet to cool.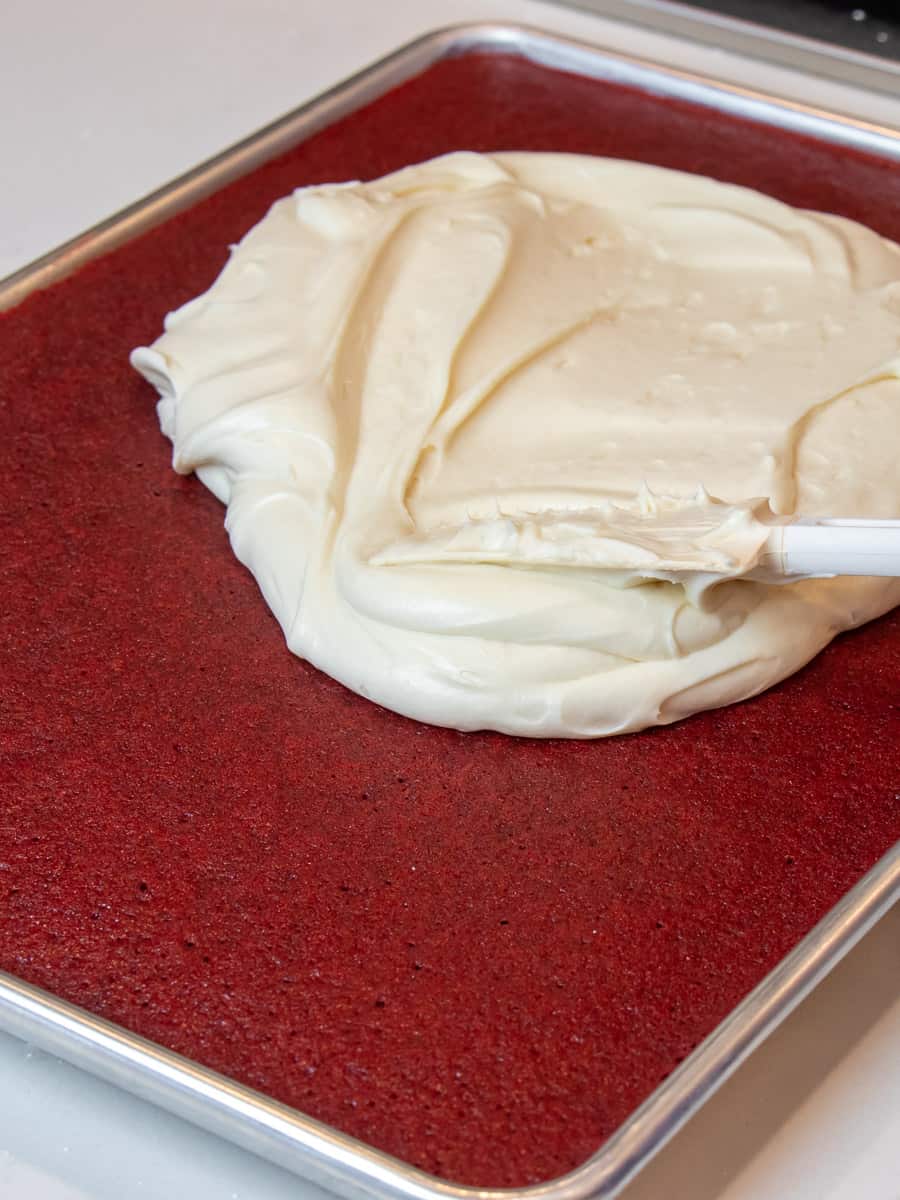 Cream cheese frosting puts this cake at another level!
It is important to make sure that the cake has cooled completely before spreading on the cream cheese frosting. This is different than what I do with chocolate sheet cake, as I spread the frosting on the cake pretty much right when it comes out of the oven. Doing that allows the frosting to melt into the cake to create a delicious fudgy layer. But, for this cake we need to wait until the cake is cooled to room temperature.
How to store red velvet cake
Since this cake is topped with cream cheese icing, it needs to be kept in the fridge. When you are ready to serve some of the cake, you can either slice it and serve it chilled, or take it out of the fridge to warm up slightly and serve it at a temperature closer to room temperature. Personally, we liked the cake best right out of the fridge. The chilled frosting had a very nice creamy texture and sliced so cleanly with the knife.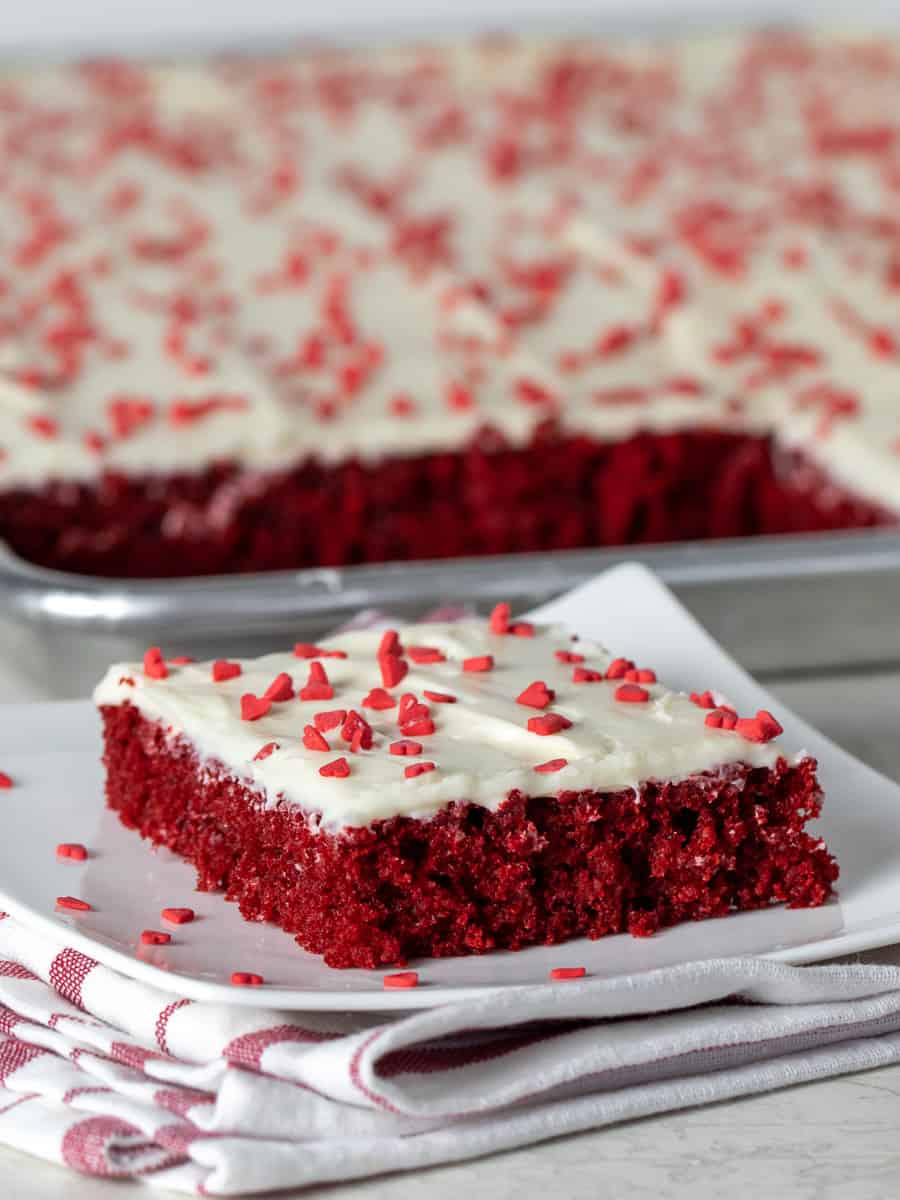 Other sheet cake recipes
We love sheet cake around here and I am always thinking about different flavours or kinds to make. Here are some other recipes that you are sure to love!
Chocolate Sheet Cake – this classic, Texas style cake is so chocolatey and fudgy. This is our most popular sheet cake and the one I get requests for, all the time, from friends and family.
Funfetti Sheet Cake– just like the name implies, this cake is just fun! With lots of sprinkles, this is perfect for a birthday party.
Red Velvet Sheet Cake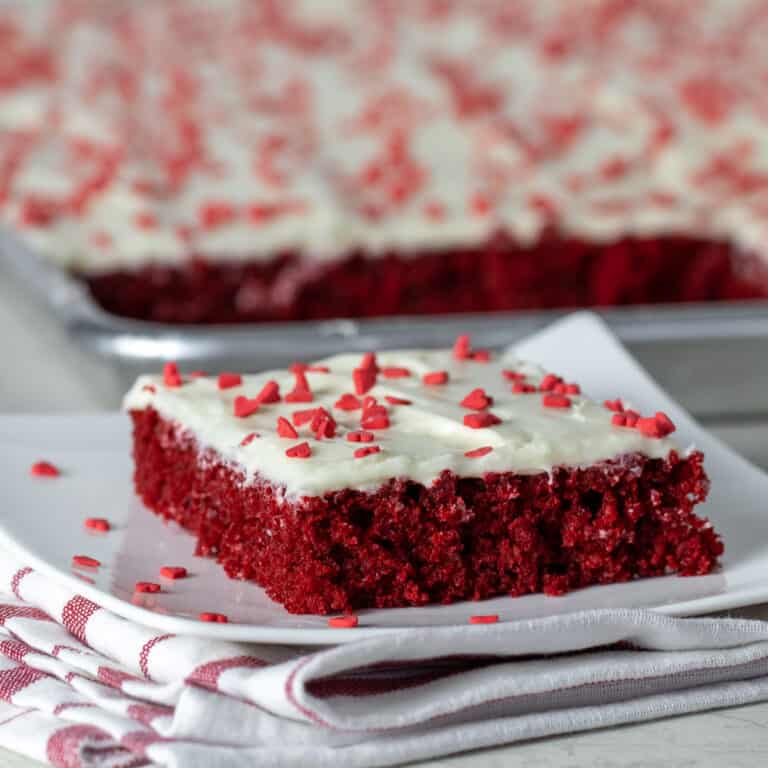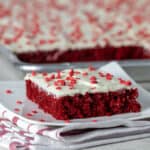 Print
Easy recipe for red velvet sheet cake made in a 18×13 half sheet pan. Moist and delicious sheet cake with cream cheese frosting.
Servings: 20 servings
Ingredients
Cake
1 cup butter
3/4 cup water
2 tbsp cocoa powder
2 cups flour
2 cups white sugar
1 tsp baking soda
1/2 tsp salt
1/2 tsp cinnamon
2 eggs
3/4 cup buttermilk
1 tsp vinegar
2 tsp vanilla
1-2 tbsp red food colouring gel
Buttercream Frosting
1/2 cup butter , softened
8 oz cream cheese
2 tsp vanilla
3 1/2 cups icing sugar
3 tbsp heart shape sprinkles , optional
Instructions
Cake
Heat 1 cup butter, 3/4 cup water and cocoa powder in a saucepan over medium heat. Bring to a boil and whisk so that the butter is all melted. Remove from heat and let cool slightly.

In a large bowl, whisk together the flour, sugar, baking soda, and salt. Pour in the butter, water and cocoa mixture and fold it in the dry ingredients until it is all wet and combined.

In a separate bowl, mix together the eggs, buttermilk, vinegar, vanilla and red food colouring gel until smooth. Pour into the flour mixture and fold in until combined. Be careful not to overmix.

Spread on a greased 18×13 half sheet baking pan.

Bake in a 375F oven for 22 minutes.

Once the cake is finished cooking, remove from the oven and place on a trivet. Cool to room temperature.
Frosting
While the cake is in the cooling, make the cream cheese frosting. With an electric stand or hand mixer, beat the softened butter, cream cheese and vanilla until smooth and creamy.

Beat in the icing sugar, a bit at a time until all the icing sugar is mixed in and the frosting is smooth and creamy.

Spread the frosting evenly on top of the sheet cake. If desired, top with heart shaped sprinkles.

Slice and serve. Due to the cream cheese, keep the cake in the fridge until ready to serve.
Nutrition
Per serving:
Calories: 381kcalCarbohydrates: 52gProtein: 3gFat: 19gSaturated Fat: 11gCholesterol: 66mgSodium: 288mgFiber: 1gSugar: 41g
This recipe was originally posted in January 2020