Texas Chocolate Sheet Cake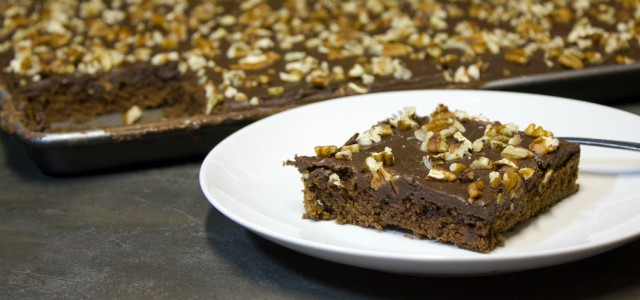 My daughter's birthday was yesterday and she has been talking about this for weeks. Whenever we bump into someone we know, or even cashiers at a store, Mary will say "My birthday is on Wednesday and I am turning 5!" I shared on a previous post that my wife and I let our kids pick their birthday dinner. Mary picked the same thing that she had chosen last year: turkey, stuffing, mashed potatoes and corn. Earlier in the week, Mary went with me to the grocery store to pick out the turkey. She was thrilled and highly anticipated the big day as it approached.
The night before her birthday, Mary was complaining about a headache. She went to bed and woke up a few times in the night crying. Each time I went in to check on her I noticed her fever getting warmer and warmer. By the time morning came around, she was 'full-on' sick. There was no way she could go to school. Going to school on your birthday is a big deal at our kid's school, because your name is mentioned on the announcements and the principal comes to your class to give you a birthday ribbon. Poor little Mary was going to miss all this.
Mary slept on the couch the entire day. At dinner time, she was not at all interested in her meal, but wanted to sit with us. She even passed on the cake. My heart broke for my little girl. I hate seeing my kids sick, especially during a day or time that they are highly anticipating.
The recipe I am sharing today is a Texas chocolate sheet cake. Living my whole life in Canada, I have never made a Texas sheet cake. Mary and I watched an episode Cook's Country recently where they made it. She thought it looked delicious and asked that I make it as her birthday cake. The recipe I used is the one from Cook's Country and, I must say, it turned out amazing. It was a little denser than I was expecting and had almost a fudgy brownie texture. This is not a complaint though because it truly was stellar. After I took these photos, I dressed it up for Mary by using pink icing to write HAPPY BIRTHDAY MARY and also put Cadbury Mini Eggs in clusters around the cake.
Hopefully Mary is feeling better in a day or two because there are plenty of leftovers!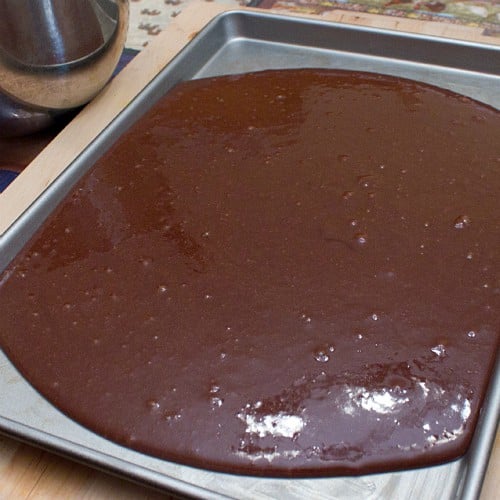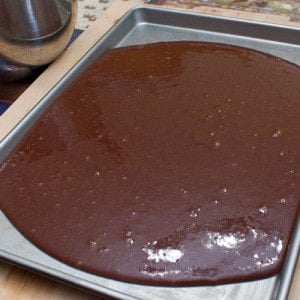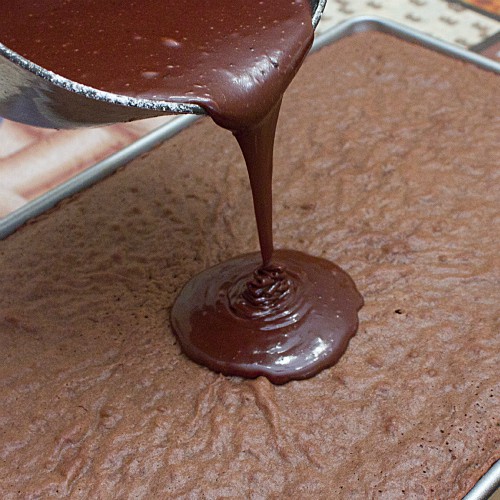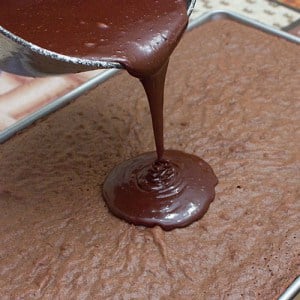 Make sure you spread the warm icing immediately after the cake comes out of the oven as it helps create that fudgy texture!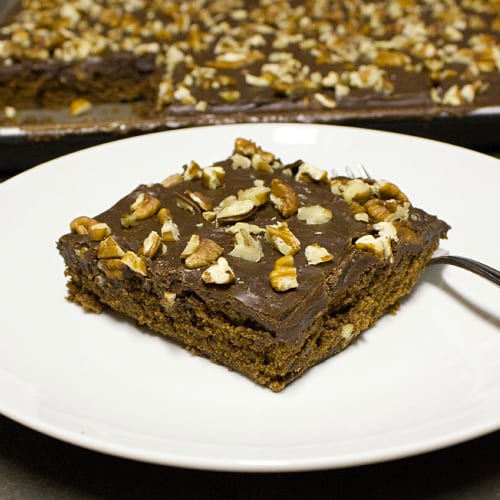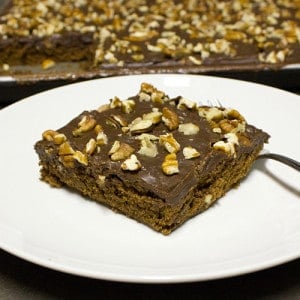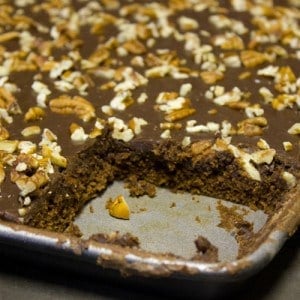 Texas Chocolate Sheet Cake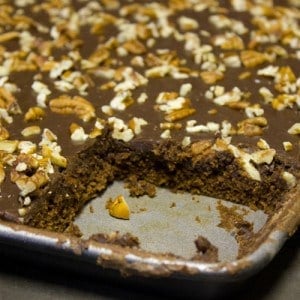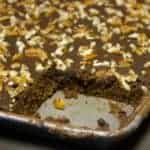 Print
Servings: 18
Ingredients
2 cups flour
2 cups sugar
1/2 tsp baking soda
1/2 tsp salt
2 eggs plus 2 egg yolks
2 tsp vanilla
1/4 cup sour cream
8 oz semisweet chocolate squares
4 tbsp butter
3/4 cup oil
3/4 cup water
1/2 cup butter
1/2 cup heavy cream
1/2 cup cocoa powder
1 tbsp corn syrup
3 cups icing sugar
1 tbsp vanilla
1 cup toasted pecans , chopped
Instructions
In a saucepan, melt the 8 oz chocolate squares, 4 tbsp butter, oil and water. Do not let it come to a boil. Stir until smooth.

In a separate bowl whisk together the eggs, 2 tsp vanilla and sour cream until smooth and creamy.

In another bowl, sift together the flour, sugar, salt and baking soda. With an electric mixer, combine the chocolate mixture with the dry ingredients. After that beat the egg mixture in to create a smooth batter.

Pour the batter into a greased 18x13 inch rimmed baking sheet.

Bake in a 350F oven for 18-20 minutes. Test to make sure a toothpick inserted in the centre comes out clean.

Prepare the icing halfway through the baking of the cake. In a saucepan, heat the remaining butter, heavy cream, cocoa powder and corn syrup. Stir often and once smooth, remove from the heat. Stir in the icing sugar and vanilla to create a smooth, creamy icing.

Once the cake is baked, remove it from the oven and immediately pour and spread the icing all over the cake. Sprinkle the chopped pecans on top.

Let the cake cool completely, so the icing can set, before serving (1-2 hours).