M&M Chocolate Peanut Butter Layer Cake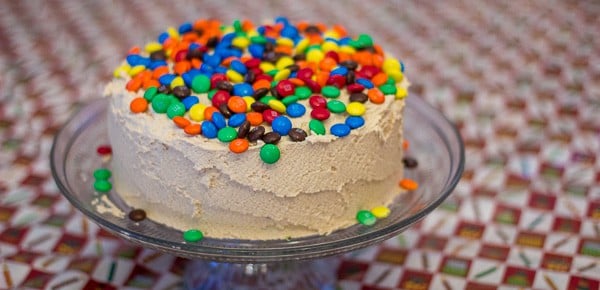 This past week, my little girl turned 6. Time moves way too fast as it is hard to believe that my princess is this age already. It seems like it was just yesterday that our home was blessed with her presence. Over the past 6 years it has been wonderful seeing her grow up. She has gone from loving Backyardigans and Little People to Hello Kitty and Taylor Swift. Even though she is very much a girl, loving everything pink and purple, she is also able to keep up with her two older brothers, playing football downstairs or Skylanders on the Xbox.
Each year we let the kids pick the menu for their birthday dinner. Mary wanted a repeat of last years dinner: turkey, stuffing, mashed potatoes and veggies. Not the typical little kids dinner choice, but I was more than happy to make it for her. The cake is something I typically make as a surprise. This year I went with chocolate and peanut butter. Who doesn't love that combo eh!?!?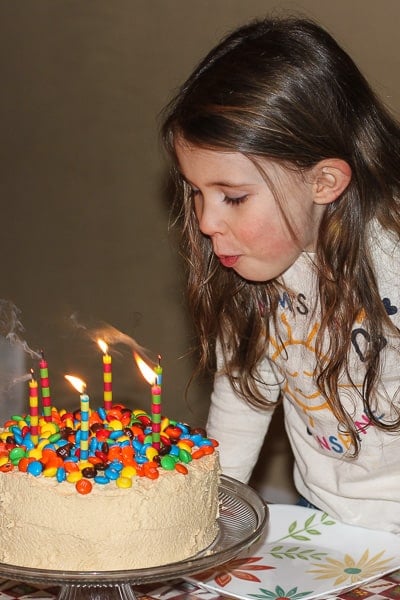 The cake is chocolate and from a box – nothing fancy there. I like box cakes as they are easy and come out light and moist. The frosting is the real winner in this cake. Peanut butter goes so well with chocolate and I knew that it would be a great flavour for the frosting. Once I made and tasted it, I knew this frosting will be made many, many more times. Just thinking about this frosting on chocolate cupcakes or brownies has me pumped! Once the frosting was spread on the cake, I wanted to have some crunch. Reese's pieces would have been great, but I had a big package of M&Ms so I dumped them on top. They were the perfect choice and added some nice colour to the cake as well!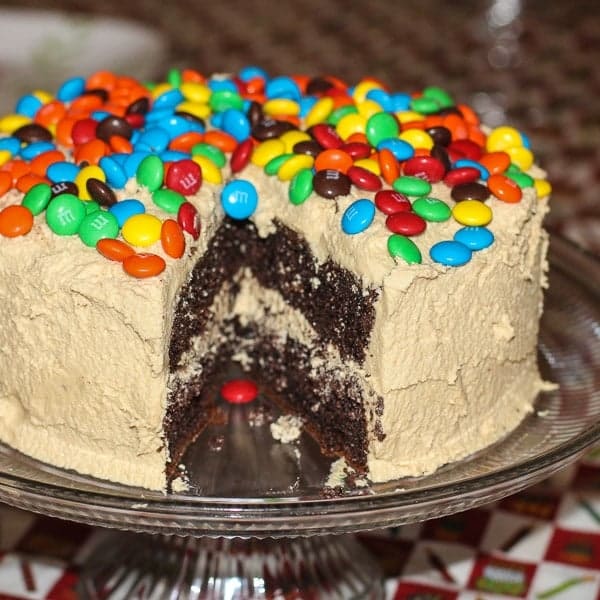 M&M Chocolate Peanut Butter Layer Cake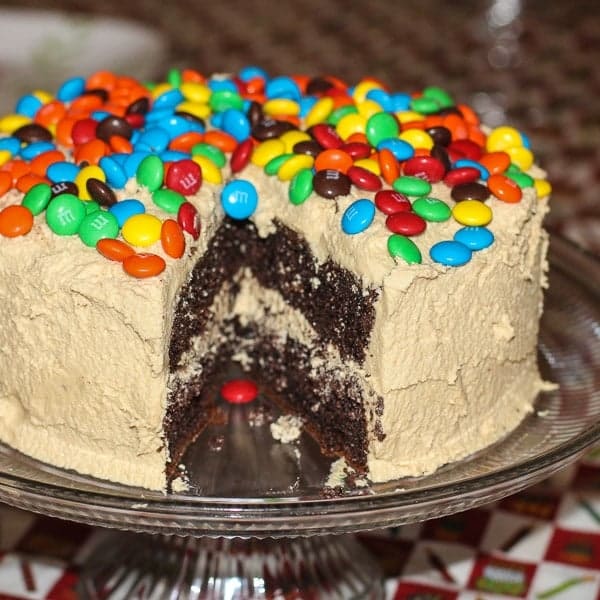 Print
Servings: 8
Ingredients
1 tbsp softened butter
2 tbsp flour
1 box chocolate cake mix (store bought)
3 eggs
1 1/4 cup milk
1/2 cup oil
1 1/2 cups peanut butter
3/4 cup butter
3 cups confectioner's sugar (icing sugar)
1/4 cup milk (approx.)
2 regular packages or one large 8oz package of M&Ms - regular or peanut butter kind
Instructions
Prepare two 8" round cake pans by rubbing the inside bottom and sides with the 1 tbsp softened butter. Spoon some flour in each cake pan and shake it around making sure that some flour coats all the bottom and sides of both pans. Shake the excess flour out of the cake pans.

Preheat the oven to 350F.

Mix together the cake mix with the eggs, milk and oil. Pour the cake batter evenly in the two prepared cake pans.

Bake for 30-35 minutes or until a toothpick comes out clean when stuck in the middle of the cake. Cool for 15 minutes.

Make the peanut butter frosting by creaming together the butter and peanut butter with an electric mixer. Beat in the confectioner's sugar. Slowly beat in the milk until it reaching a smooth spreadable consistency.

Carefully remove the cakes from the cake pans. Using a long serrated knife, cut the rounded top off the two cakes.

Place one round cake, cut side up, on a cake stand/tray. Spread some of the frosting on the top of the cake. Make sure that the frosting is an even 1/2 inch layer. Place the second round cake, cut side down, on top of the first cake. Spread the remaining frosting on the top and sides of the cake.

Sprinkle the M&Ms across the top of the frosted cake.