Parsnip Cake with Chocolate Cream Cheese Frosting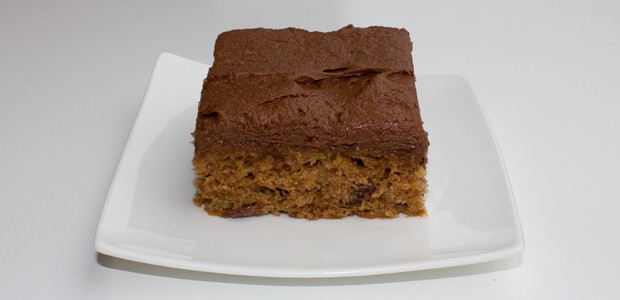 The other day my daughter walked into the kitchen and started laughing. I was in another room and asked her what she was laughing at. She said, "daddy, you have white carrots on the counter. Where did you get the white carrots?" They were not carrots, but were parsnips.
Do you cook with parsnips much? If not, you should try.
Parsnips are a highly underused root vegetable. They have a sweet and spicy flavour and are wonderful in many different dishes.
Add some cooked and mashed parsnips to mashed potatoes.
Add parsnips to chicken noodle soup.
Roasted carrots and parsnips are an amazing side dish to roast pork or chicken
How about substituting parsnips in carrot cake?
I love carrot cake. The moist cake with the hint of cinnamon and toasted nuts are wonderful and cream cheese frosting is the perfect topping. I swapped the carrots for parsnips and the cake turned out great. I wanted to punch up the flavour of this cake and turned the topping into a chocolate cream cheese frosting. The end result is a cake that is sweet and moist with a hint of spice and a wonderful chocolate kick for any chocoholics out there! This cake is a winner for sure.
Parsnip Cake with Chocolate Cream Cheese Frosting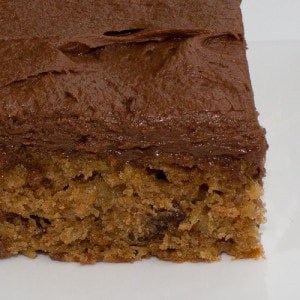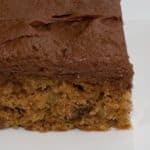 Print
Servings: 18
Ingredients
3/4 cup oil
1/4 cup milk
3 eggs
2 tsp vanilla
1/2 cup white sugar
1/2 cup brown sugar
1 1/2 cup flour
1 tsp salt
1 1/2 tsp baking powder
1/2 tsp baking soda
2 tsp cinnamon
2 cups peeled and grated parsnips
1/2 cup toasted pecans , chopped
1 8 oz brick of cream cheese
1/4 cup butter , softened
4 oz unsweetened chocolate squares
3 cups icing sugar
Instructions
Preheat oven for 350F.

Grease and flour a 13x9 cake pan.

Mix together the oil, milk, sugars, eggs and vanilla until creamy and smooth.

In a separate bowl, whisk together the flour, salt, baking powder, baking soda and cinnamon. Slowly beat the flour mixture into the wet ingredients until fully combined and no longer lumpy.

Mix in the grated parsnips and pecans.

Pour the batter in the cake pan and bake for 30 minutes. A toothpick inserted should come out clean. Bake a little longer, if necessary.

Cool on a wire rack.

To make the frosting, beat the cream cheese and butter until smooth. Melt the chocolate squares in a microwave or double boiler and then mix the chocolate with the cream cheese and butter. Slowly beat in the icing sugar. The frosting should be smooth and spreadable.

Once the cake is completely cooled, spread on the frosting.