Parsnip Cake with Chocolate Cream Cheese Frosting
A twist on a classic carrot cake made with grated parsnips and walnuts and topped with chocolate cream cheese icing.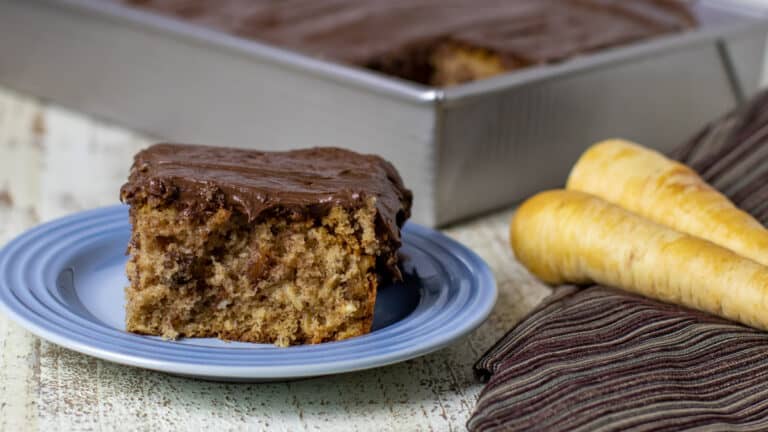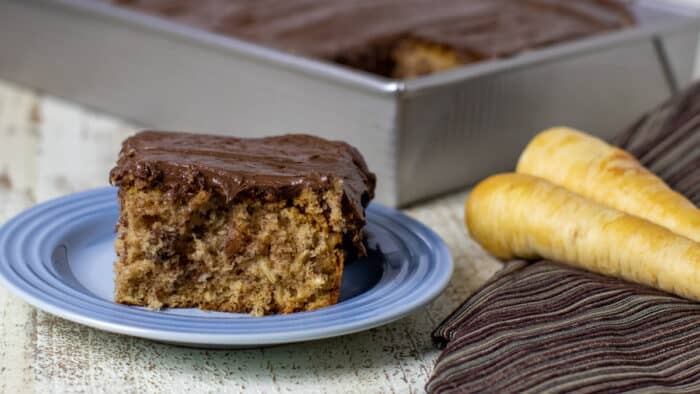 I love carrot cake. The moist cake with the hint of cinnamon and toasted nuts are wonderful and cream cheese frosting is the perfect topping. I swapped the carrots for parsnips and this parsnip cake turned out great.
I wanted to punch up the flavour of this cake and turned the topping into a chocolate cream cheese frosting. The end result is a cake that is sweet and moist with a hint of spice and a wonderful chocolate kick for any chocoholics out there! This cake is a winner for sure.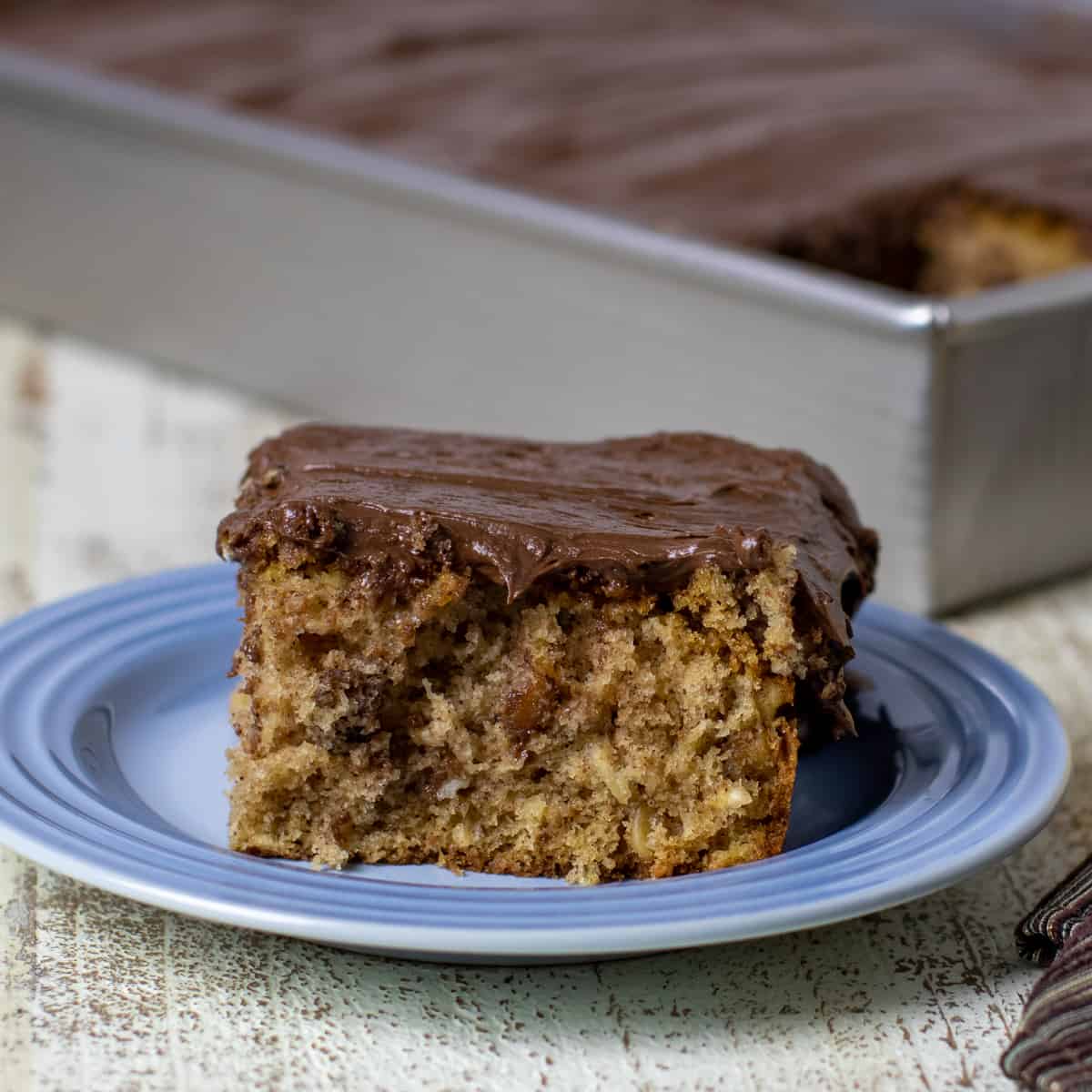 Parsnips are a highly underused root vegetable. They have a sweet and spicy flavour and are wonderful in many different dishes.
Add some cooked and mashed parsnips to mashed potatoes.
Add parsnips to chicken noodle soup.
Roasted carrots and parsnips are an amazing side dish to roast pork or chicken
This parsnip cake shows just one more way that parsnips are a great vegetable for cooking with.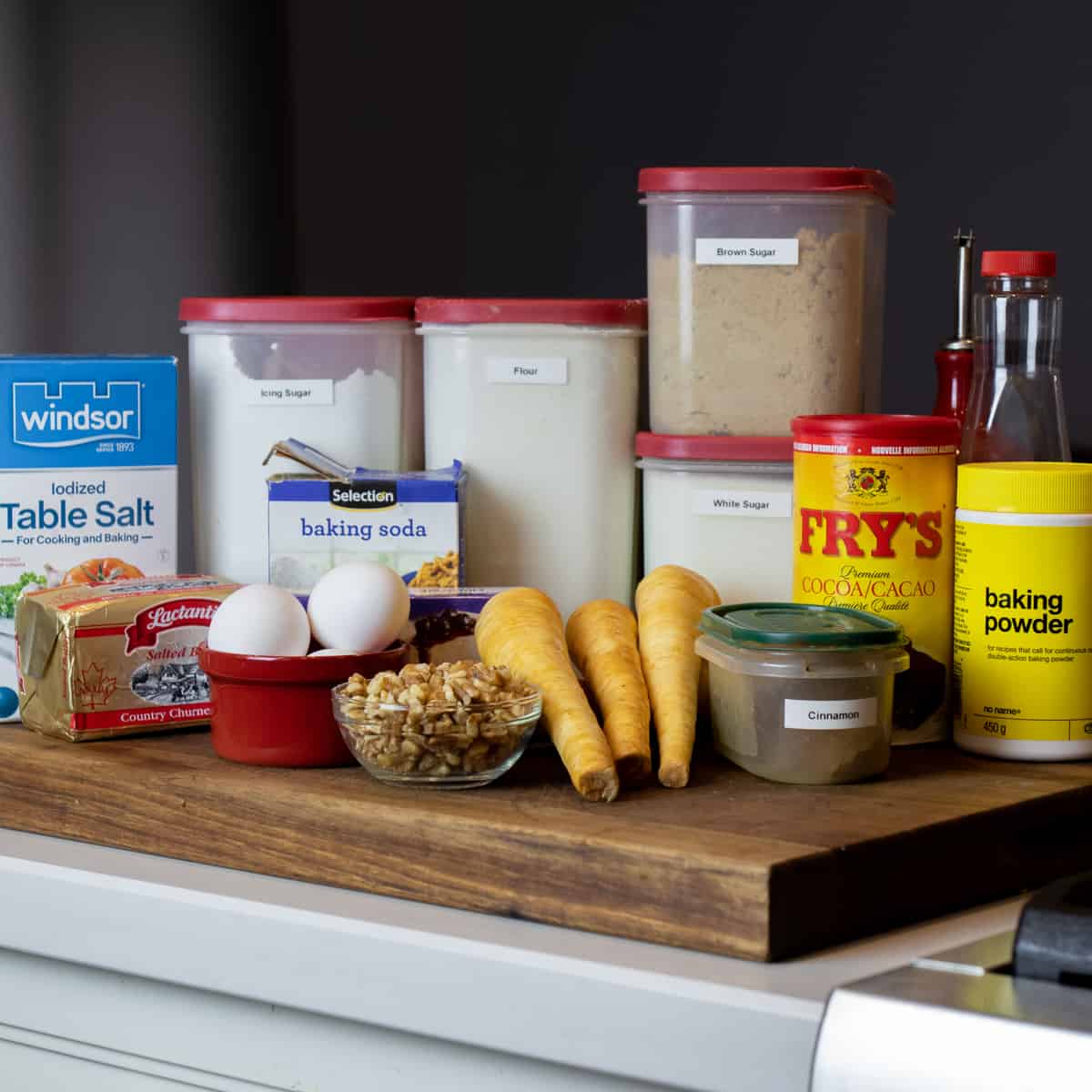 Ingredients For Parsnip Cake
Parsnips
Flour
Baking Powder
Baking Soda
Salt
Cinnamon
Eggs
Milk
Oil
White Sugar
Brown Sugar
Walnuts – pecans are another great options for nuts in this cake.
Vanilla
Butter
Cream Cheese
Cocoa Powder
Icing Sugar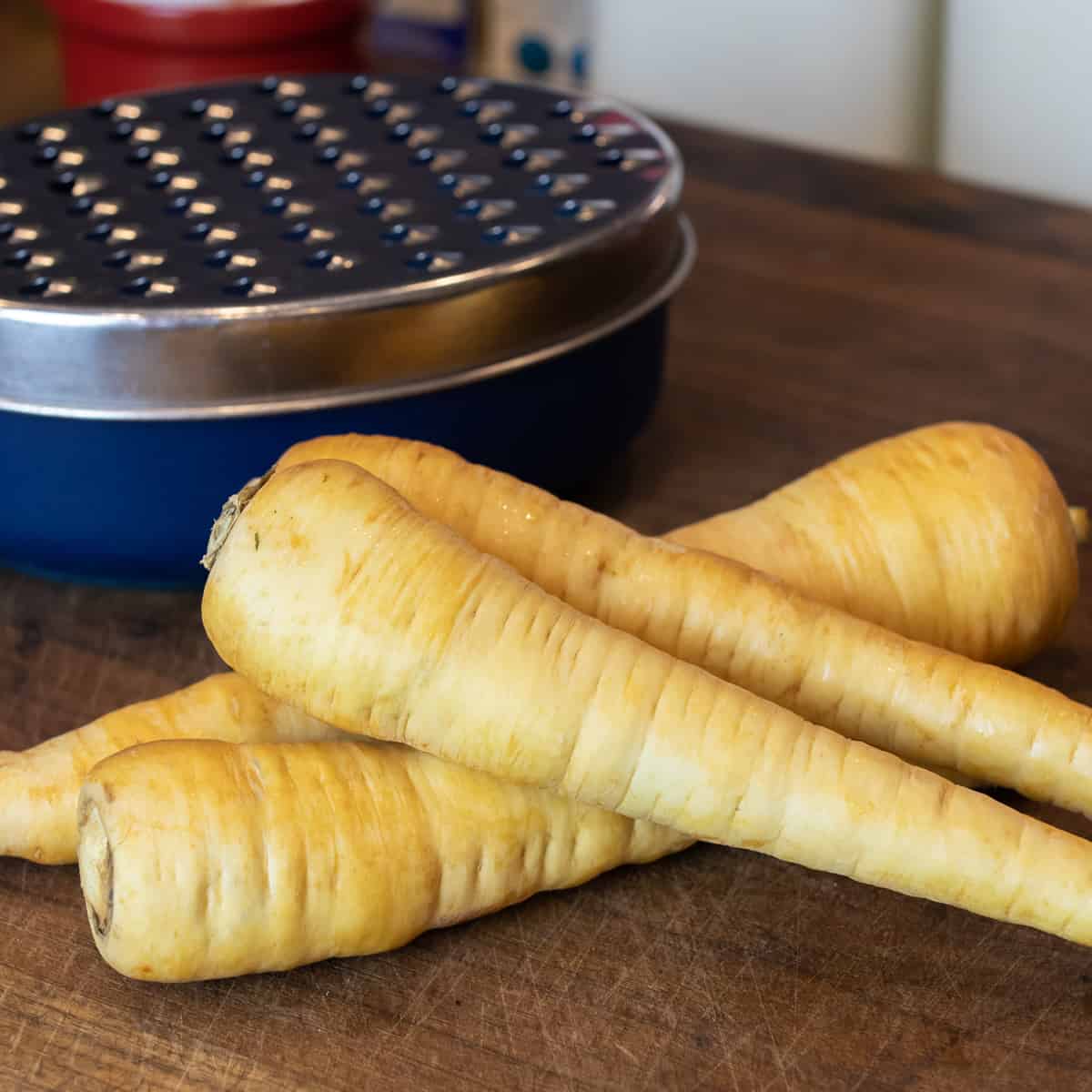 Parsnips are typically found in the supermarket next to the carrots. Where I get them, they are in a bag and usually have 4 to 5 whole parsnips. They look similar to a carrot, but are a yellowish white colour. A parsnip has a fatter end and then goes much narrower at the tip.
Expert Tip: For this parsnip cake, we need 2 cups of grated parsnips. Depending on the size of parsnips, the amount you need may vary. I find that 2 or 3 parsnips is enough.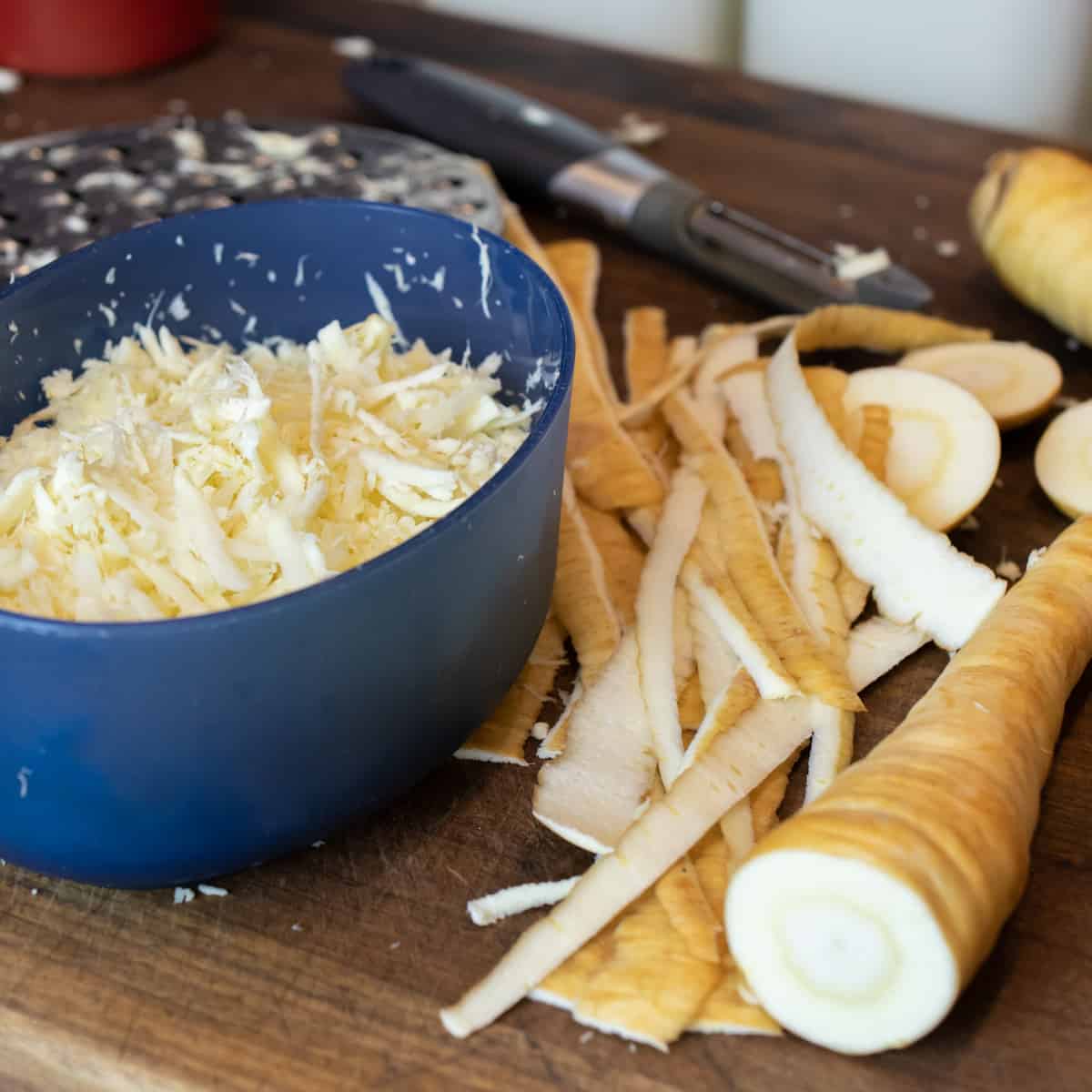 How To Grate Parsnips
First, cut the ends off the parsnip and then use a potato peeler to remove the skin. I use a cheese grater to grate the parsnips, but a food processor with the grating attachment will also work very well and get the job done in a matter of seconds.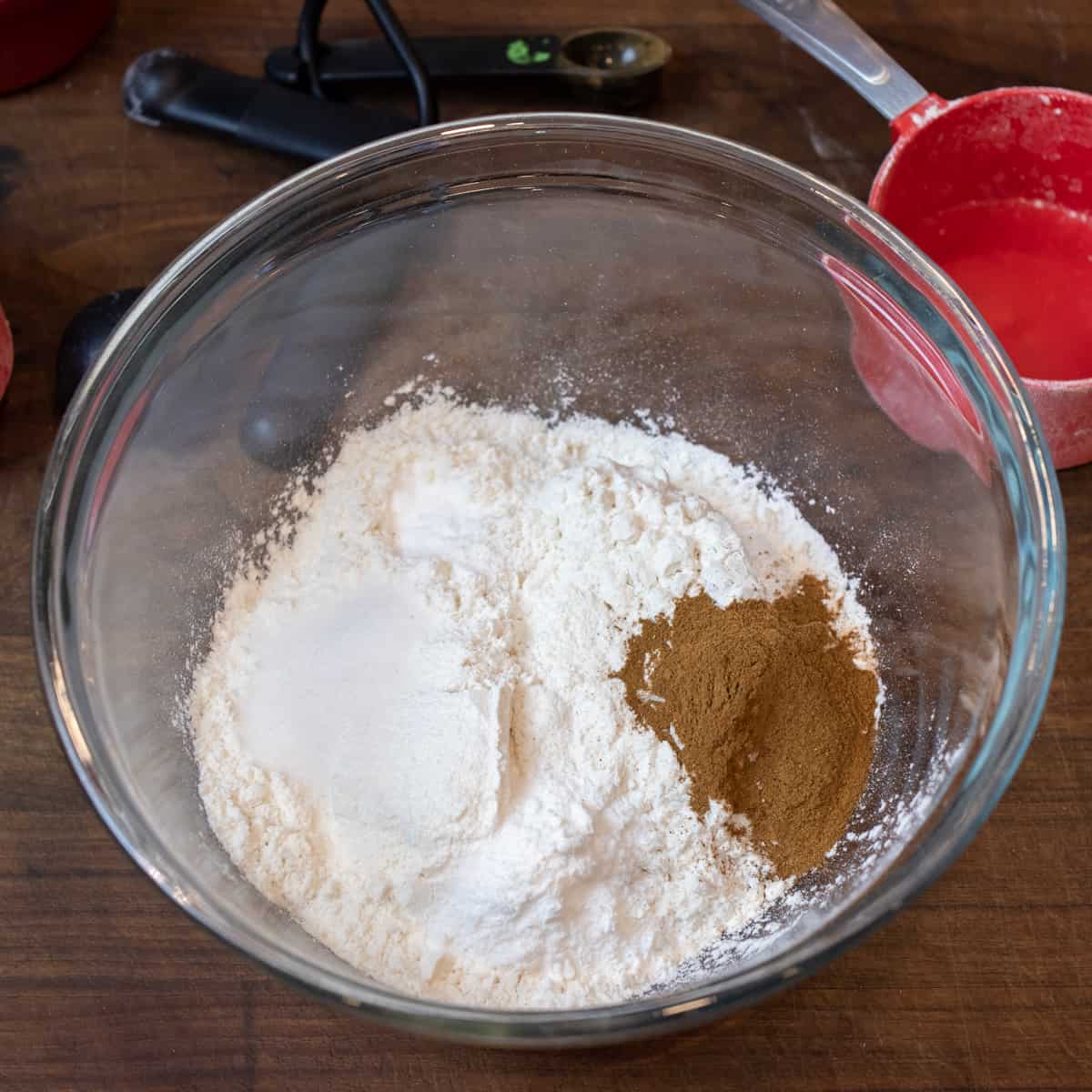 Dry Ingredients
I prefer to mix the dry ingredients separately. This ensures that everything is well mixed for the parsnip cake. Dump the flour, salt, cinnamon, baking powder and baking soda to a mixing bowl.
Expert Tip: I use all purpose flour, but cake and pastry flour will also work well.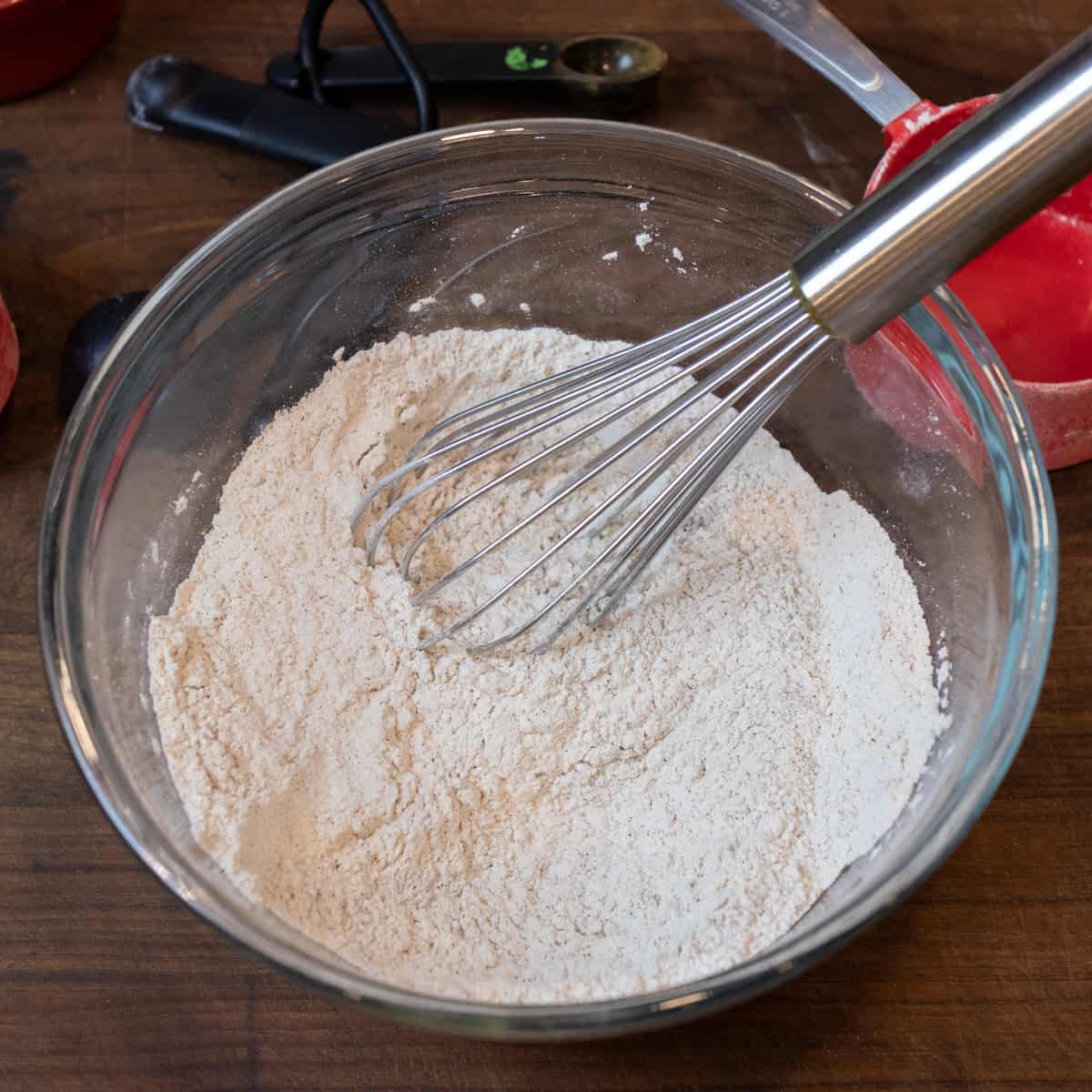 Mix The Dry Ingredients
Use a whisk or a fork to stir all the dry ingredients together. Make sure to get around the sides and bottom of the mixing bowl. Once it is well mixed, you should see the cinnamon all throughout the flour.
Expert Tip: Using a glass mixing bowl is handy because it allows you to see if there are any pockets of unmixed flour along the sides of the bowl.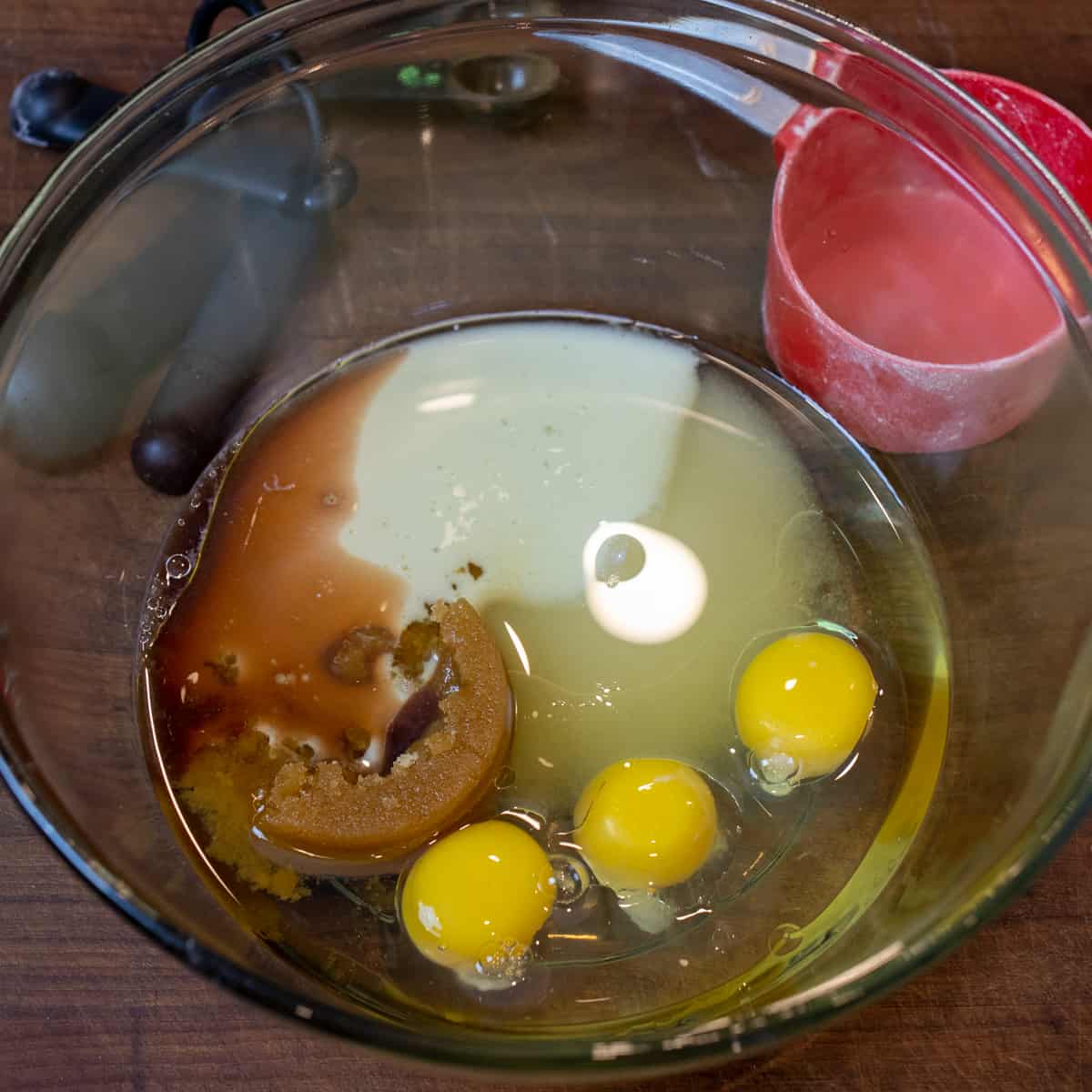 Wet Ingredients
In a separate bowl, add the eggs, oil, brown sugar, white sugar and vanilla. I like to mix the white and brown sugar together with the wet ingredients since it allows the sugars to dissolve first before mixing with the flour.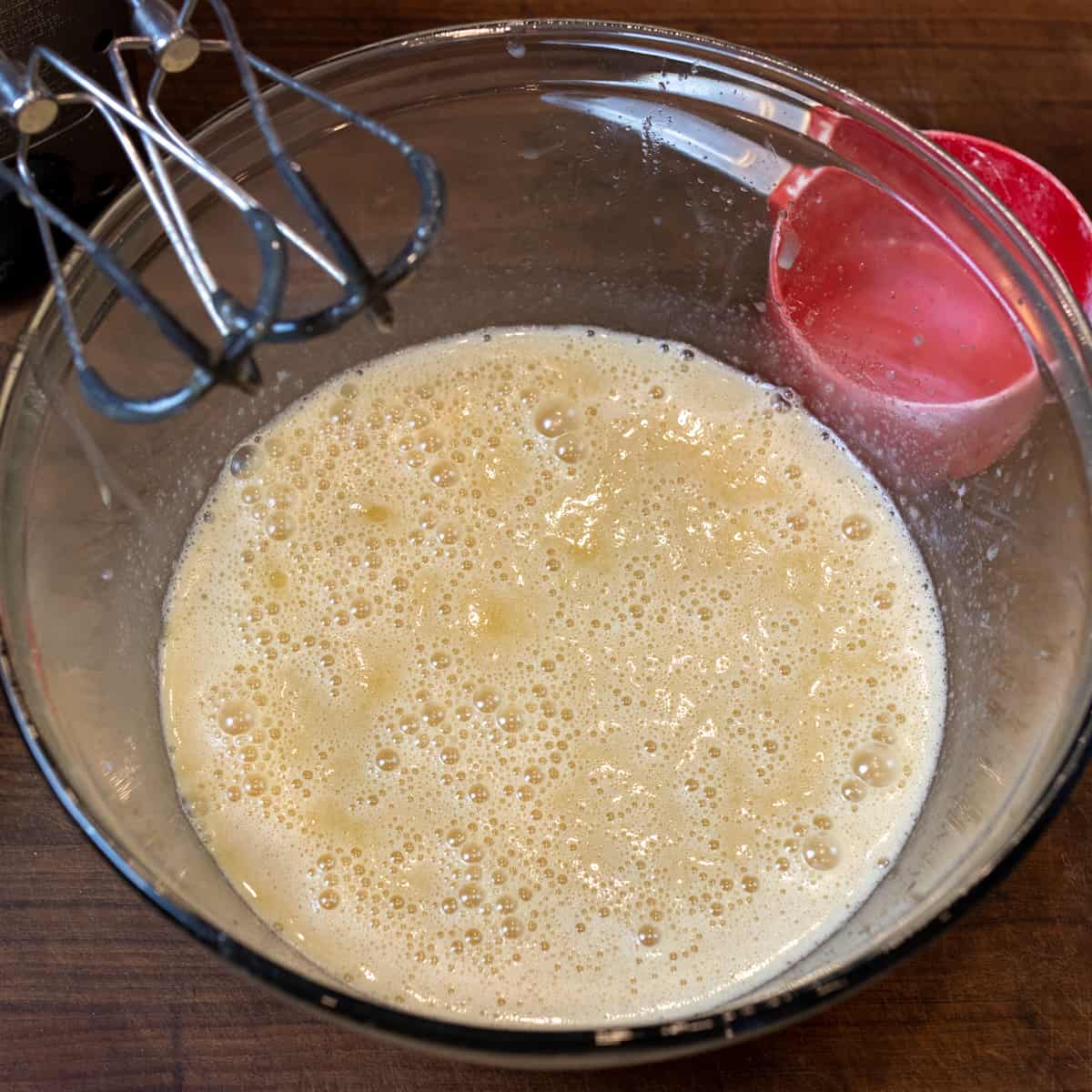 Use a stand or handheld electric mixer to beat the wet ingredients together. Mix at medium to high speed until the batter is a smooth creamy consistency. This should not take long and be nicely mixed after about a minute.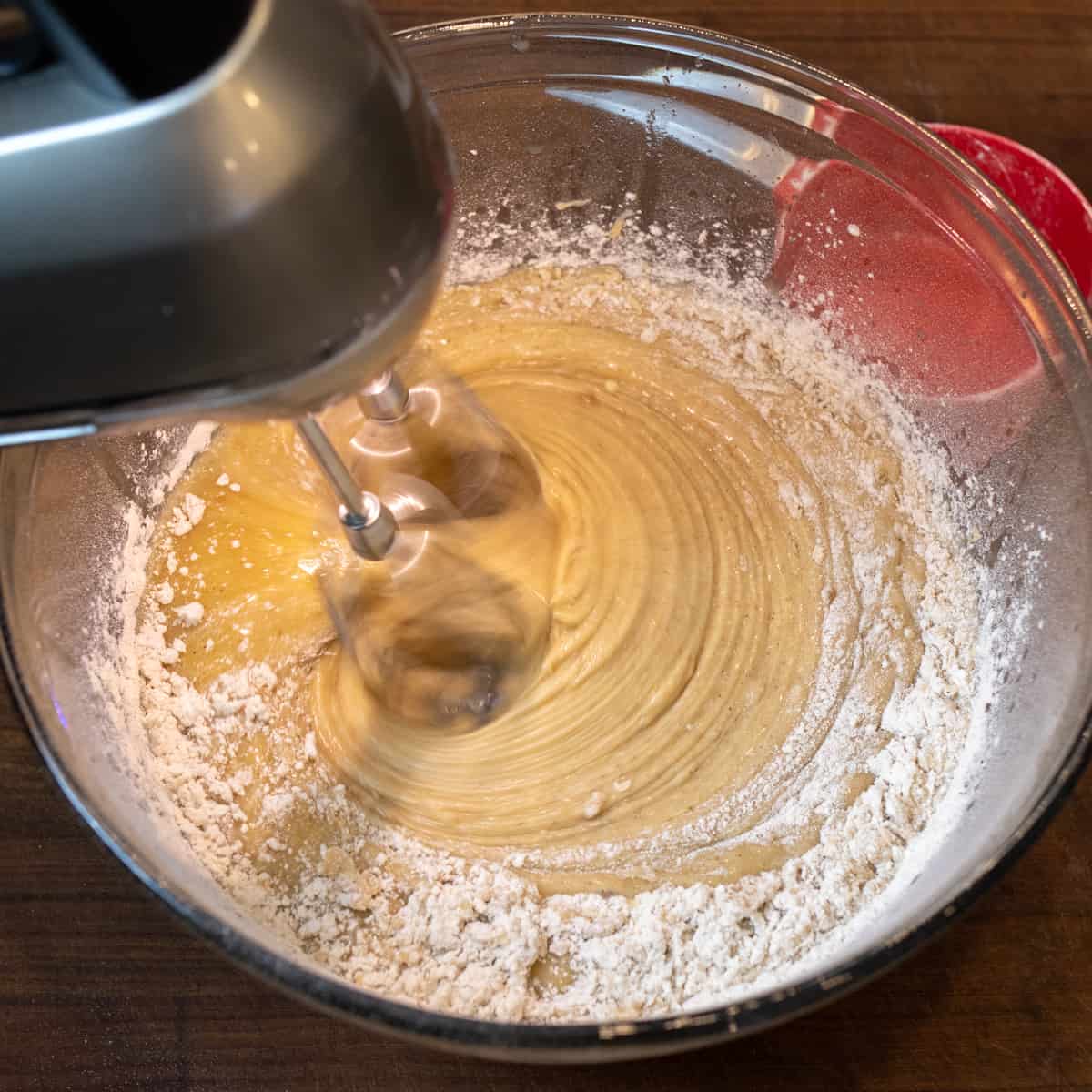 Dump the dry ingredients into the bowl with the wet ingredients and beat them together. Make sure to scrape the sides and bottom of the mixing bowl to ensure that the batter is well mixed.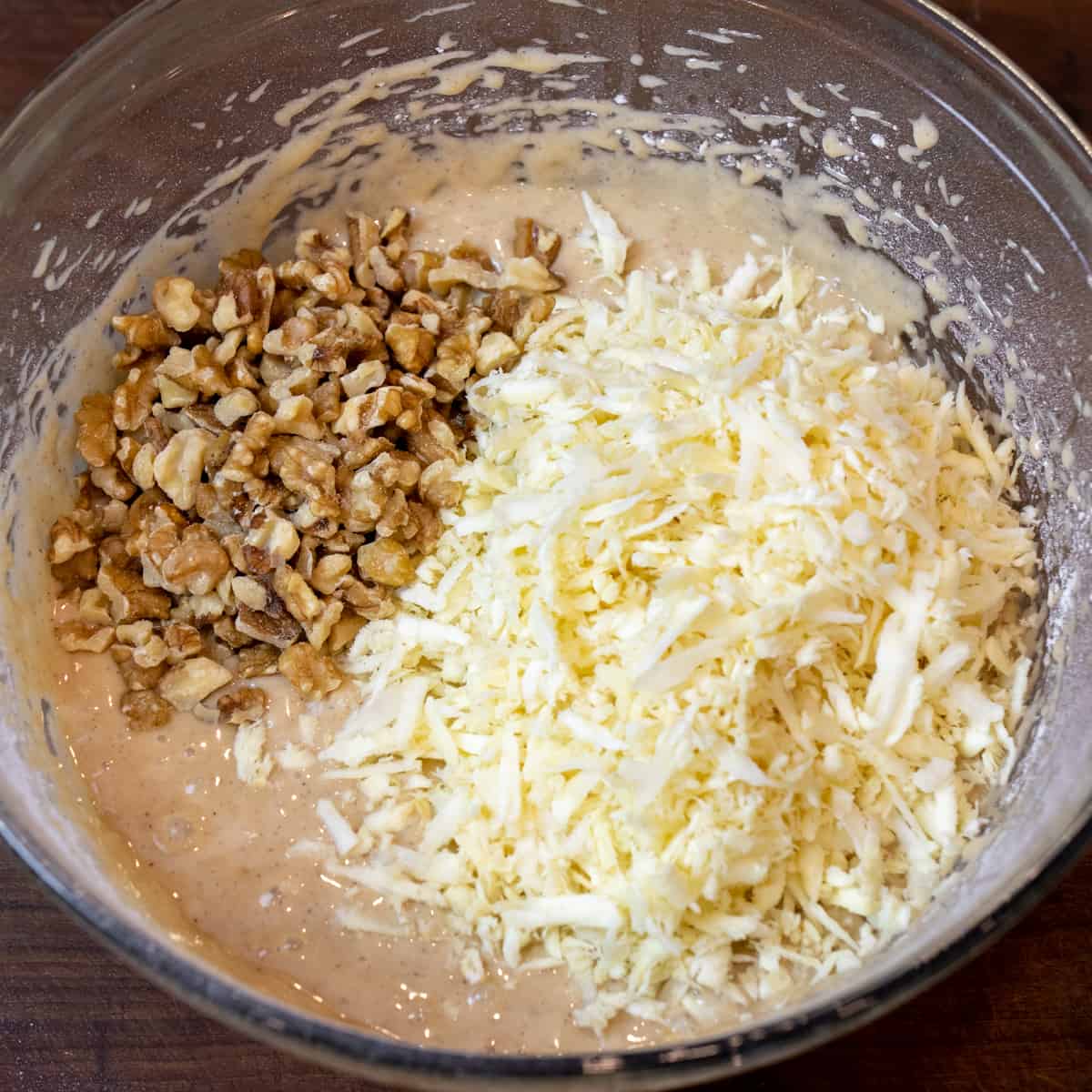 The last part of making the batter is to add the grated parsnip and chopped walnuts to the bowl.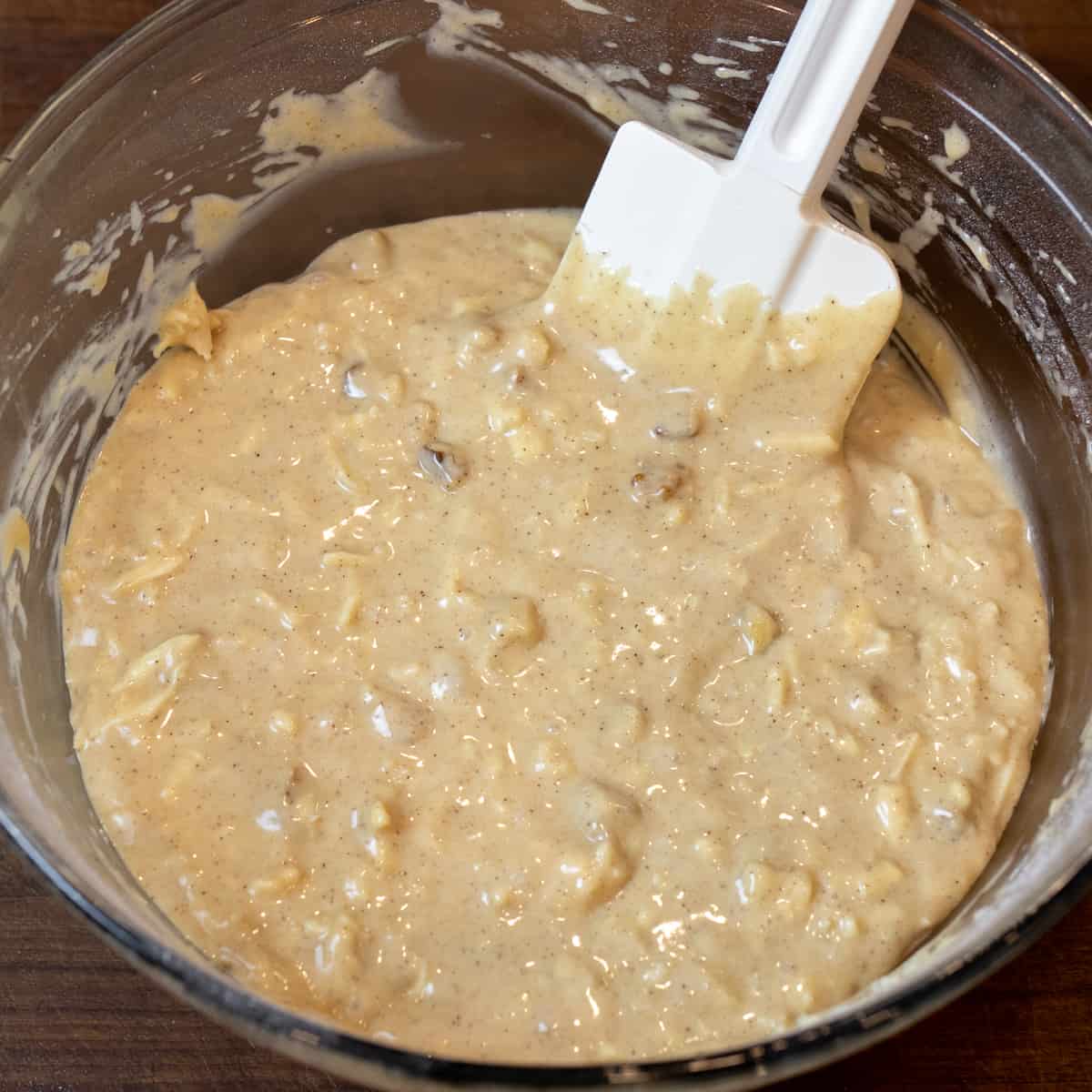 There is not need to use the electric mixer at this stage. I just use a rubber spatula to fold the nuts and parsnip into the cake batter.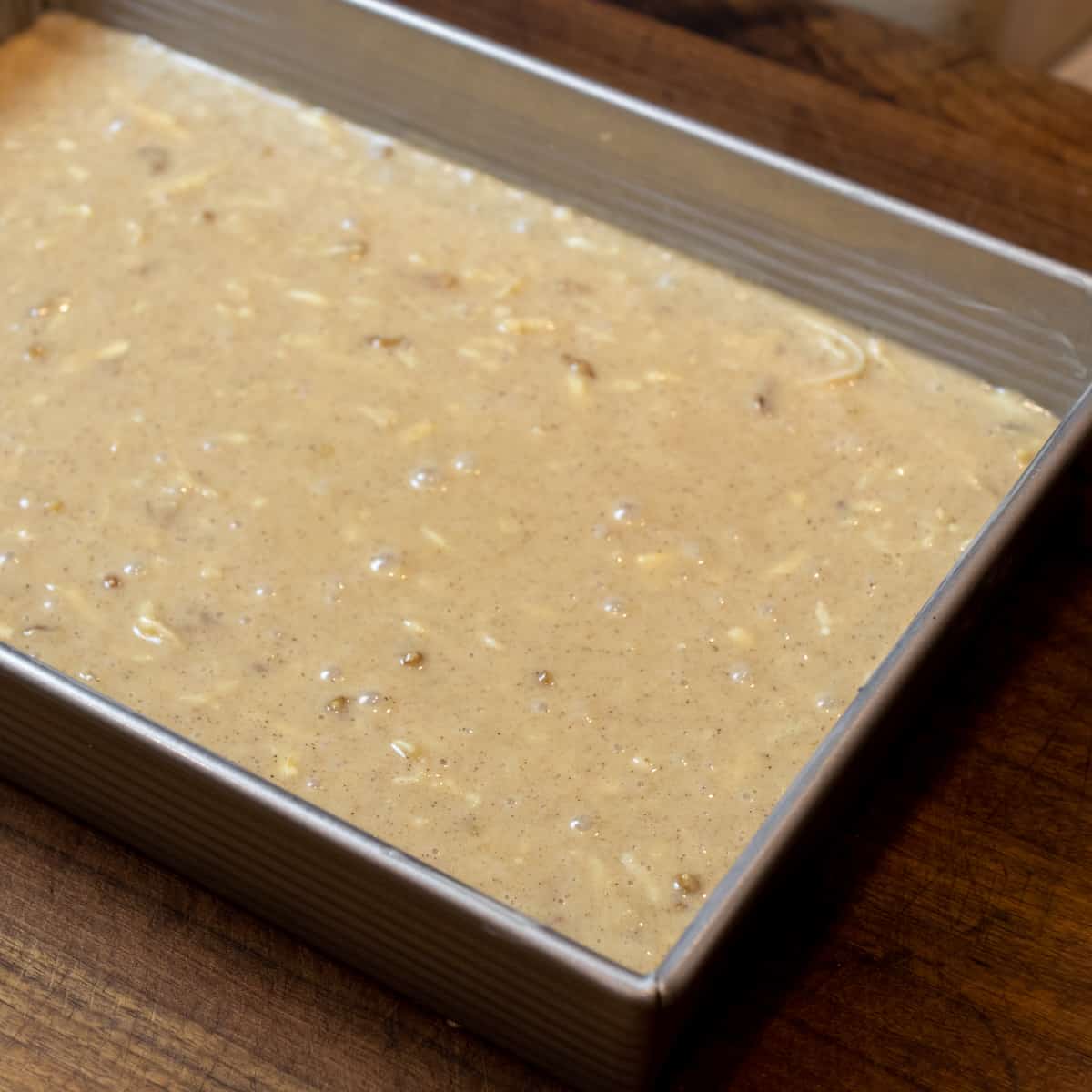 Pour the batter into a greased 13×9 rectangular baking dish. Make sure that the batter is evenly spread in the dish.
Expert Tip: I use a non stick metal dish, but a glass or ceramic baking dish can also work but the cooking time may vary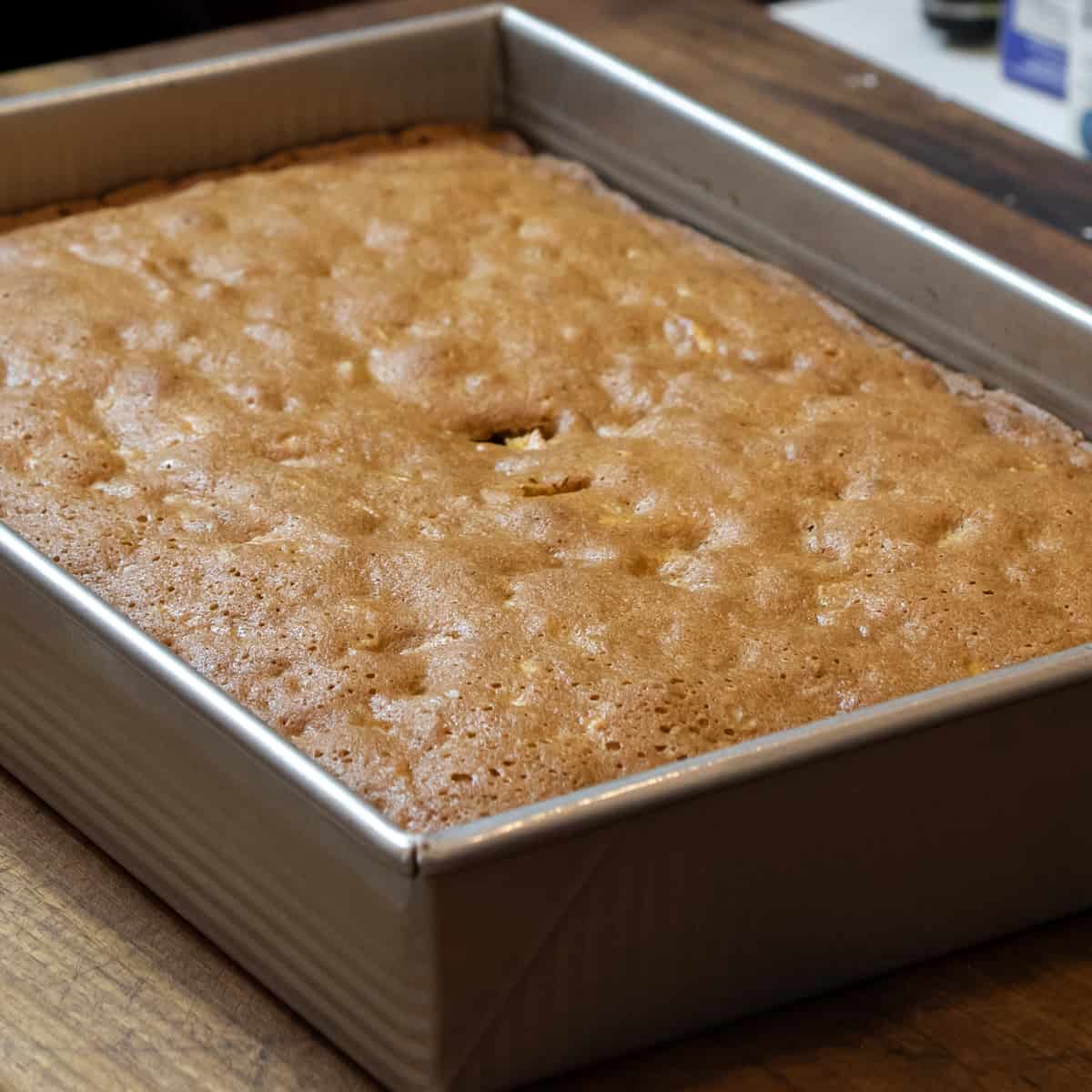 How Long To Bake Parsnip Cake
Place the cake in a 350F oven and bake for 30-35 minutes. The cake is done when a toothpick or knife stuck into the centre of the cake comes out clean.
Once the cake has finished baking, place it on a wire rack to cool completely before icing.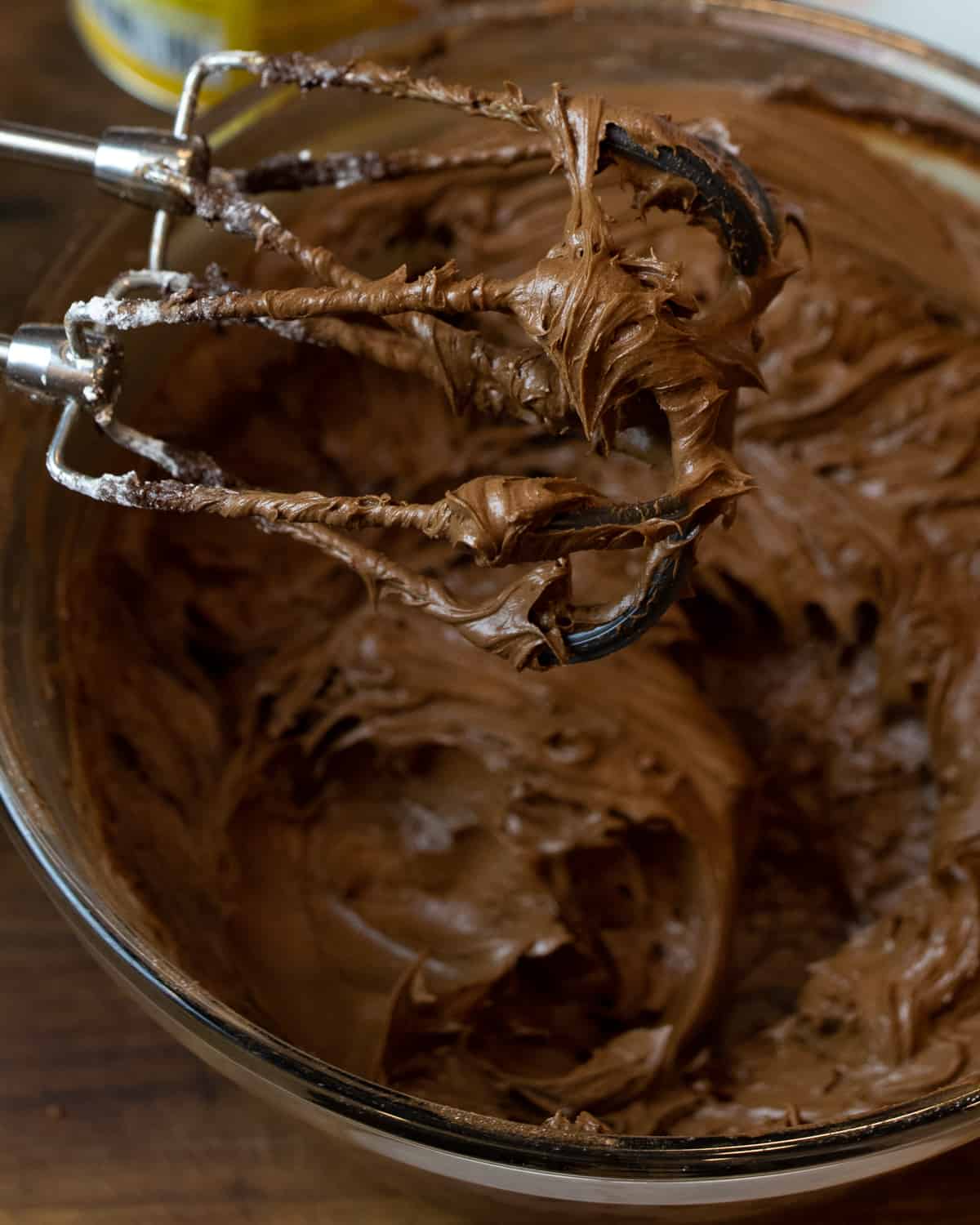 The chocolate cream cheese icing really elevates this parsnip cake. While the cake is cooling, you can make the icing. Beat the softened butter and cream cheese until well mixed. Then slowly beat in the cocoa powder, icing sugar and milk until smooth and creamy.
Expert Tip: There is very little milk used for this cream cheese icing, and it is essentially added to ensure that the icing is not too thick, but is easily spreadable. I add the milk last and slowly drizzle it in small amounts, beat it into the icing, and stop when it has reached the desired consistency. If needed, you could add even a little more milk than is in the recipe.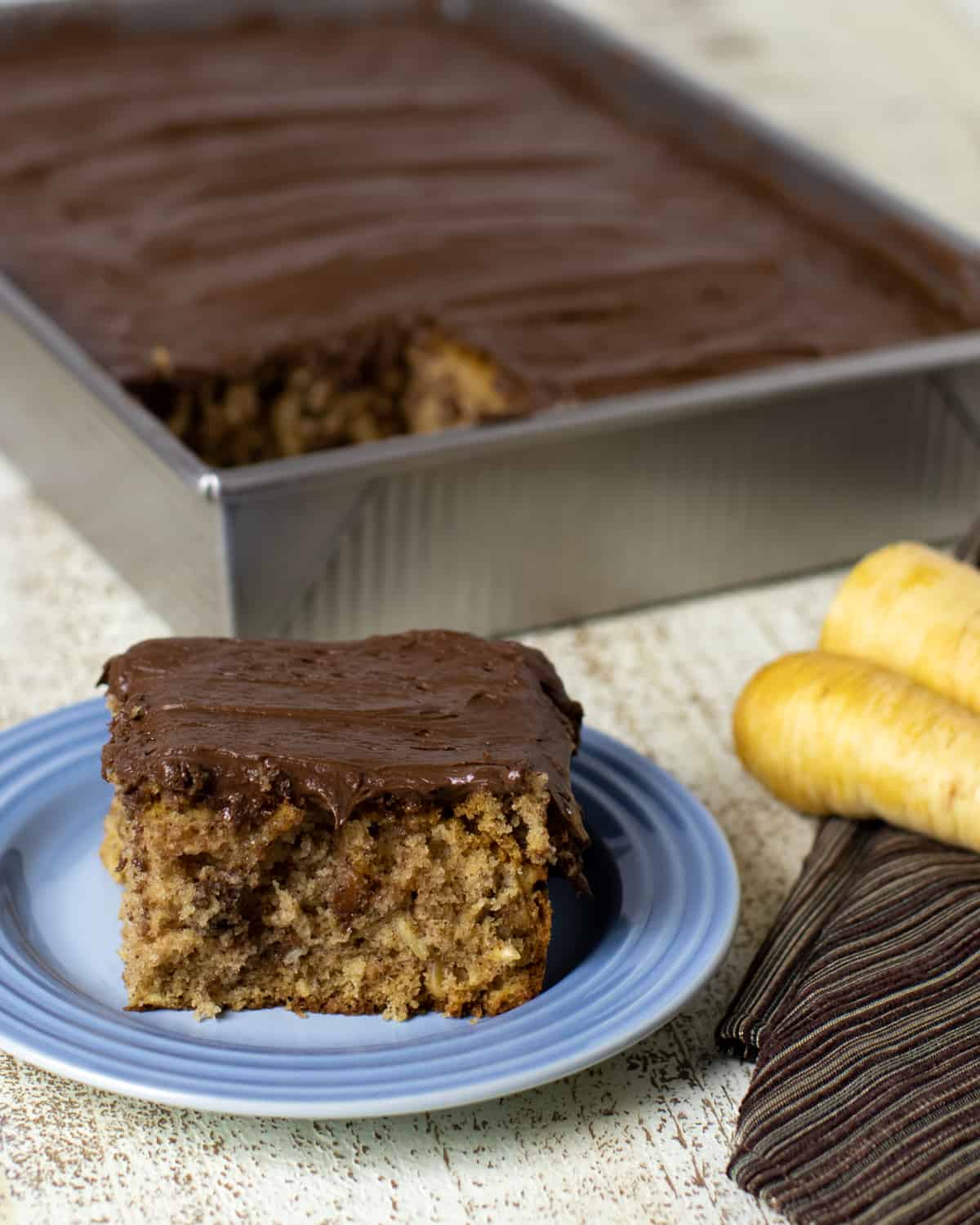 Once the parsnip cake has cooled completely you can spread the chocolate cream cheese icing on top of the cake.
This parsnip cake is moist and has the delicious spice from the cinnamon and parsnip. The cream cheese icing is awesome and adding the chocolate to it will really differentiate this from a traditional carrot cake.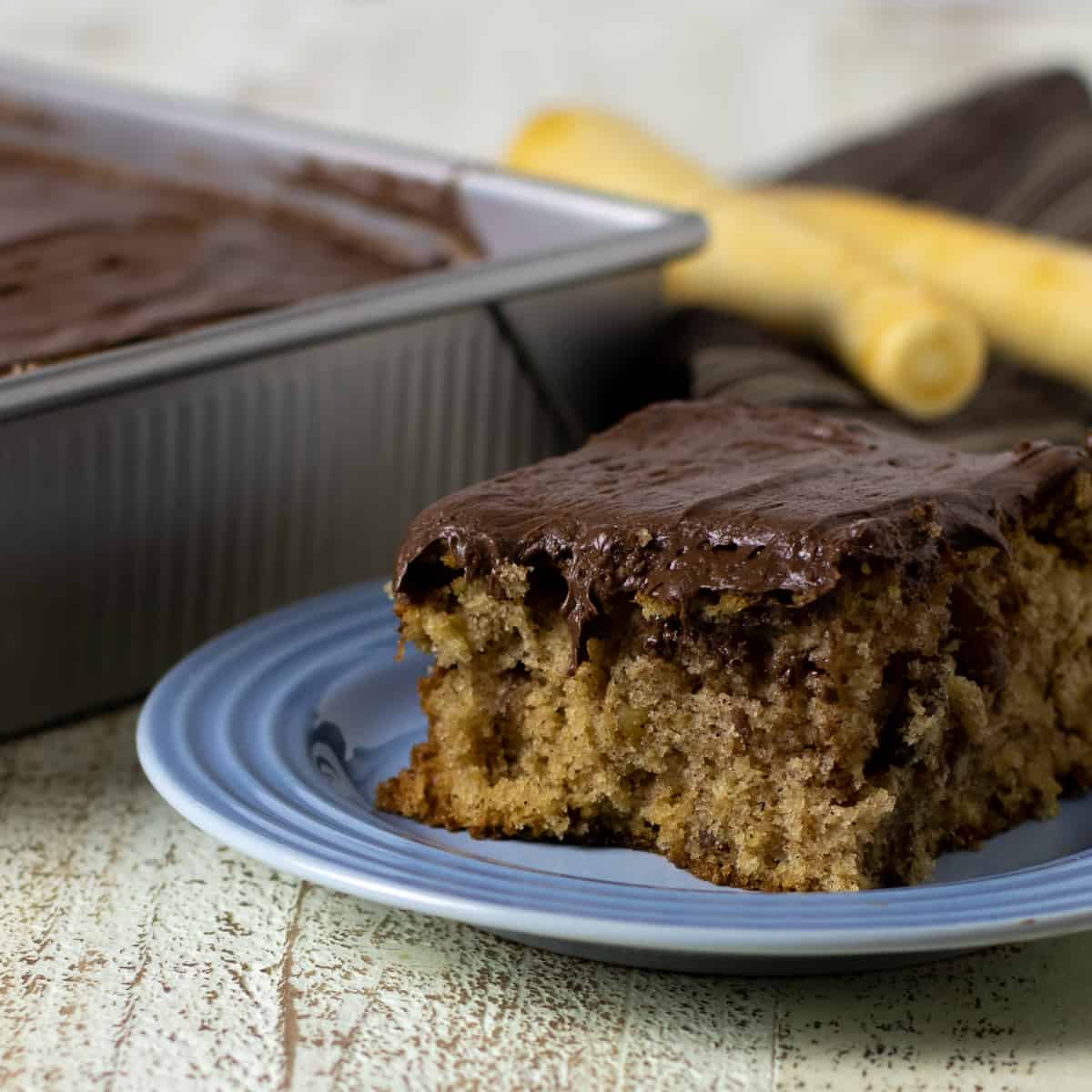 Other Cake and Loaf Recipes!
If you like this parsnip cake and are looking for some other bread or cake recipes that use vegetables, then check these out!
Parsnip Cake with Chocolate Cream Cheese Frosting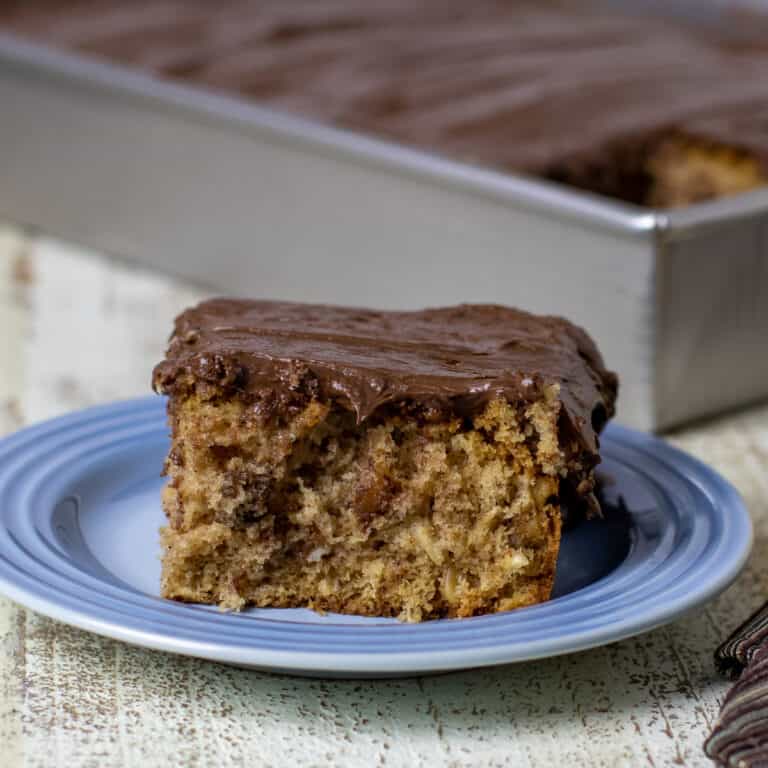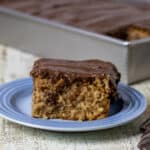 Print
A moist cake that is similar to a carrot cake but made with grated parsnips. Topped with chocolate cream cheese icing.
Servings: 18
Ingredients
Cake
1 cup oil
1/4 cup milk
3 eggs
2 tsp vanilla
3/4 cup white sugar
3/4 cup brown sugar
2 cups flour
1 tsp salt
2 tsp baking powder
1/2 tsp baking soda
2 tsp cinnamon
2 cups parsnips , peeled and grated
3/4 cup chopped walnuts , or pecans
Icing
8 oz cream cheese
1/4 cup butter , softened
2/3 cup cocoa powder
3 cups icing sugar
1 tbsp milk
Instructions
Preheat oven for 350F.

Grease and flour a 13x9 cake pan.

Mix together the oil, milk, sugars, eggs and vanilla until creamy and smooth.

In a separate bowl, whisk together the flour, salt, baking powder, baking soda and cinnamon. Slowly beat the flour mixture into the wet ingredients until fully combined and no longer lumpy.

Mix in the grated parsnips and walnuts.

Pour the batter in the cake pan and bake for 30-35 minutes. A toothpick inserted should come out clean. Bake a little longer, if necessary.

Cool on a wire rack.

To make the frosting, beat the cream cheese and butter until smooth. Slowly beat in the cocoa, icing sugar and milk. The frosting should be smooth and spreadable.

Once the cake is completely cooled, spread on the frosting.
Nutrition
Per serving:
Calories: 437kcalCarbohydrates: 54gProtein: 5gFat: 24gSaturated Fat: 6gCholesterol: 47mgSodium: 237mgFiber: 3gSugar: 38g