Fresh baked homemade zucchini loaf with lots of walnuts mixed in. Simple to make and perfect for a breakfast, brunch or any time you want a nice treat!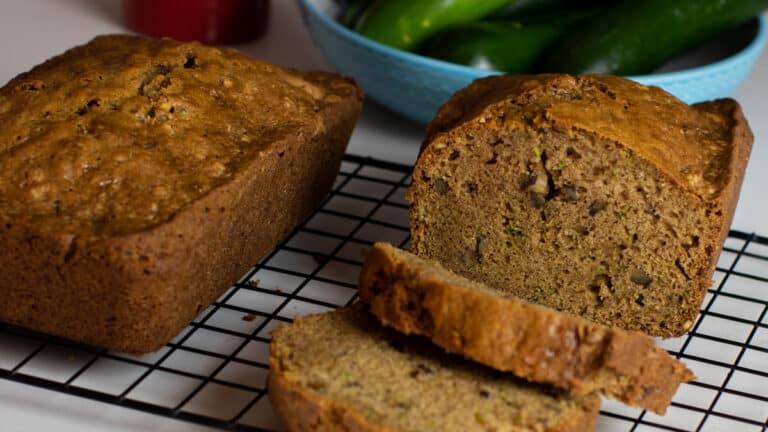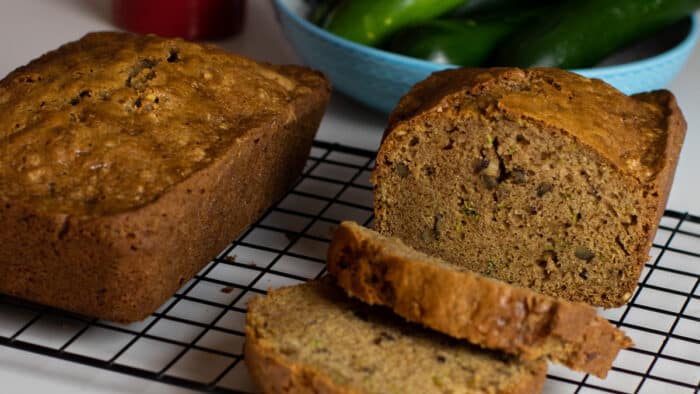 One of my favourite things to do with fresh zucchini is to make zucchini loaf. I love the sweet bread with the hint of spice from cinnamon, nutmeg and cloves. A good zucchini bread needs nuts so I often throw in some walnuts or pecans.
Homemade zucchini bread is very easy to make and this recipe will make you feel like a master baker. Trust me – this recipe is simple and oh so delicious!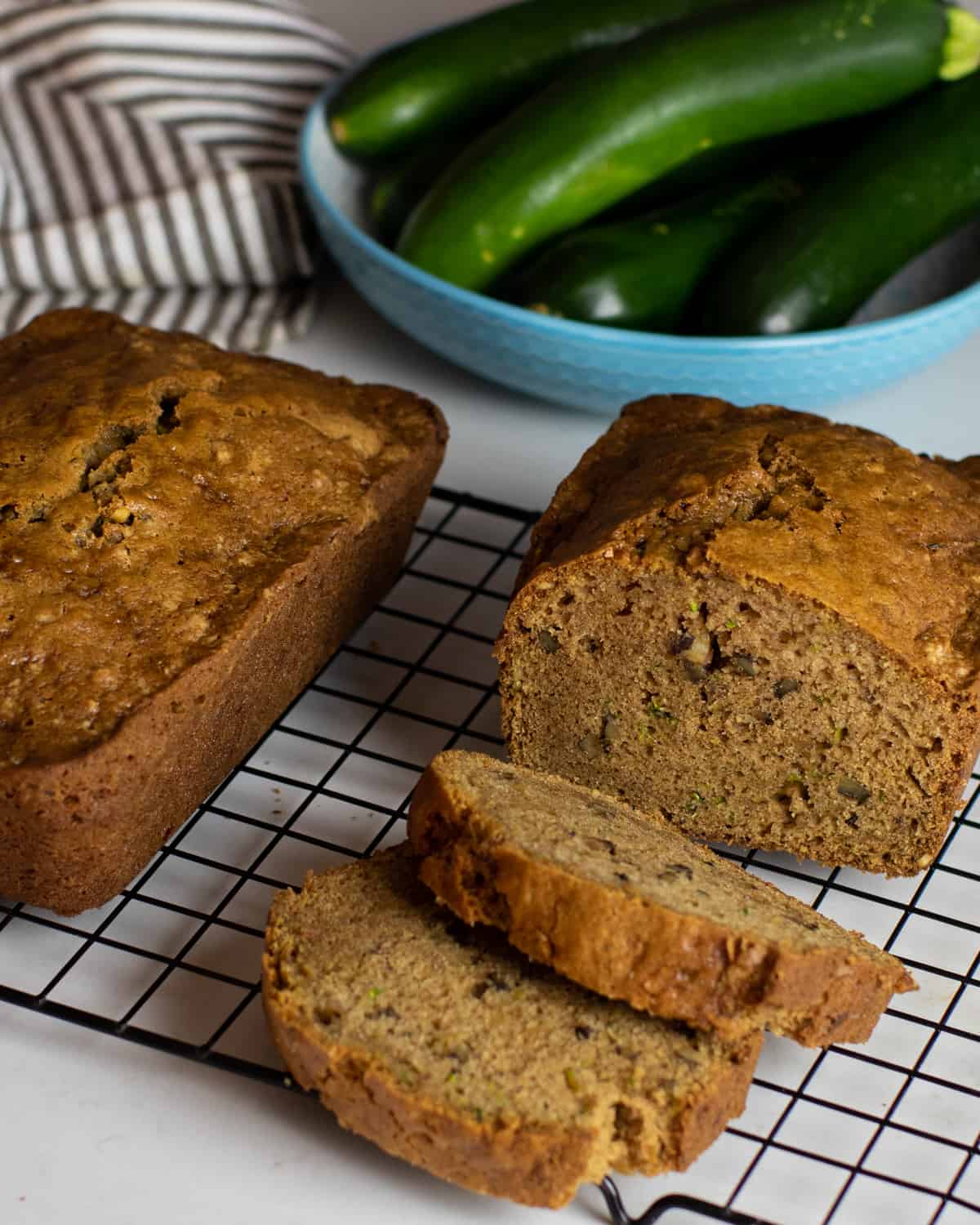 Fresh baked bread like these zucchini loaves are perfect for mornings, brunch or a snack any time of day. I like to bake loaves like this when we have guests over. These are also great as a small gift for friends or family. Everyone likes a loaf of fresh baked bread!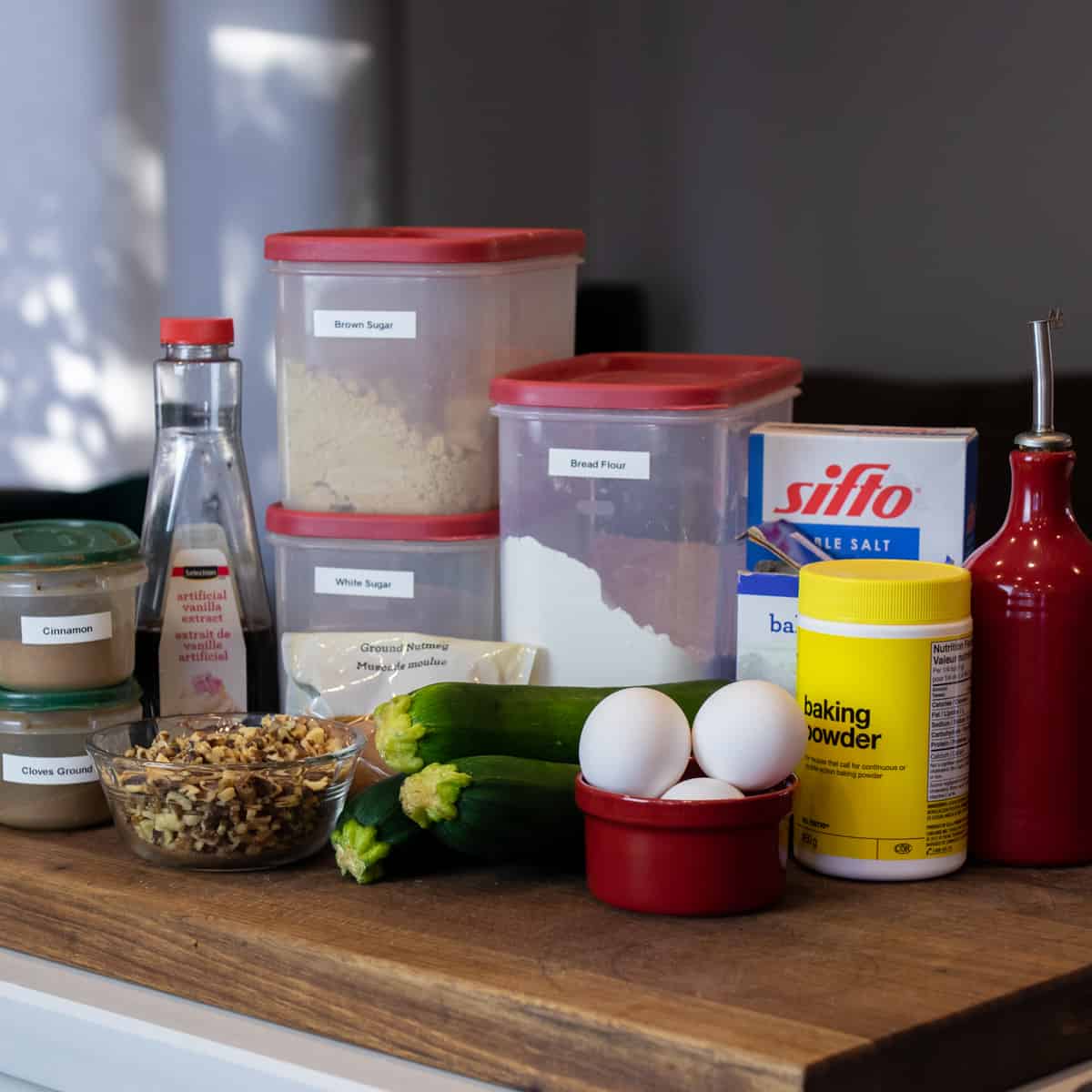 Ingredients For Zucchini Bread
Zucchini – a key ingredient for these loaves, fresh zucchini is grated and mixed into the batter.
Flour – I have used both all purpose and bread flour and each work very well.
Walnuts – nuts add a nut flavour and crunch in each bite. I have also used pecans and they also are a great choice.
White sugar
Brown sugar
Oil
Eggs
Baking powder
Baking soda
Salt
Cinnamon
Nutmeg
Ground cloves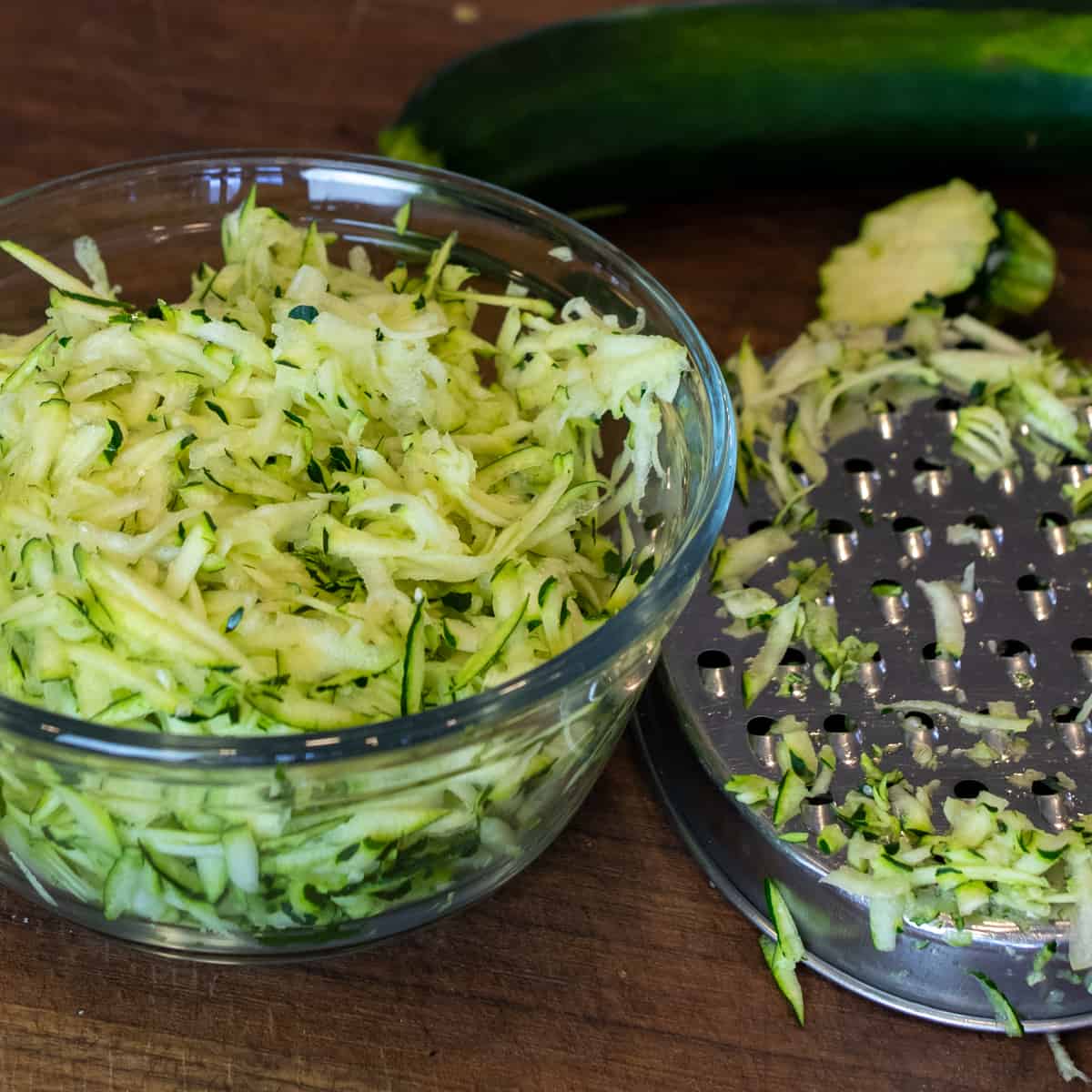 How To Grate Zucchini?
Grating the zucchini allows it to be evenly mixed throughout the bread batter so there is some in every bite! I just use a cheese grater which makes grating quick and simple. Chop off the end of the zucchini and start grating.
If you have a food processor with a grating attachment, then the zucchini could be grated with the processor. It can be done in a matter of seconds. While I have a food processor, I find it ends up being just more stuff to clean extra work to bring it out for something that can be done manually still quite quickly.
Expert tip: This recipe calls for 3 cups of grated zucchini that is lightly packed. While every zucchini is a different size, I got the 3 cups from two of the zucchini I had.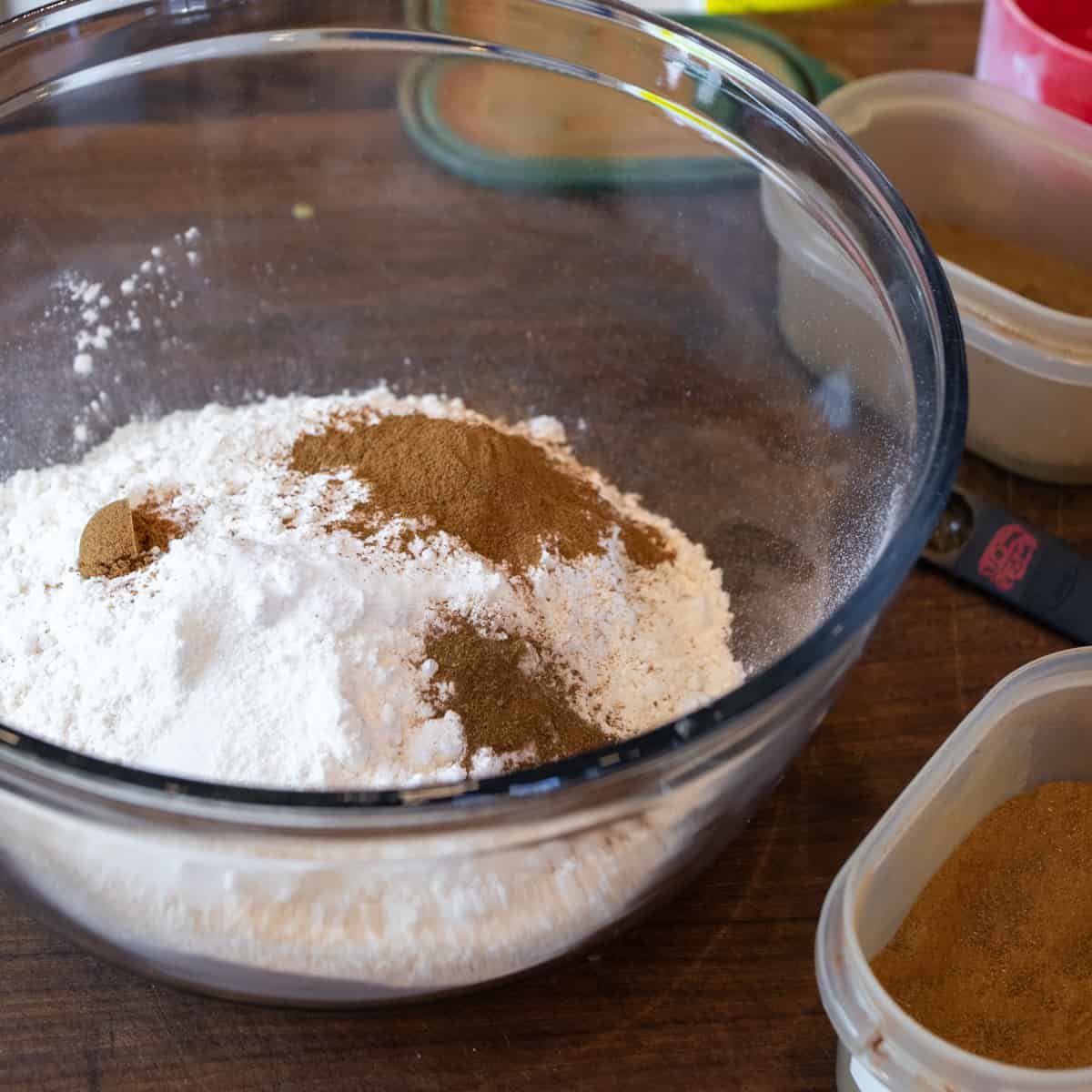 Dry Ingredients
I find that any time I make breads, cakes or even cookies, that it is best to mix the dry ingredients and wet ingredients separately. This is especially important for the dry ingredients because mixing the baking powder, baking soda and spices initially with the flour, ensures that they will all be fully incorporated throughout the batter.
Expert tip: One of the best things about zucchini bread is the spice blend. The combination of cinnamon, nutmeg and ground cloves. Feel free to adjust the amount of the spices to your desired levels. Also, if you want a little bit of zing, try adding 1/8 or 1/4 tsp of cayenne pepper!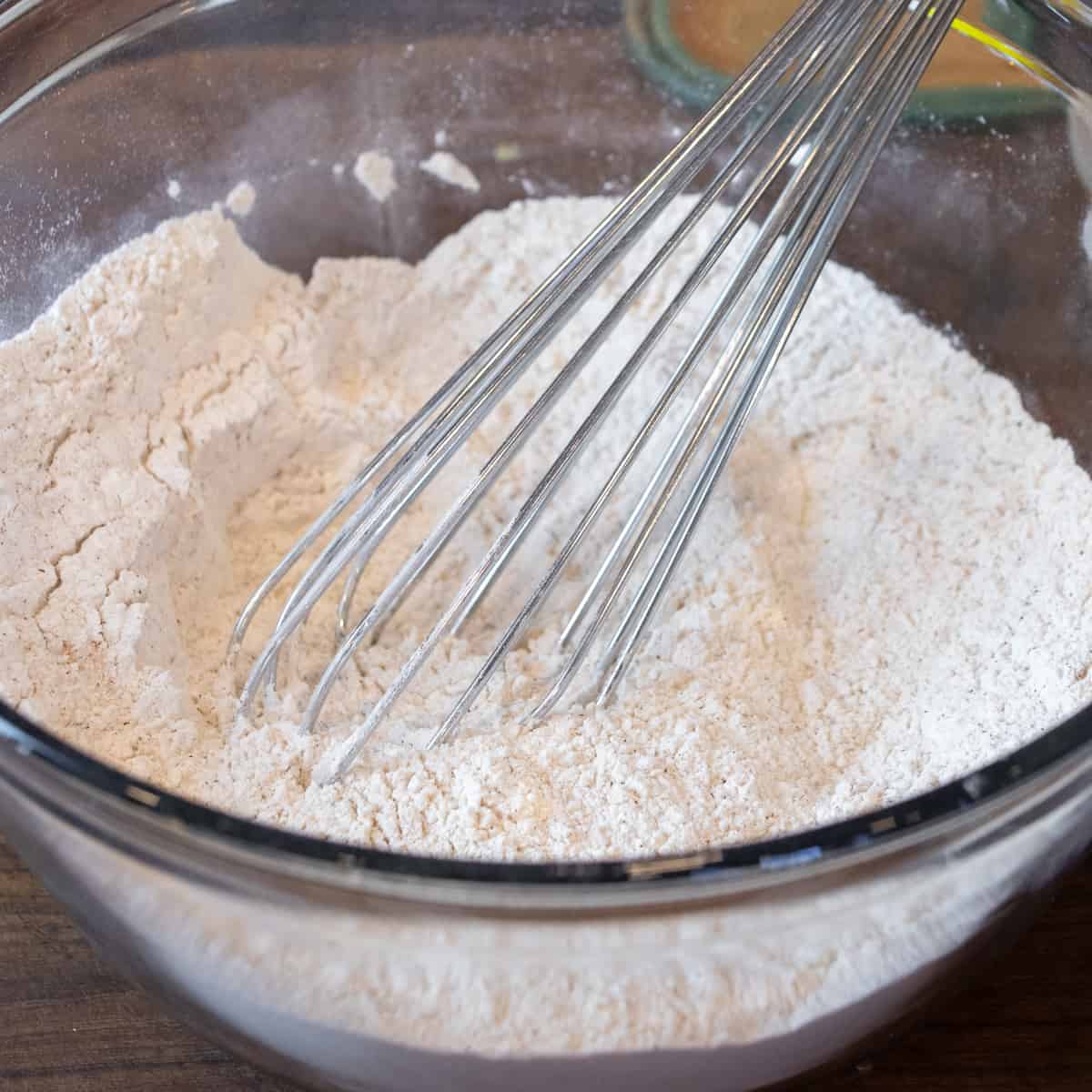 To sift the dry ingredients, dump the flour, baking powder, baking soda, salt, cinnamon, nutmeg and ground cloves. Use a whisk or fork to mix them all together and combine everything into the flour. You should see specks of the spices all throughout the flour.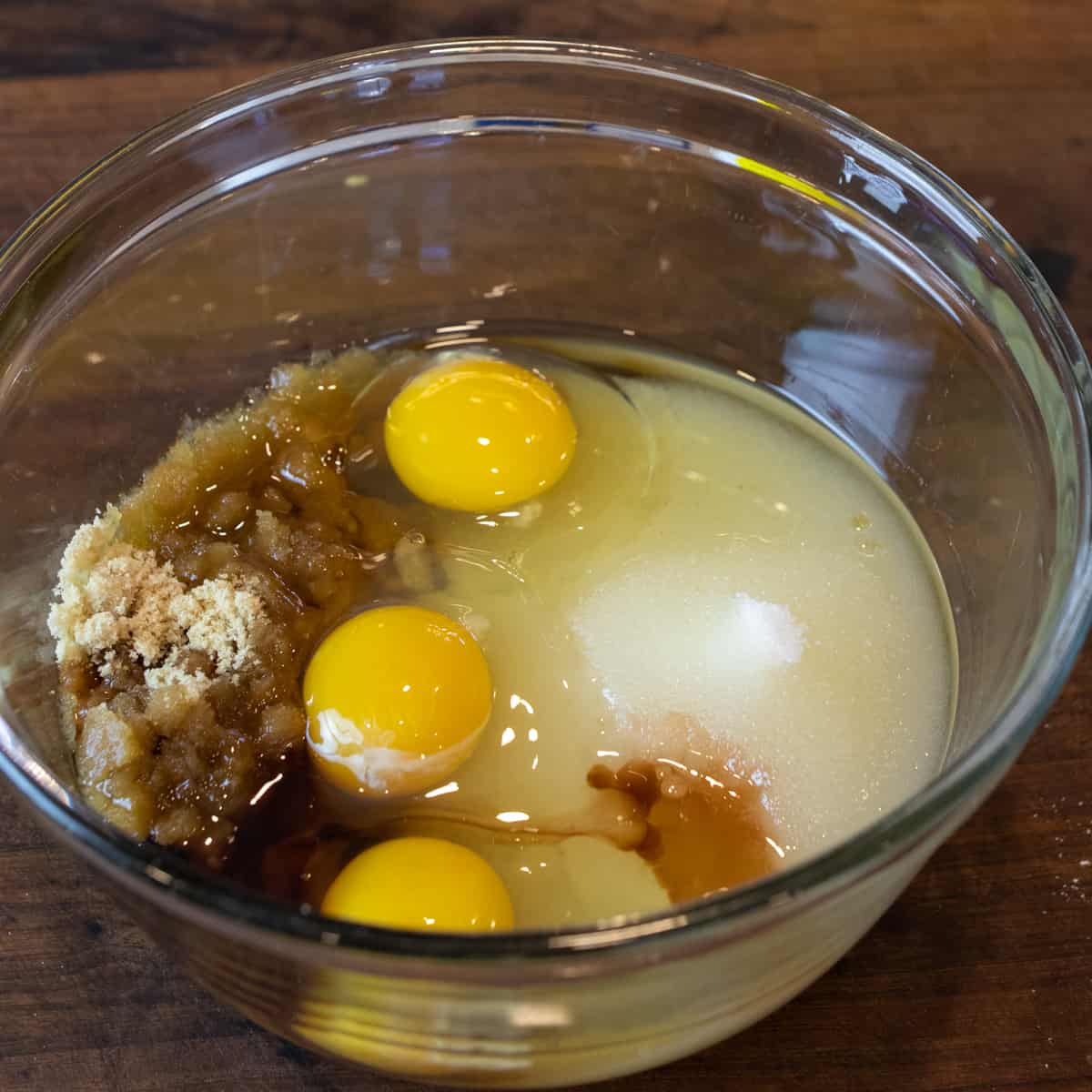 Wet Ingredients
Add the oil, eggs, vanilla and sugars to a separate glass bowl. I include the white and brown sugar with the wet ingredients because the eggs and oil allow the sugars to dissolve and blend better into the batter.
Use an electric mixer to beat the wet ingredients until it is all smooth and creamy.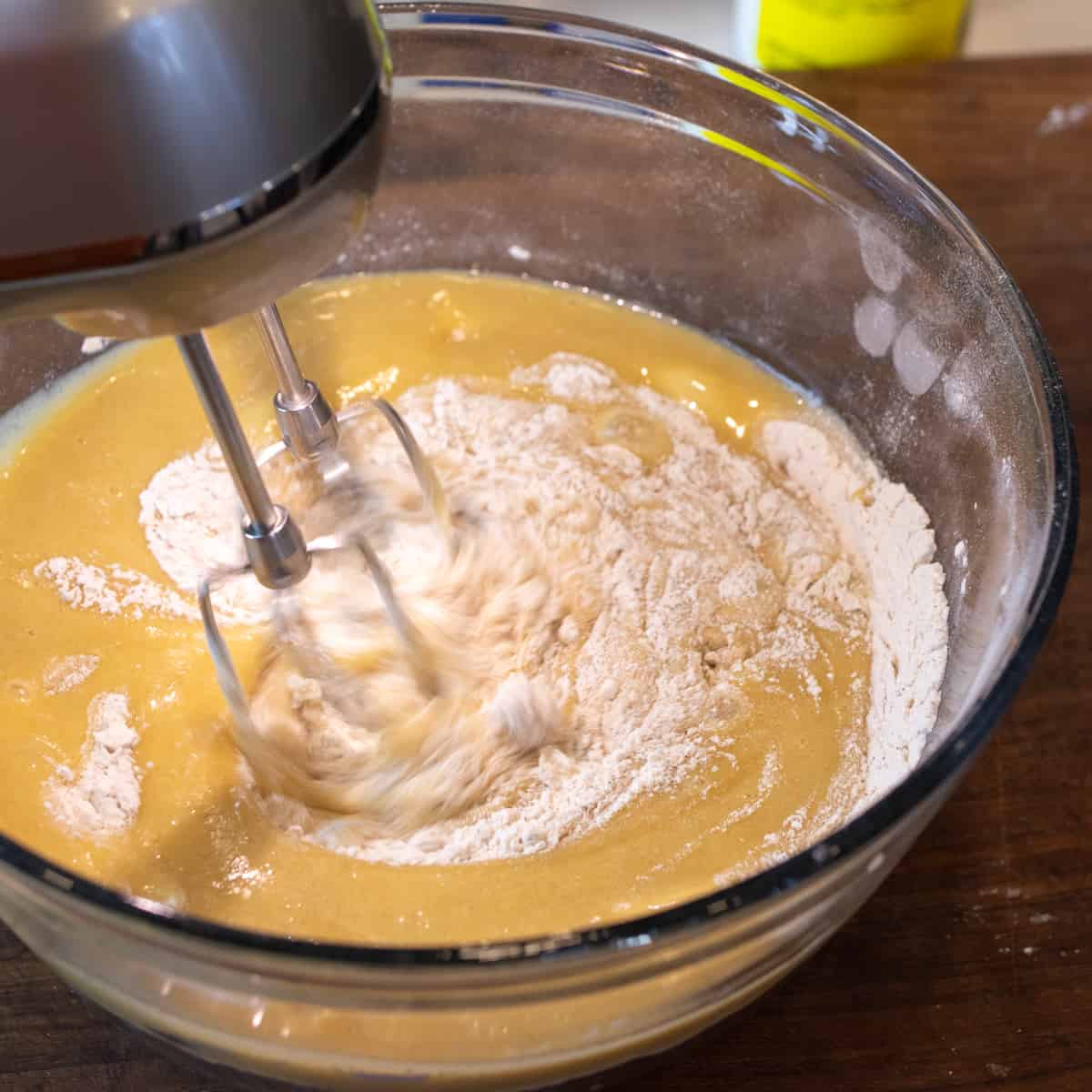 Beat The Wet And Dry Together
Pour the wet ingredient mixture into the bowl with the dry. Use an electric mixer to beat them together. As you mix the zucchini bread batter, make sure there are no more pockets of flour throughout the batter. Scrape all around the bowl to ensure that the batter is evenly mixed.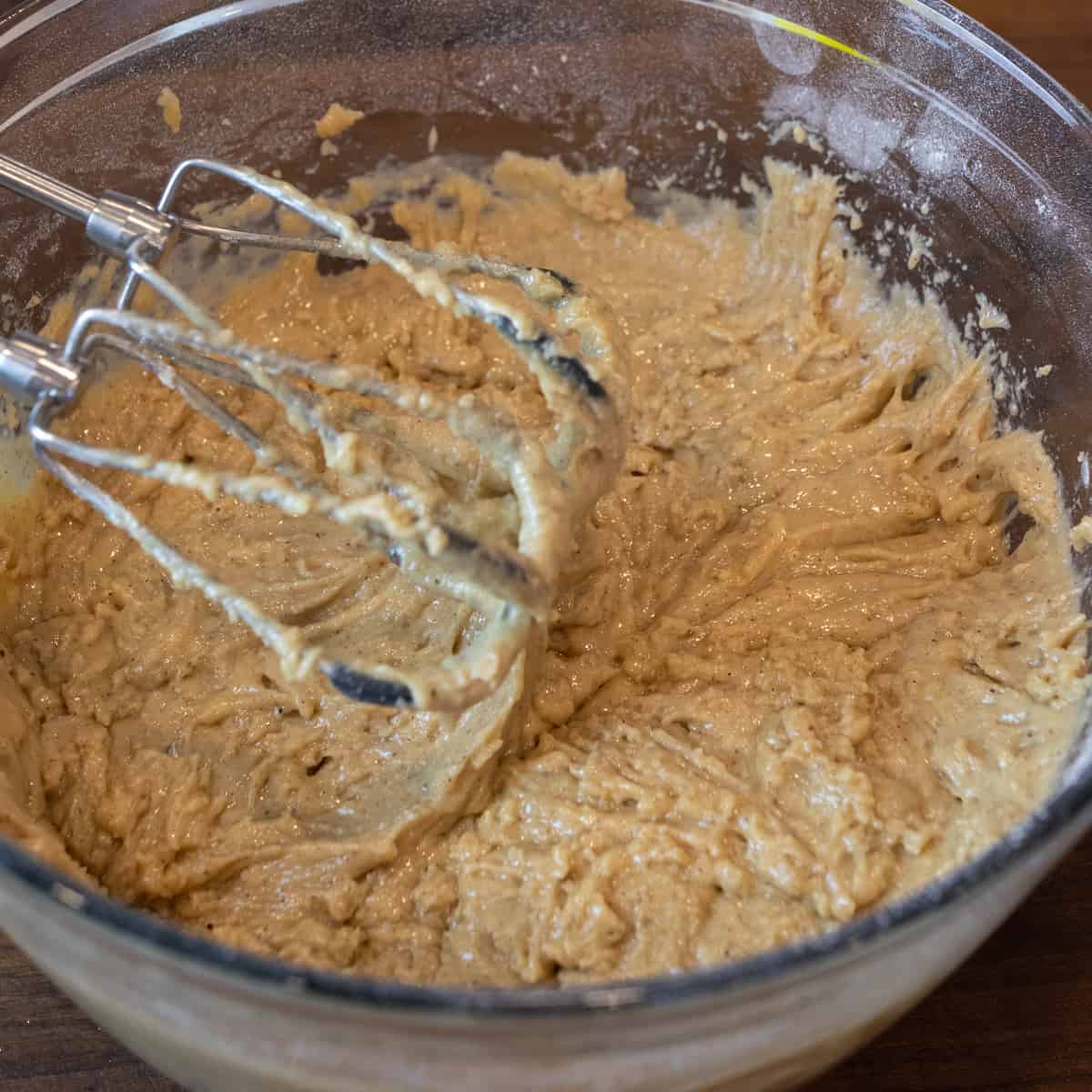 Continue to mix until the batter is well combined and a smooth creamy consistency.
Expert Tip: If you find that the batter seems too dry, add a couple tablespoons of water and mix some more. Be aware though that I find the zucchini adds a little bit of moisture to the batter, so I typically do not add water at this point of mixing.
Mix In The Zucchini And Walnuts
Once the wet and dry ingredients for the zucchini bread have been mixed, it is time to stir the grated zucchini and walnuts into the batter.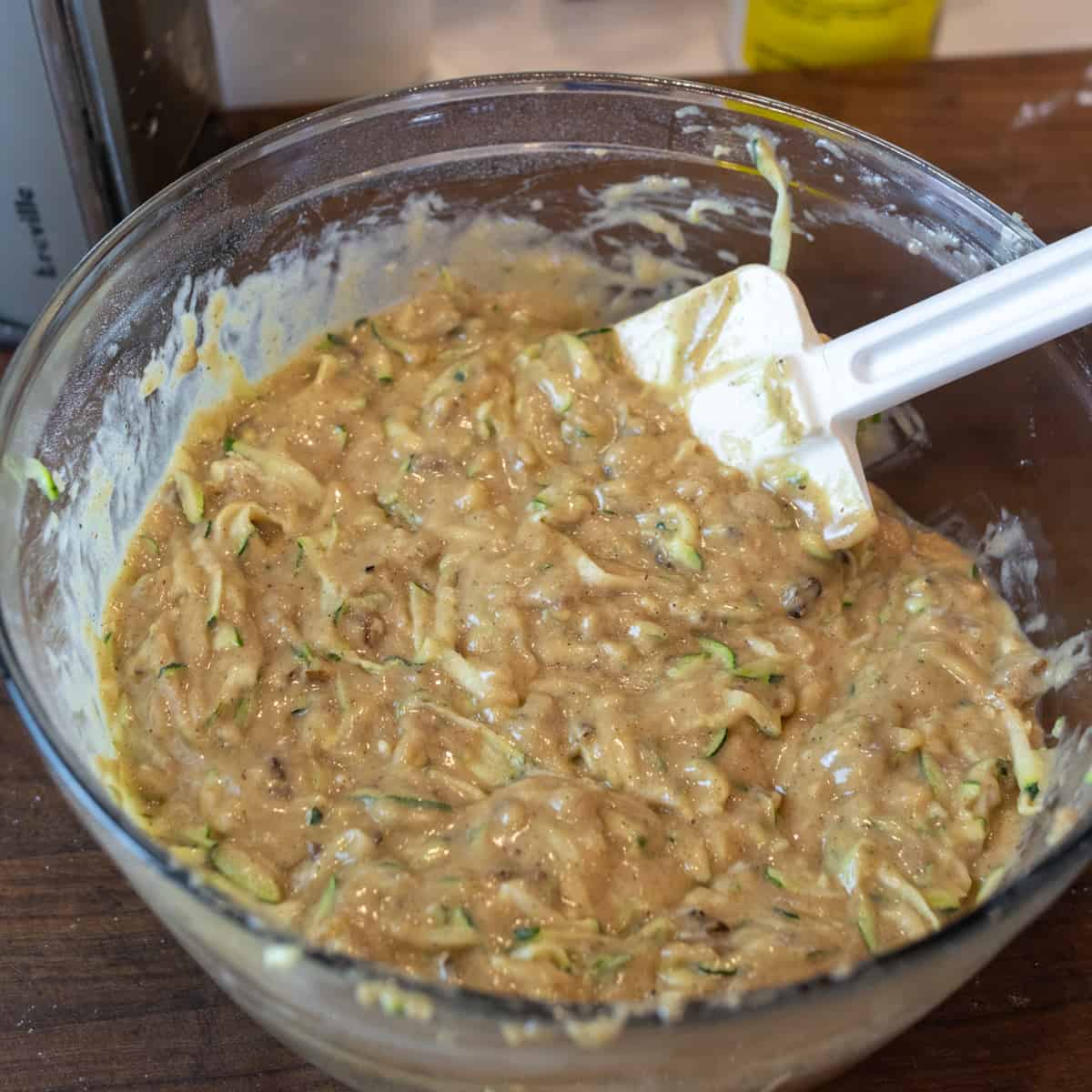 Use a rubber spatula to stir and make sure the zucchini and nuts are well incorporated into the batter.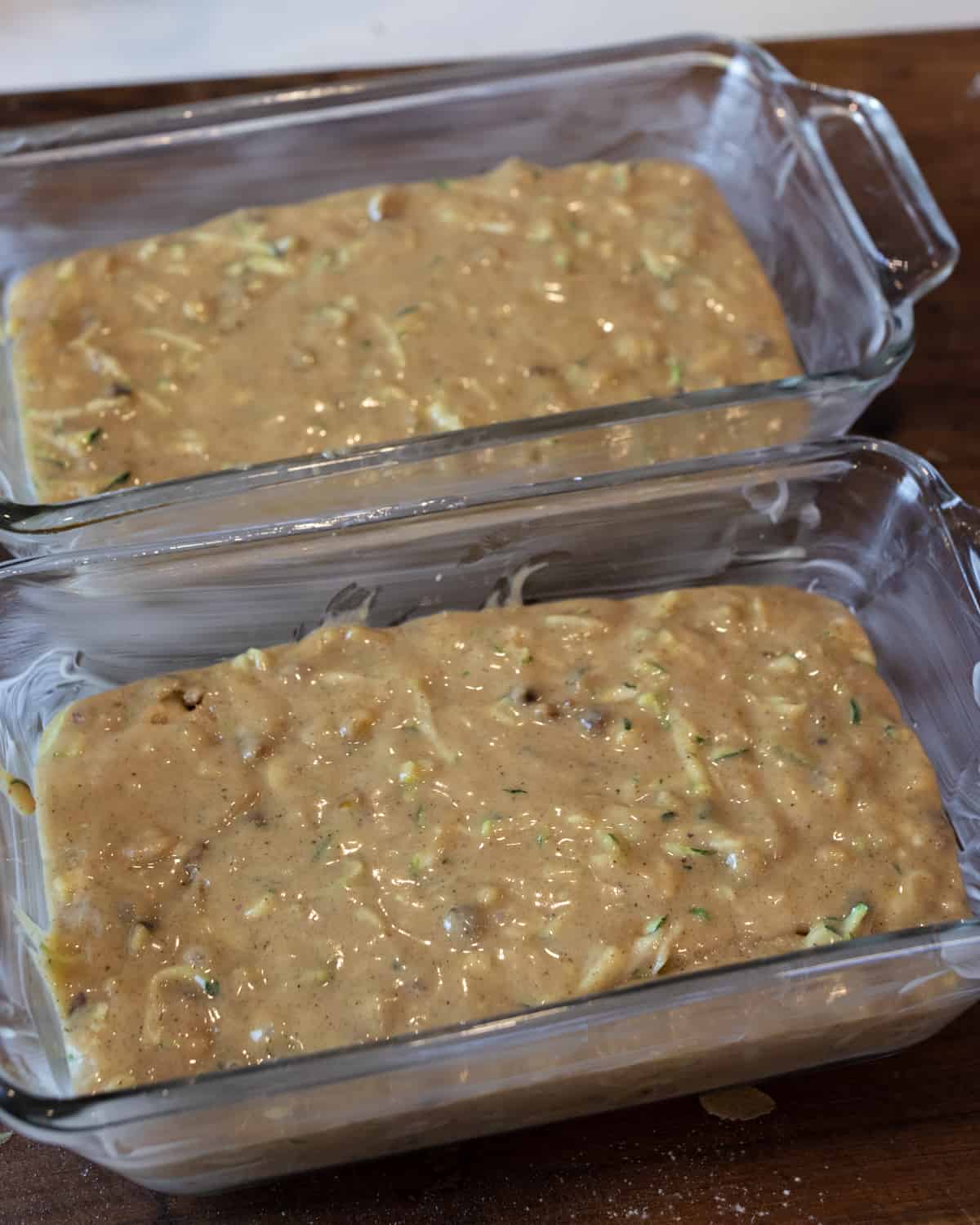 Take two glass loaf pans and grease them with softened butter, margarine or other method to give them a light coating on the base and sides of the pan.
Pour the batter into two loaf pans. Make sure that you pour the same amount of batter into each pan so that they cook evenly and are the same size.
Expert Tip: Use a spatula to spread the the batter so that it is an even level and flat. You could also gently shake the loaf pan side to side to help the batter settle evenly.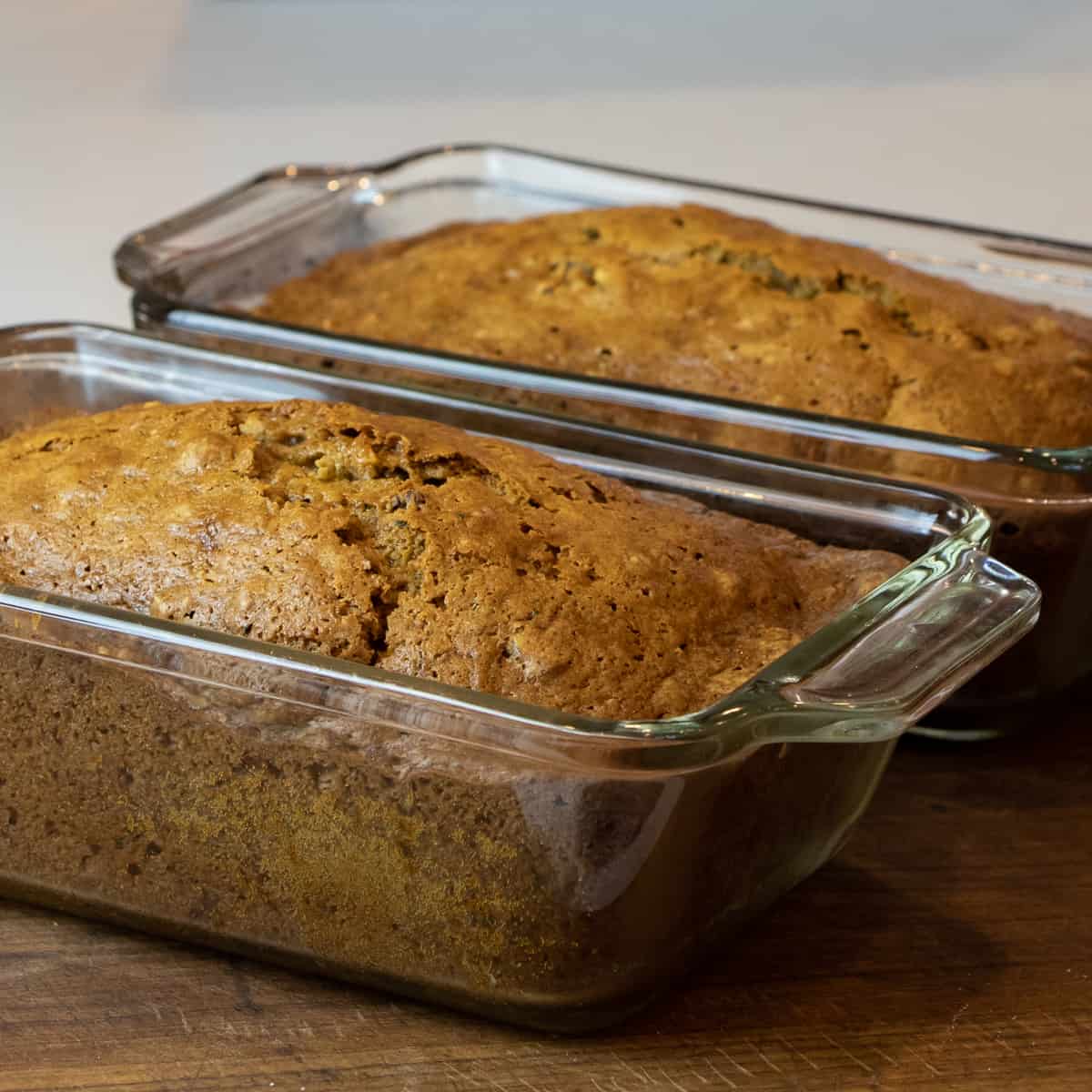 How Long To Bake Zucchini Bread?
Preheat an oven to 325F. Once heated, place the loaf pans in the oven, ensuring there is enough space between them to allow the heat to flow all around.
The zucchini loaves take 60-75 minutes to bake. After 60 minutes, I check doneness by sticking a toothpick in the centre. If the toothpick comes out with some wet batter on it, then they require a little more baking.
Keep checking every few minutes. Once it come out clean, then they are done and can come out of the oven.
Expert Tip: The temperature and timing in this recipe is based on using glass loaf pans. Be aware that metal non stick pans will bake differently and even more if they are dark or light metal.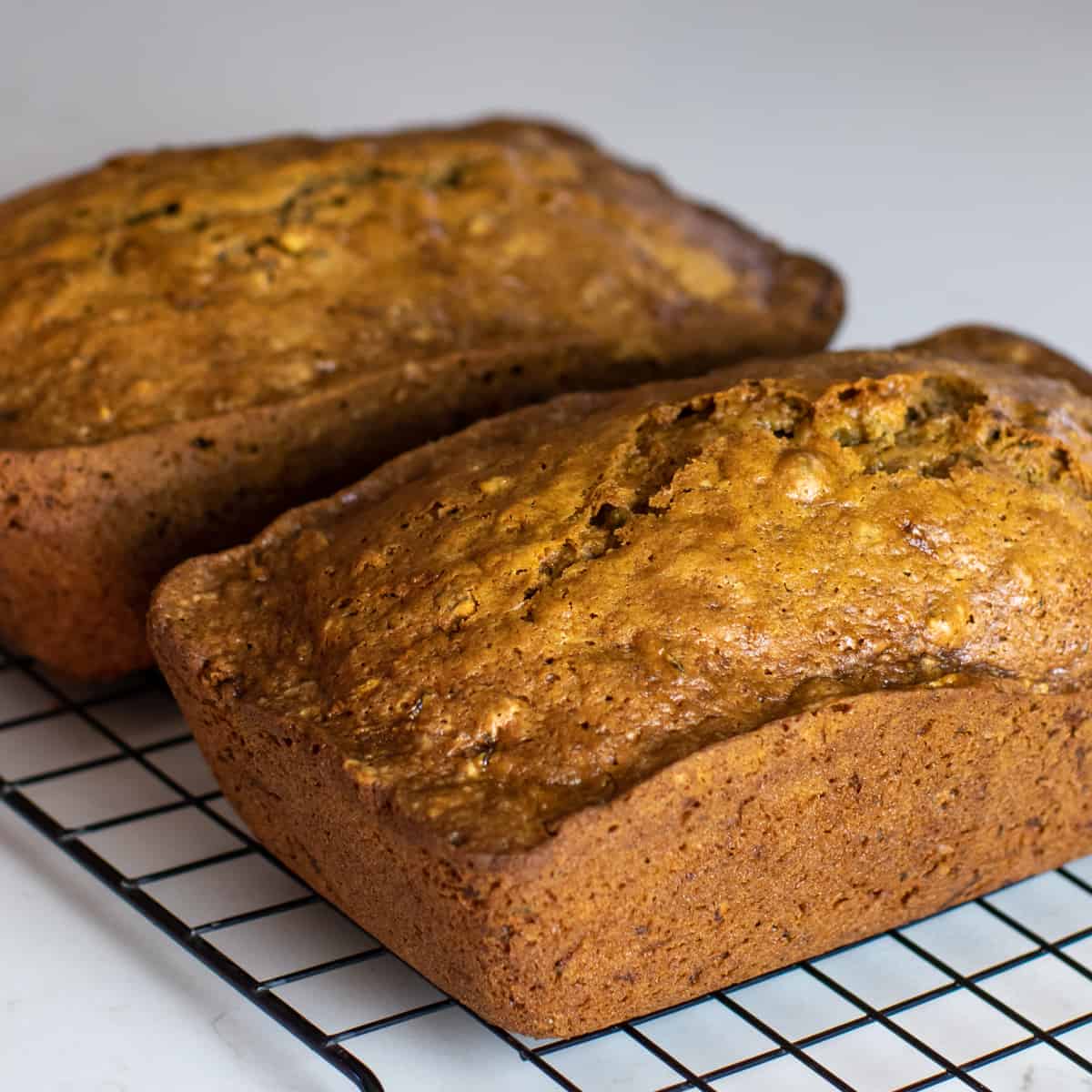 Once the glass loaf pans are cool remove the zucchini bread from the pans and place on a cooling rack. Let them cool to the point that they are either at room temperature or slightly warm before slicing.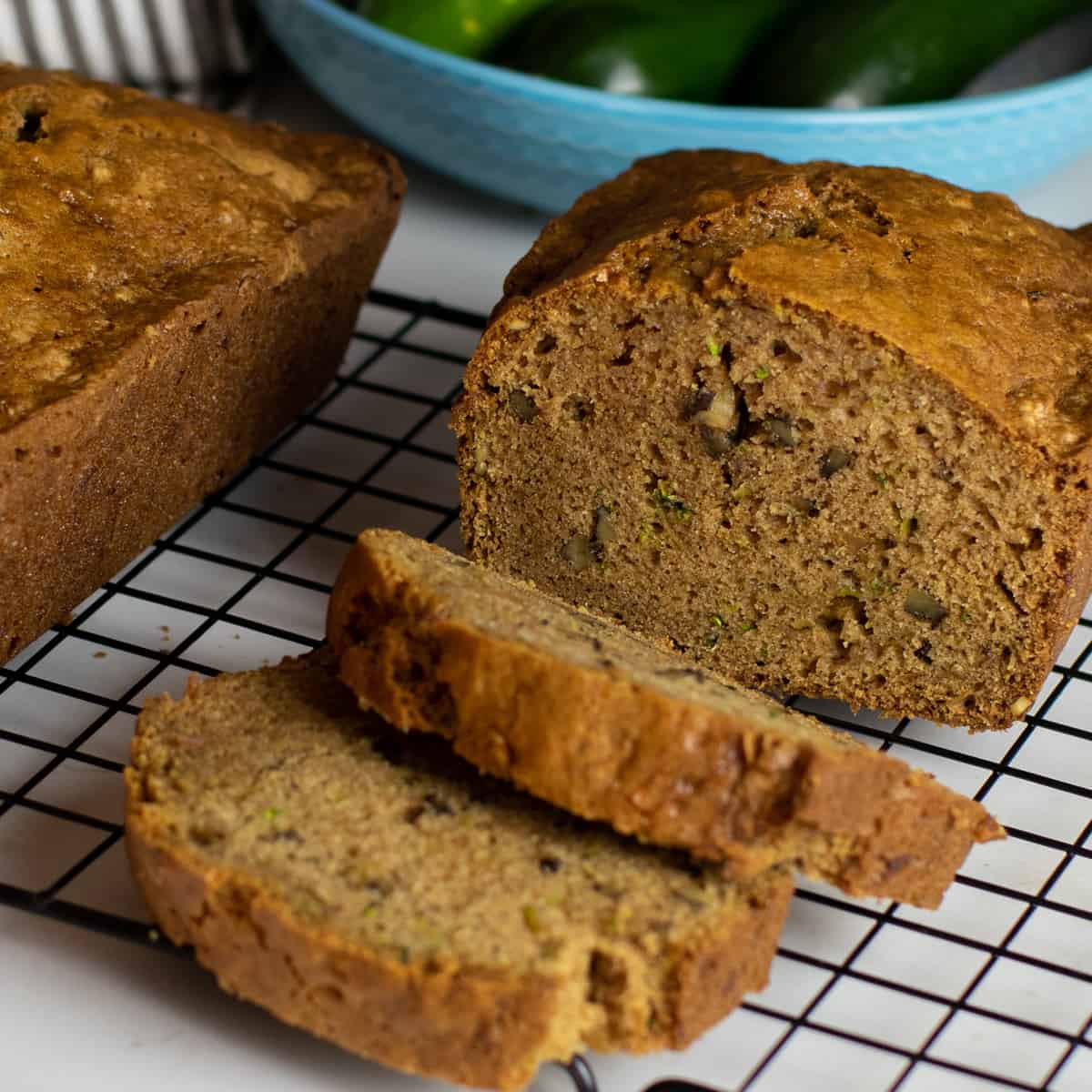 Zucchini bread is moist and soft. It is great on its own, but it is also delicious with a little butter spread on top.
Other Bread Recipes!
If you are looking for some other bread recipes, check out these loaves. Some are sweet and others are savoury.
Zucchini Bread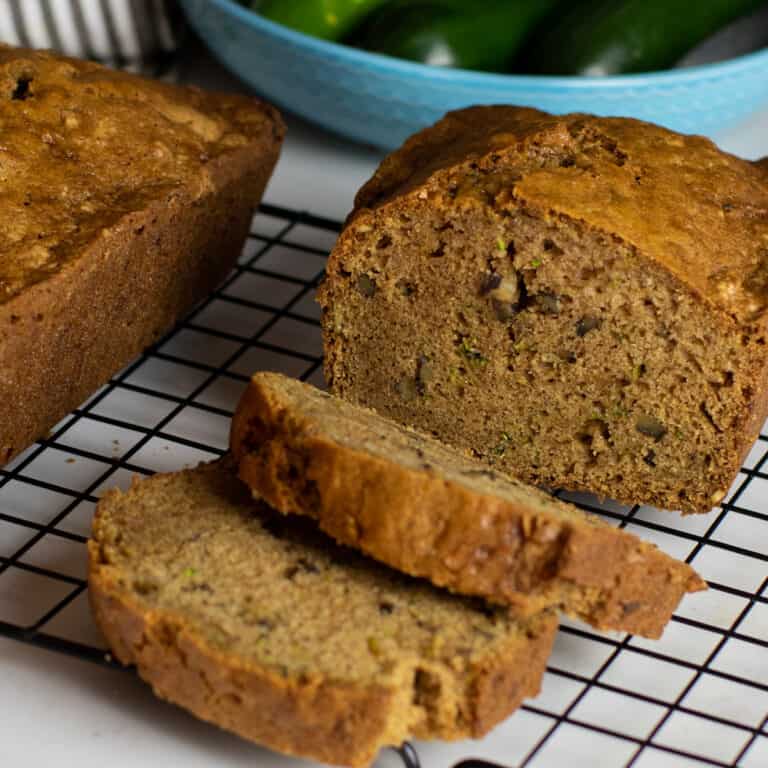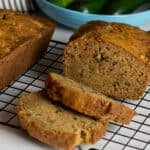 Print
A moist zucchini loaf with walnuts, cinnamon, and a hint of nutmeg and cloves. Super simple recipe for how to make zucchini bread.
Servings: 16
Ingredients
3 cups flour
1 tsp salt
1 1/2 tsp baking powder
1 tsp baking soda
2 1/2 tsp cinnamon
1/2 tsp nutmeg
1/4 tsp ground cloves
3 eggs
1 cup oil
1 tbsp vanilla
1 1/4 cup white sugar
1 cup brown sugar
3 cups grated zucchini , lightly packed
1 cup walnuts
1 tbsp softened butter , for greasing loaf pans
Instructions
Grease 2 loaf pans and set aside.

In a large bowl sift the dry ingredients for the loaf together - flour, salt, baking soda, baking powder, and spices.

With an electric mixer, cream together the eggs, oil, vanilla, white and brown sugars. Pour into the bowl with the dry ingredients and beat until smooth and well combined with no more dry pockets of flour.

Mix in the grated zucchini and the walnuts.

Pour into 2 greased loaf pans and bake in a 325F oven for 60-75 minutes or until a toothpick comes out dry.

Once the loaves are done, cool on wire racks for 30 minutes. After that, remove them from the loaf pans and allow them to cool completely.
Nutrition
Per serving:
Calories: 395kcalCarbohydrates: 49gProtein: 5gFat: 21gSaturated Fat: 2gCholesterol: 33mgSodium: 238mgFiber: 2gSugar: 30g