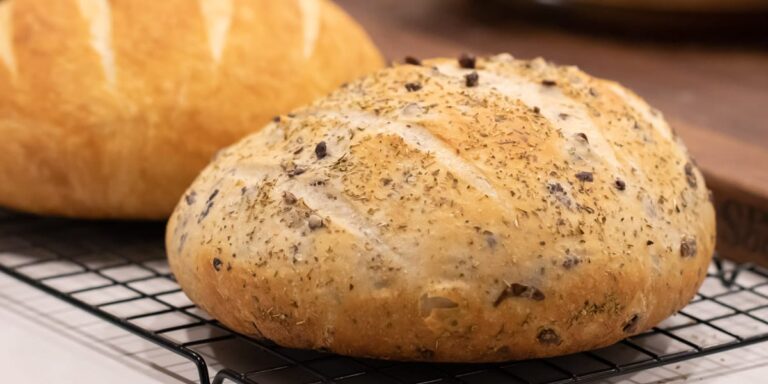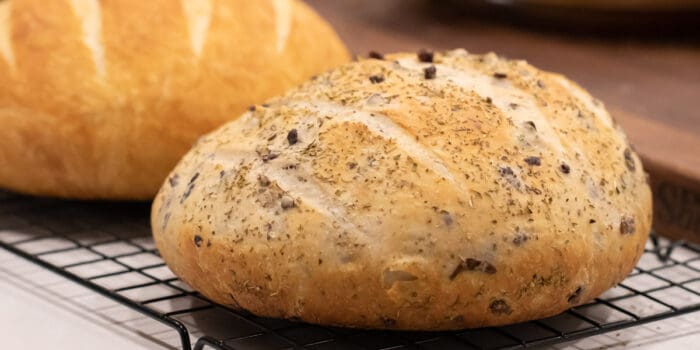 Any follower of this blog will notice that baking bread is one of food obsessions. For the longest time, I avoided baking bread out of fear that it was difficult. But, I was so wrong. Baking bread is not that challenging and I wish I learned a long time ago how easy homemade bread is to make. If you have ever wondered how to make rustic olive bread, then this recipe is for you!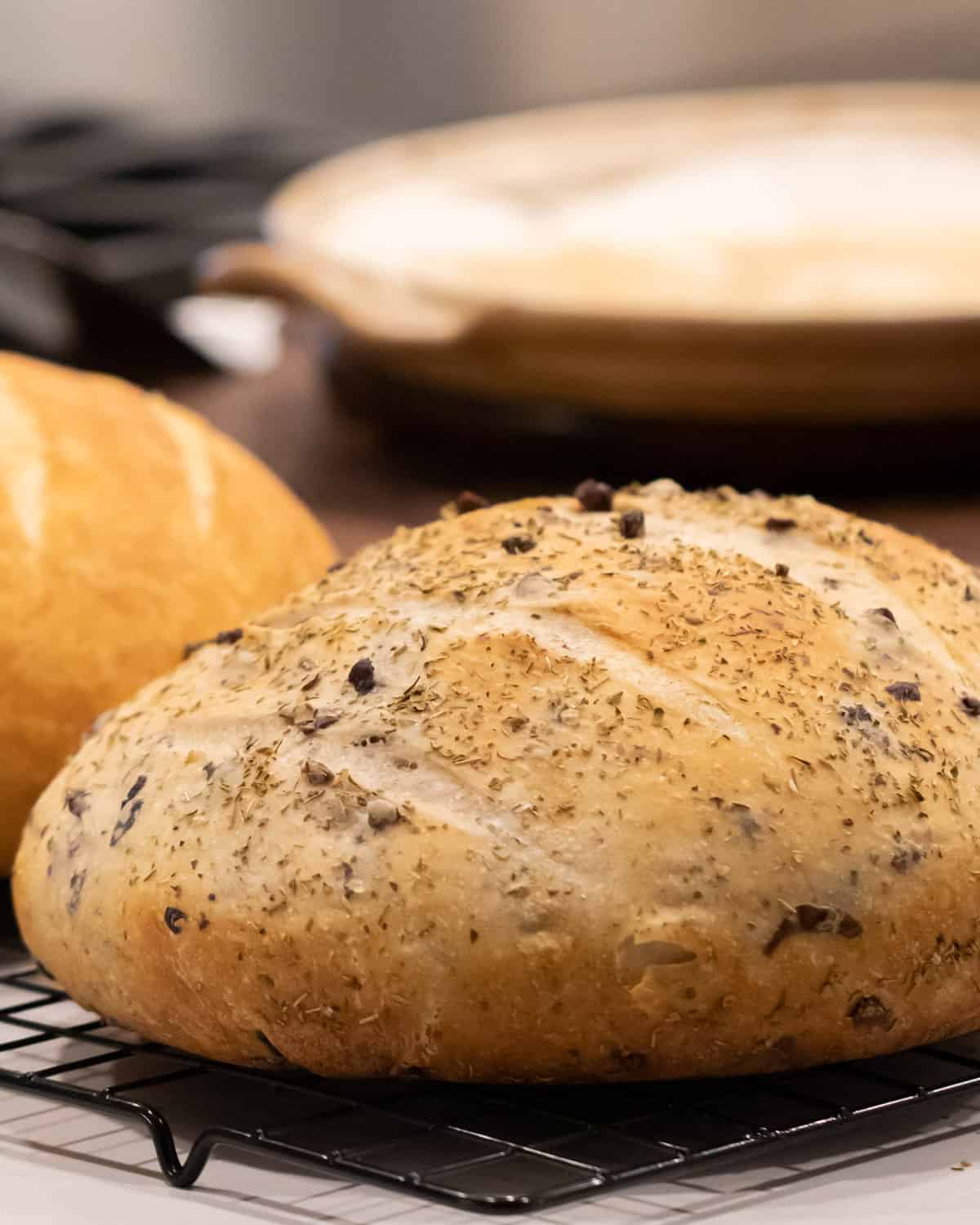 I Love Baking Homemade Bread!
The first bread I learned to make was crusty round artisan bread. It is surprisingly simple to make and I probably bake 6 loaves of this bread each week.
Once I got the hang of baking artisan bread, I then moved on to other kinds. I have baked sandwich bread, Artisan Bread, and Cinnamon Swirl Bread.
I also love using my homemade bread for some great appetizers and other dishes like these Bacon and Cheddar Pull Apart Bread, Cheese Breadsticks, Muffuletta Sandwich, and Cheese and Garlic Pull Apart Bread.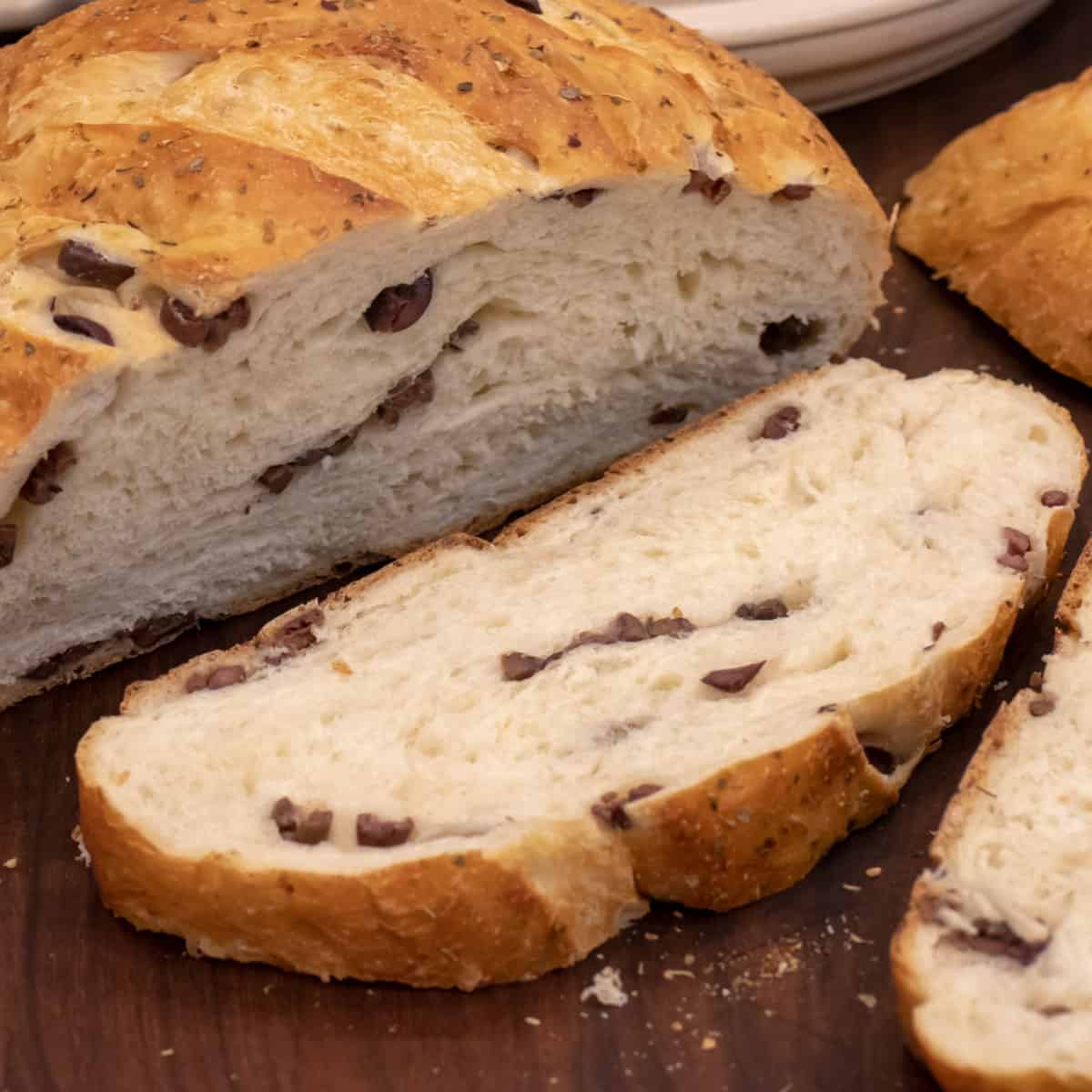 Today's bread recipe is an olive bread. I love kalamata olives and oregano, so I was eager to try a homemade loaf of baked olive bread. This recipe did not disappoint.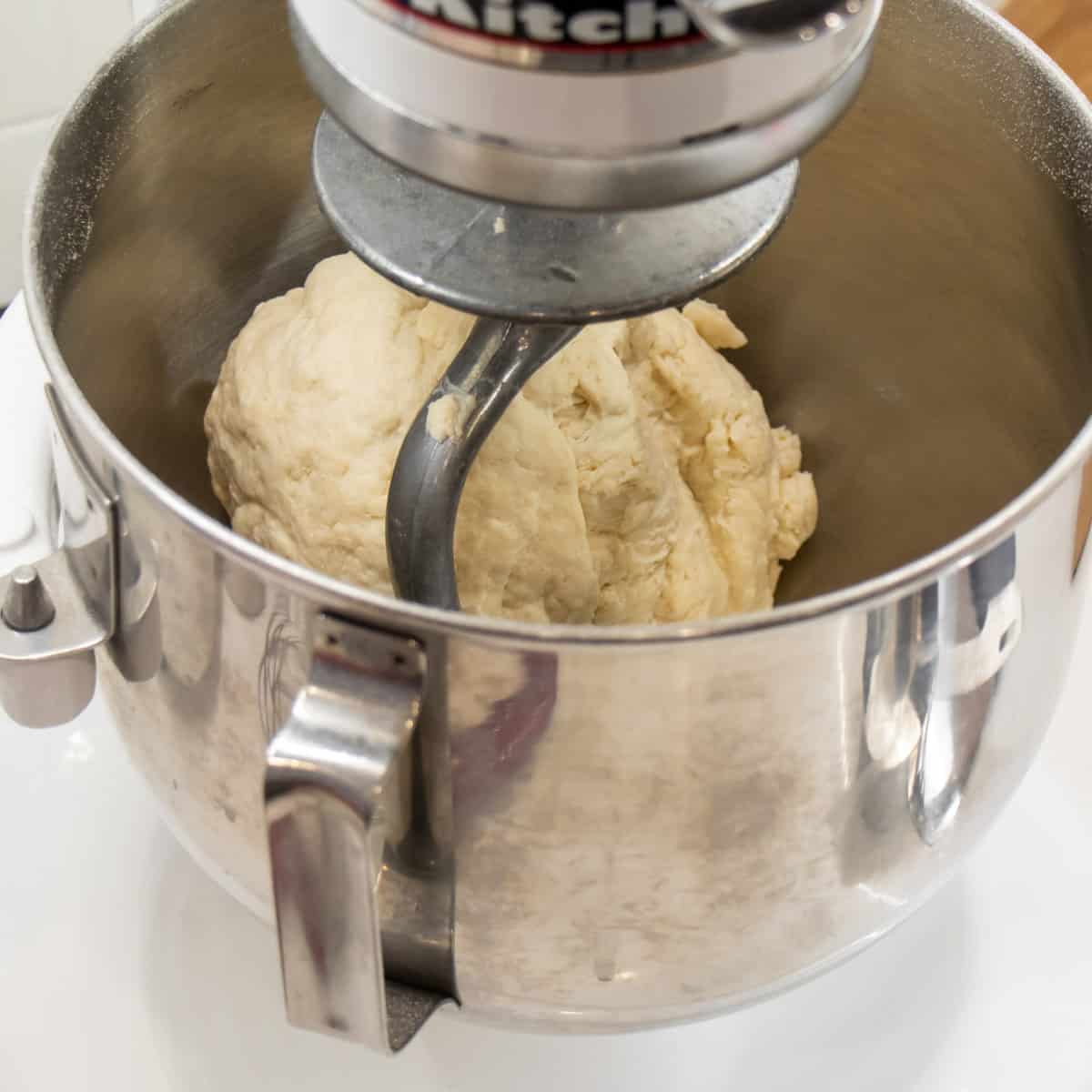 For this olive bread, I use the recipe for Artisan Bread as a base. I adjusted the amount of flour size the olives add a little extra moisture. The diced Kalamata olives are added to the dough as it is being kneaded by the electric stand mixer.
Expert Tip! This artisan bread recipe is excellent to use as a base and there are many other variations to mix it up. Instead of olives, you could use other ingredients and add it to the bread dough.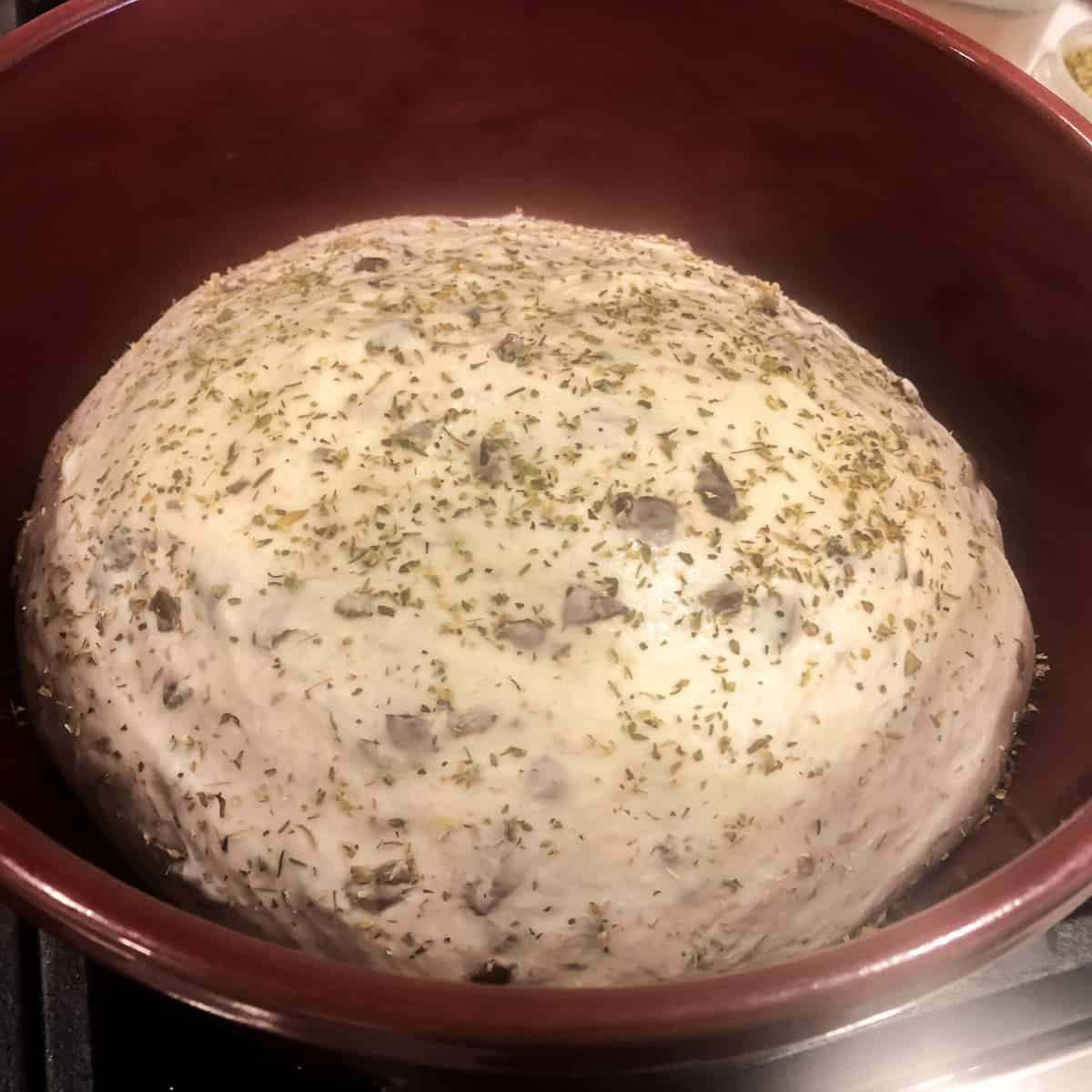 I use either a dutch oven or bread cloche for making this rustic bread. It is ideal for round loaves like this. It makes a bread that is soft and chewy in the middle and perfectly crusty on the outside. It is so good!
Just before the bread goes in the oven, I sprinkle it with oregano and cut a few slits across the top of the ball of dough with either a lame or very sharp knife.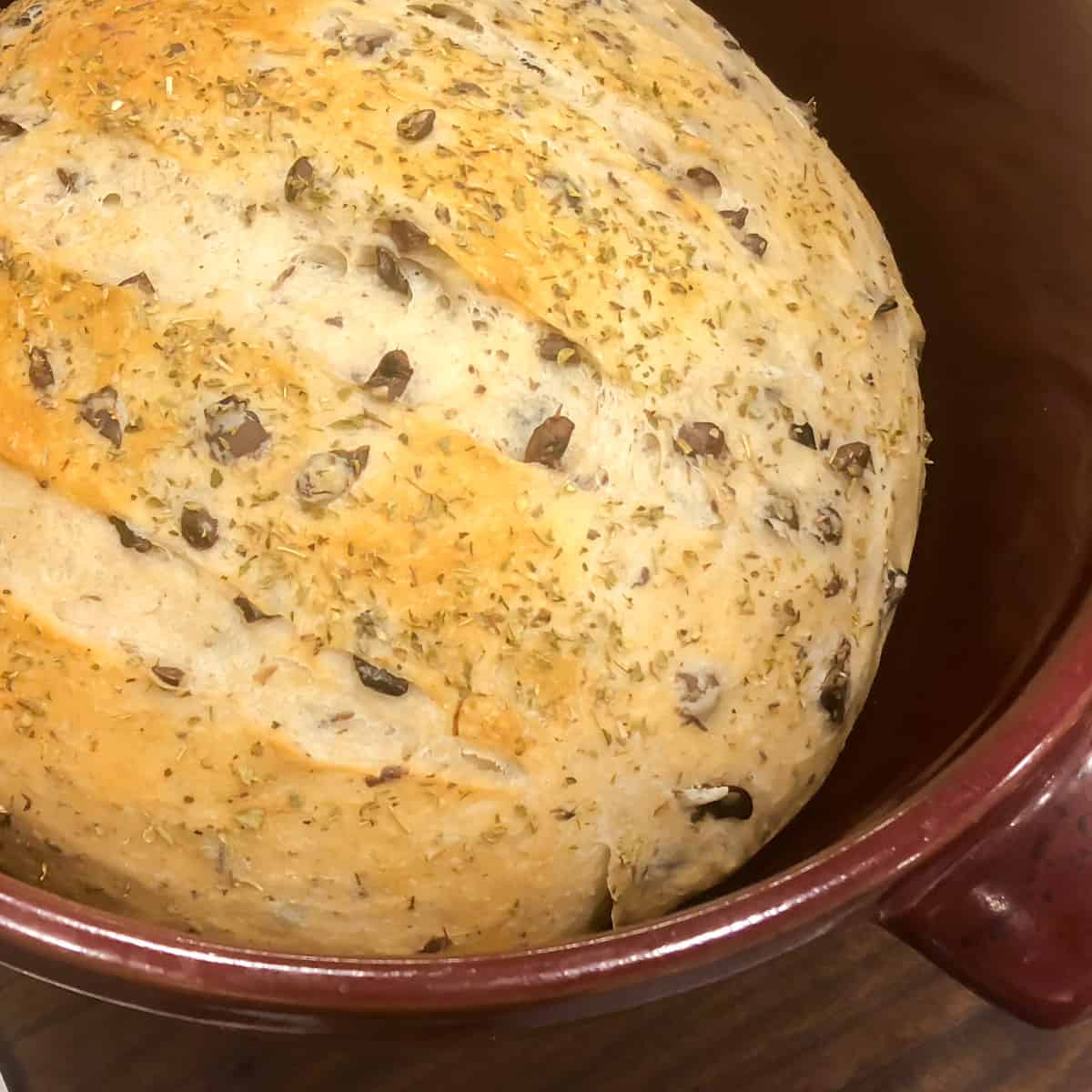 How Long To Bake Bread In A Dutch Oven
Bake the bread with the lid on the dutch oven or cloche. I bake it at 450F for 35 minutes. After the 35 minutes, I remove the lid and check the bread. If the crust of the is not as browned as you would like, let it bake another minute or two, without the lid. That should brown the crust up nicely.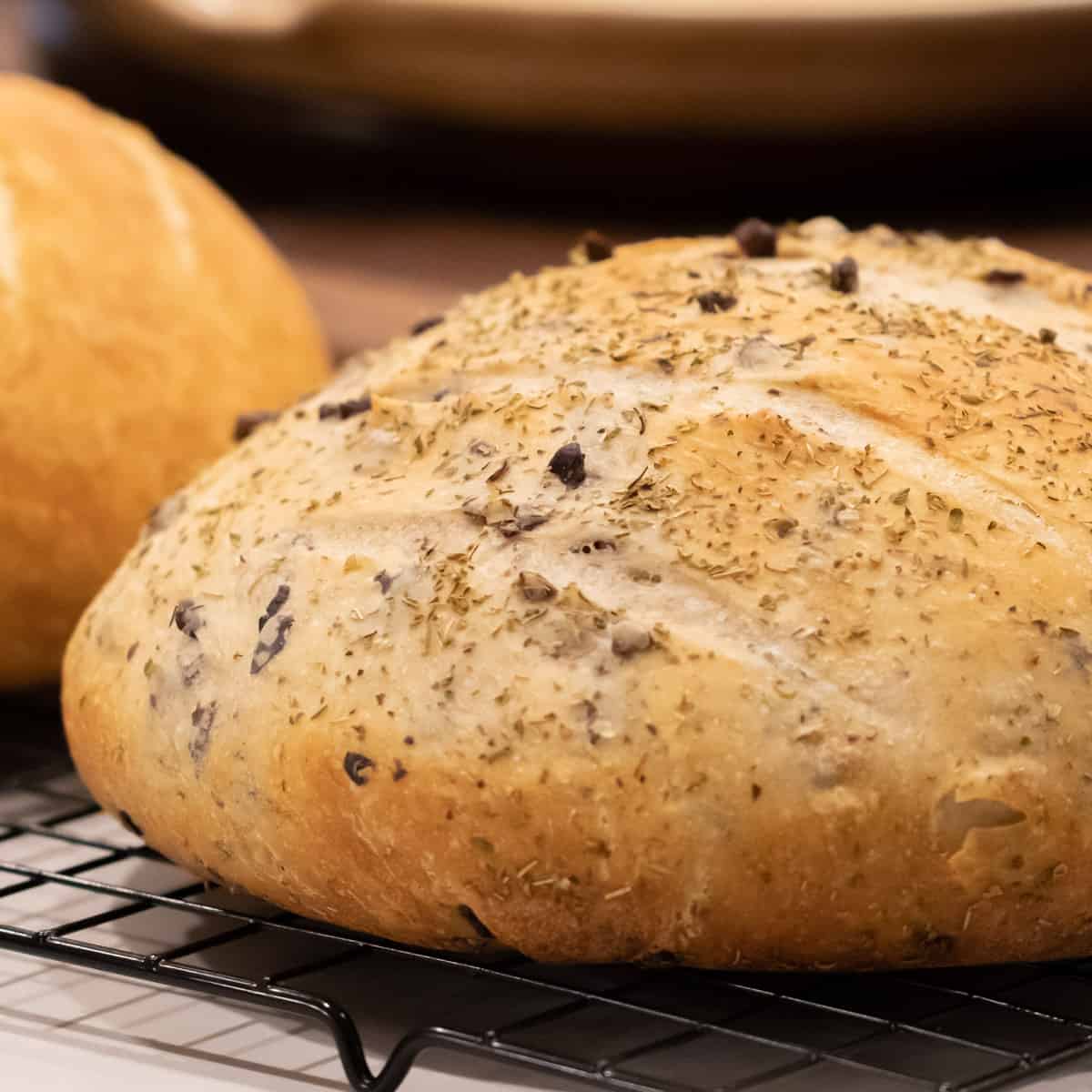 Cool Before Slicing
When the bread comes out of the oven, the smell is incredible. Not only is the house filled with the smell of fresh baked bread, which is awesome in itself, there is also the smell of baked olives and oregano. Let the bread cool on a wire rack before slicing.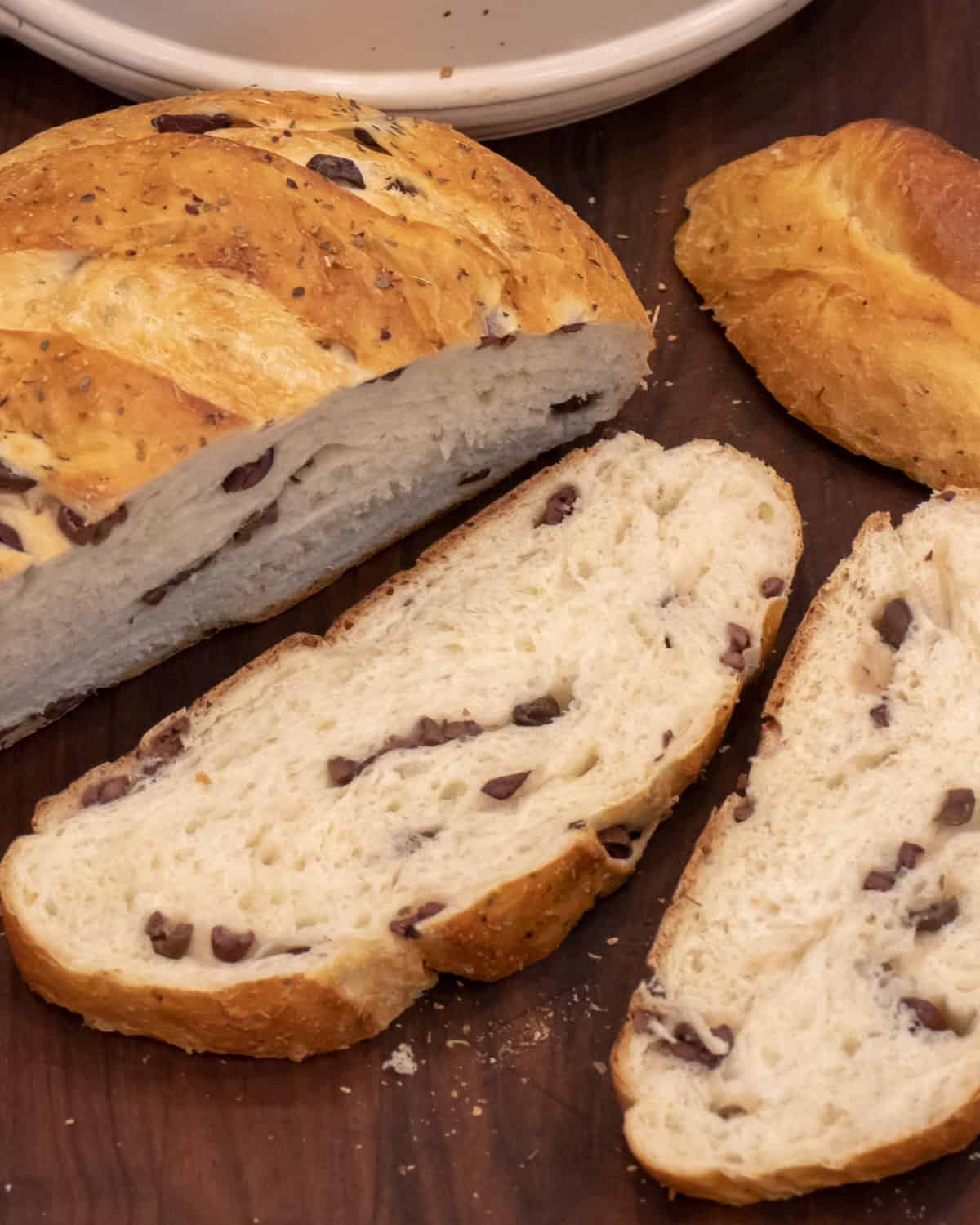 Soup And Stew Recipes!
This rustic olive bread is ideal to go alongside a bowl of stew or stew. Here are some great recipes to compliment this fresh baked olive bread.
Rustic Olive Bread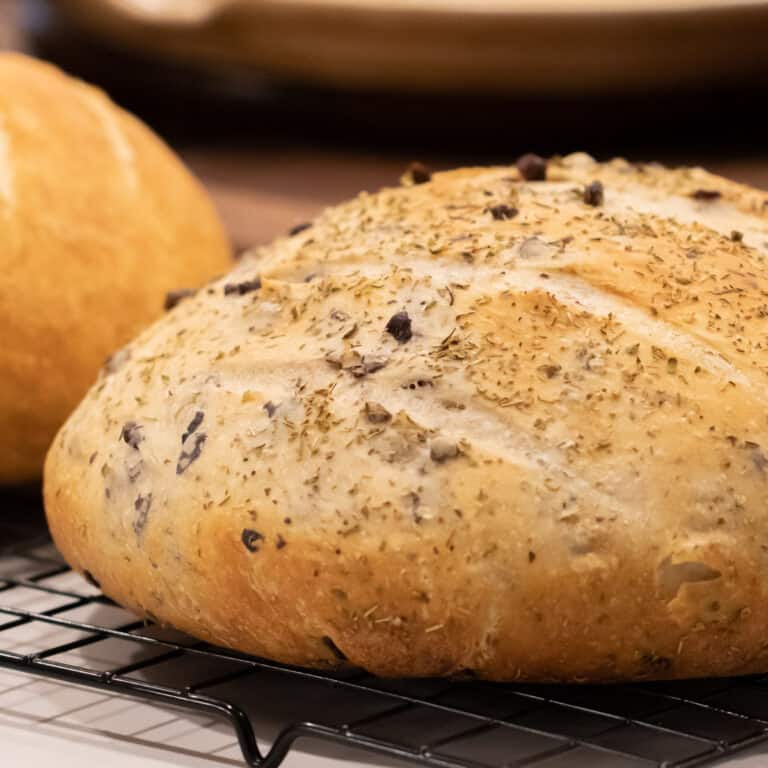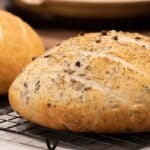 Print
Easy to make rustic olive bread with oregano. Crusty round bread loaf with kalamata olives. How to bake recipe for a delicious fresh loaf of bread.

Servings: 8
Ingredients
1 cup warm water 95-105F
2 tsp active dry yeast
3 1/3 cup all purpose flour
2 tsp salt
2 tsp sugar
1 cup kalamata olives pitted and diced
1 tsp oil for greasing the proofing bowl
1 tsp water
1 tsp dry oregano
Instructions
Stir to dissolve the yeast in a bowl with the 1 cup of warm water. Set aside for 5 minutes.

Stir the salt and sugar with the flour and dump into a stand mixer bowl.

Using the dough hook, turn on the stand mixer to low speed. Slowly pour in the water and yeast mixture. Continue to let the stand mixer knead the dough for about 3 minutes.

Add in the diced kalamata olives and continue to knead for another 2 minutes. If the dough seems to be too wet and sticky, add in a little extra flour and knead a little bit more. The dough should come away from the bowl and not be sticky/tacky to the touch.

Grease a large bowl with oil. Shape the dough into a ball, place in the bowl and flip so all sides are coated in the oil. Cover the bowl with plastic wrap. Put the bowl in a warm place with no draft and let rise until doubled in size, about 90 minutes.

Punch the dough down and hand knead it for about 30 seconds. Shape it into a ball and place it in a bread cloche or dutch oven. Cover and let rise for another hour, so that it doubles in size.

Brush the dough with 1 tsp water and sprinkle with dried oregano. Score the top of the dough ball with a lame or sharp knife

Bake in a 450F preheated oven for 35 minutes.

Place on a cooling rack and let the bread come to room temperature before slicing.
Nutrition
Per serving:
Calories: 226kcalCarbohydrates: 42gProtein: 6gFat: 4gSaturated Fat: 0.5gSodium: 848mgFiber: 2gSugar: 1g