Bacon and Cheddar Pull Apart Bread
This pull apart bread is stuff with so much cheese, bacon and onions. It is great for an appetizer, snack or party!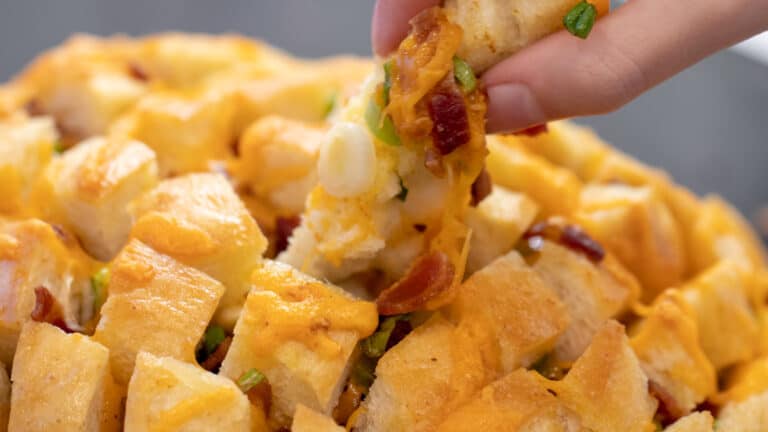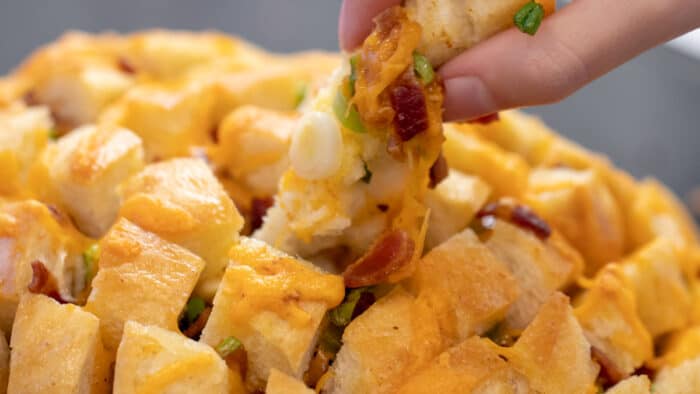 With the holidays upon us, I am planning out all the many gatherings we will be hosting. One of my favourite aspects of these gatherings is all the appetizers that I prepare. I usually make way more than necessary. This bacon and cheddar pull apart bread is one of my favourite appetizers to make.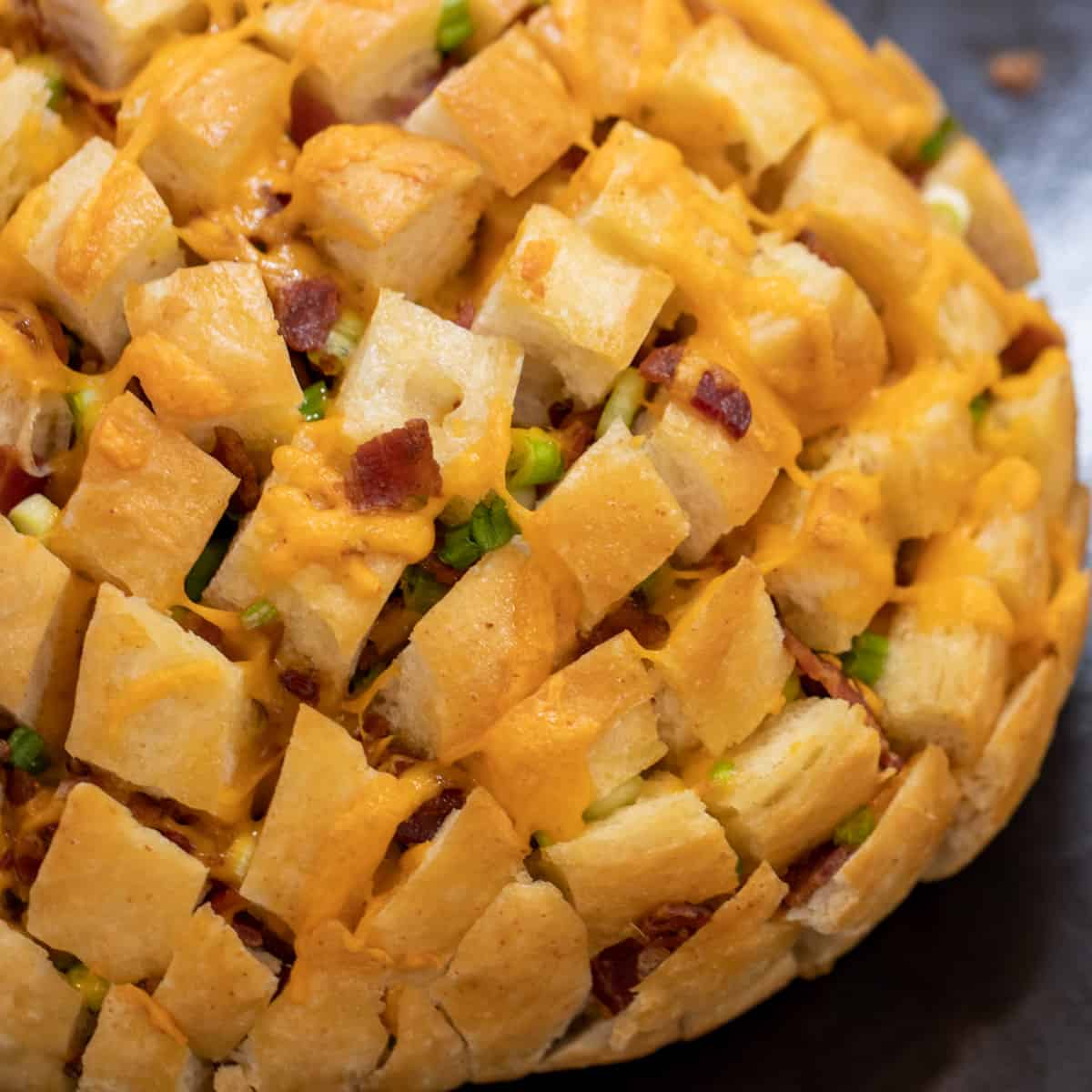 Pull apart bread is the perfect appetizer for almost any gathering. It is simple to prepare and oh so good. Every time I have served pull apart bread, people freak out over it and it is almost always the first appetizer gone. The pull apart bread in this recipe is a classic with bacon, cheddar cheese and green onion.
This is the perfect appetizer to be served at any Christmas gathering, New Years Eve party or for the next time you have people over to watch some football.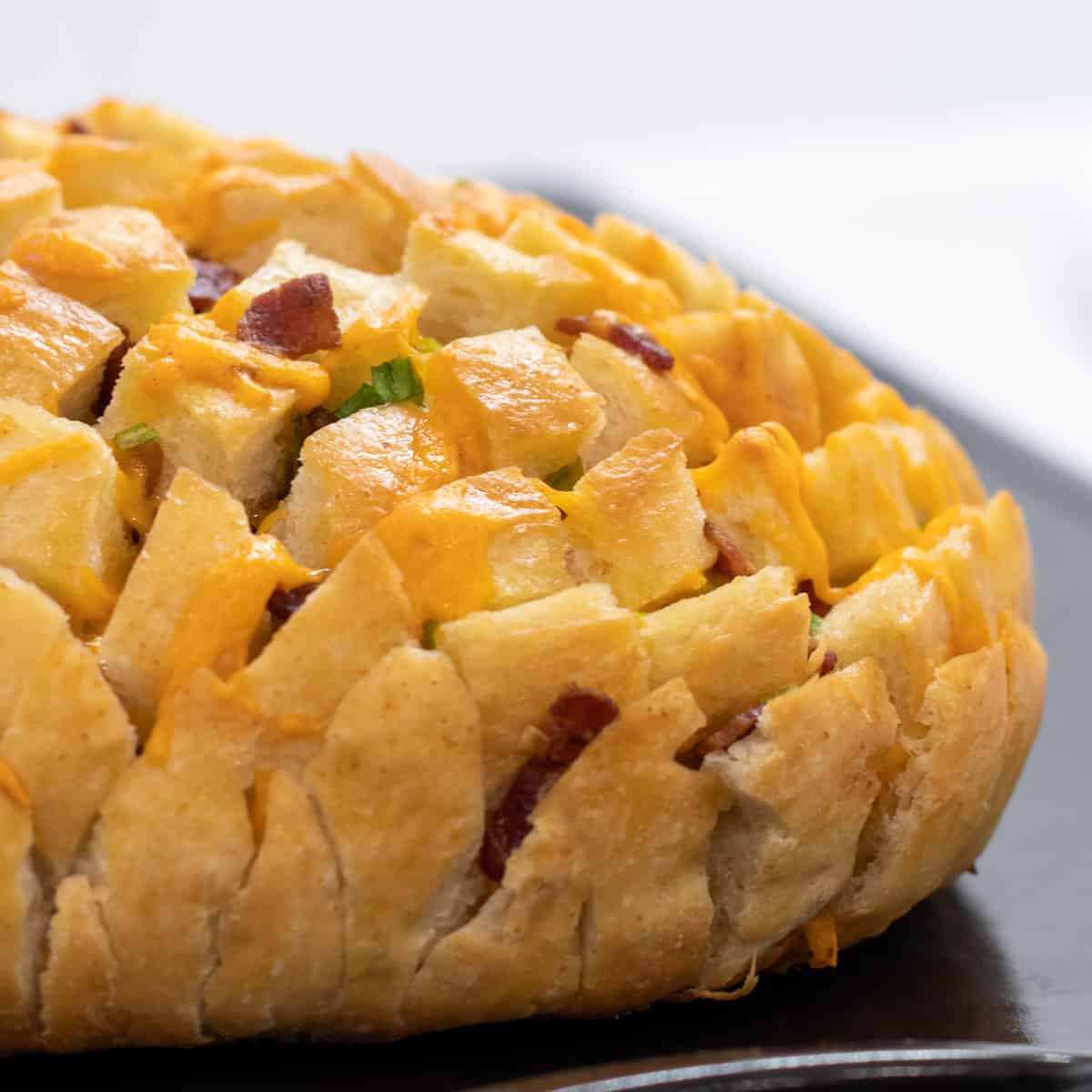 One thing I love about pull apart bread is that you can vary what you stuff it with, making the possibilities endless. Here is my recipe for Cheese and Garlic Pull Apart Bread!
More Stuffing Ideas!
pepperoni, green olives and mozzarella cheese
ground beef with taco seasoning, black olives, Monterey jack cheese and diced tomatoes
shredded chicken with buffalo seasoning, mozzarella and crumbled blue cheese.
sliced steak, sautéed onions and peppers, with grated provolone cheese
What Type Of Bread Works For Pull Apart?
It is important to choose a bread that will hold itself together after it has sliced. Also you want a bread that will not crumble when pulled or break apart at the top. Choose a nice round loaf of crusty bread. While I have bought them many times at the local supermarket, lately I have been baking the bread at home.
Here is a recipe for a loaf of Artisan Bread. A chewy crust on the outside and soft in the middle, this bread recipe is perfect for pull apart bread!
How To Slice The Bread
To get the bread ready, it needs to be sliced into slits in a criss cross pattern. Have the slices about 1 inch apart and make sure not to cut all the way to the bottom of the bread. I cut the slices to about 1/2 to 1 inch from the bottom of the bread.
You can see the way I slice the bread in the photo above.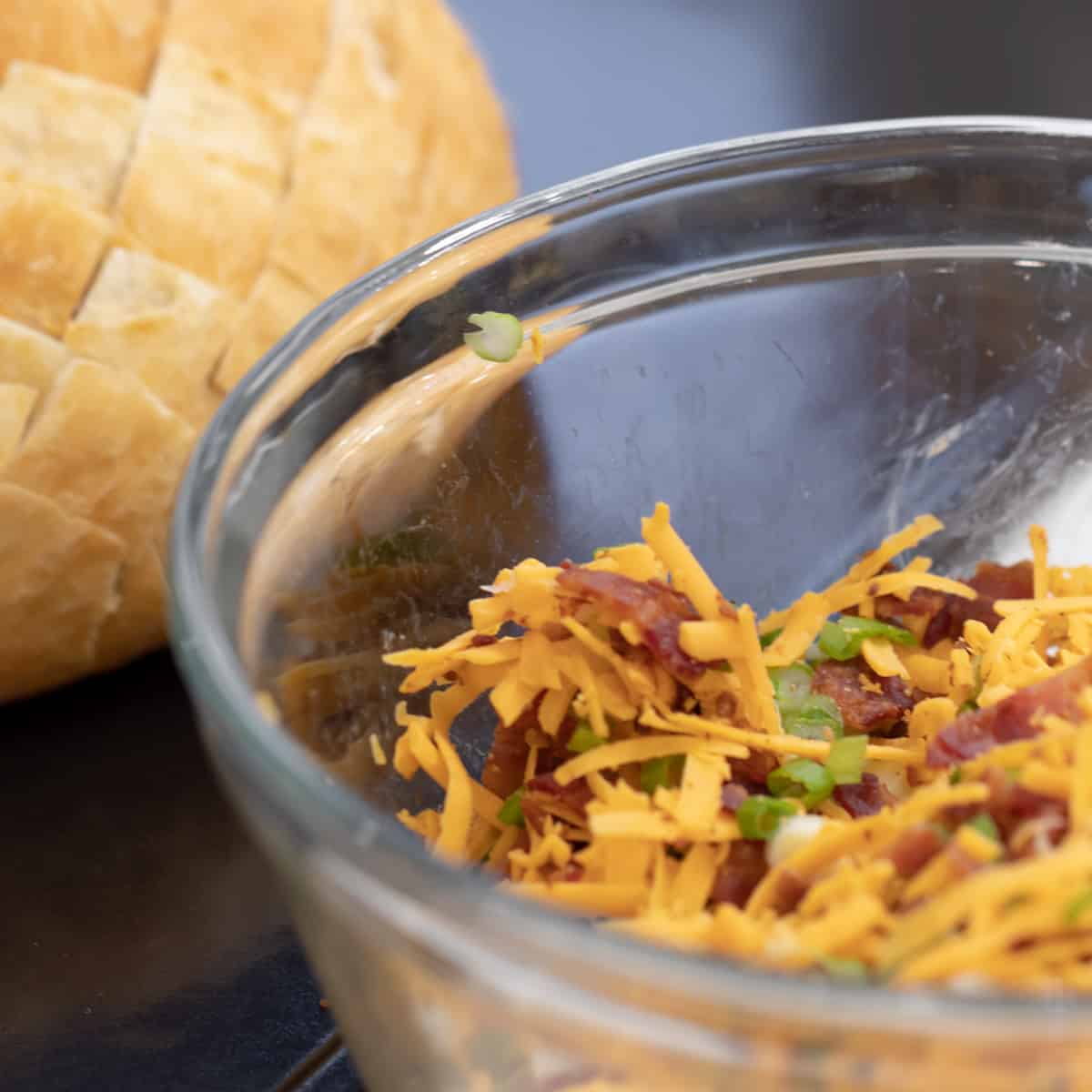 Get All The Toppings Ready
In a bowl, toss the grated cheese with the crumbled bacon and sliced green onions.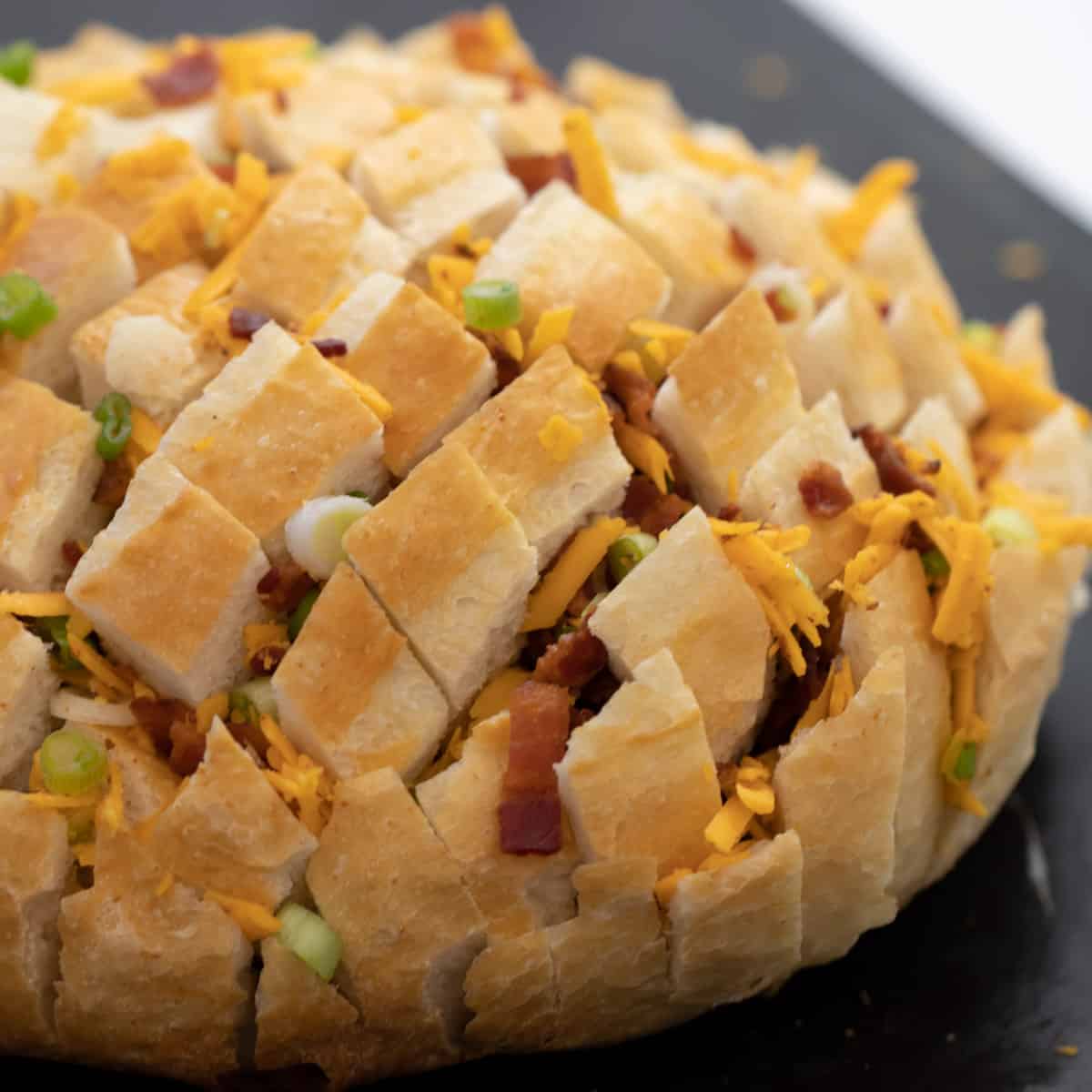 Stuff The Bread In The Slits
Stuff this cheese mixture all through the slits in the bread. Make sure to be generous with lots of cheese and get it into all the slices in the bread.
Brush With Melted Butter
Brush the bread with the melted butter.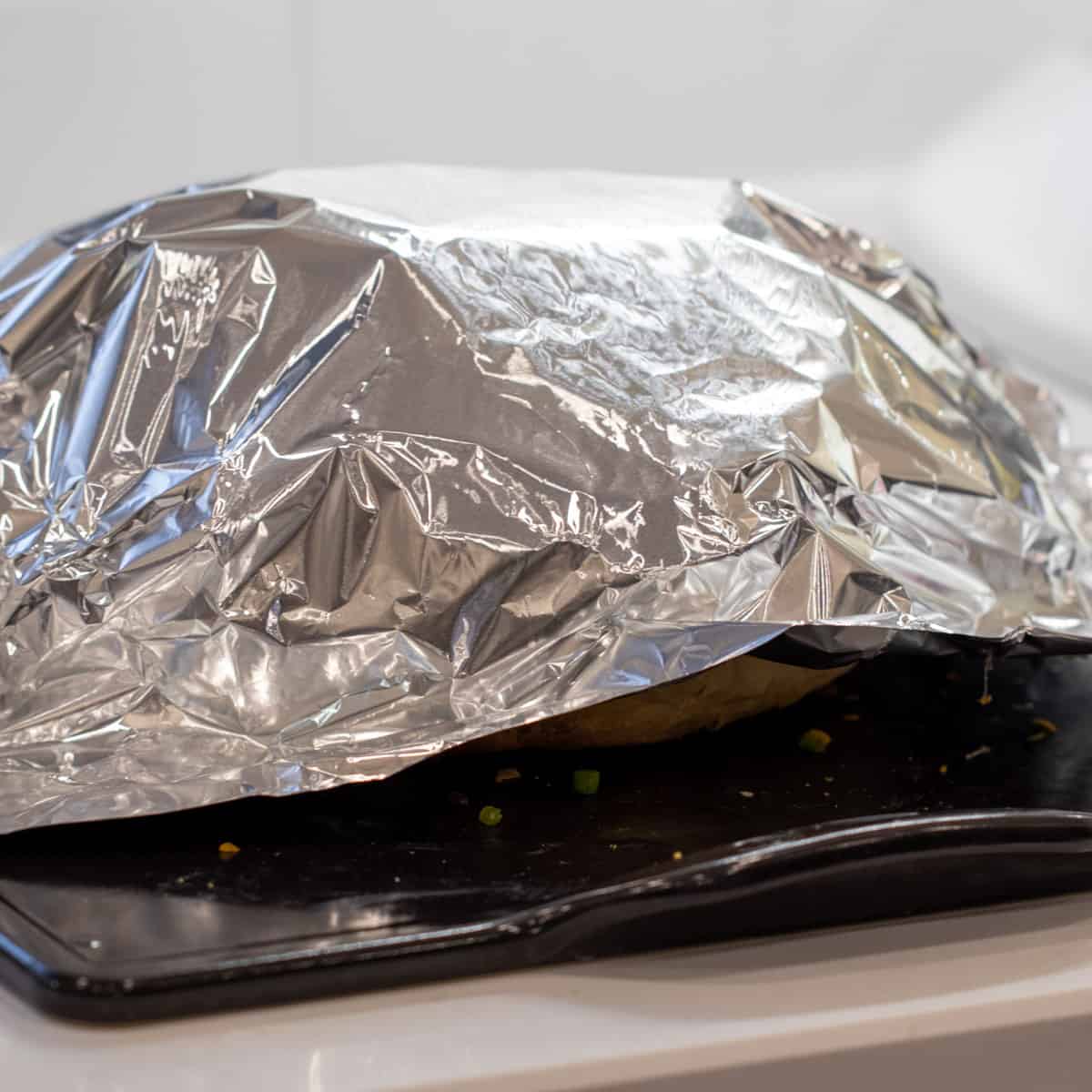 How Long To Bake Pull Apart Bread
Wrap the bread in foil and bake the bread in a 350F oven for 20 minutes.
Make Ahead?? Another aspect of this pull apart bread that makes it ideal for holiday gatherings, is that it can be prepped ahead of time. Follow steps 1-3 and once it is wrapped in foil, it can be put in the fridge until you are ready to bake it. I always look for recipes that can be prepped ahead as it lowers the stress and chaos during the actual gathering or party.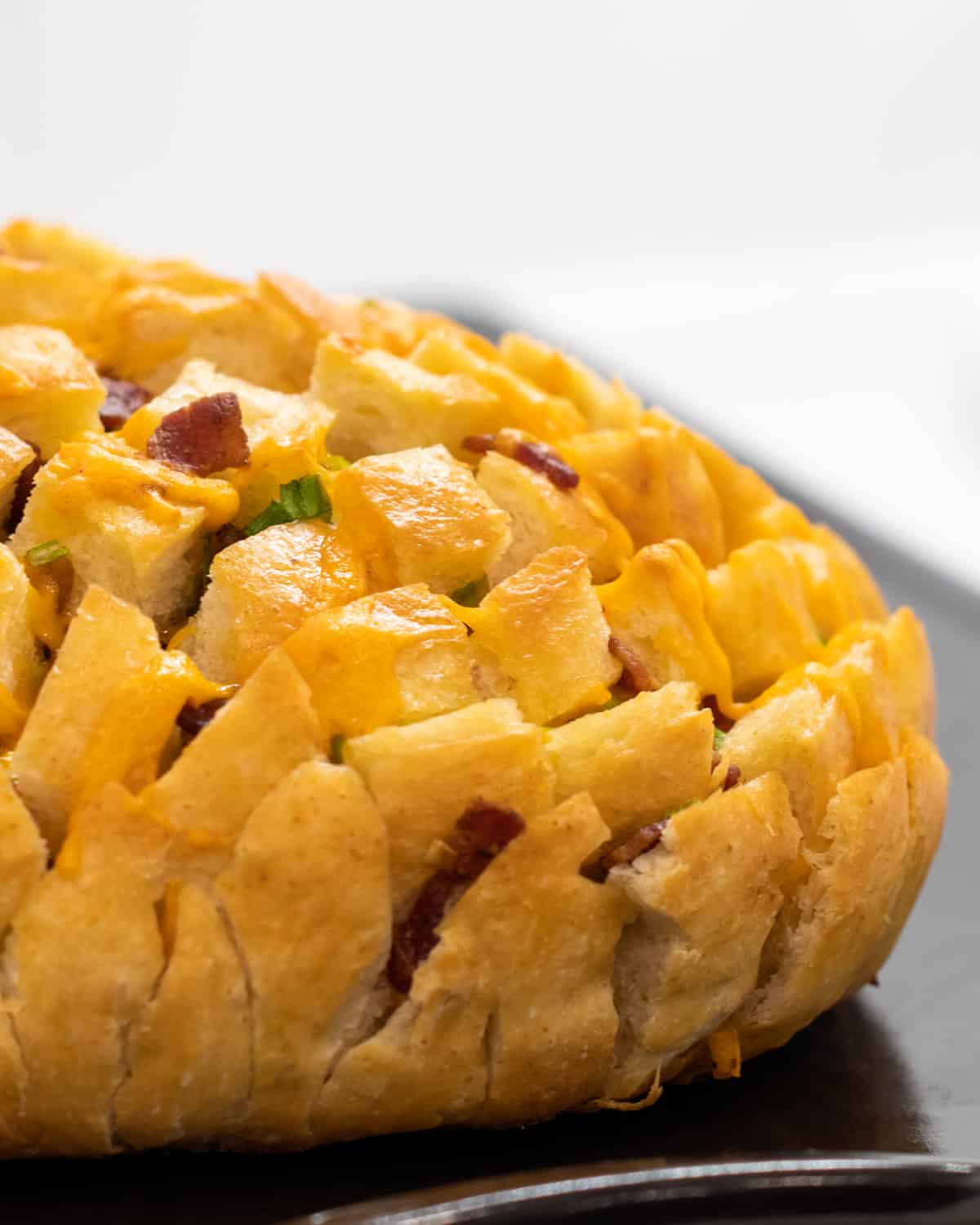 Then, remove the foil and continue to bake for another 10 minutes. The bread and cheese should be browning and you should be able to see some of the cheese bubbling.
You will want to serve the bread warm. You may want to let it rest for 5-10 minutes as it may be a little too hot coming right out of the oven.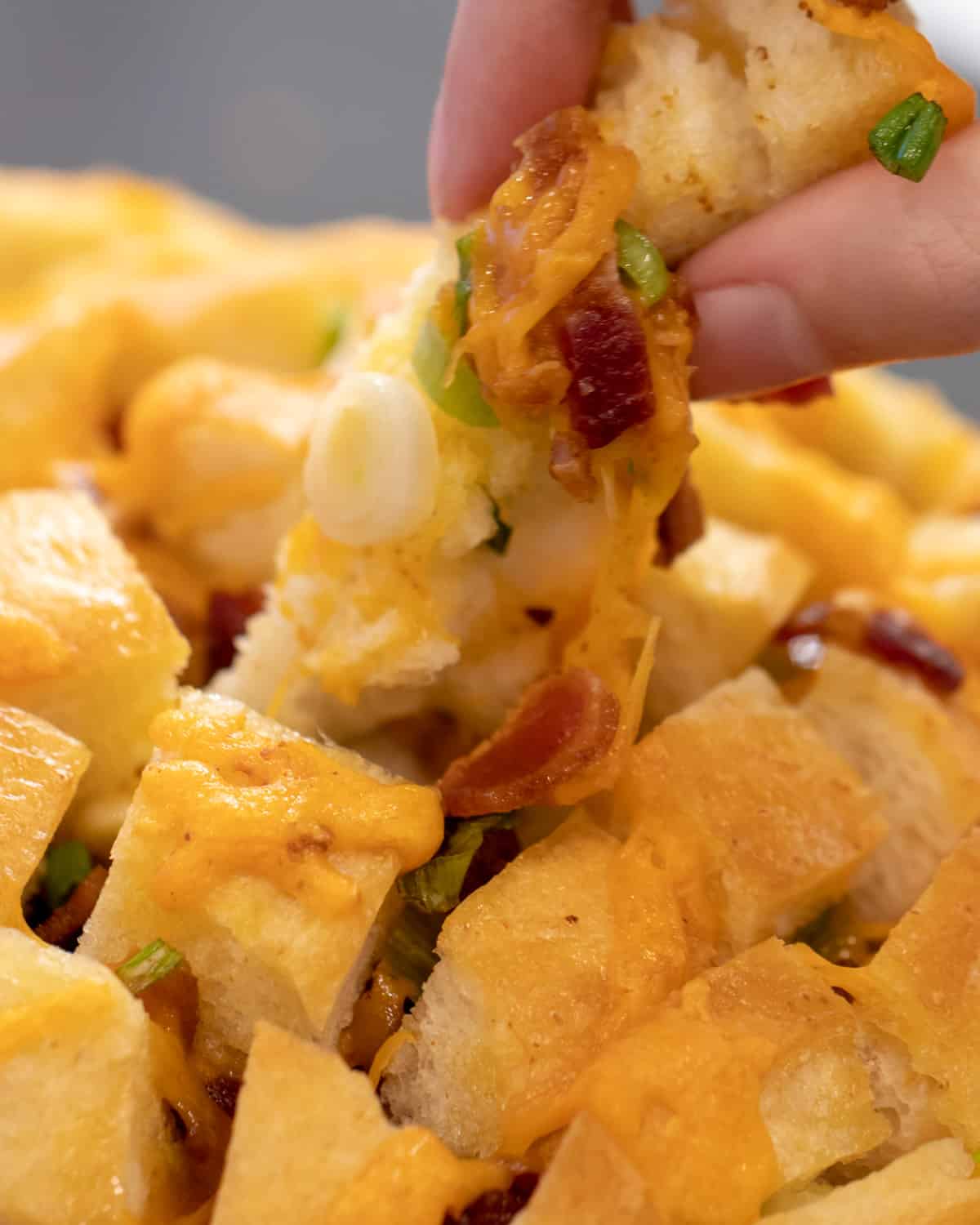 The great thing about this bread is that ready to serve just like this. All the prep that you did at the start allows you to put it on a plate and serve it to your guests whole. They can grab a piece of bread and pull. The gooey cheese, bacon and onions will come with the bread. So good!
This bread will get gobbled up incredibly fast!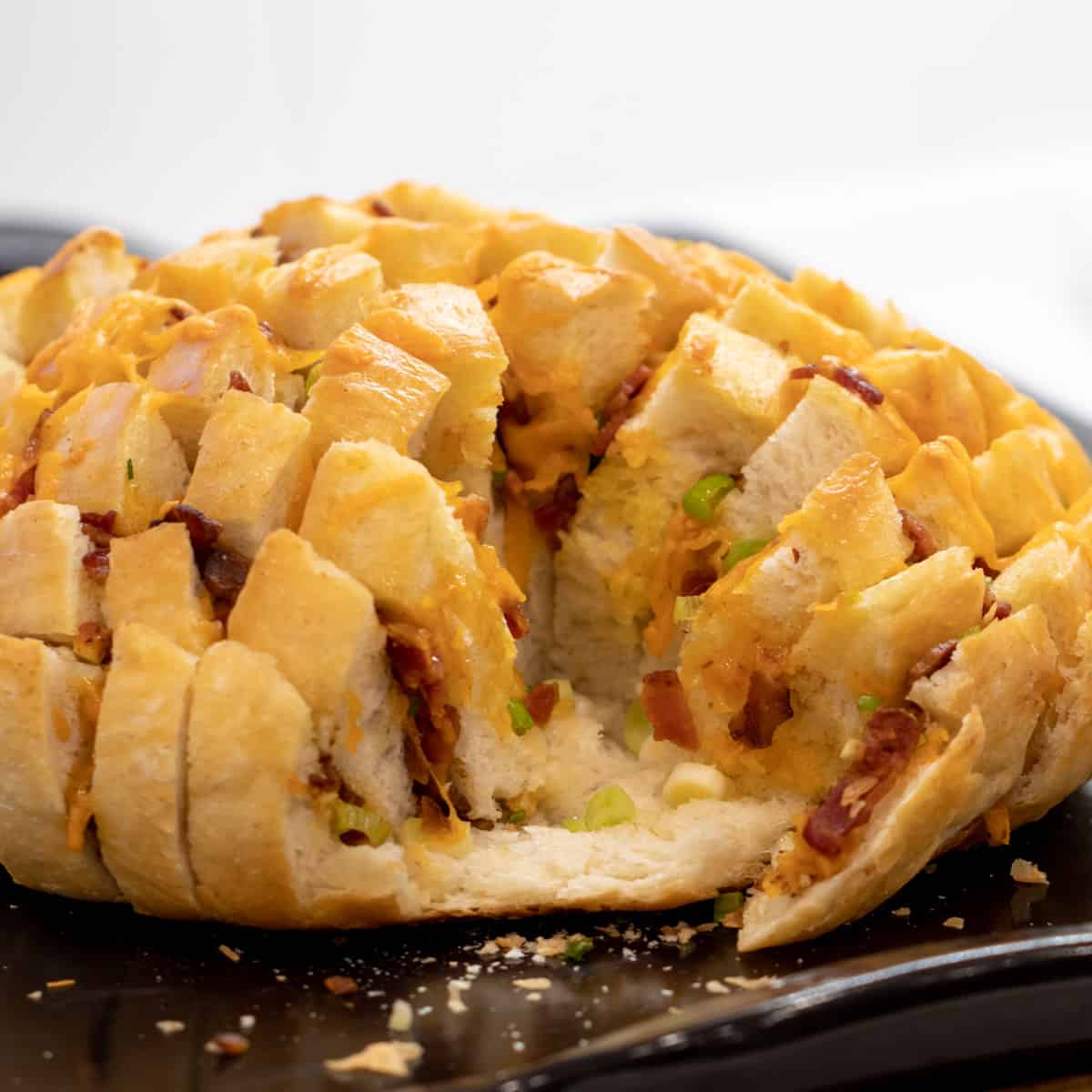 More Great Appetizer Recipes!
Here are some other appetizers that go great with this pull apart bread!
Bacon and Cheddar Pull Apart Bread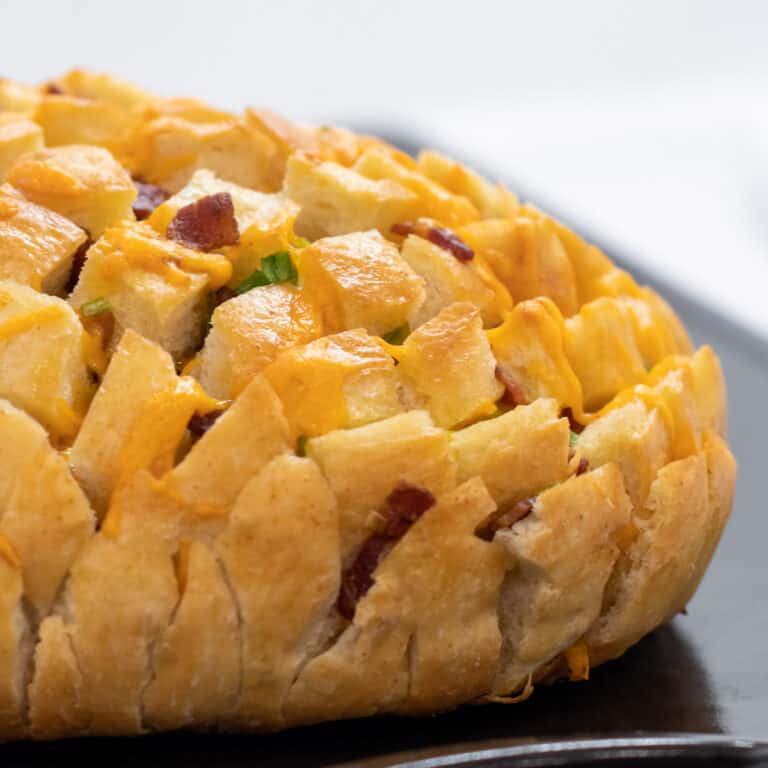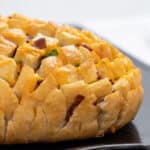 Print
Cheesy pull apart bread made with an artisan rustic round bread loaf, sliced and filled with grated cheddar cheese, crumbled bacon and sliced green onions. Baked until cheese is bubbly!
Servings: 16
Ingredients
1 loaf round artisan bread
10 slices bacon cooked and crumbled
2 cups grated cheddar cheese
6 green onions thinly sliced
1/2 cup melted butter
Instructions
Cut slits into the bread in a criss cross pattern, with the cuts about 1 inch apart. Make sure to not go all the way through the bottom of the bread. Place on a baking sheet.

In a large bowl, mix together the grated cheese, crumbled bacon and sliced green onions. Stuff the mixture into all the slits of the bread.

Brush the bread liberally with the melted butter. Wrap the bread with foil.

Bake in a 350F oven for 20 minutes. Remove the foil and bake for another 10 minutes.

Remove from the oven and serve.
Nutrition
Per serving:
Calories: 325kcalCarbohydrates: 16gProtein: 7gFat: 26gSaturated Fat: 14gCholesterol: 38mgSodium: 335mgFiber: 1gSugar: 9g