Bacon Cheddar Spinach Dip – guest post from Sumptuous Spoonfuls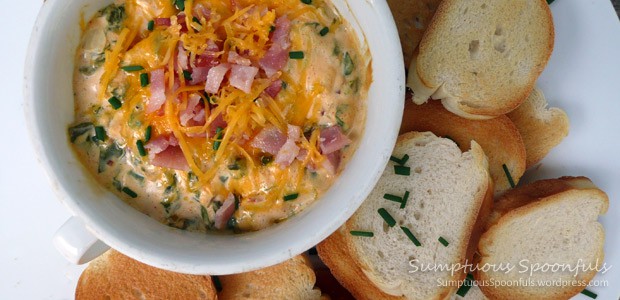 My vacation is almost over and we are going to be heading home tomorrow morning. It has been an awesome ten days. The weather has been great and everyone in the family has gotten to do all the stuff they hoped to do. It is always sad when vacation comes to an end and the kids, especially, are not wanting to leave. Even though it has been great, I am ready to head home.
Today is a special day for me. Well, not as much for me, it is more that today is special for The Black Peppercorn. One year ago today, I launched this website. I cannot believe that it has been a year since I started this adventure. I decided to look back a little bit and check out some of my earlier posts. My first reaction was that my photography has come a long way. There were some tasty dishes I did back then – some that I am getting the craving to make again. I never thought that this website would be as fun and rewarding as it has been. Also, I never thought that I would develop as many friends as I have. The foodie community is wonderful and I want to thank you – the readers – who have brought so much joy and fulfillment to my blogging and recipe creating!
Speaking of friends, this past week has been incredible. The foodie friends who have volunteered to do some guest blogging made some incredible dishes and I SOOOO appreciate their contribution, while we were away on vacation. Well, today is the last guest post, and I am so excited to reveal today's guest poster. Ann from Sumptuous Spoonfuls is here to share an incredible appetizer. If you know me, and this site, you know I have a weakness for appetizers, especially ones with bacon and cheddar cheese! This is one I am going to make once I get home.
So, without delay, here is Ann!
Hello everyone! I'm Ann from Sumptuous Spoonfuls and I'm so pleased to be tending the kitchen while Steve is out. Steve is one of my favorite food bloggers (admittedly, I have a lot of favorites, but that's a good thing, right?) … he always has such delicious recipes and beautiful photographs. I even made one of Steve's famous rubs for my dad for father's day. (What else do you give a dad who has everything?)
A little about me: I am an engineer, mother of two teenagers and lifelong foodie. My parents are both big gardeners that grew up on farms … plus my mom's a retired dietician, so I learned a lot about food when I was growing up. I am constantly on the search for good taste combinations, but then I health-ify them. I refuse to sacrifice taste, but I want to eat healthy. I really love "little bites", so dips and other appetizers always appeal to me. I tend to snack a lot, so little bites fit right into my lifestyle.
I brought over a new dip I created the other day just for fun, because I wanted something to munch on and these flavors just sounded so good to me. I hope you like it. Thanks so much, Steve, for having me over!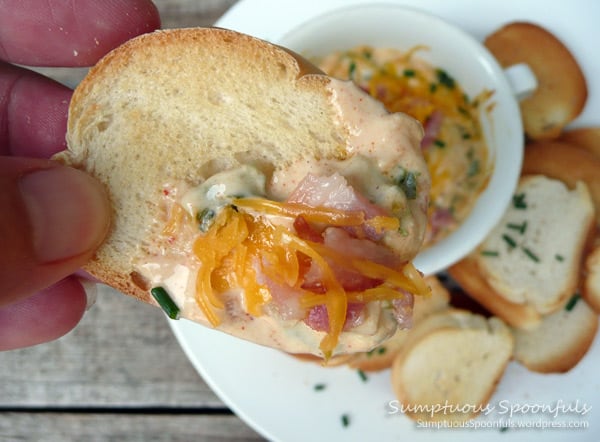 Bacon Cheddar Spinach Dip
Inspired by Southern Cooking Light
3 – 5 strips of lower-fat bacon
¾ cup chopped sweet onion
5 ounces light cream cheese
2 cups fresh spinach leaves, chopped
¼ cup fat free half and half
½ cup nonfat greek yogurt
1 teaspoon wortcestershire sauce
½ teaspoon dry mustard
½ – ¾ cup shredded sharp cheddar cheese
½ teaspoon smoked paprika
½ teaspoon Sriracha hot sauce (add more or less to taste)
For garnish: a bit more shredded cheddar cheese and chives
In a saucepan, fry the bacon strips until crispy, then set aside the bacon and let it cool. Drain off the excess fat from the pan, then sautee the onions over medium heat until soft. Reduce the heat to medium low, mix in the remaining ingredients and cook, stirring frequently, until the spinach has wilted, the cream cheese is mixed in thoroughly and the cheddar is melted. Chop the bacon into bits, reserving a bit for garnish and stir it into the cheesy dip. Put the dip in a bowl, bread bowl or mini-crockpot and top with a bit of extra cheese, the reserved bacon bits and some snipped chives. Serve with thin slices of French bread, toasted.