Spinach Salad with Beets, Candied Pecans and Goat Cheese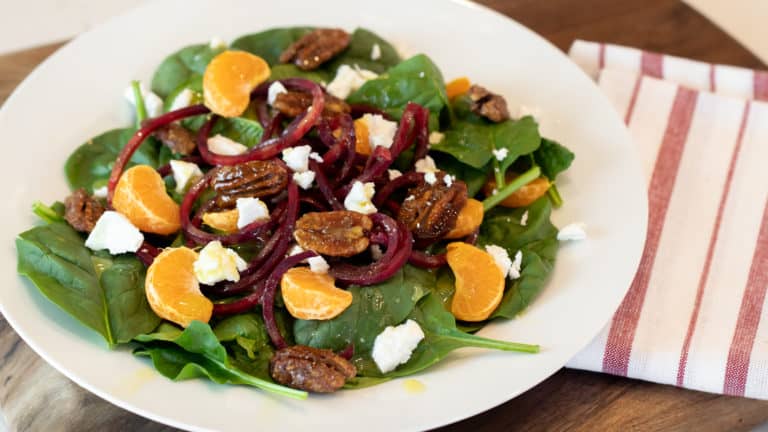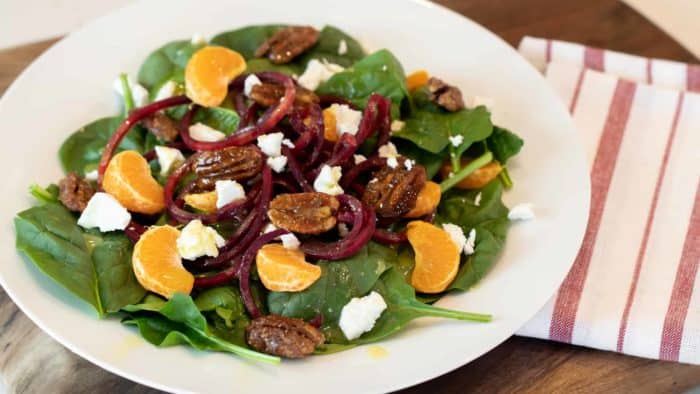 Every one in a while I make a new salad that comes together so well and all the ingredients combine to make something super delicious. That was the case with this salad.
This salad came together at the grocery store. I saw a package of spiralled beets and thought it would work well in a salad. To go with the beets, I picked up some baby spinach. Baby spinach is an excellent leafy green to build a salad upon.
I had never used raw spiralled beets in a salad, so I was unsure how it would work. It turned out awesome. The beets were so fresh and added a bright crunch to the salad.
This will not be the last time I use beets in a salad!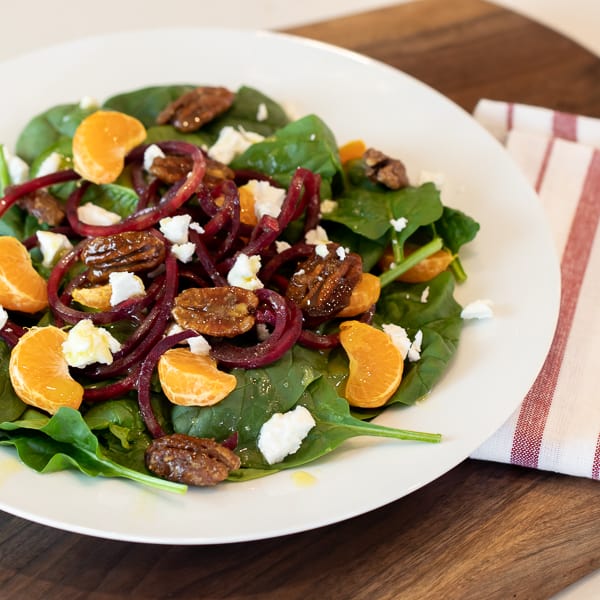 Mandarin oranges go very well topped on a salad and I thought they would compliment the beets. I already have a salad recipe with some found here : Mandarin Orange and Spinach Salad.
I love cheese in salad as well. Feta and old cheddar are awesome topped on salad, but this time, I decided to crumble some goat cheese on top. It was so good!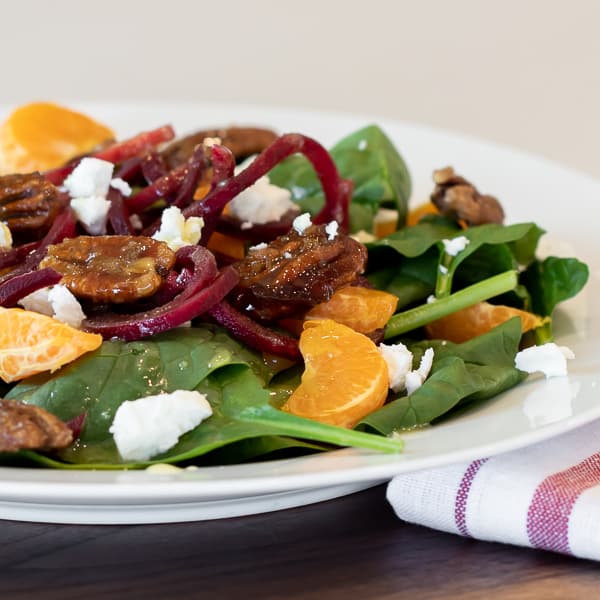 I made some candied pecans to put on top of this salad. It was such a good addition and added a lot of flavour to each bite. Making candied pecans is very easy and I have detailed instructions here:
One word of warning for these pecans – they are addictive! Wow, they taste so good, I found myself eating them by the handful. Make sure to save some for the salad!
The salad dressing I used was a honey dijon mustard vinaigrette. It was so good and was the perfect dressing to pull everything together! I also thought that poppyseed dressing would go very well also.
I have a recipe for this honey dijon dressing found here: Honey Mustard Salad Dressing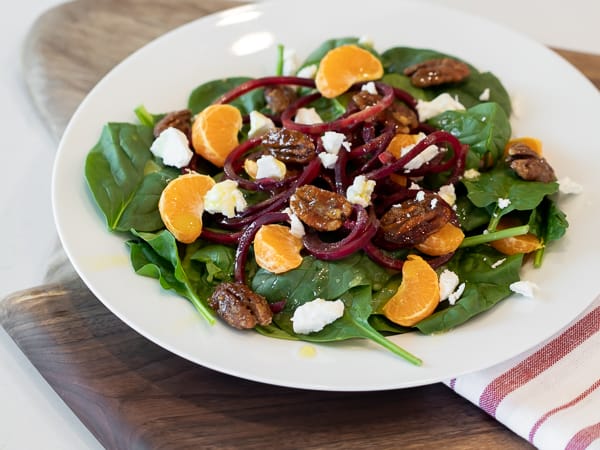 This salad is perfect for the summer and ideal to go alongside some grilling. Here are a bunch of grilling recipes that would be a perfect compliment to this salad!
Spinach Salad with Beets, Candied Pecans and Goat Cheese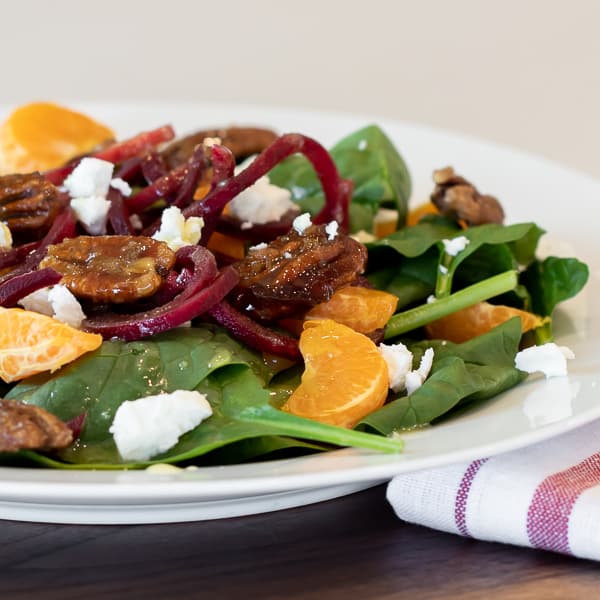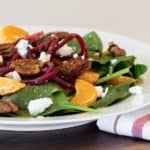 Print
Fresh and healthy salad recipe made with baby spinach, spiralled beets, mandarin oranges, candied pecans and crumbled goat cheese with a honey dijon vinaigrette.
Servings: 4 people
Ingredients
6 cups baby spinach packed
2 cups spiralled raw beets
4 whole mandarin oranges peeled and separated
1 cup candied pecans
2/3 cup goat cheese crumbled
1/2 cup honey mustard salad dressing
Instructions
Place some baby spinach on a plate. Top with a handful of spiralled beets, mandarins, candied pecans and crumbled goat cheese.

Drizzle honey mustard salad dressing on top.

Do this three more times to make 4 salads.

Serve.