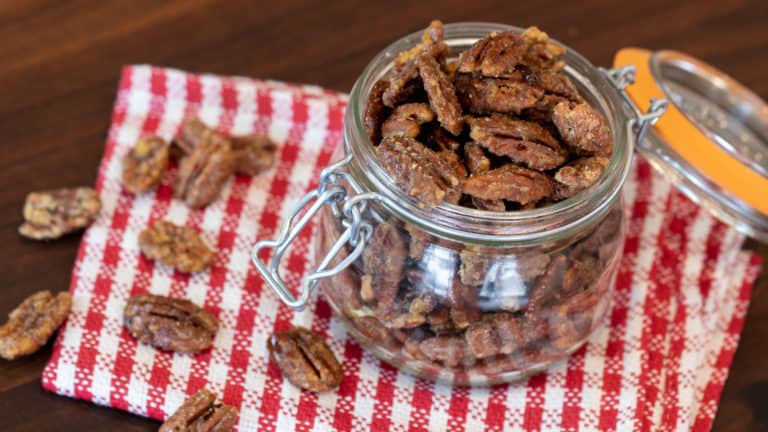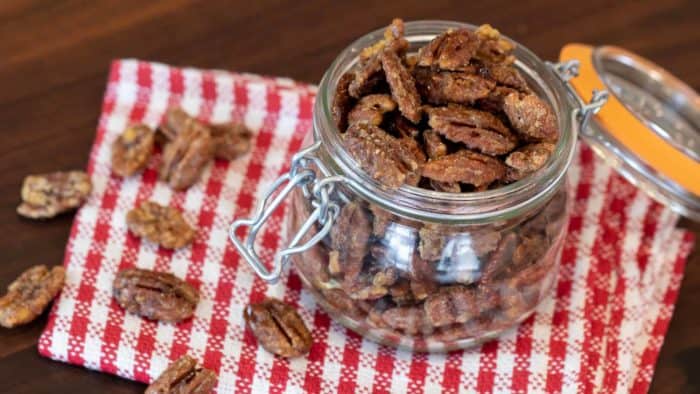 Candied pecans are a sweet and nutty treat that is seriously addictive! I remember when I went on some family trips to the southern United States and we tried pralines. Wow – they were amazing.
These candied pecans remind me of the pralines I had when I was a kid. They are great eaten by the handful and excellent used in other recipes. Try topping some candied pecans on a scoop of vanilla ice cream for a real treat!
Making candied pecans is very simple and can be made in a matter of minutes. The longest part of making candied pecans is waiting for them to cool down after you heated them in the skillet with the candy coated.
Waiting for them to cool down is a big test in patience cause you know that they will taste amazing!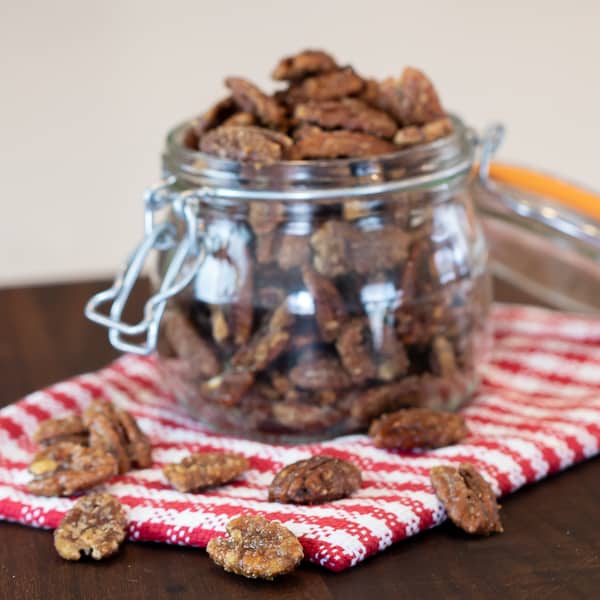 What is in the Candy Coating?
The candy coating is made with 3 basic types of ingredients:
sugar – I like to use brown sugar because it gives a bit more of a caramelized flavour, but white sugar can work just as well.
water – a little bit of water is used to dissolve the sugar and it helps it all coat the pecans. The sugar is evaporated during the cooking process.
seasoning – you can add as little or as much seasoning as you would like. To go along with salt, I also like to add some cinnamon, cayenne and vanilla. A small little but of these seasonings adds some complexity to candied pecans. Feel free to omit any of these ingredients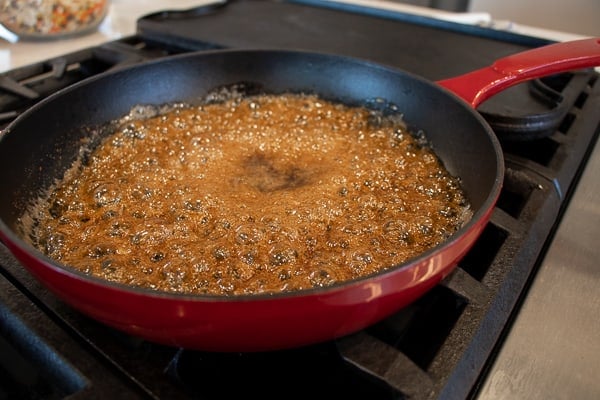 The first step to make candied pecans is to make the candy coating.
In a skillet, stir together the brown sugar, water, salt, cinnamon, cayenne and vanilla. Once dissolved, cook at medium heat. Bring to a boil and then lower the heat a little bit.
The mixture will look almost like a dark maple syrup. Let it simmer for a good 3-4 minutes. It should have a light rolling boil, but not too hard of a boil, or else the syrup will burn.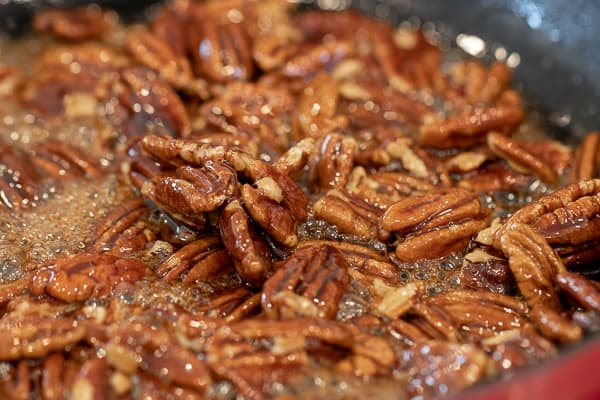 Stir in the pecans so they are well covered with the candy coating. Continue to cook for a few more minutes. Make sure to stir often so the pecans continue to stay evenly coated. Stirring also helps prevent the candy coating from burning.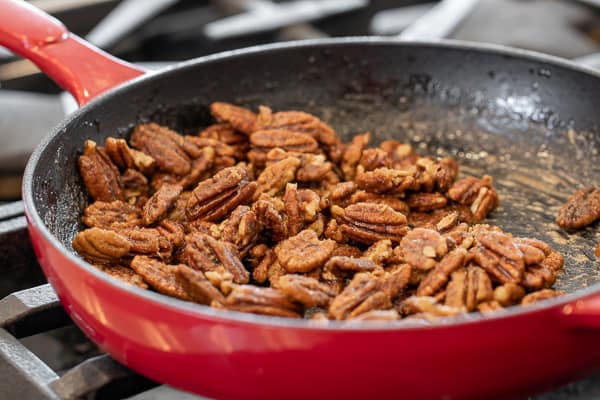 After heating the pecans in the candy mixture for a few minutes, the water will evaporate and you will be left with candy coated pecans as you can see in the picture above. The candy coating should not look watery or syrupy, but instead sugary, similar to a praline coating.
Once they look like this, take the skillet off the heat and scoop out the pecans.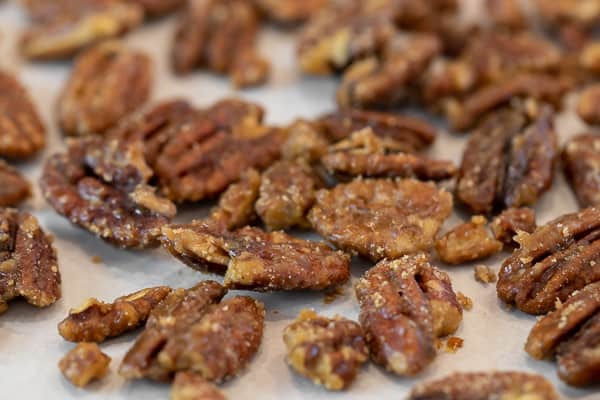 Spread the pecans of a sheet of parchment paper (a silicone baking sheet works great as well).
Make sure that the pecans are separated from each other. Don't waste any time on this step either, because as the candy coating cools down, it will harden and if the pecans are not separated they will be one hard clump.
Let the pecans cool down completely. Once cool, they can be served, stored or used in a different dish or recipe. To store, I like to use a mason jar.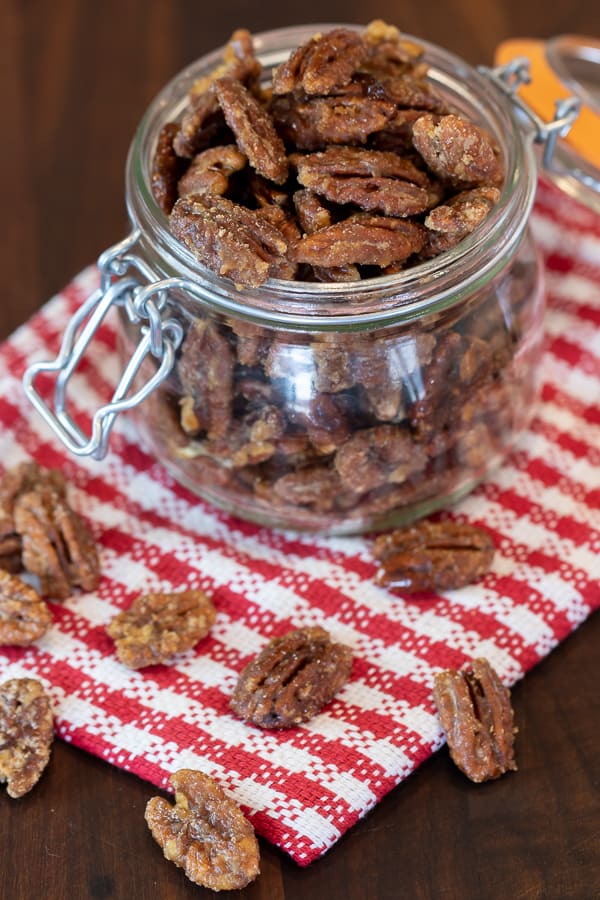 Candied pecans can be used so many ways!
First off, these are great straight up on their own. Just put the candied pecans in a bowl and serve. These are great as a sweet snack for your next party, holiday or game day gathering.
Top a salad with some of these candied pecans for an added sweet and nutty bite. It is so good! There is a recipe coming soon that includes these candied pecans.
Add to a dessert. Make your own ice cream and stir these in for some homemade pralines and cream. You can also use in puddings, trifles, cheesecakes and so much more!
Candied Pecans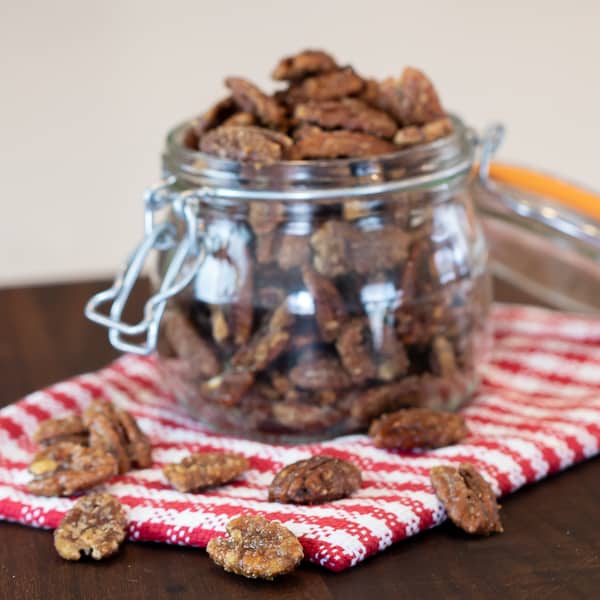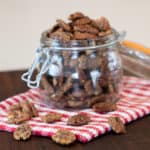 Print
Candied pecans is super easy to make on the stovetop with this recipe. These taste just like praline pecans and made with brown sugar, cinnamon, salt and cayenne.
Servings: 8
Ingredients
1 1/2 cups pecan halves
2/3 cup brown sugar
1/4 cup water
1/2 tsp pure vanilla
1/2 tsp salt
1/2 tsp ground cinnamon
1/8 tsp ground cayenne (if you want a little more heat, use 1/4 tsp)
Instructions
Add all the ingredients (except the pecans) to a frying pan or skillet.

Stir and cook over medium heat. The brown sugar and spices will dissolve into the water to look like a syrup. Bring to a boil and lower heat a little for it to simmer.

Continue to let the mixture simmer and for about 3 minutes.

Stir in the pecans to they are completely coated in the syrup mixture.

Continue to cook, stirring often, for a 2-3 more minutes.

Scoop out the candy coated pecans and place on a sheet of parchment paper or silicone baking sheet. Make sure the pecans are separated.

Let the pecans cool completely. Store in
Nutrition
Per serving:
Calories: 199kcalCarbohydrates: 21gProtein: 2gFat: 13gSaturated Fat: 1gSodium: 151mgFiber: 2gSugar: 19g