Roasted Tomato and Pepper Soup with Cheese Sticks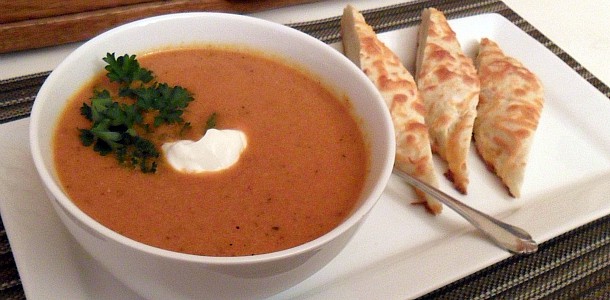 It is cold and wet here in Toronto. Last night, I couldn't sleep, so I re-watched Sunday's football game of Atlanta and Carolina. The rain came down so hard and the wind so strong that it was hitting the window in our family room with incredible force. The weather network called for a rain warning. I have heard of snowfall warnings, tornado warning, but I don't remember ever hearing of a rain warning up here.
Today my oldest son is in a cross country race. It is the city finals and will be filled with 8-12 year olds running through the rain, up and down hills, trying to keep from slipping on the wet grass. Ben loves to run and I am sure he will do great. His aunt (my wife's sister) is a marathon runner and the 2010 Canadian marathon champion. Her blog is here. Her success has inspired Ben and my wife is great to take him out to practice and stay in shape. As you may gather, I have not said anything about me running. Yeah, I am not a runner. I should be more active but alas I haven't motivated myself enough to get out and run…. or do anything else for that matter.
Anyway, with these cold wet days, soup is on often the menu in our house. This roasted tomato and pepper soup is great. Smooth, sweet and creamy, this soup is perfect with the homemade cheese sticks for dipping.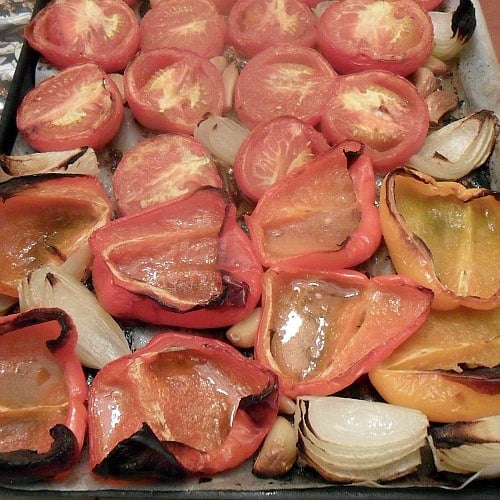 Lay the veggies on parchment paper so they they don't stick on the cookie sheet. Bake them at 450F for about an hour, or until they are cooked through and starting to brown around the edges.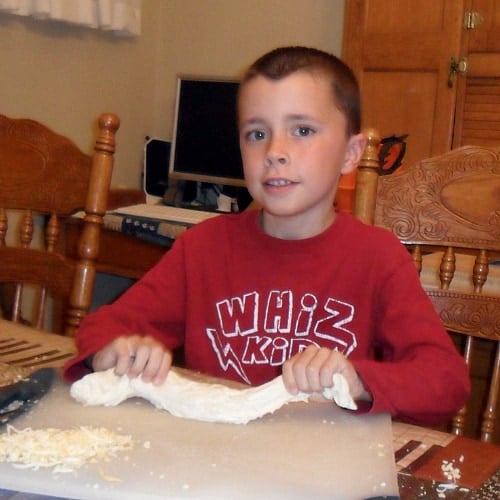 Here is Eli helping me roll out the cheese sticks. They are simple with just pizza dough and grated cheese.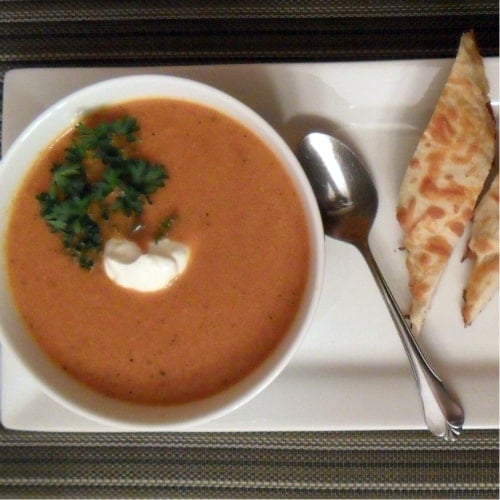 Garnish the soup with fresh parsley and sour cream. The cheese sticks are great for dipping.
Roasted Tomato and Pepper Soup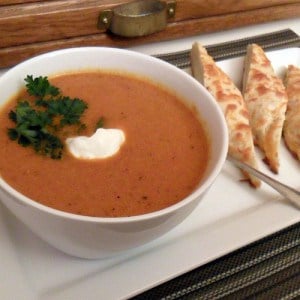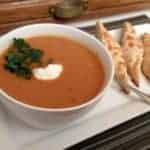 Print
Smooth and creamy soup made with homemade roasted tomatoes and red peppers.
Servings: 6
Ingredients
6 tomatoes , halved
4 sweet bell peppers , halves
2 onions , sliced
6 garlic cloves
2 tbsp oil
3 cups chicken broth
1 cup half and half
2 tsp smoked paprika
1 tsp black pepper
1 tsp salt
1/2 tsp cayenne
sour cream
parsley
Instructions
Lay the tomatoes, peppers, onion and garlic on a baking sheet, lined with parchment paper. Drizzle with oil and bake at 450F for 1 hour.

Using a food processor, blend the roasted vegetables until smooth. Pour the puree into a soup pot, add the chicken broth and spices and bring to a boil.

Lower heat to a simmer, add the half and half, and cook for 10 minutes.

Serve in soup bowls with a dollop of sour cream and chopped parsley.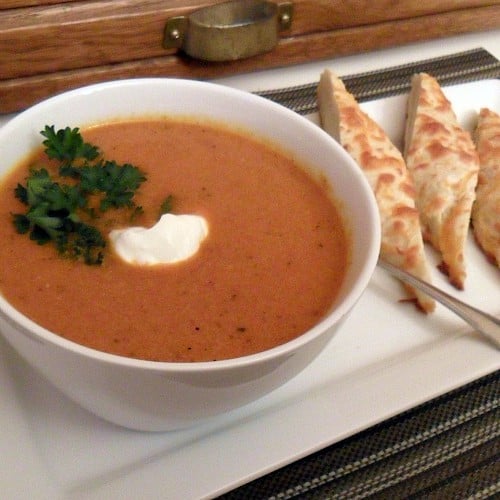 Cheese Breadsticks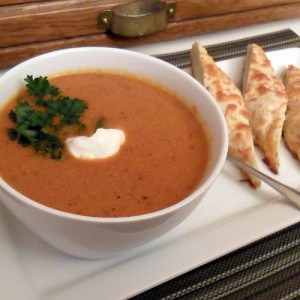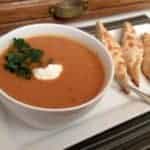 Print
These delicious and cheesy breadsticks are made with pizza dough. You can make the dough or use storebought pizza dough.
Servings: 4 breadsticks
Ingredients
1 frozen package pizza dough , thawed
1 1/2 cup grated cheddar cheese
Instructions
Divide the pizza dough into four equal pieces. Roll into a long stick, about 12 -18 inches.

Roll into the grated cheese, ensuring it is well coated and that the cheese sticks to the dough.

Bake at 375F for 15 minutes or until the cheese is browned and the cheese sticks are puffed up.