Cheesy Portobello Mushroom Dip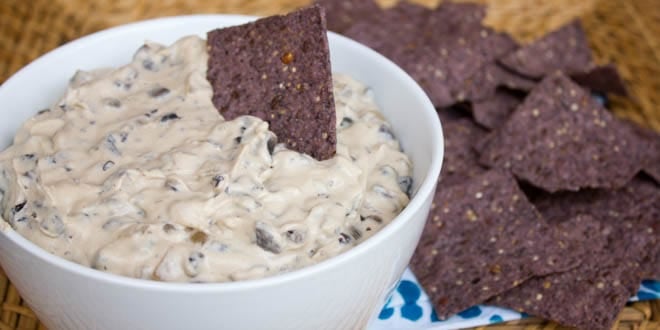 One of my favourite brand of chips are the Way Better Snacks Corn Tortilla Chips. I am not an uber health nut, but if something tastes good, and is healthy, then I am all for it. The taste of these tortilla chips are awesome and they disappear super fast in our household (the kids absolutely love them). They are made with sprouted grains which have a bunch of health benefits including increased nutrients, vitamins and antioxidants.
These chips are best with a nice dip and I love a bowl of warm dip on a cold fall/winter day. This dip recipe is a warm cheesy dip with caramelized onions and portobello mushrooms, which give the dip a sweet and earthly flavour. Ensure that the mushrooms are finely minced, which makes them easier for scooping. The combination of cream cheese and melted cheddar give the dip a creamy cheesy taste and goes perfectly with the onions and portobello mushrooms.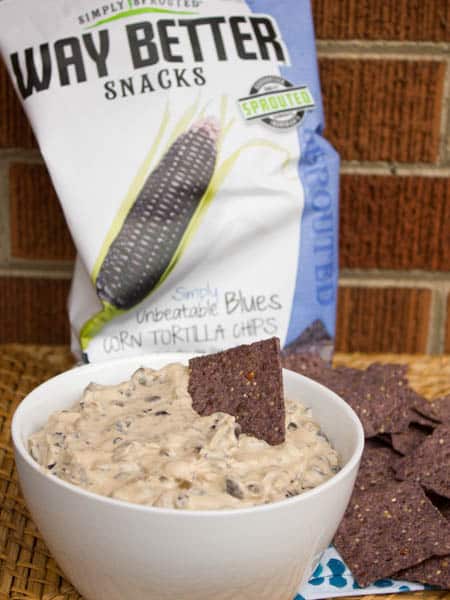 There are many different flavours of Way Better Snacks, including black bean, multigrain, sweet potato and more. Each are great and for this Cheesy Portobello Mushroom Dip, I served it alongside the Unbeatable Blues Corn Tortilla Chips.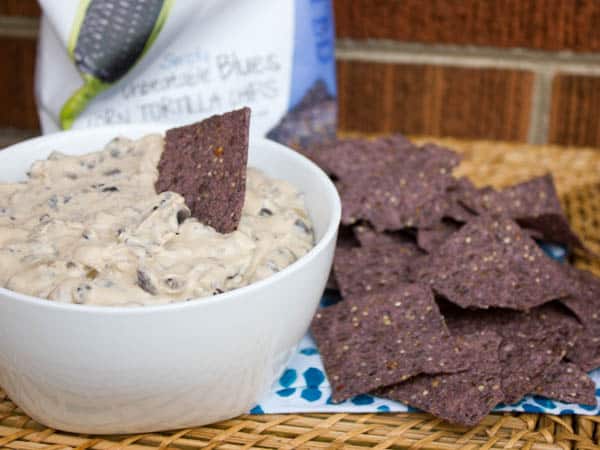 Cheesy Portobello Mushroom Dip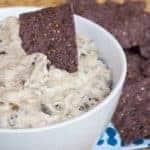 Print
Ingredients
3 tbsp butter
1 onion , minced
3 portobello mushrooms , diced very finely
2 tsp worcestershire sauce
1 tsp hot sauce
1 package (325g) cream cheese
3 tbsp heavy cream
salt , to taste
3/4 cup cheddar cheese
Instructions
Melt butter in a saucepan on medium heat. Add onions and portobello mushrooms. Saute until they are caramelized.

Reduce heat to low. Add the worcestershire, hot sauce, cream cheese, heavy cream and salt. Stir until cream cheese is smooth and creamy.

Stir in the cheddar cheese until melted and smooth.

Serve with tortilla chips or crackers.