Spicy Buffalo Chicken Dip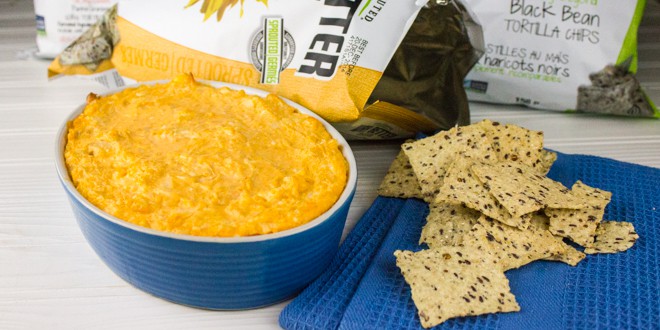 I am always looking for a new appetizer during the holiday season. This year I was not hosting Christmas dinner, but I still wanted to help out and make a nice mid-day snack for Christmas Day. I love almost any dip out there, but I am especially partial to warm cheesy dips. Being a fan of Buffalo chicken wings, I decided to mash together a warm cheese dip with some serious spicy buffalo chicken flavour. The result was amazing and it turned out even better than I thought.
To go with this dip, I used Way Better Snacks Corn Tortilla Chips. I am not an uber health nut, but if something tastes good, and is healthy, then I am all for it. Way Better Snacks are incredible and they have a regular place in our pantry. The taste of these tortilla chips are awesome and they disappear super fast in our household (the kids absolutely love them). They are made with sprouted grains which have a bunch of health benefits including increased nutrients, vitamins and antioxidants.
There are many different flavours of Way Better Snacks, including black bean, multigrain, sweet potato and more. Each are great and for this buffalo dip, I served it alongside the multigrain.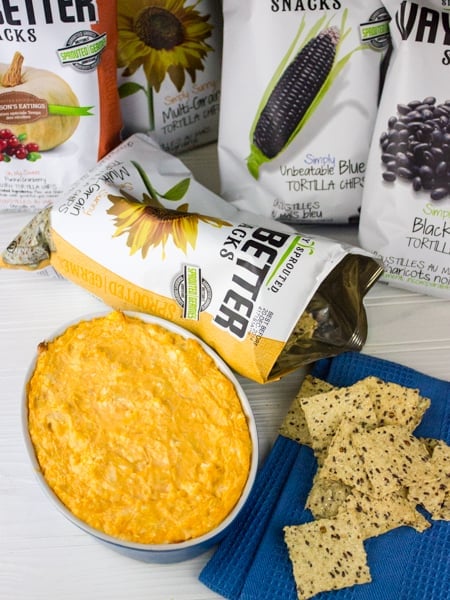 Spicy Buffalo Chicken Dip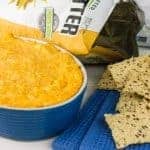 Print
Servings: 3 -4
Ingredients
1 (250g) brick cream cheese
1/3 cup heavy cream
1/3 cup mayonnaise
1/3 cup hot sauce
1 cup grated cheese (mozzarella, provolone, etc.)
1 1/2 cups cooked chicken , chopped
Instructions
Preheat oven to 350F.

In a large bowl, mix together the cream cheese, heavy cream, mayonnaise and hot sauce until smooth and without lumps.

Stir in the grated cheese and cooked chicken.

Spread the mixture into a small casserole dish.

Bake in the oven for 25-30 minutes.

Serve with tortilla chips or crackers