This beef stroganoff is a simple and easy weeknight recipe with ground beef in a creamy gravy and served on a bed of egg noodles.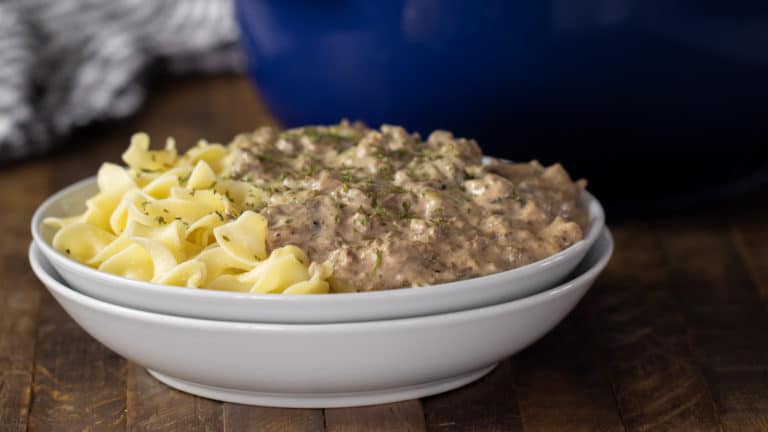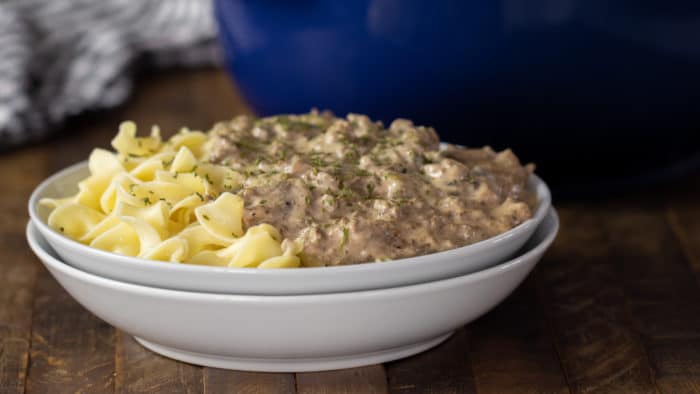 Ever since I was a kid, this ground beef stroganoff was a personal and family favourite. My mom used to make this dish a lot when I was young. It is so good and surprisingly simple and quick to make. Once I grew up and started to learn how to cook, this was one of the first recipes I got my mom to teach me.
Traditional Russian stroganoff is made with strips or small cubes of beef that is slow simmered in a rich beefy broth and mixed with sour cream. This recipe simplifies the cooking process by using ground beef and condensed cream of mushroom soup. Sure there are still mushrooms and sour cream, but the simmering time is reduced and this stroganoff can be made on a weeknight.
This dish is a complete meal, when served on a bed of noodles. The creamy gravy is a nice change from Italian tomato based meat sauces with spaghetti.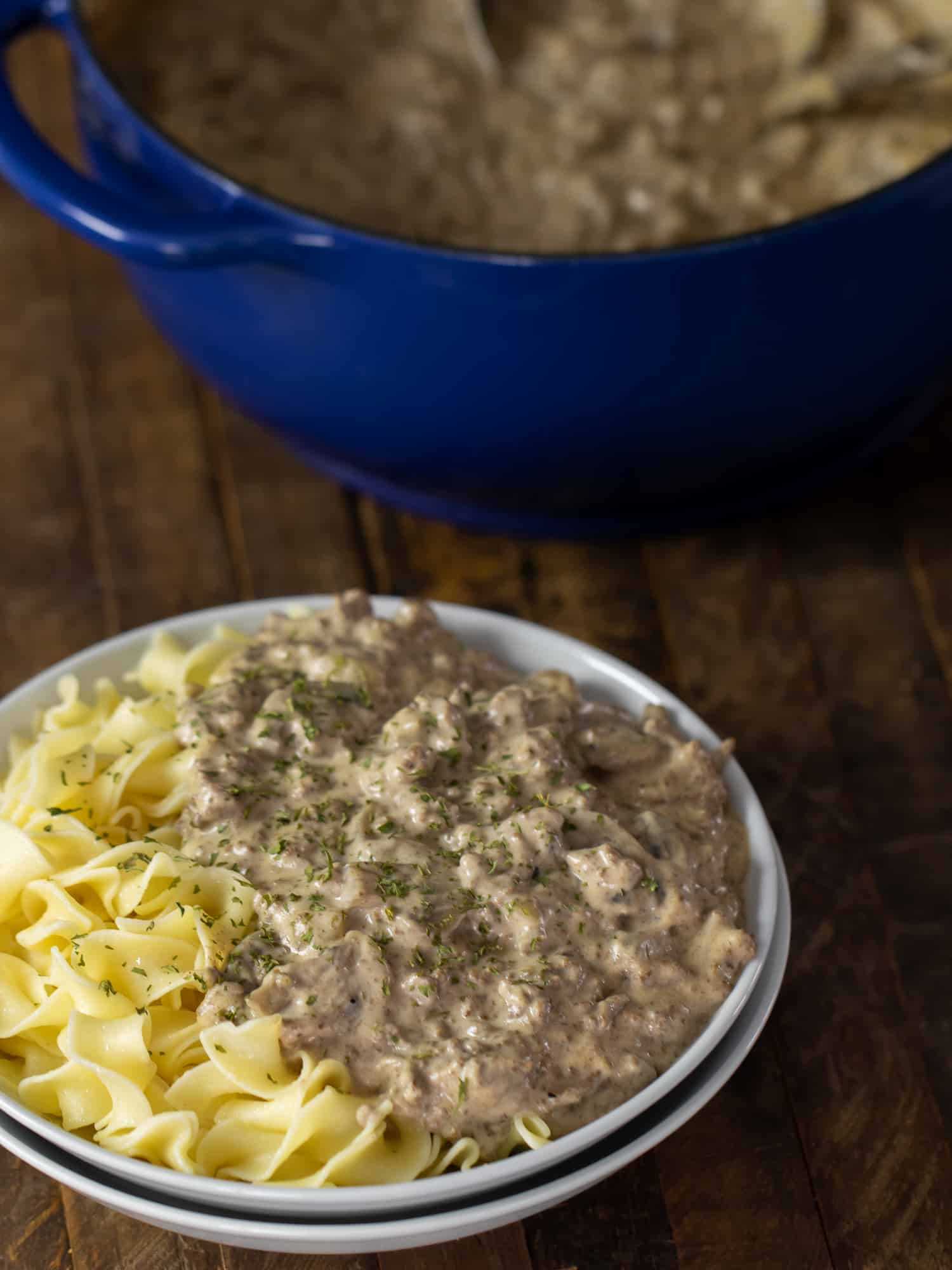 Over the years I have made ground beef stroganoff many times. It is easily one of my favourite dishes and definitely brings back memories when my mom used to make it. Normally, I make this dish according to this recipe. I love the ease of using cream of mushroom soup and ground beef. It is so easy to whip up and great for a weeknight meal! There are other times, that I make it the more traditional way with strips of beef. I have even made this into a cheesy pasta bake, and I even have the recipe here, Baked Beef and Zucchini Stroganoff.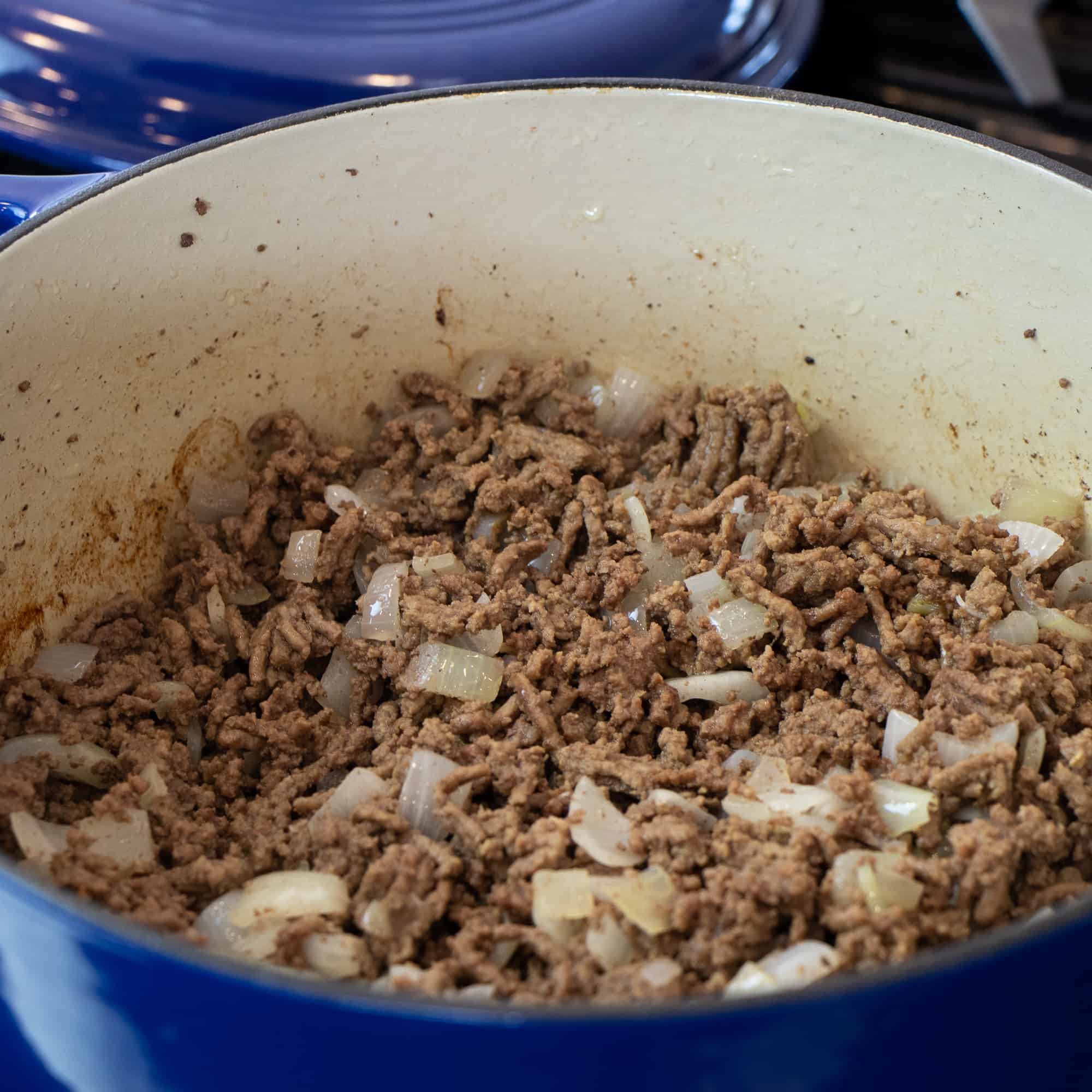 How to make beef stroganoff
The first step for this dish is to brown the beef. I use lean ground beef and cook it in a dutch oven, pot or large skillet, over medium high heat. Use a wooden spoon to break the beef into small pieces as it cooks. Once the beef is all browned and cooked, drain the grease and add the diced onion. Lower the heat to medium and cook for a few more minutes.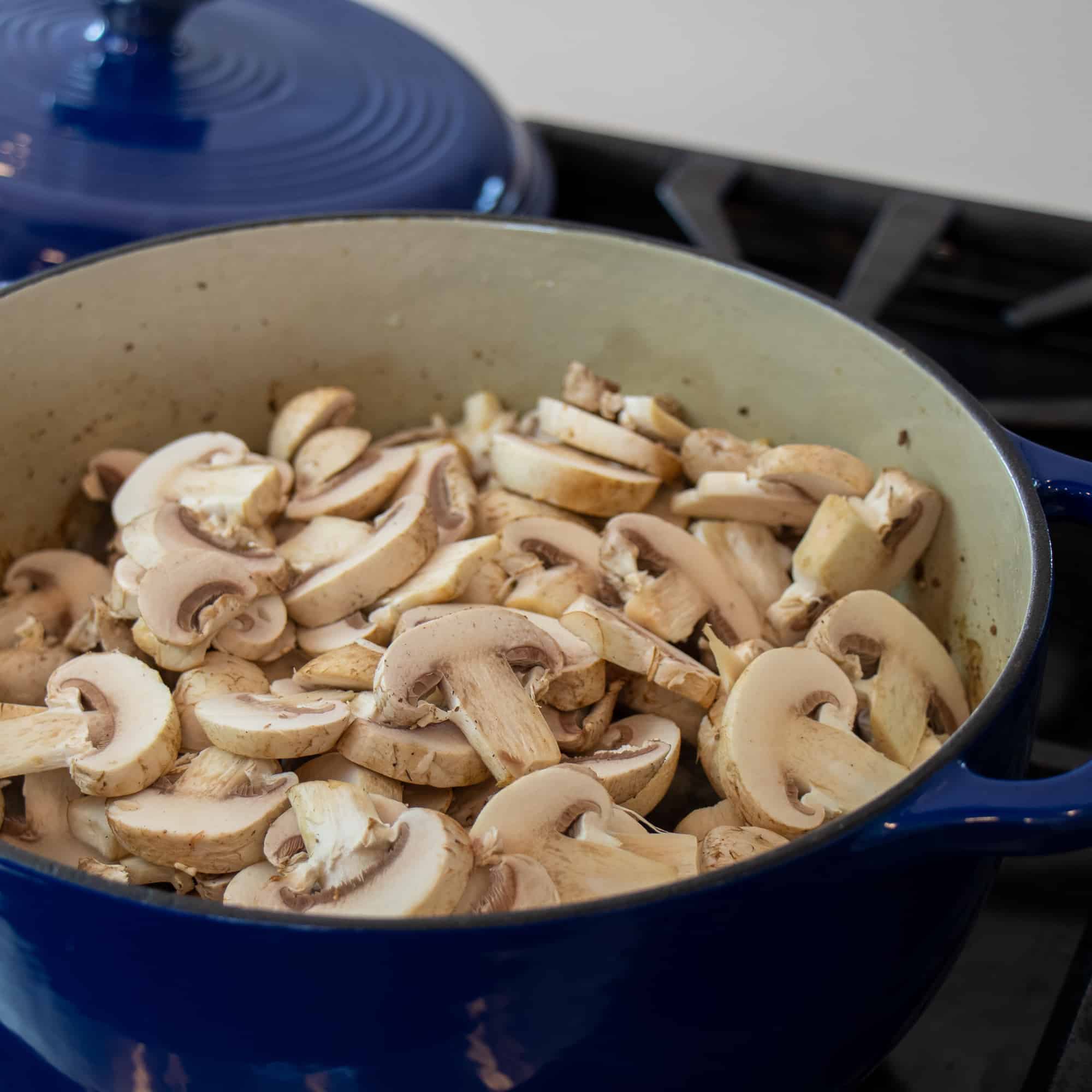 Dump in the sliced mushrooms and minced garlic, once the onions are soft. I use medium sized button mushrooms and love to have the slices fairly thick. Cutting the mushrooms into 1/2 inch slices is perfect and, as they cook, they will shrink down.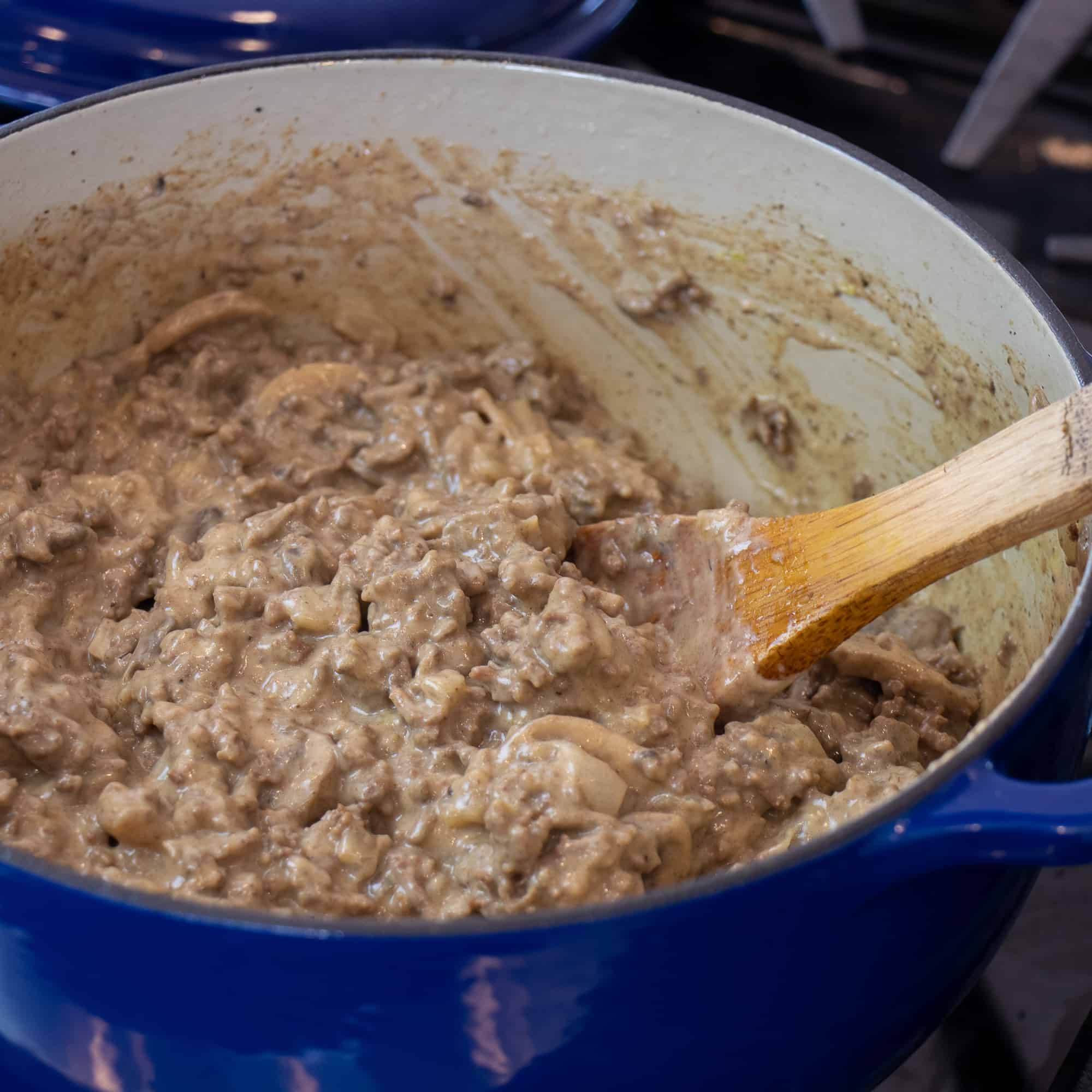 Once the mushrooms are cooked and tender, stir in the condensed cream of mushroom soup, Worcestershire sauce and seasonings. There are not a lot of seasonings that make up this creamy gravy, but a standard spice in stroganoff is paprika. Let this simmer for about 5 minutes. May sure to stir often and scrape the bottom of the dutch oven or skillet.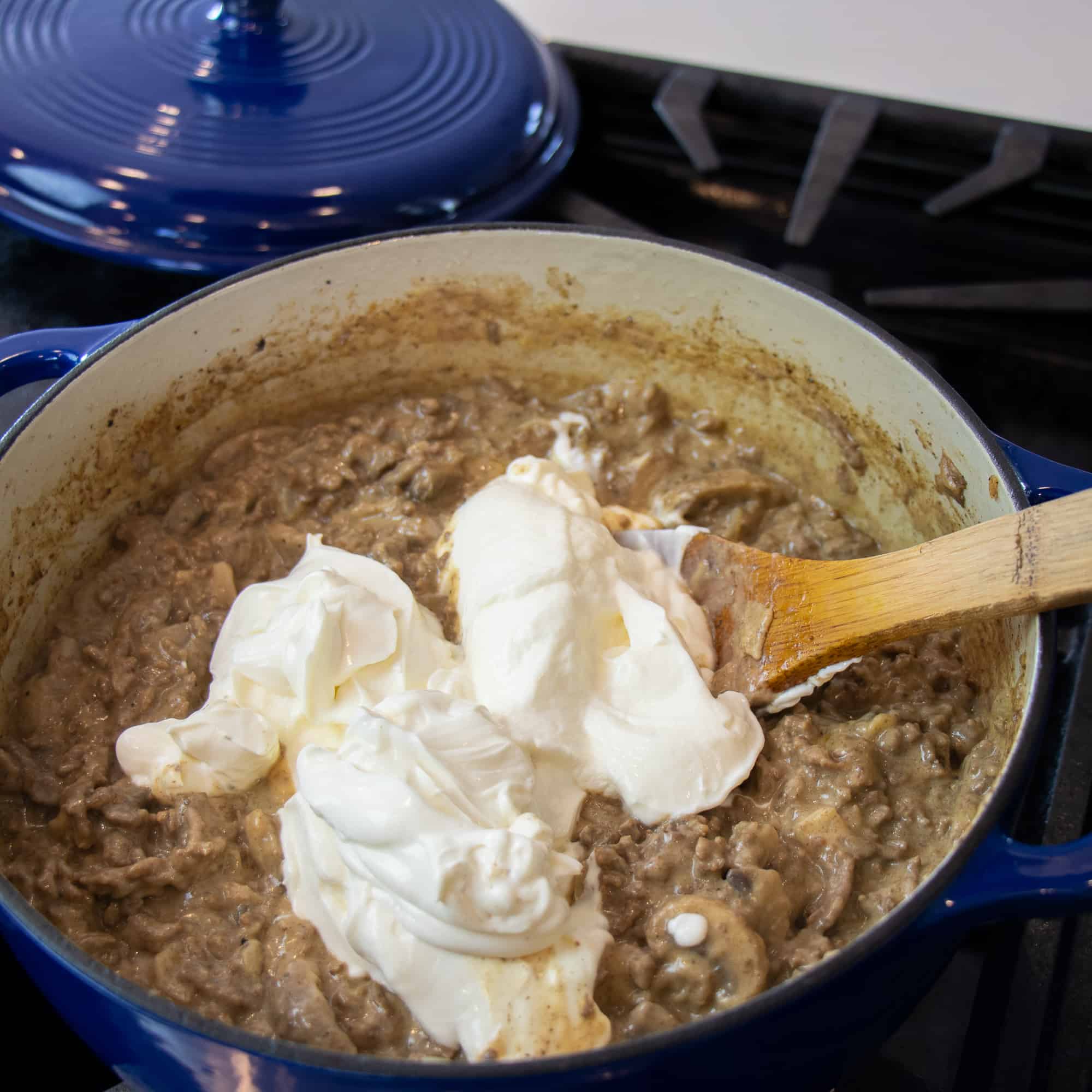 One of the most important aspects of beef stroganoff is the sour cream. The traditional Russian stroganoff mixes the sour cream in with the beef and rich broth. Even this recipe, which uses cans of condensed soup, still has lots of sour cream mixed in near the end of cooking.
Stir in the sour cream and lower the heat to medium low. It is okay if the sauce is bubbling a little bit, but be careful that it is not too hot and scorches on the bottom. Let the sauce simmer for 10-15 minutes. It will thicken and the sauce/gravy will develop a deep flavour.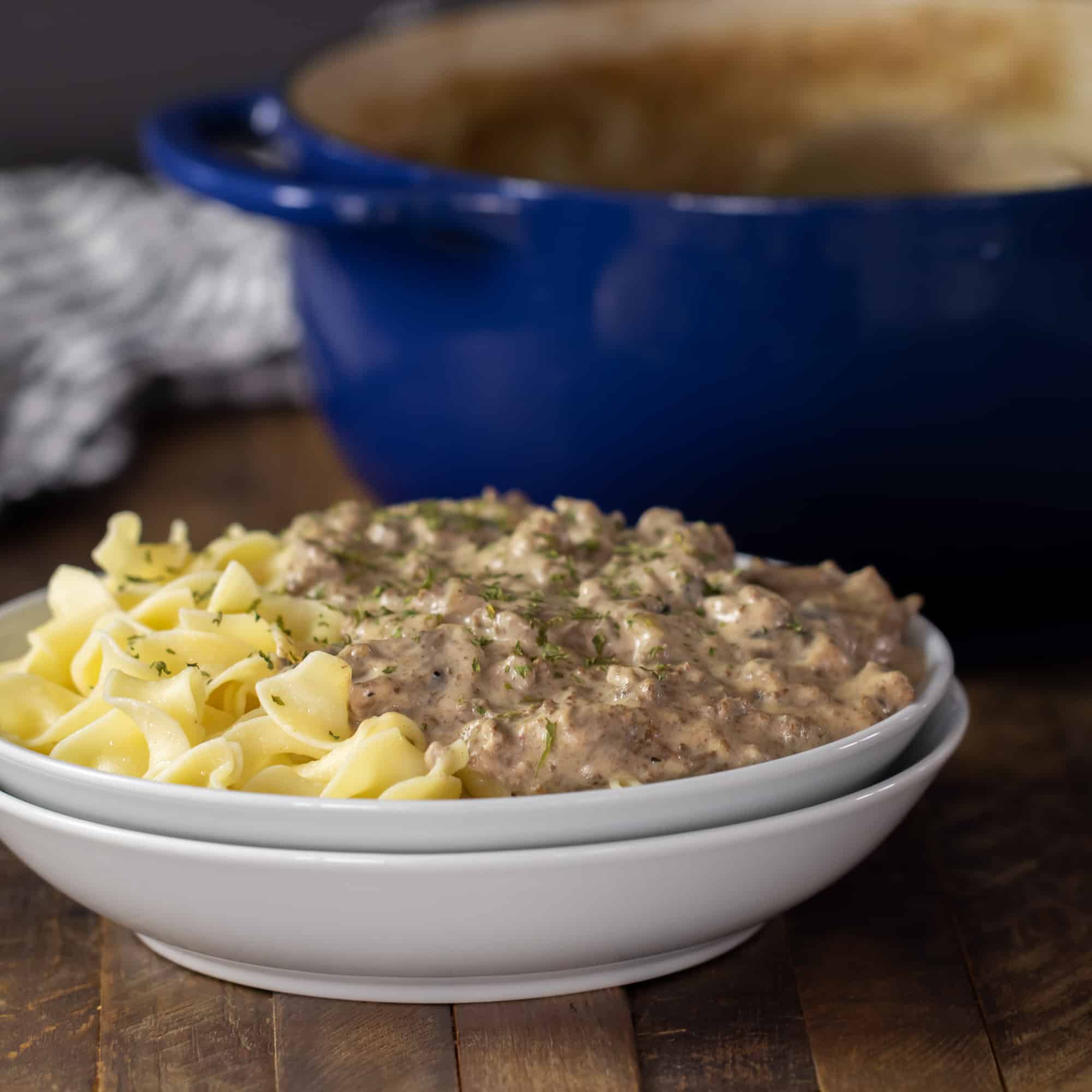 We typically pour a large ladle of meat and gravy on top of a bed of cooked broad egg noodles. This type of pasta is very common in soups like Homemade Chicken Noodle Soup, but it is also excellent with a creamy meat sauce, like this stroganoff.
Ground Beef Stroganoff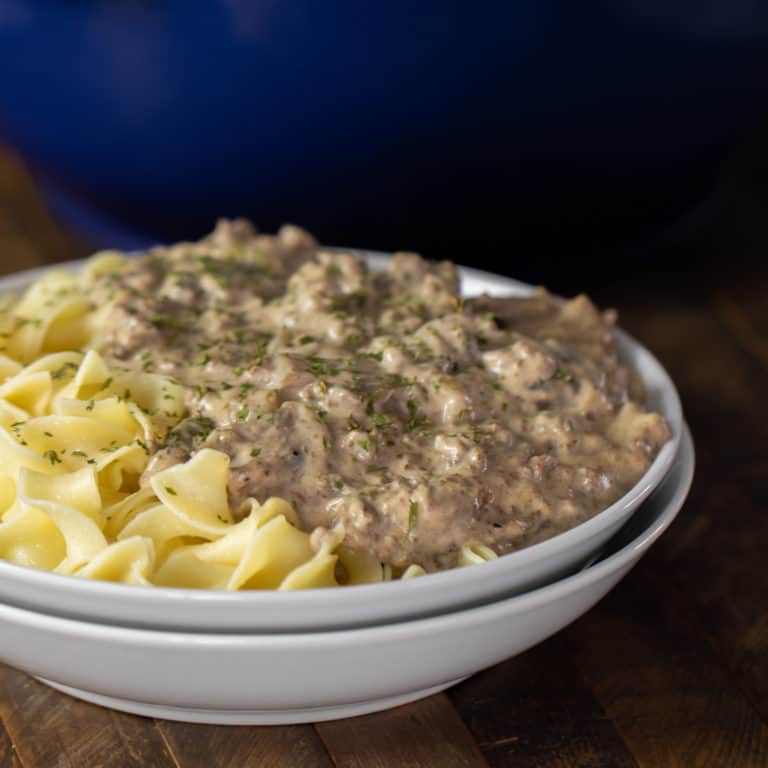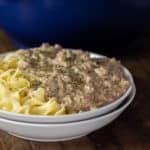 Print
How to make beef stroganoff with cream of mushroom soup, sour cream, ground beef and mushrooms. Serve this easy and classic Russian dish on egg noodles.
Servings: 6
Ingredients
2 pounds ground beef
2 onion , diced
4 cups sliced mushrooms
2 cloves garlic , minced
2 cans condensed cream of mushroom soup
1 tbsp worcestershire sauce
1 tsp paprika
1 tsp salt
1/2 tsp pepper
2 cups sour cream
500 g broad egg noodles , cooked acording to instructions on the package
Instructions
Brown the beef in a large saucepan. Drain the grease and then add the onion and saute for 3-5 minutes. Add the mushrooms and minced garlic. Saute until the vegetables are tender, approximately 5-7 minutes.

Stir in the cream of mushroom soup, worcestershire soup and seasonings. Cook for 5 more minutes.

Mix in the sour cream, lower to medium low, and simmer for another 10-15 minutes.

Serve on egg noodles or other cooked pasta.
Nutrition
Per serving:
Calories: 771kcalCarbohydrates: 74gProtein: 53gFat: 29gSaturated Fat: 14gCholesterol: 209mgSodium: 1320mgFiber: 4gSugar: 7g