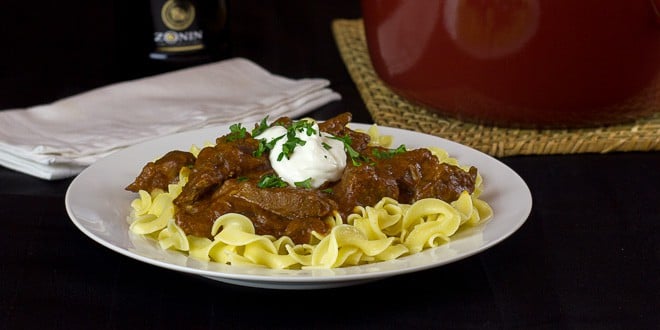 During these cold days, it is great to have dinner braising away in the oven. The heat from the oven warms the kitchen and you just know that there is a big ol' pot of comfort food in there. It seems that I use my Emile Henry Dutch Oven
multiple times a week as it is perfect for browning the meat on the stovetop and then throwing it in the oven for a few hours. The meat breaks down and tenderizes during that long cook in the oven, and the sauce develops a deep rich flavor.
Goulash is essentially a beef stew and there are many different variations that have developed from region to region. Paprika is the common seasoning in this stew regardless of the recipe source. The use of tomatoes, flour, potatoes, rice, noodles and more are some of the various ingredients in goulash. Cooks are quite passionate regarding what should and should not be included in goulash. It reminds me of the passion that people have for what makes a good bowl of gumbo, chili, bbq sauce or how ribs should be cooked.
This goulash recipe is a mix of many different regions and is likely just more Americanized. The sauce is made from red wine, beef broth and crushed tomatoes. It is packed with flavor and the beef is so tender that it is basically falling apart. I serve it on a bed of egg noodles with a dollop of sour cream.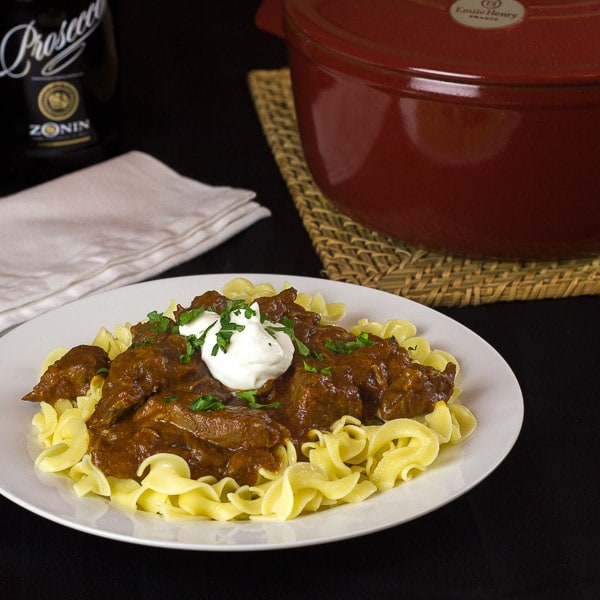 Beef Goulash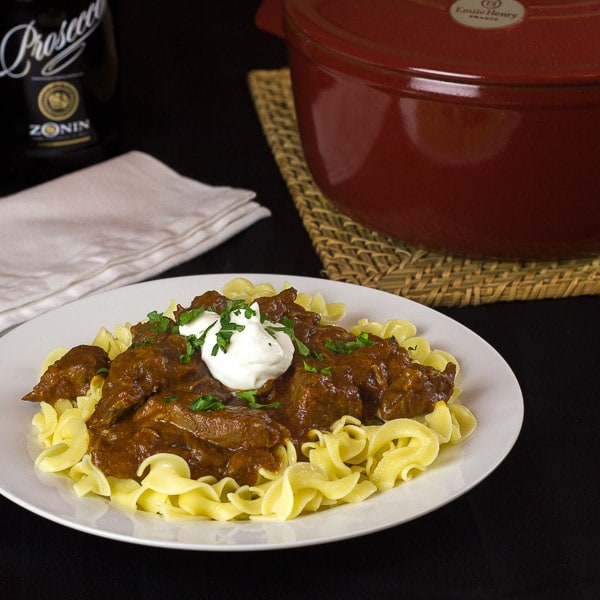 Print
Servings: 4 -6
Ingredients
2 tbsp oil
1/4 cup flour
1 tbsp paprika
1 tsp salt
1/2 tsp black pepper
2-3 pounds cubed stewing beef
1 onion , thinly sliced
2 garlic cloves , minced
1 1/2 cups red wine
3 cups beef broth
2 cups crushed tomatoes
1 tsp caraway seeds
3 tbsp paprika
salt and pepper to taste
1/4 cup sour cream
fresh parsley , minced
egg noodles , cooked and strained
Instructions
Preheat oven to 325F.

Whisk together the flour, salt, black pepper, and paprika. Toss cubed beef in the flour and spices until coated. Dust off any excess flour.

Heat oil in a skillet or dutch oven on medium heat. Add beef and brown the meat flipping every minute or two.

Add the onions and garlic and saute them for a couple minutes.

Pour in the red wine to deglaze the bottom of the pan. Let it simmer for a couple minutes.

If the meat and onions are in a skillet, transfer to a roasting pot. Stir in the beef broth, crushed tomatoes, caraway seeds, paprika salt and pepper.

Cook in the oven for 3-4 hours.

Serve on egg noodles with a dollop of sour cream. Garnish with fresh parsley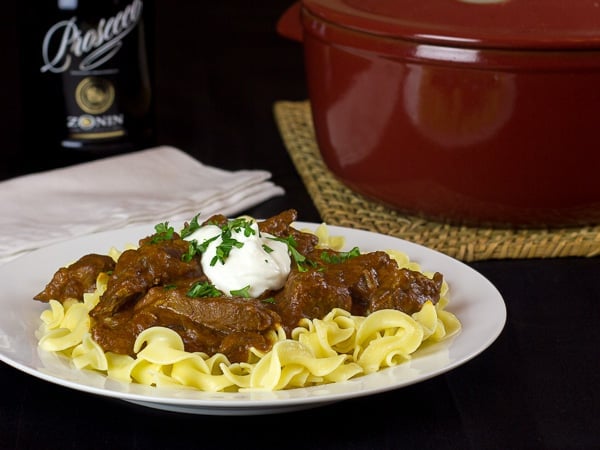 Disclaimer: There are affiliate links in this post.