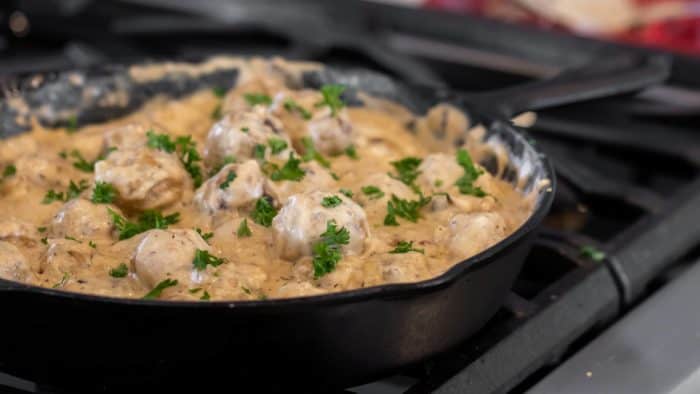 Swedish meatballs is a dish that I remember my mom making when I was a kid. I have always been a fan of anything with meatballs but it is the rich brown creamy gravy that I absolutely love. My mom used to served the meatballs on egg noodle pasta which is just like you get if you go to the Ikea restaurant.
Once I grew up and moved out, there were a number of recipes I asked my mom to write down for me. These Swedish meatballs were one of them. They are simple to make, using condensed cream of mushroom soup, milk and sour cream as the base ingredients for the creamy sauce that the meatballs are simmered in.
Once the sauce is made, the meatballs are simmered in the gravy. While this recipe has them simmering on the stovetop, it can also be done in the slow cooker.
For Swedish meatballs, you can use beef, pork, chicken or turkey. I have used all these kind of meatballs with the Swedish meatball gravy and they all turn out great. It is truly a matter of preference.
Here are a few different recipes for meatballs.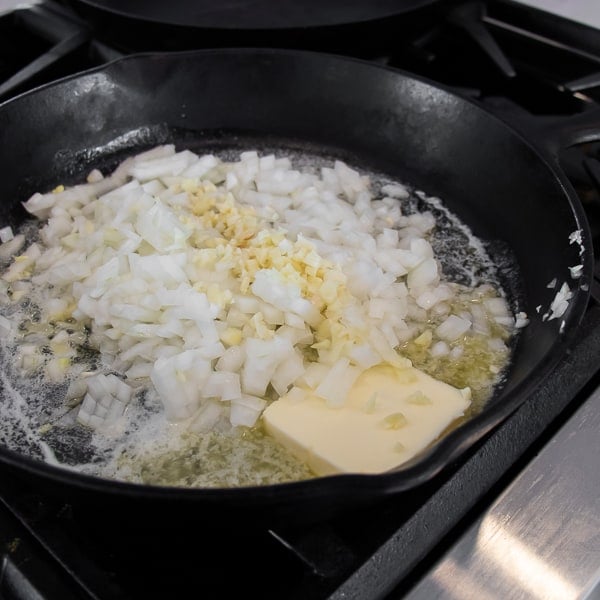 The first step to making the delicious Swedish meatball gravy is to sauté the onion and garlic. I use a large cast iron skillet, but a saucepan will work fine as well. Whatever you use, make sure it is large enough to hold all the sauce and meatballs.
Over medium heat, melt the butter and then add the dice onion and minced garlic. Sauté for a good 5-8 minutes.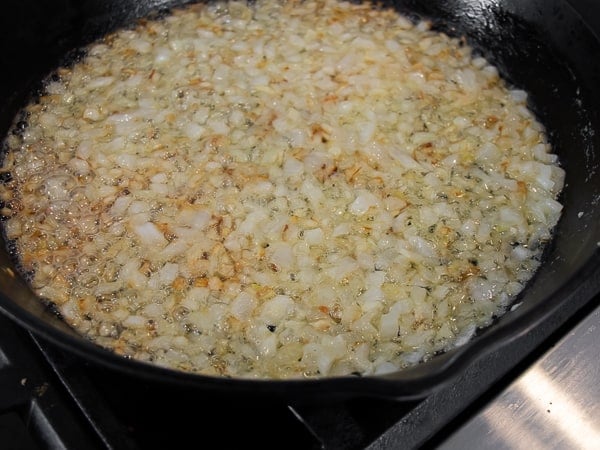 You are looking for the onions to start to brown up and begin to caramelize on the outside, as seen in the picture above. This browning really enhances the flavour of the gravy.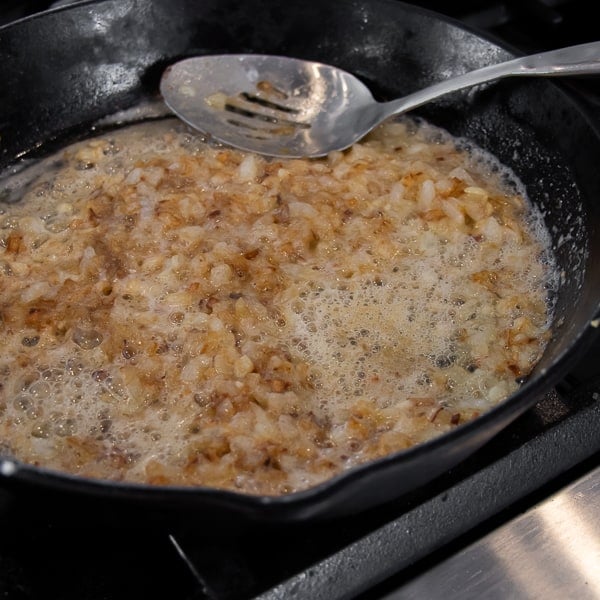 Next, mix in the Worcestershire sauce, hot sauce and flour. I use a whisk to blend the flour in with the butter to create a roux. This will both thicken and add flavour to the gravy. Continue to cook for a few minutes more minutes, stirring most of the time so the flour does not burn on the bottom of the skillet.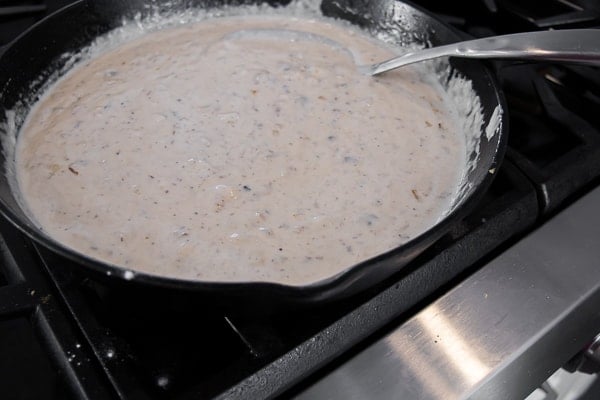 Mix in the cream of mushroom soup, milk, sour cream, salt and pepper. Let the sauce simmer for a few more minutes.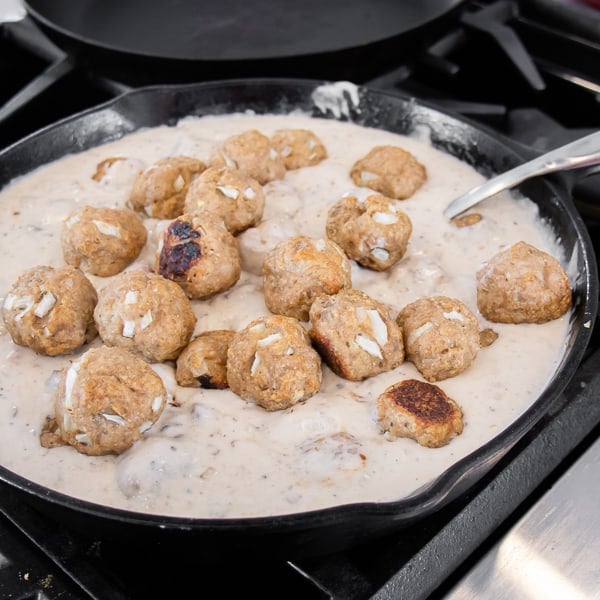 The gravy is now ready for the meatballs. You need to make sure that the meatballs are already fully cooked. It doesn't matter if they have been baked or fried in a skillet, but they do need to be cooked since they are just being reheated in the sauce.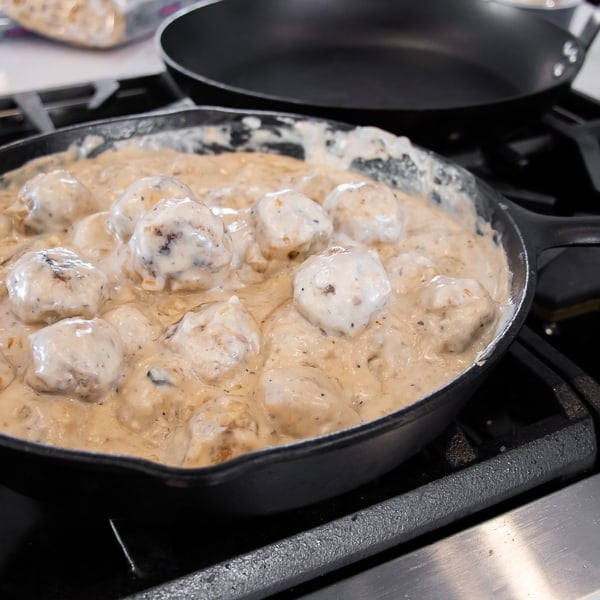 I love Swedish meatballs as a simple appetizer. These will go over so well alongside other canapes or bite sized snacks at your next event, tailgate party or gathering.
I also love serving them on a bed of cooked egg noodles. Just scoop some of the meatballs and an extra spoonful of the gravy and you have a delicious creamy pasta dinner! They are also great served alongside mashed potatoes.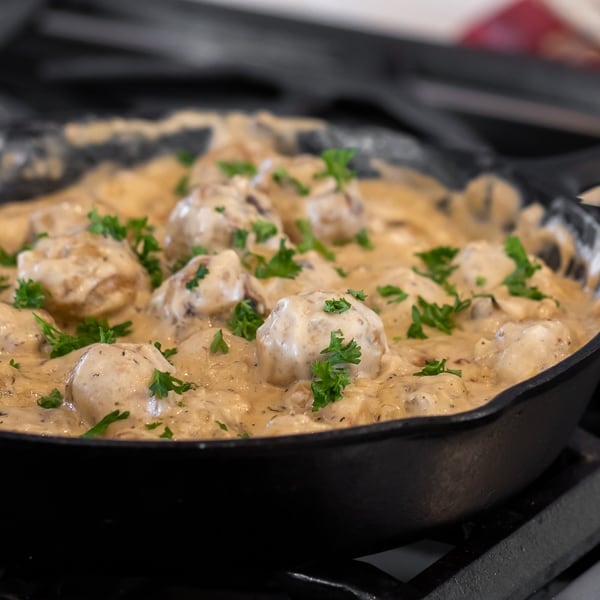 Swedish Meatballs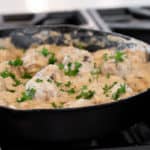 Print
Make classic Swedish meatballs with cream of mushroom soup, milk and sour cream. Great with beef, chicken, turkey or pork meatballs in this creamy sauce gravy.
Servings: 8 people
Ingredients
1/2 cup butter
1 medium onion diced
4 cloves garlic minced
3 tbsp Worcestershire sauce
1 tsp hot sauce
3 tbsp flour
2 cans condensed cream of mushroom soup
2 1/2 cups milk
1/2 cup sour cream
1/2 tsp salt
1/2 tsp pepper
3 tbsp fresh parsley minced
24-36 cooked meatballs
Instructions
Melt butter in a skillet or saucepan over medium heat.

Add the onions and garlic and sauté for 5-8 minutes, or until transparent and the onions start to brown and caramelize.

Whisk in the Worcestershire sauce, hot sauce and flour. Cook, stirring constantly for about 2-3 minutes.

Whisk in the cream of mushroom soup, milk, sour cream, salt and pepper.

Lower the heat to a simmer and cook for a few minutes, stirring often.

Mix in the meatballs and continue to cook for 30 minutes.

Sprinkle with fresh minced parsley
Notes
Slow Cooker Option If, desired, you can heat the meatballs in the sauce in a slow cooker. Follow the instructions up to and including step 5. Transfer the sauce to a slow cooker and mix in the cooked meatballs. Set the slow cooker to low and cook for 4 hours.