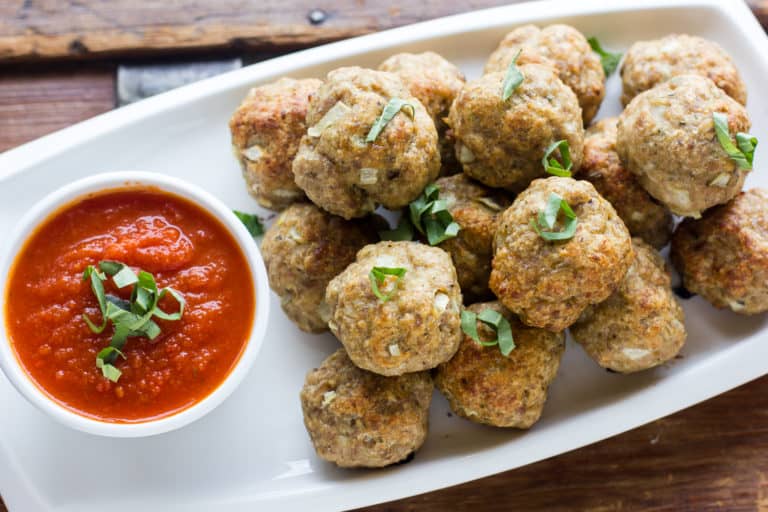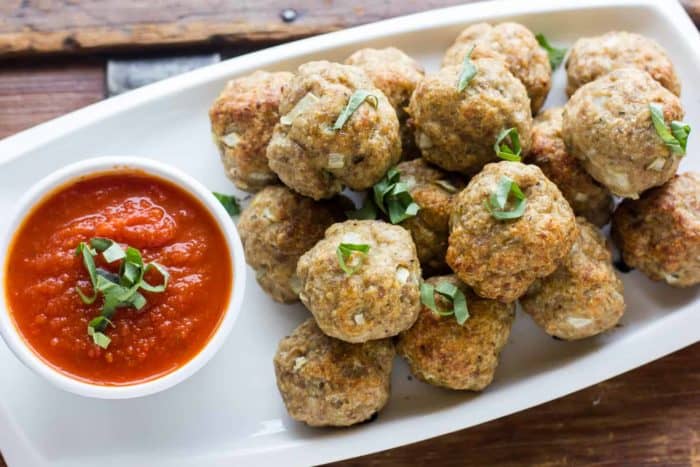 Every time I make turkey meatballs I wonder why I don't make them more often. Delicious, lean and a milder flavour, these turkey meatballs are a great alternative from their beef counterpart.
In the same way that I prefer to cook my beef meatballs in the oven compared to frying them in a skillet, I do the same thing with these turkey meatballs. Baking meatballs in the oven allows you to cook more of them at one time and you do not need to worry about flipping them or having them burn or stick to the skillet. Baking them in the oven is so much simpler.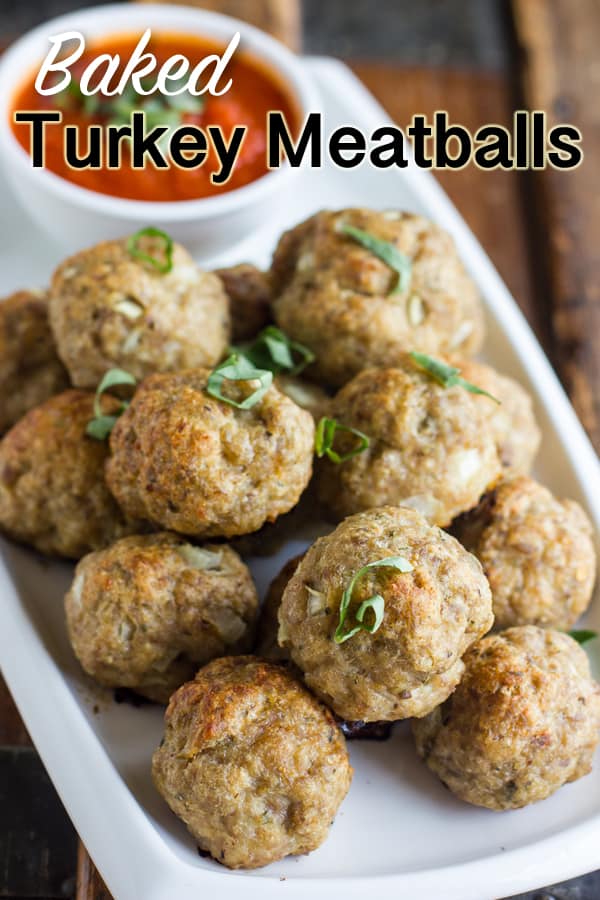 These turkey meatballs have similar ingredients to beef meatballs. The bread crumbs, milk and eggs are great for binding the meatball together and also give it a more tender texture. Oregano and garlic provide an Italian flavour that works great with pasta. You can vary the spice mixture depending on what flavour profile you want and what the meatballs will be used in.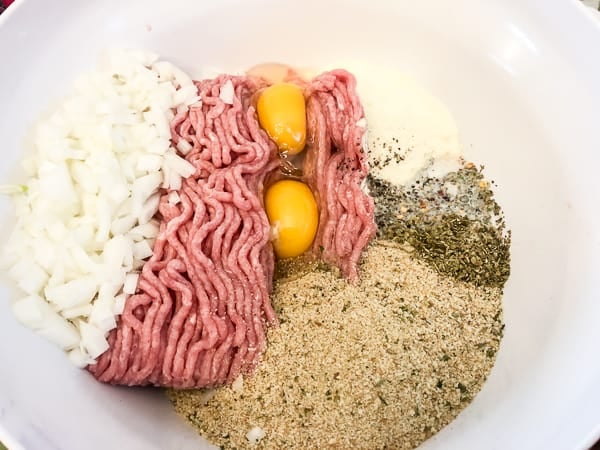 Making meatballs is simple but it does require you to get your hands in there! Put all the ingredients in a bowl and knead with your hands until the mixture is well combined. I keep kneading until I don't see any dry pockets of bread crumbs. Once it is well mixed, it is ready to form into meatballs.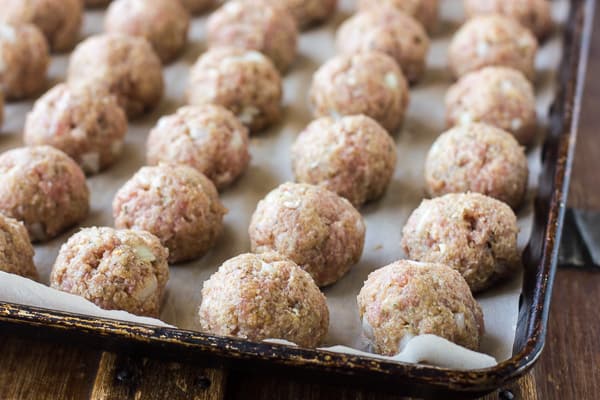 Take a small handful of the meat mixture in your hands and roll it into a ball. I try to aim for the meatballs to be 1 1/2 inch in size. But, depending on what you are making or using the meatballs for, you could make them smaller or larger. Obviously, the baking time would be different depending on the size of the meatballs.
Anytime I make these meatballs, I double the recipe. I have a big baking baking sheet, as seen in these pictures, and I can bake a double batch all at once!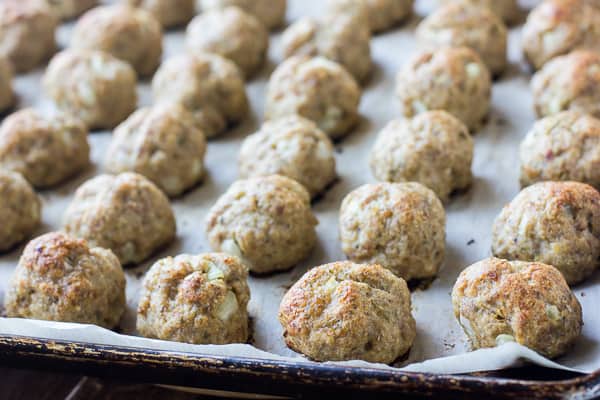 Place the meatballs on a baking sheet. I like to line the baking sheet with parchment paper, as it prevents the meatballs from sticking and it also makes for super easy cleanup.
Bake the meatballs in a 400F oven until cooked through, about 24 minutes.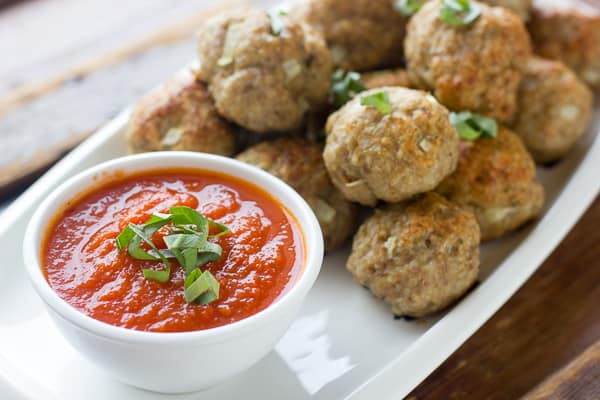 These meatballs are perfect to go alongside a pasta dish. I find turkey meatballs go very well with a marinara type sauce, but they also go great with cream based sauces like blush/rose or Alfredo.
If you make the meatballs a little smaller, they are great served as bite sized appetizers. Serve them on a platter with toothpicks and your choice of dipping sauce. Depending on your flavour preference, you could use any of these types of sauces for dipping: honey garlic, buffalo, marinara, blue cheese, or BBQ. Trust me, these turkey meatballs are awesome as an appetizer.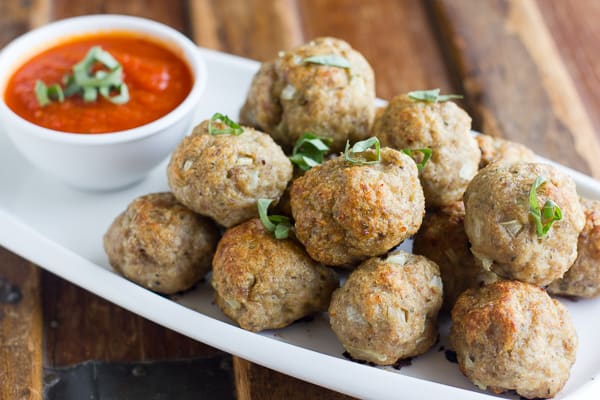 Baked Turkey Meatballs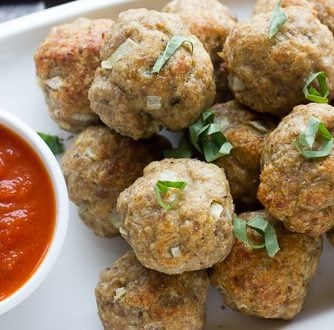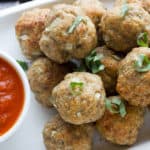 Print
Easy recipe for baking turkey meatballs in the oven. Lean and delicious! How to bake turkey meatballs in the oven with this simple recipe. Ingredients include ground turkey, bread crumbs, milk, eggs, parmesan cheese, onions, herbs and garlic.
Servings: 26 meatballs
Ingredients
2 pounds ground turkey
2 eggs
1/2 cup milk
1 1/2 cups bread crumbs
1 medium onion finely minced
4 garlic cloves finely minced
2/3 cup grated Romano or parmesan cheese
1 tbsp dried oregano
1 tsp salt
1 tsp black pepper
1/2 tsp dried chili flakes
Instructions
Preheat oven to 400F.

In a large bowl, mix all the ingredients together. Knead the mixture with your hands until thoroughly combined.


Roll into 1 1/2 inch meatballs and place on a baking sheet lined with parchment paper.

Bake in the oven at 400F until cooked through, about 24 minutes.
Nutrition
Per serving:
Calories: 85kcalCarbohydrates: 5gProtein: 10gFat: 2gCholesterol: 34mgSodium: 199mg