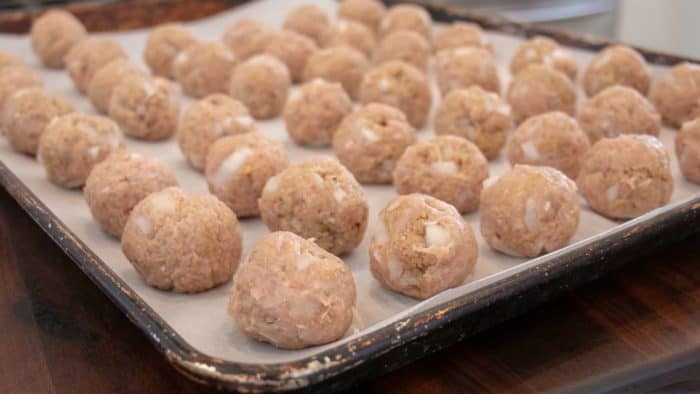 Baked meatballs are a regular menu item in our home. They are great as an appetizer for a party, or as part of a meal for the family. We always love them!
Normally, I make meatballs with half ground beef and half ground pork, but our local supermarket had ground chicken on sale, so I decided to pick some up for some Swedish Meatballs.
I am so glad that I did. I just loved the flavour of the ground chicken in these meatballs. It was a much lighter taste and I figured it would really work great for many different dishes.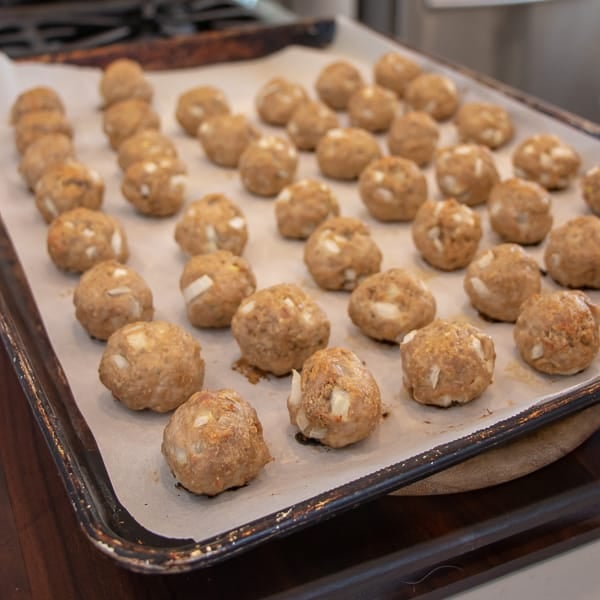 Over the years I have made meatballs many different ways. There has been all sorts of different types of meat used, including beef, pork, chicken, turkey and even shrimp. I have also served them with different sauces or as part of different dishes.
Here are a handful of different meatball recipes: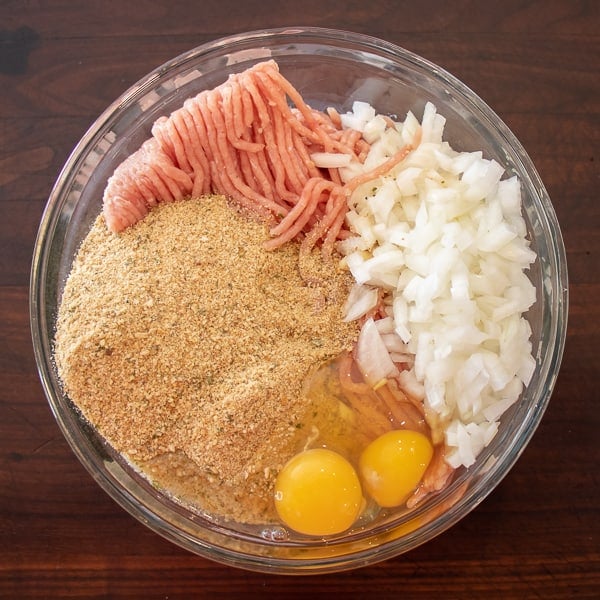 Making meatballs is simple but it does require you to get your hands in there! Put all the ingredients in a bowl and knead with your hands until the mixture is well combined.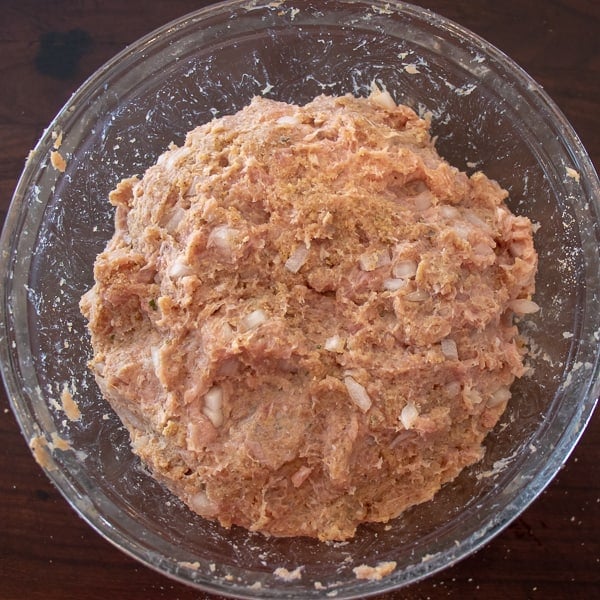 I keep kneading until I don't see any dry pockets of bread crumbs. Once it is well mixed, it is ready to form into meatballs.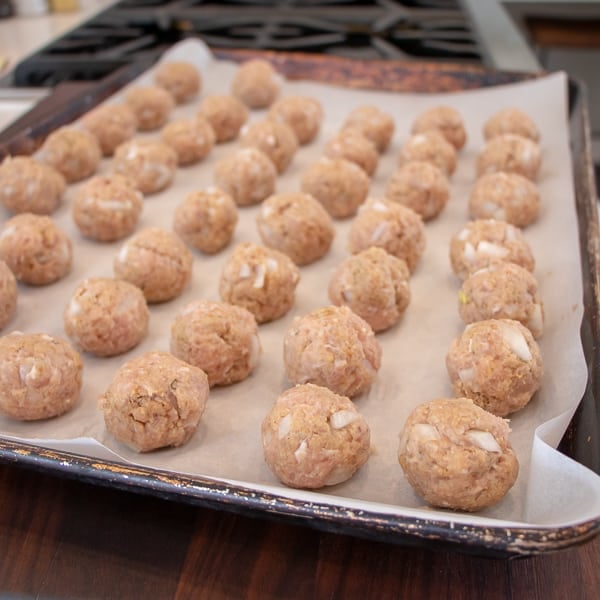 Take a small handful of the meat mixture in your hands and roll it into a ball. For these meatballs, I aimed for them to be about 1 inch in size. But, depending on what you are making or using the meatballs for, you could make them smaller or larger. Obviously, the baking time would be different depending on the size of the meatballs.
You can either fry or bake meatballs, but I usually bake them since it is just so much simpler. You can bake them all at once, where in a skillet, you have to do them in batches. On top of that, when you are frying them, you need to be right there, watching them and turning them. Baking meatballs, allows them all to cook at the same time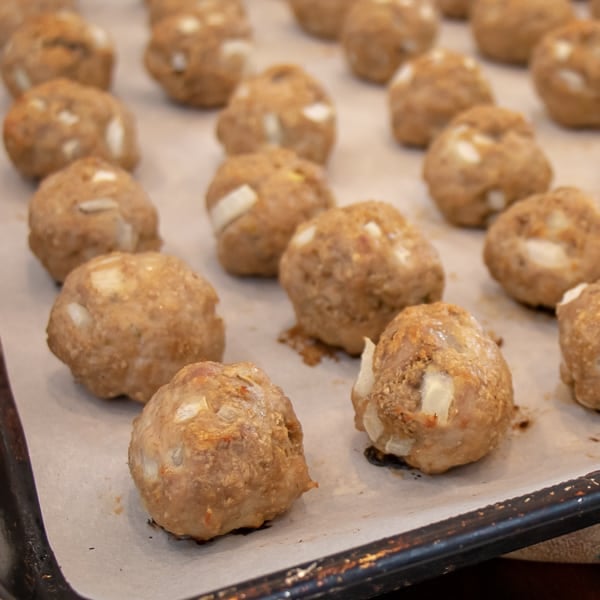 Place the meatballs on a baking sheet. I like to line the baking sheet with parchment paper, as it prevents the meatballs from sticking and it also makes for super easy cleanup.
Bake the meatballs in a 400F oven until cooked through, which for these 1 inch meatballs took about 22 minutes.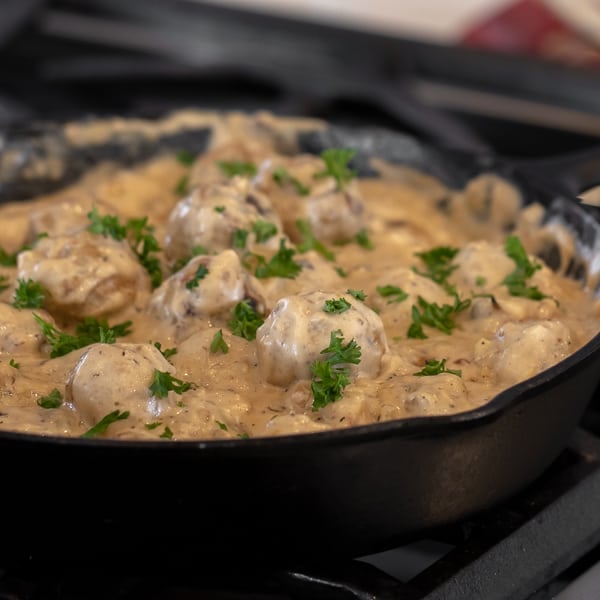 Chicken meatballs have such a nice lean and light flavour. These work very well with so many different dishes and sauces. In the picture above, I used them with some Swedish Meatball Sauce and served them over egg noodles. So good!!
Baked Chicken Meatballs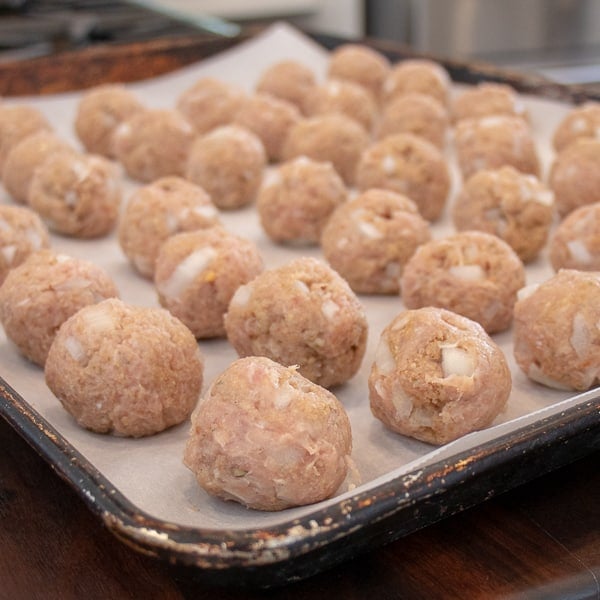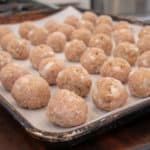 Print
How to bake chicken meatballs in the oven with this simple recipe. Ingredients include ground chicken, bread crumbs, milk, eggs, onions, herbs and garlic.
Servings: 36 meatballs
Ingredients
2 pounds ground chicken
2 eggs
1/2 cup milk
2 cups bread crumbs
1 medium onion , diced finely
4 cloves garlic , minced
1 tsp dry parsley
1 tsp salt
1/2 tsp black pepper
Instructions
Preheat oven to 400F.

In a large bowl, mix all the ingredients together. Knead the mixture with your hands until thoroughly combined.

Roll into 1 inch meatballs and place on a baking sheet lined with parchment paper.

Bake in the oven at 400F until cooked through, about 22 minutes.
Nutrition
Per serving:
Calories: 67.09kcalCarbohydrates: 4.92gProtein: 5.67gFat: 2.71gSaturated Fat: 0.79gCholesterol: 31.1mgSodium: 128.76mgFiber: 0.34gSugar: 0.69g