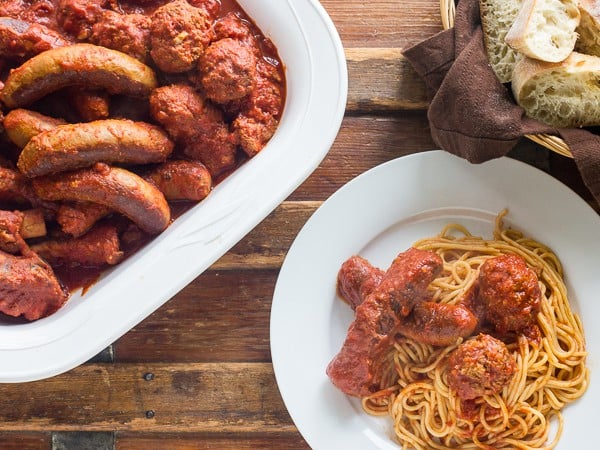 Sunday gravy! I first learned about Sunday gravy from the Godfather. One of my favourite movies of all time is The Godfather. The acting is phenomenal, the script is well crafted and the story is compelling. I have seen it many times there are countless memorable scenes for me that I look forward to watching again and again. Just as an aside, there are some people that do not like to watch movies a second or third, instead they would rather watch a new movie. I am the type of person that would often prefer to watch a movie again; one I know I loved instead of seeing a new one that I may or may not like. It is just the way I am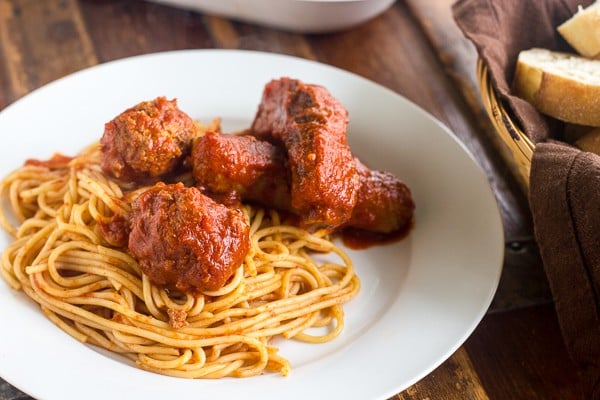 Ok back to The Godfather. One of my favourite scenes is when they are in the kitchen and Clemenza is teaching Michael how to make Sunday Gravy, aka Mob War Sauce. Great tiny scene! Love it!
Here is Clemenza's recipe! Quote right from The Godfather.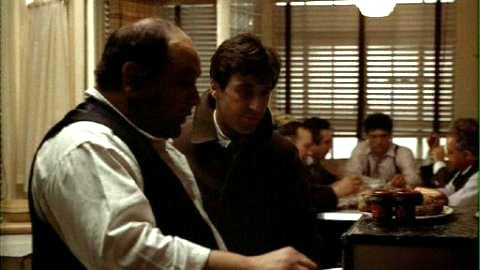 Heh, come over here, kid, learn something. You never know, you might have to cook for twenty guys someday. You see, you start out with a little bit of oil. Then you fry some garlic. Then you throw in some tomatoes, tomato paste, you fry it; ya make sure it doesn't stick. You get it to a boil; you shove in all your sausage and your meatballs; heh?… And a little bit o' wine. An' a little bit o' sugar, and that's my trick.
Sunday gravy is a classic dish among Italian Americans. It is a meat infused gravy that was often made on Sundays. The family would all gather around the table and there would be plenty for everyone. The first time I made Sunday gravy, I loved it. The richness in the gravy is fabulous and the variety of meat makes each bite unique!
There are a LOT of ingredients for Sunday gravy. I love the ribs in this dish and the slow cooking causes the meat to just fall off the bone and provides such a rich flavour.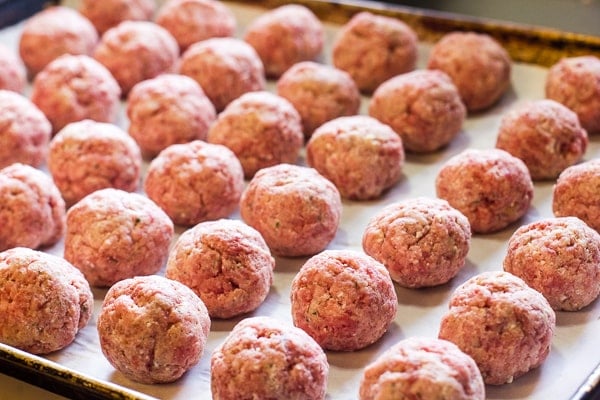 I like large meatballs, about 2 inches in size. I also bake them in the oven as it is easier than using a frypan.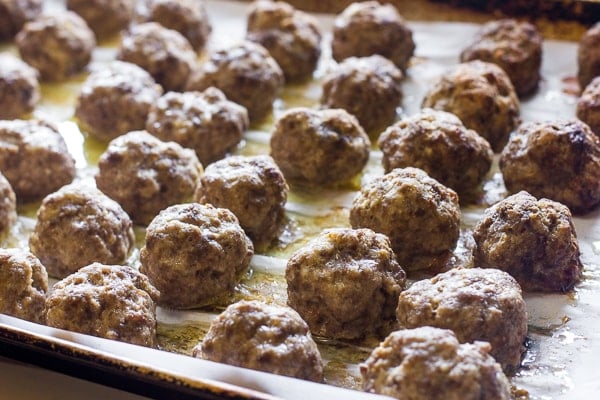 Bake them in a preheated oven until they are cooked through. You want to make sure these are cooked through because if they are not, I find they can fall apart in the sauce if they are not cooked through. Once done, dump them in a large pot.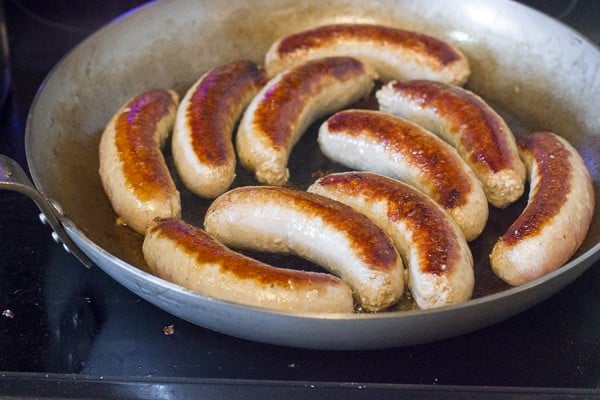 Brown the Italian sausages in a skillet until nicely browned. Don't worry if they are cooked through because they will finish cooking in the sauce.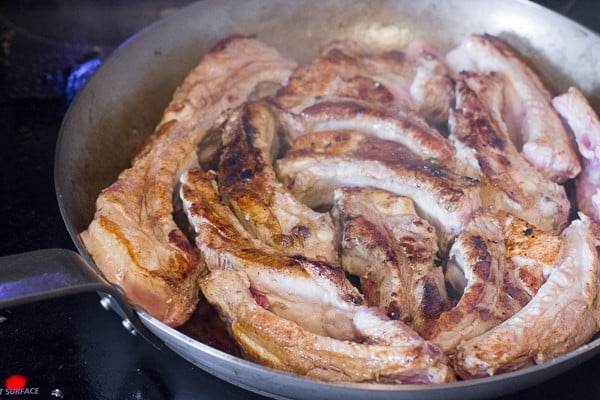 Cut the rack of ribs into individual rib portions and brown them in a skillet with a little bit of oil to prevent them from sticking. Do not worry about cooking them right through as they will be well cooked in the sauce.
Saute the onion, celery, pepper and garlic in the skillet. You can also add a little bit of water to deglaze the bottom of the pan.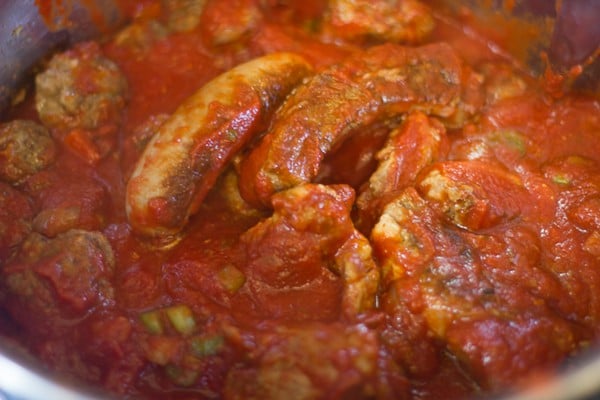 Add all the meat, veggies, tomatoes, wine and remaining ingredients (except the noodles of course) to the large pot. Bring the sauce to a light boil. Let the sauce simmer for about 4 hours. Stir it often and make sure that there is not sauce that starts to burn at the bottom of the pot.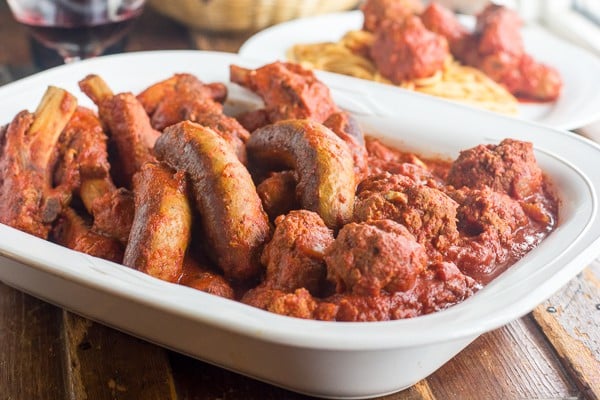 To serve, I have a large bowl of the noodles that have been tossed with some of the gravy. I also have a serving dish with all the meat – there is lots of meat!! In a separate bowl, I have some extra gravy, as everyone seems to have a different preference as to how much gravy they like.
Having the meat in a separate dish than the gravy is good so that people can choose which of the different meat they want to try out.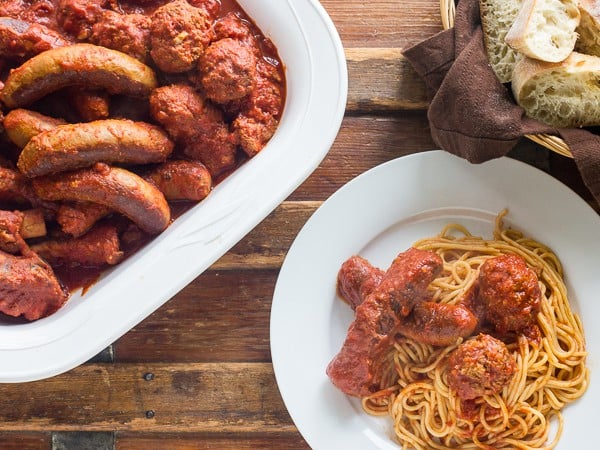 This recipe serves a big family! It takes a long time, but the flavour is so rich and amazing that it is worth it.
How to Make Sunday Gravy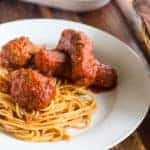 Print
A meat infused tomato sauce often made on Sundays in Italian American homes. Meatballs, ribs, sausage, tomato sauce, simmered for hours and served on noodles.
Servings: 12
Ingredients
2 pounds ground beef
2 pounds Italian sausage , mild or hot
1 rack pork baby back ribs
1 cup ricotta cheese
1/2 cup parmesan cheese
1 egg
1/4 cup milk
3/4 cup bread crumbs
1/3 cup fresh basil , minced
1 tsp salt
3 tbsp oil
2 onions , diced
1 sweet red pepper , cored and diced
2 celery stalks , diced
4 cloves garlic , minced
11 cups strained/crushed tomatoes (3-4 jars or cans)
2 cups red wine , or sparkling grape juice
3 tbsp sugar
1 tsp crushed dried chili flakes
1 1/2 tsp salt
1 tsp pepper
2 pounds dry spaghetti or other pasta
Instructions
For the meatballs, mix the ground beef, ricotta cheese, parmesean, bread crumbs, egg, milk, 1/3 cup fresh basil and salt together. Knead the mixture with your hands until thoroughly combined. Roll into 2 inch meatballs and place on a baking sheet lined with parchment paper. Bake in the oven at 400 until cooked through, about 20 minutes.

In a large pot, pour in the strained tomatoes, wine/sparkling grape juice, sugar, dried chilies and salt. Bring to a small boil.

When the meatballs are cooked, stir them in the gravy.

In a frypan, heat the oil and cook the sausages until they are cooked mostly through. Stir them in the gravy.

In the same frypan, sear the ribs for a few minutes on each side. Stir them in the gravy.

In the frypan, add the onions, sweet red pepper, celery and garlic. You may need to add a bit more oil if the pan is dry. Also, as the veggies are cooking, this is a great opportunity to 'deglaze' the pan. There are a lot of great flavours on the base of this pan and they need to get in the gravy. Pour in a little bit of water (1/2 cup) and scrape the bottom of the pan to pull up all the bits that are packed with flavour. Once the veggies are soft, pour it all into the gravy.

Cook the gravy at a low to medium simmer for about 4 hours, or longer.

Cook the spaghetti or other pasta according to directions on package

Serve the Sunday gravy with the cooked pasta.
Nutrition
Per serving:
Calories: 999kcalCarbohydrates: 86gProtein: 55gFat: 45gSaturated Fat: 16gCholesterol: 164mgSodium: 1330mgFiber: 8gSugar: 17g