Pulled Pork Poutine with BBQ Gravy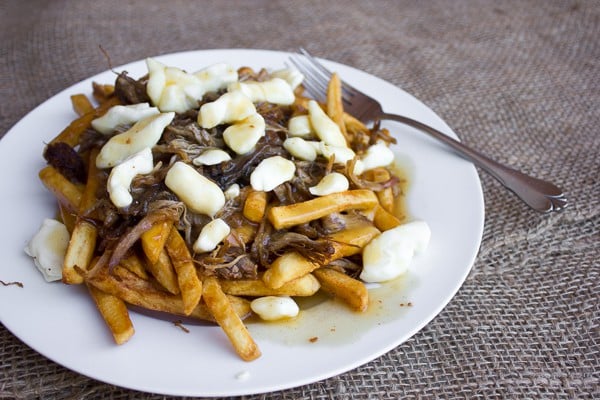 Smoked pulled pork is a wonderful thing! Anytime I smoke pork butts I throw more than one in the smoker. I figure if the smoker is gonna be going for a while, I might as well fill it up with meat.
As a result, I usually have some extra pulled pork and I love to find some new ways to use up the pulled pork. Poutine is some true Canadian food and I figured that doing a mashup of poutine and pulled pork could work.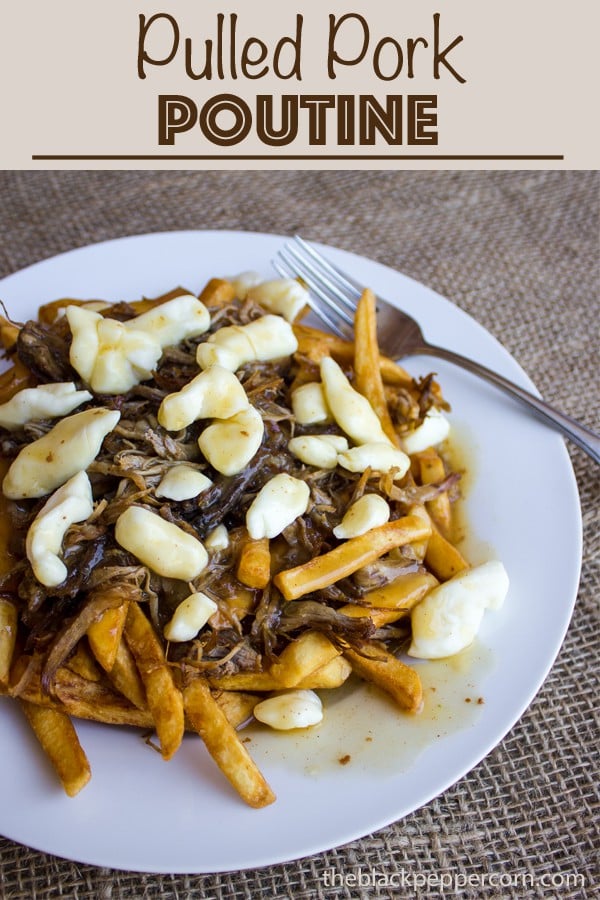 This is not the first time that I have used pulled pork in a different type of recipe. In the past, I have posted a number of recipes that used some leftover pulled pork. Here are a few of them.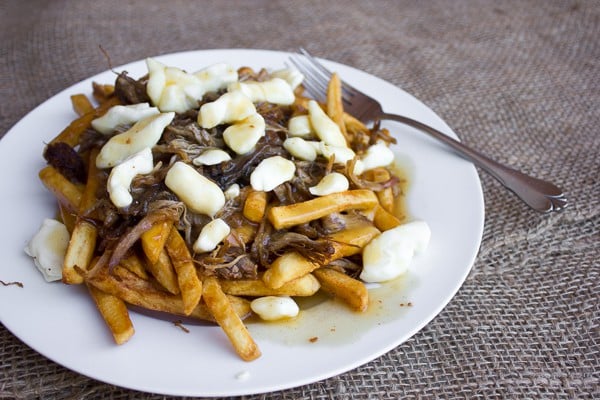 Pulled Pork Poutine with BBQ Gravy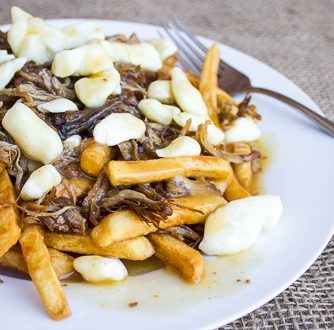 Print
Poutine made with leftover pulled pork, cheese curds and crispy french fries and covered with BBQ gravy. Great unique smoky poutine!
Servings: 4 people
Ingredients
6 russet potatoes
2 cups beef gravy
1/2 cup BBQ sauce
1 pound pulled pork meat
2 cups cheese curds
salt, to taste
Instructions
Wash the potatoes and cut into french fry sized sticks.

In a small pot or saucepan whisk together the gravy and bbq sauce. Warm the bbq gravy on medium heat.

Heat the pulled pork in a cast iron skillet on medium heat. Stir often. The pork will start to brown in some spots and crisp up a little bit.

Heat oil in a deep fryer to 350F. Add the potato sticks, in batches, to the hot oil. Fry until the french fries are cooked through and crispy on the outside. Drain and toss with a little salt.

Make the poutine by stacking some french fries on a plate. Spoon some pulled pork on the fries and top with cheese curds. Pour some gravy on top and serve immediately.