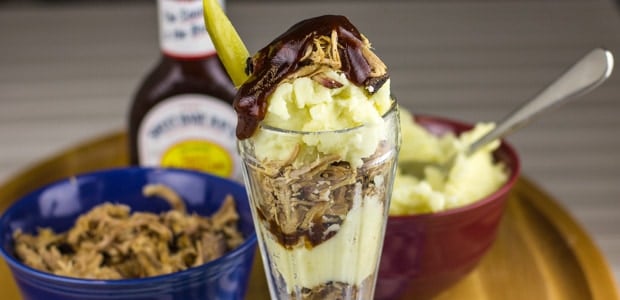 I love pulled pork and the first time I heard about the Pulled Pork Parfait, I flipped. Flipped with joy that is. The pulled pork parfait has been popping up at fairs and festivals in the Toronto area and it is
always a big hit. It is simple to make and a totally clever idea. To make a pulled pork parfait just add layers of pulled pork, mashed potatoes and BBQ sauce into a sundae bowl. What's not to love with those ingredients.
Fun and delicious!
If you want to know how to make pulled pork, there are two common ways to do it: smoked or made in a slow cooker. Here is instructions for each:
How to make pulled pork using a smoker
How to make pulled pork using a slow cooker
I made these for the family a few days ago and the kids were shocked. At first glance they thought it was a real sundae. Then they realized there was pulled pork in there are were not impressed. They assumed the white was ice cream but when they discovered that it was scoops of mashed potatoes and there was BBQ sauce drizzled throughout it, they were in utter joy! We all dug in and it was awesome. Every one of use devoured them and I went back to make a second mini one.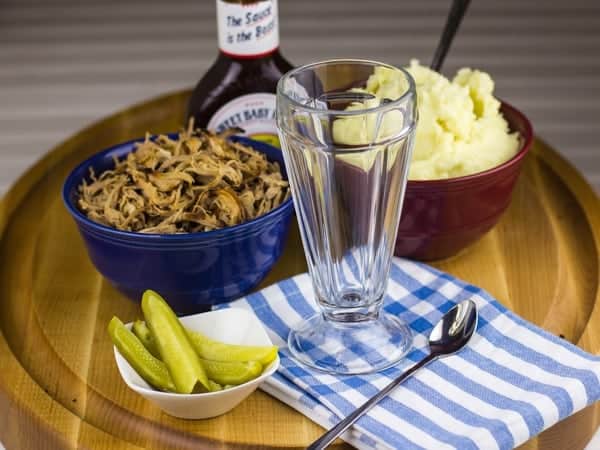 Get all your ingredients together. Make sure that the mashed taters and pulled pork are hot before assembling.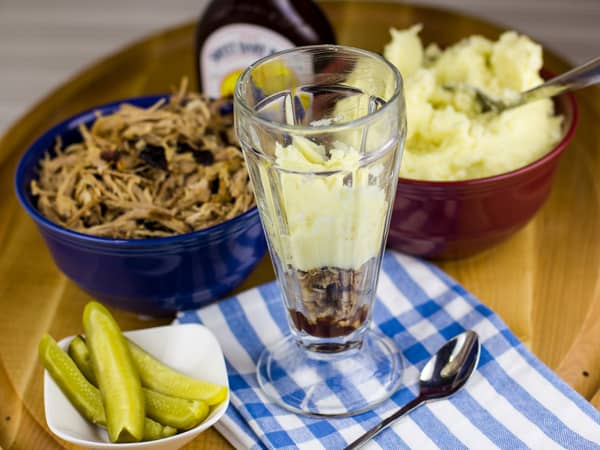 Start with a squirt of your favorite BBQ sauce. I had some Sweet Baby Rays in the fridge. Then add some pulled pork followed by a scoop of mashed potatoes.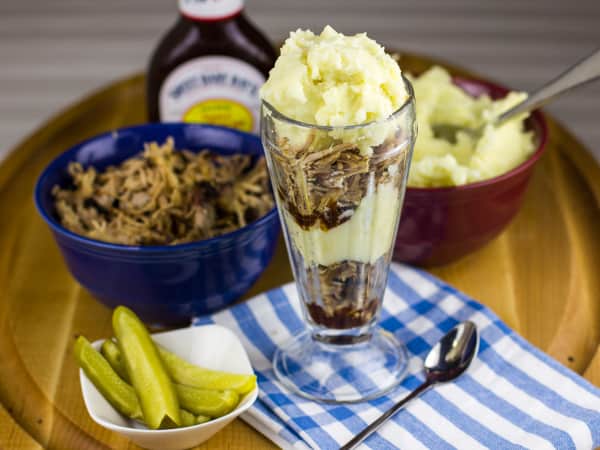 Repeat the layers, adding some more BBQ sauce, pulled pork and mashed potatoes. I tried to have that second scoop of taters resemble a scoop of ice cream as you can see in the photo above. It makes it totally look like a sundae!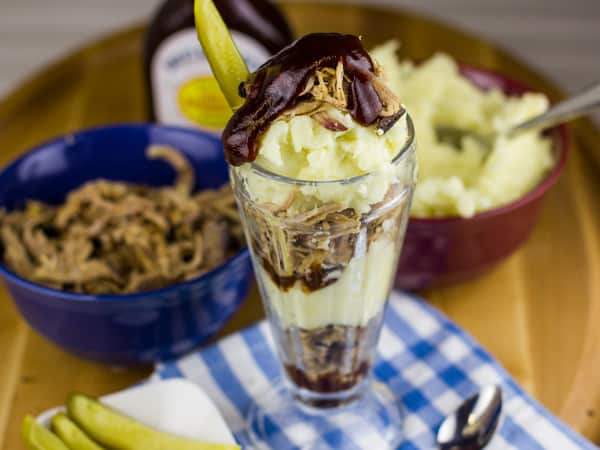 Finally top with more pulled pork, and some BBQ sauce. Stick a pickle spear in the side and it is ready to be served. This is a great idea for a picnic, party and also for game day or a tailgate event. Not only is it fun, bu it tastes amazing!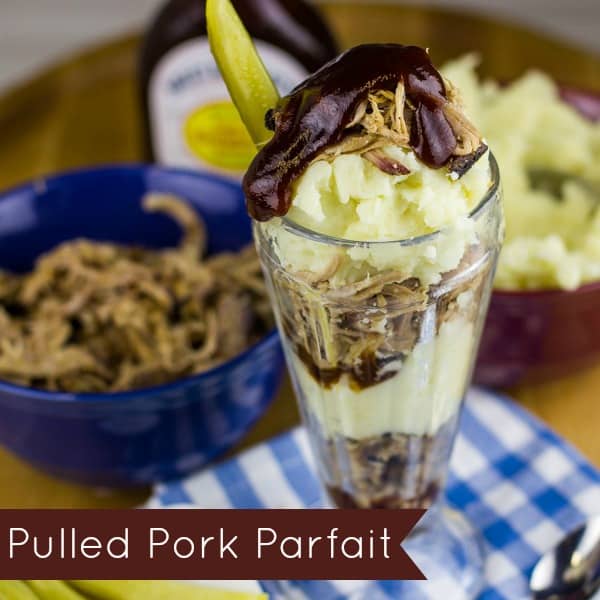 Pulled Pork Parfait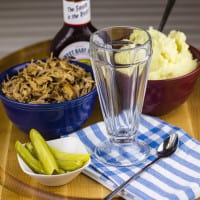 Print
This BBQ sundae has smoked pulled pork, mashed potatoes and BBQ sauce. Instructions for how to make and serve in a parfait or sundae glass bowl.
Servings: 4 parfaits
Ingredients
3-4 cups mashed potatoes
3-4 cups pulled pork
BBQ sauce of choice
4 pickle spears
Instructions
Make sure both the mashed potatoes and pulled pork are hot as the time of assembling.

Squirt some BBQ sauce at the bottom of the parfait bowl. Place a couple tablespoons of pulled pork on top and then place a couple tablespoons of mashed potatoes.

Place another layer of BBQ sauce, pulled pork and then a large scoop of mashed potatoes resembling a scoop of ice cream.

Top with some more pulled pork and BBQ sauce.

Stick a pickle spear in the side.

Serve immediately with a long spoon.