How to Make Pulled Pork in the Oven
Simple instructions for making pulled pork in the oven with a pork shoulder roast that is sweet and saucy with super tender meat. Perfect piled high on a brioche bun with pickled red cabbage and bread and butter pickles!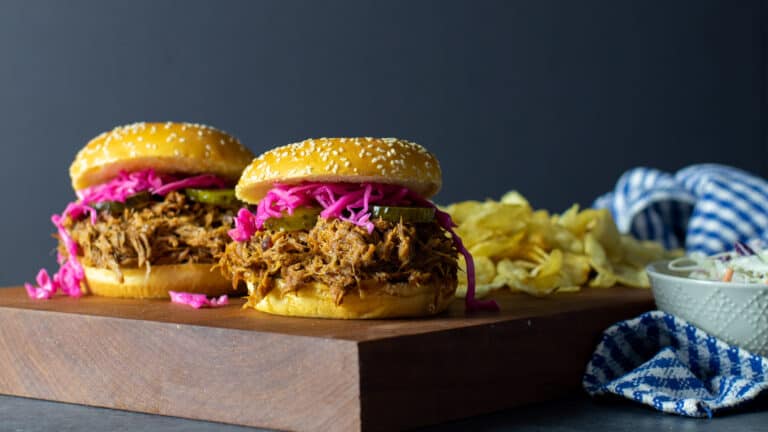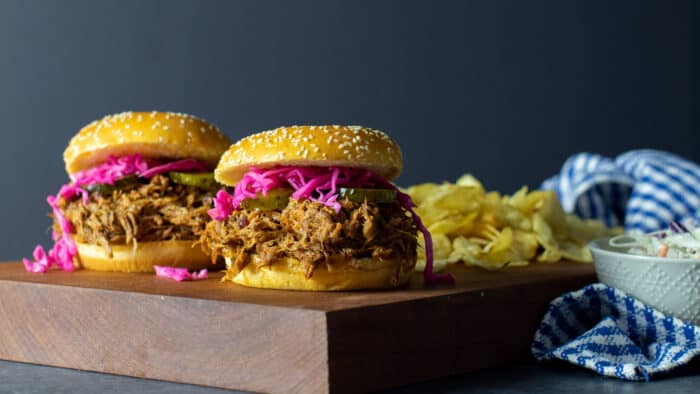 Pulled pork is one of my 'go-to' meals. We love it as a family and it is perfect any time we are having people over and need to feed a crowd. Pulled pork on a bun is great for game day, birthday parties, family reunions and more. There are many different ways to prepare the pork for 'pulling', and this is an easy way for how to make pulled pork in the oven.
This recipe results in meat that is extremely tender and full of flavour. It is ideal for pulled pork on a bun, great for sliders and many other recipes!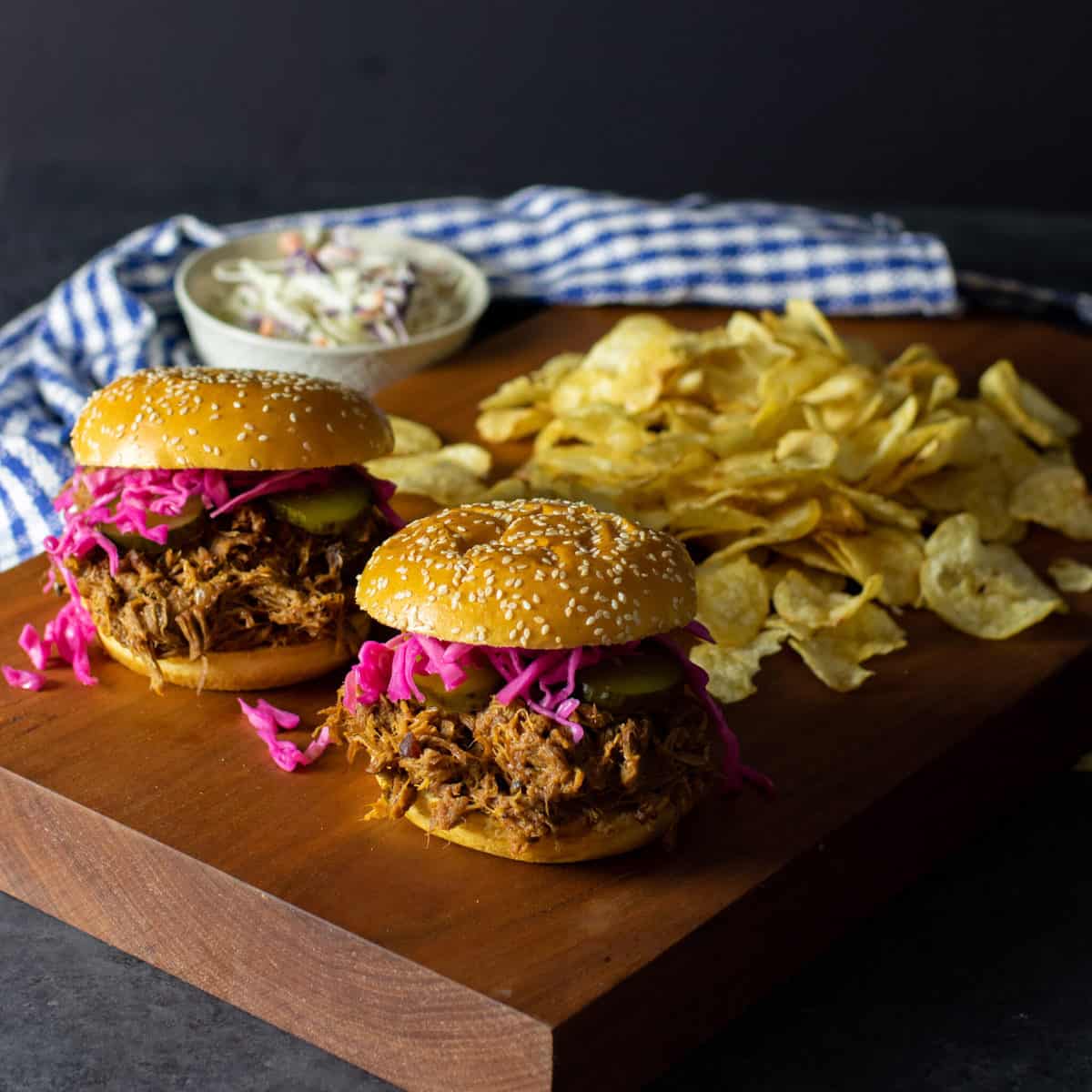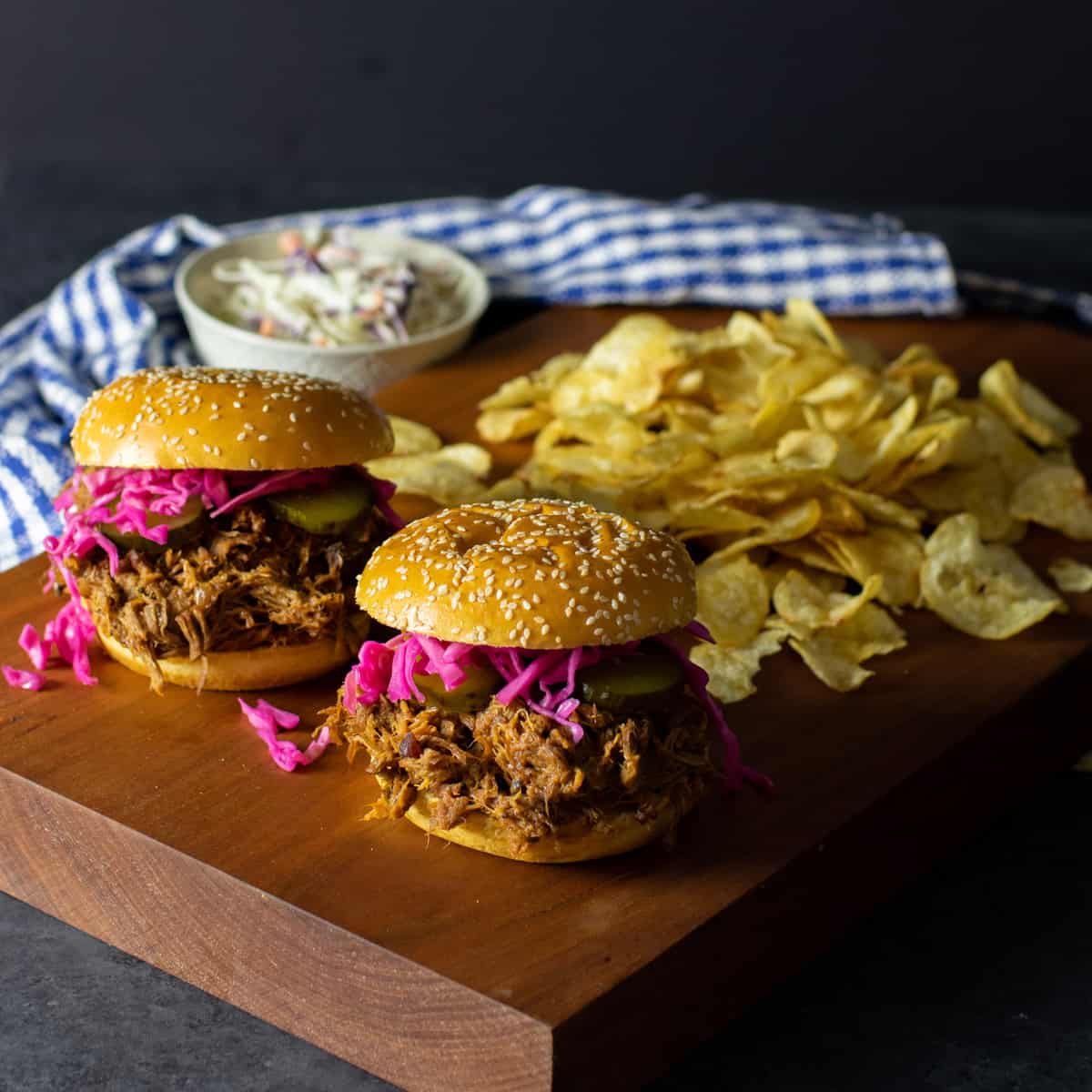 While this recipe cooks the pork in the oven, pulled pork can be prepared and cooked using different methods. Here are some recipes for other ways to cook the meat.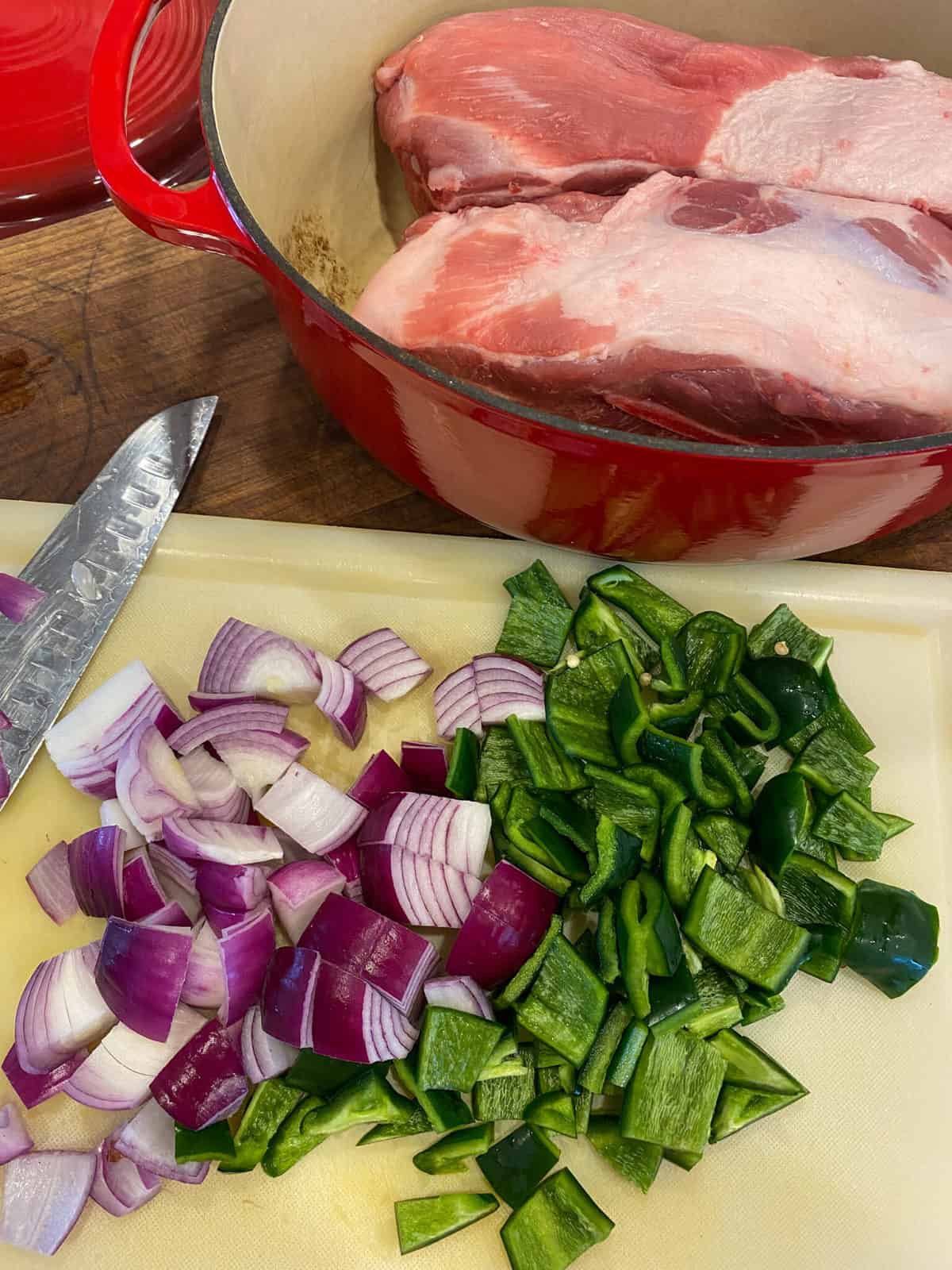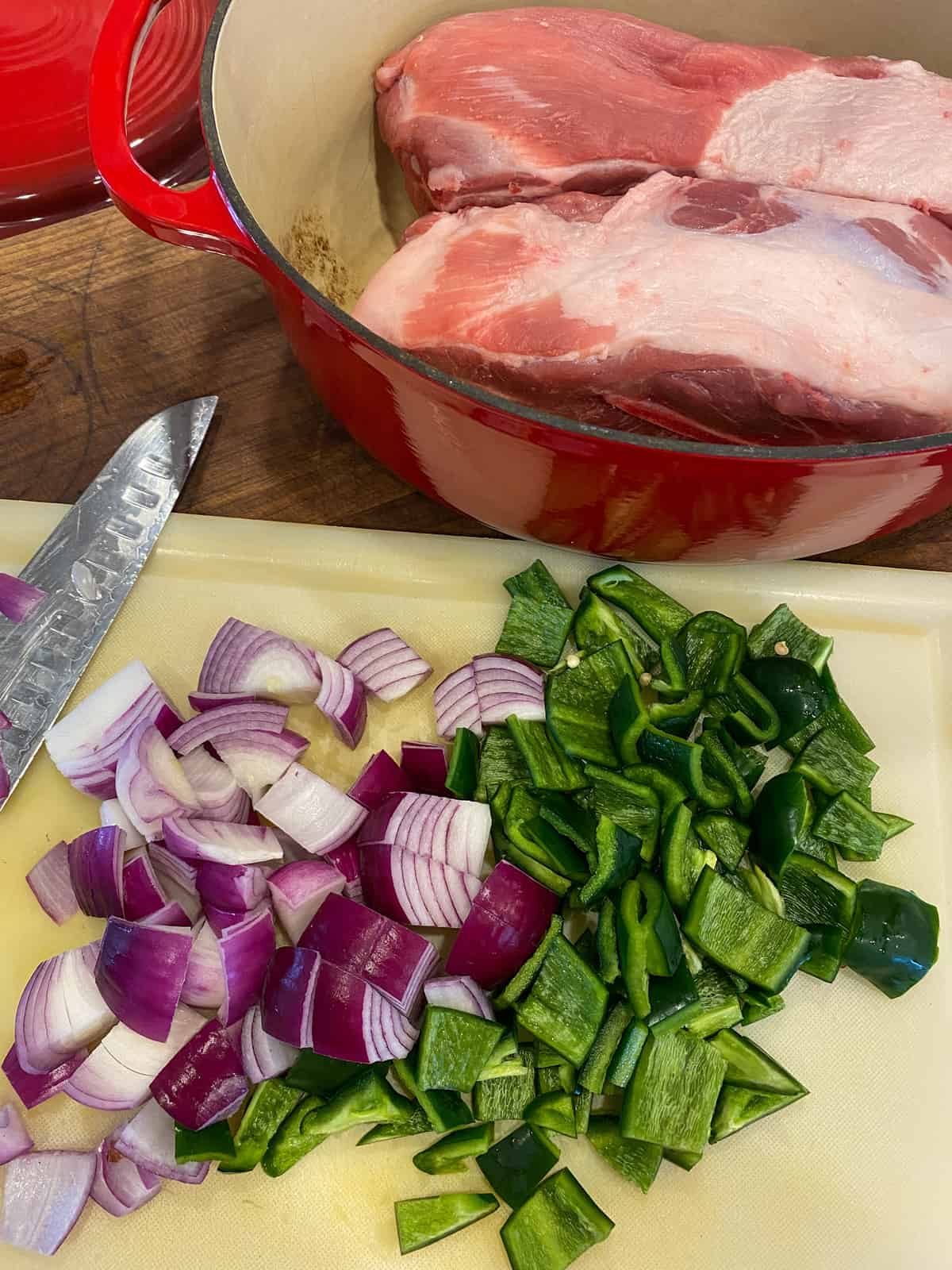 Prepare the Ingredients
A pork shoulder roast goes by different names and depending on the portion of the roast, it might even have some specific name. It can be known as a picnic roast, blade roast, pork shoulder roast, pork butt, Boston Butt and more. Any of these types of roasts can work great for pulled pork
The supermarket I bought the meat from, sold them as blade roasts and they were a bit more that 2 pounds each. I wanted 3-5 pounds so I purchased two roasts. I also cut each into three fairly equal sized portions, as I find they cook through more quickly and the spices have more meat surface to season.
Along with the pork, I add some chopped red onion and poblano peppers (green peppers work great as well). For the amount of meat, I used two large sized red onions and 3 peppers.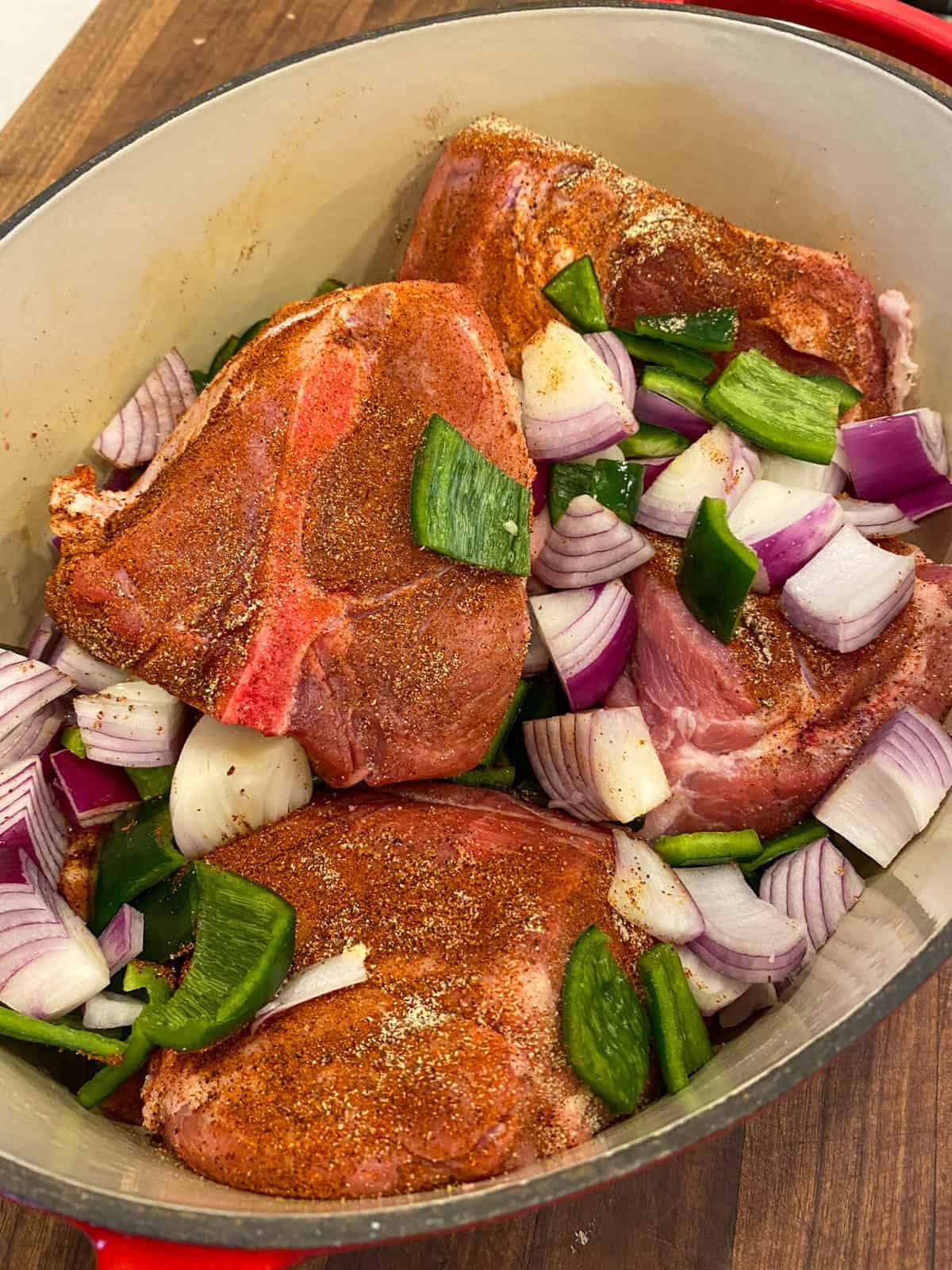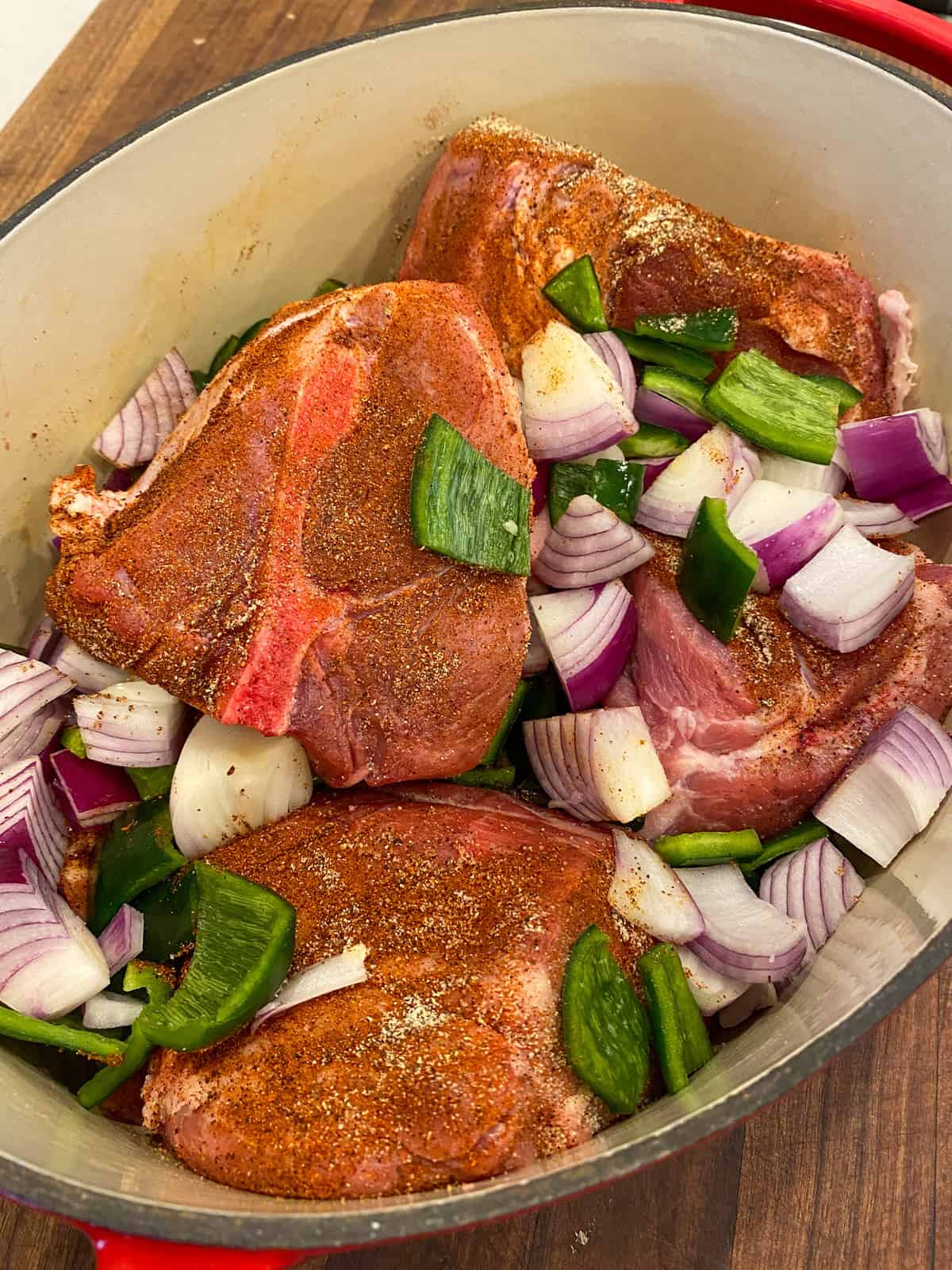 A simple Blend of Seasonings!
I tend to use as fairly simple blend of spices and it works great along with a nice sweet BBQ sauce. Rub some chili powder, garlic powder, salt and pepper all over the pieces of pork roast.
When I cook a pork roast in the oven, I like to use a dutch oven. The oval shaped dutch oven, that you can see in the pictures, is ideal for making pulled pork in the oven. Toss all the seasoned pork, onions and peppers into the dutch oven.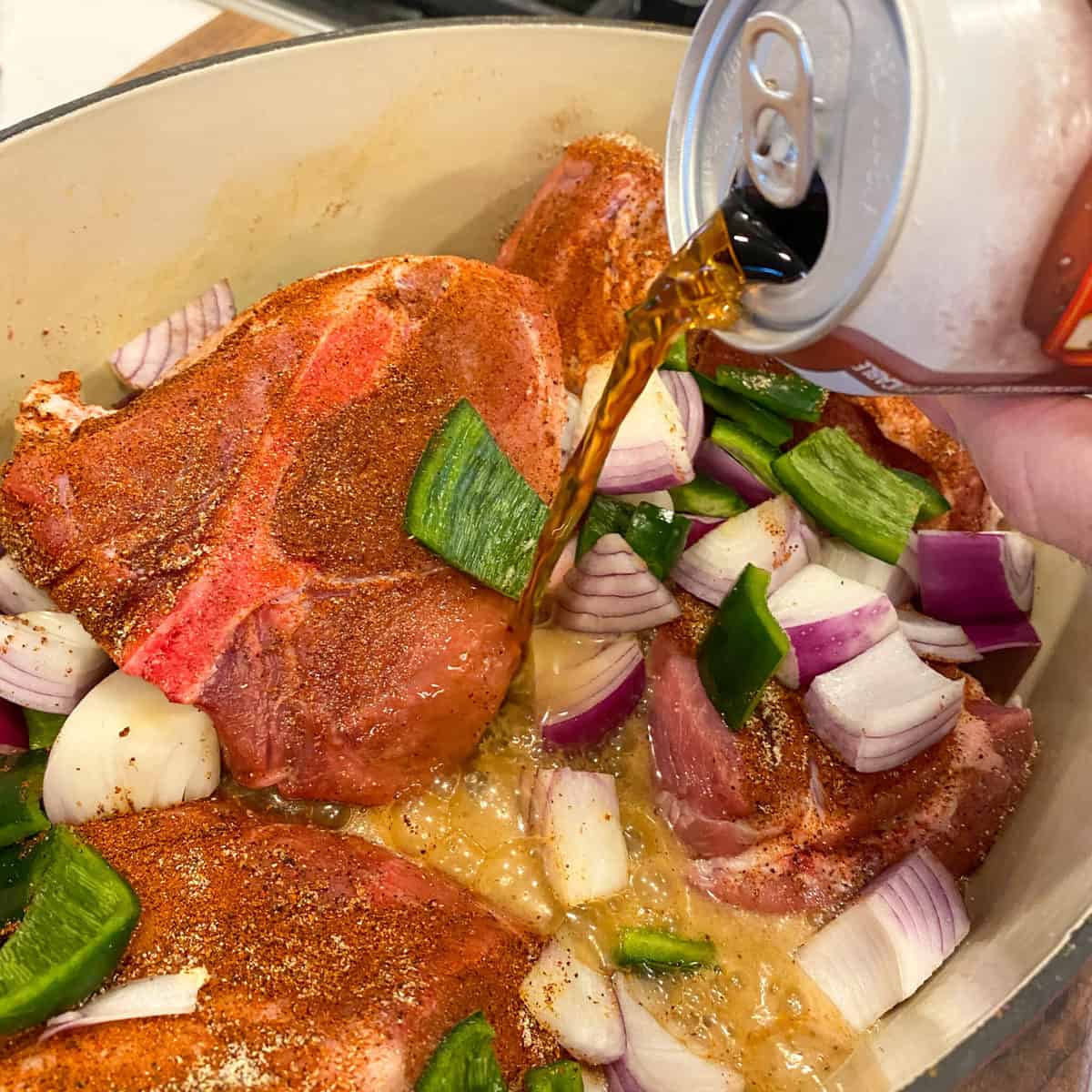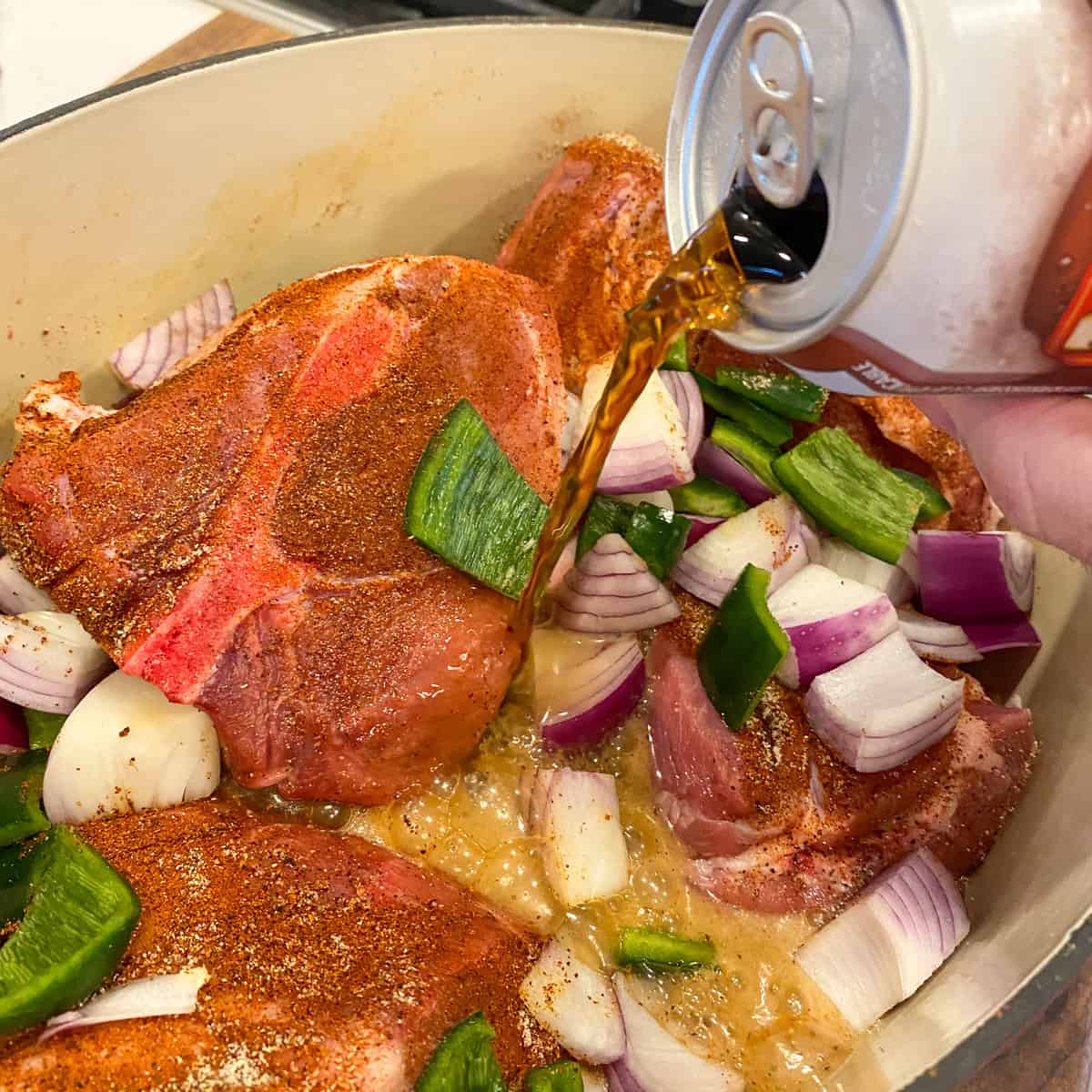 Adding some liquid helps to keep the pork nice and moist. I have tried broth and that works great, but I love the sweetness that soda pop adds to the flavour of the meat. Root beer was the pop of choice for this recipe, but I have used orange, cola and other types of pop, and they all work very well.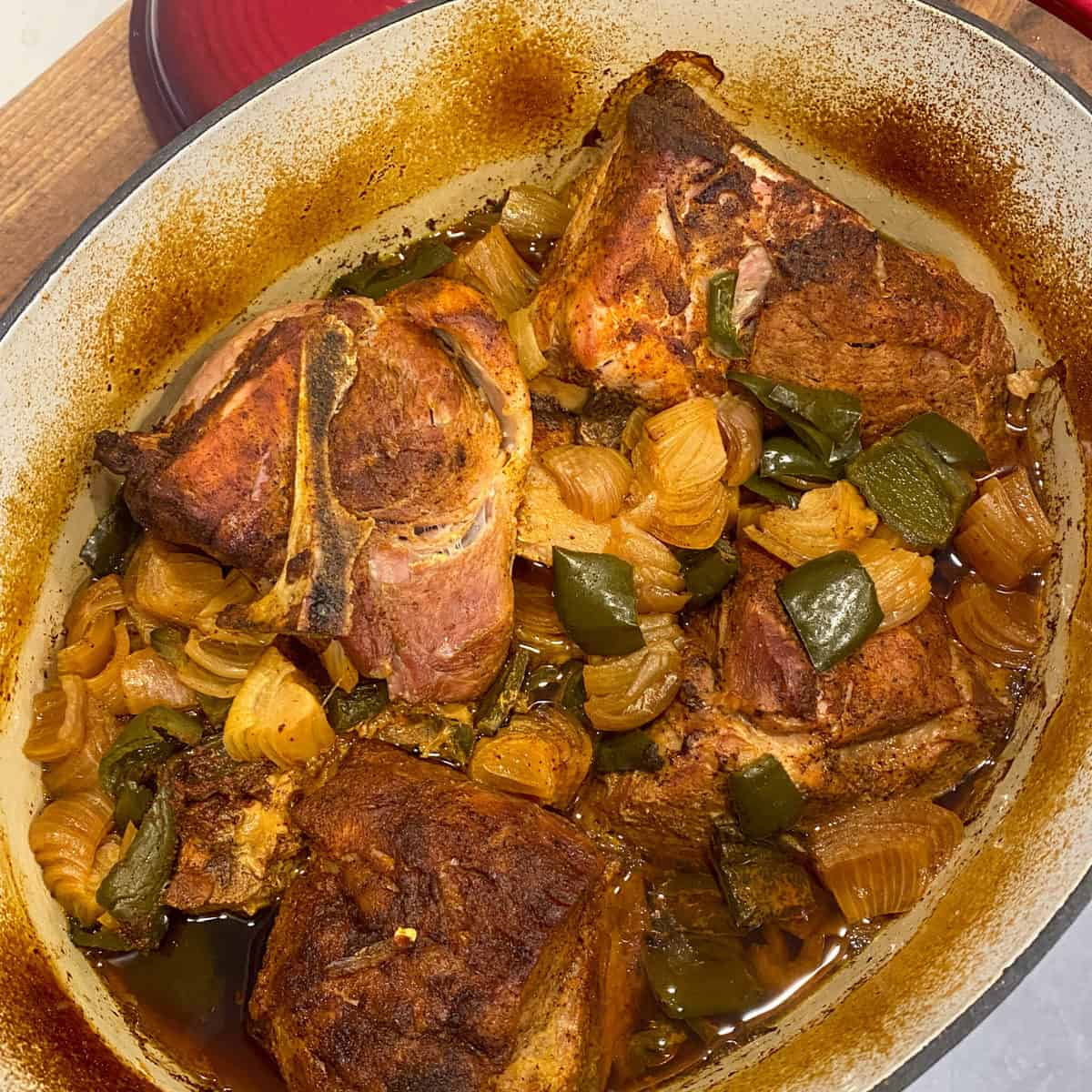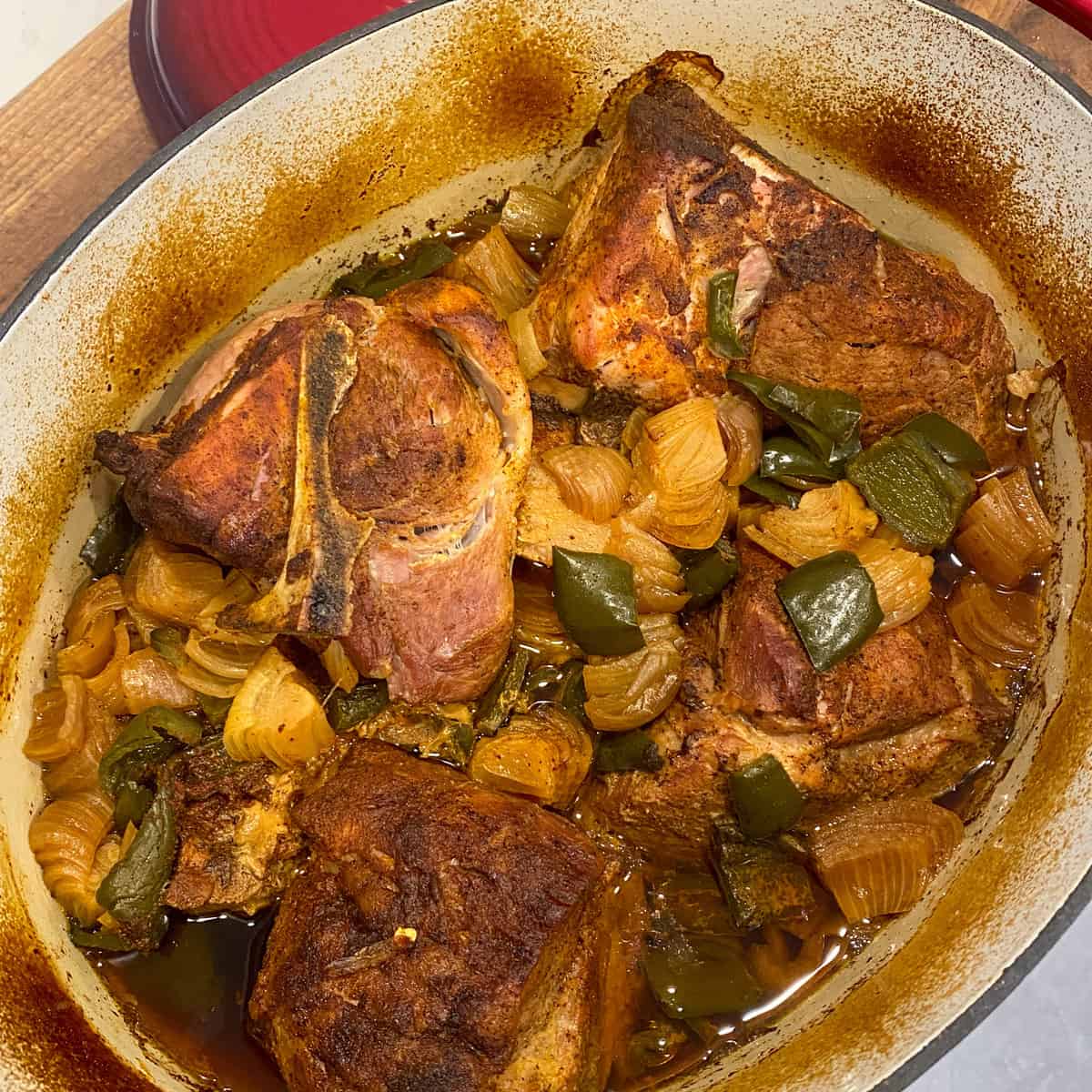 How Long to Cook the Pork in the Oven?
The goal is to cook the pork roast long enough so that it will fall apart easily with a fork. Place the dutch oven, with the lid on, in a 300F oven. I cooked it for 4 hours and the meat was falling apart when I pressed it with a fork. I find that the cooking time is around 45-60 minutes per pound. But, cooking times will vary based on the size of the chunks of pork and cooking dish used. Just check on the meat every once in a while and once it is easy to shred, it is ready to come out of the oven. If you have a digital thermometer, I aim for an internal temperature of about 195F.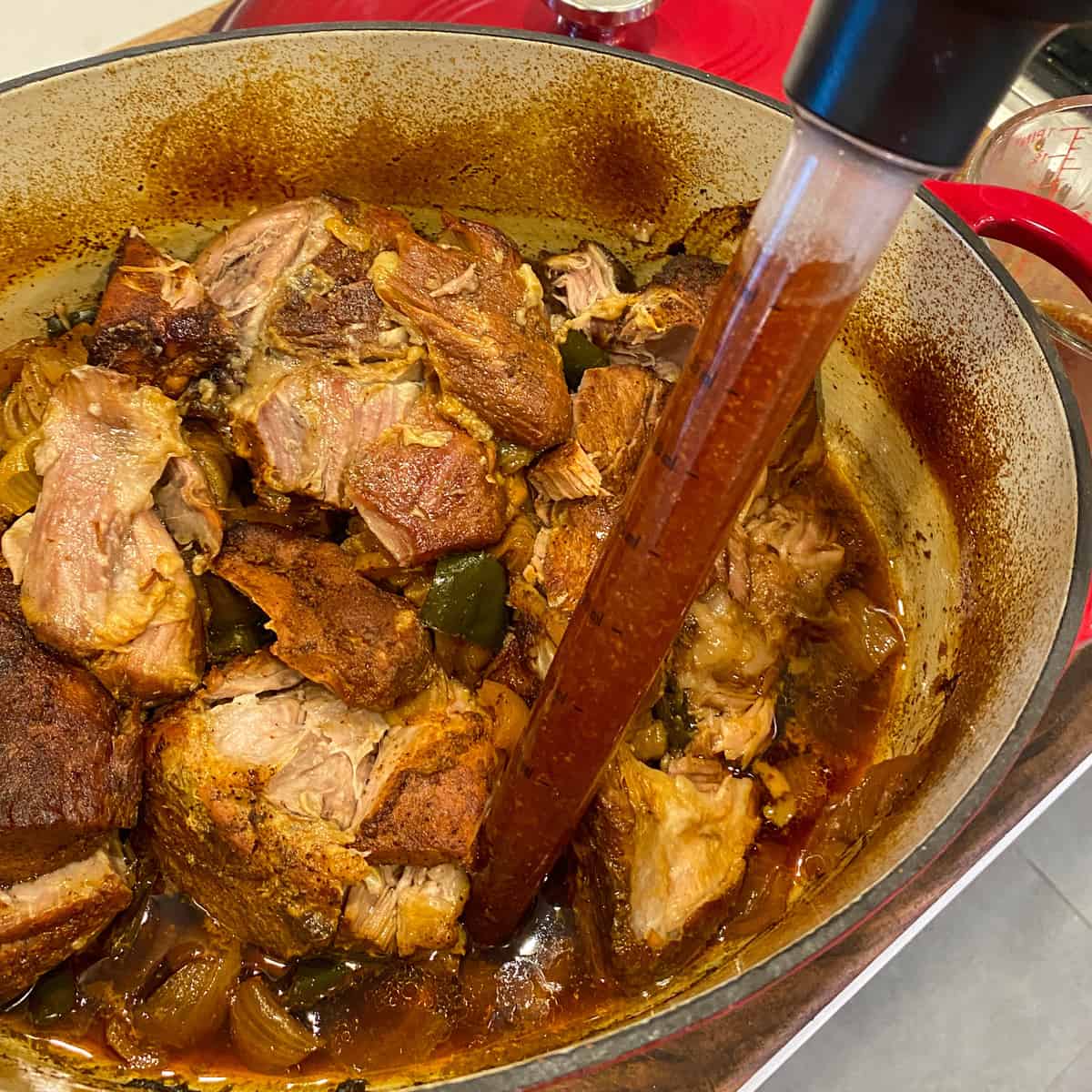 Let's Get it Ready for Shredding!
Once the meat is ready for shredding, you need to remove the bones. Use some tongs and the bones should come out super easy. Also, if there are any pieces of excess fat, use the tongs to lift those out as well.
Take a turkey baster and draw out all the extra liquid. Don't worry, you will be adding lots of BBQ sauce to the meat, so it will not be dry! If desired, you could leave around 1/2 cup of liquid to ensure that it is extra moist.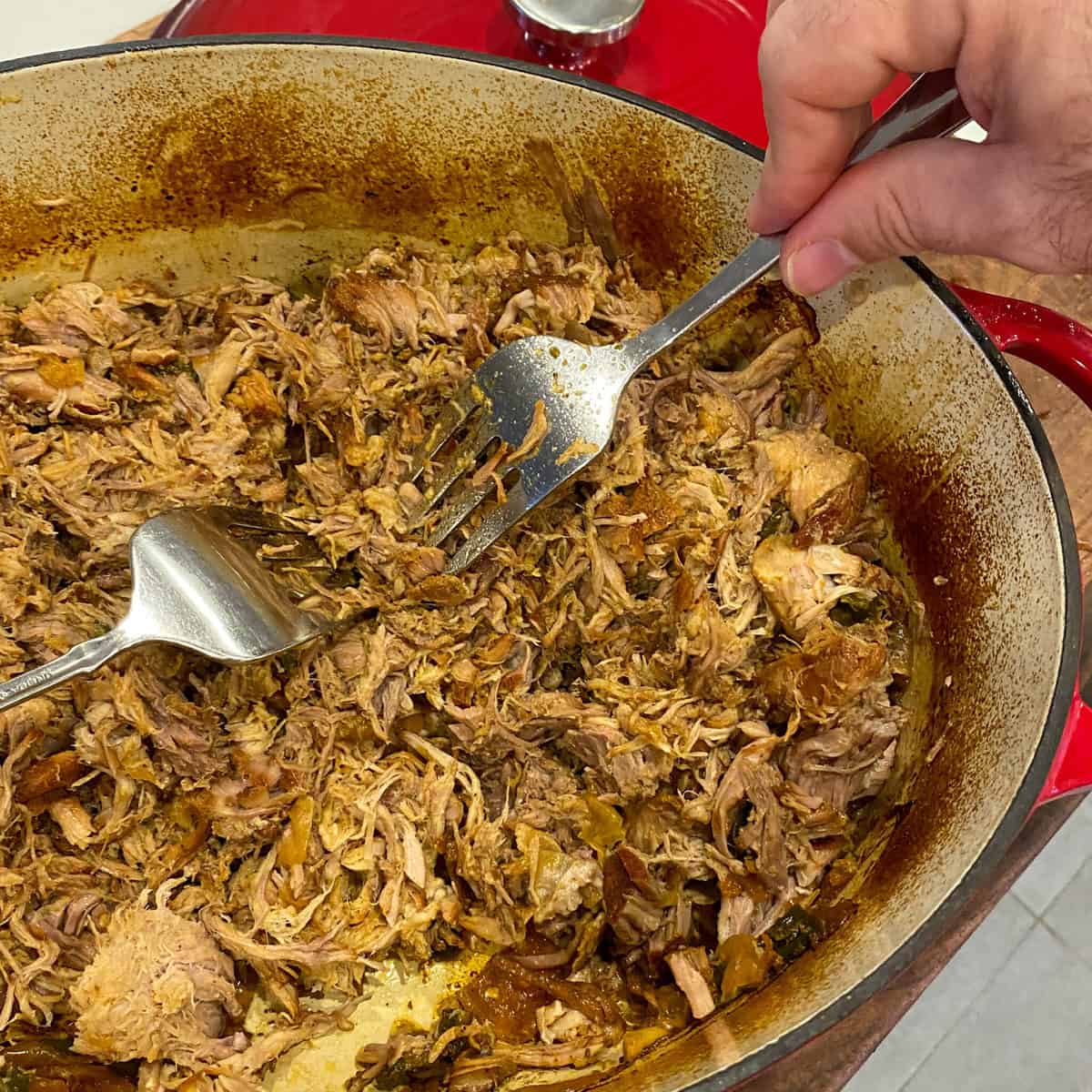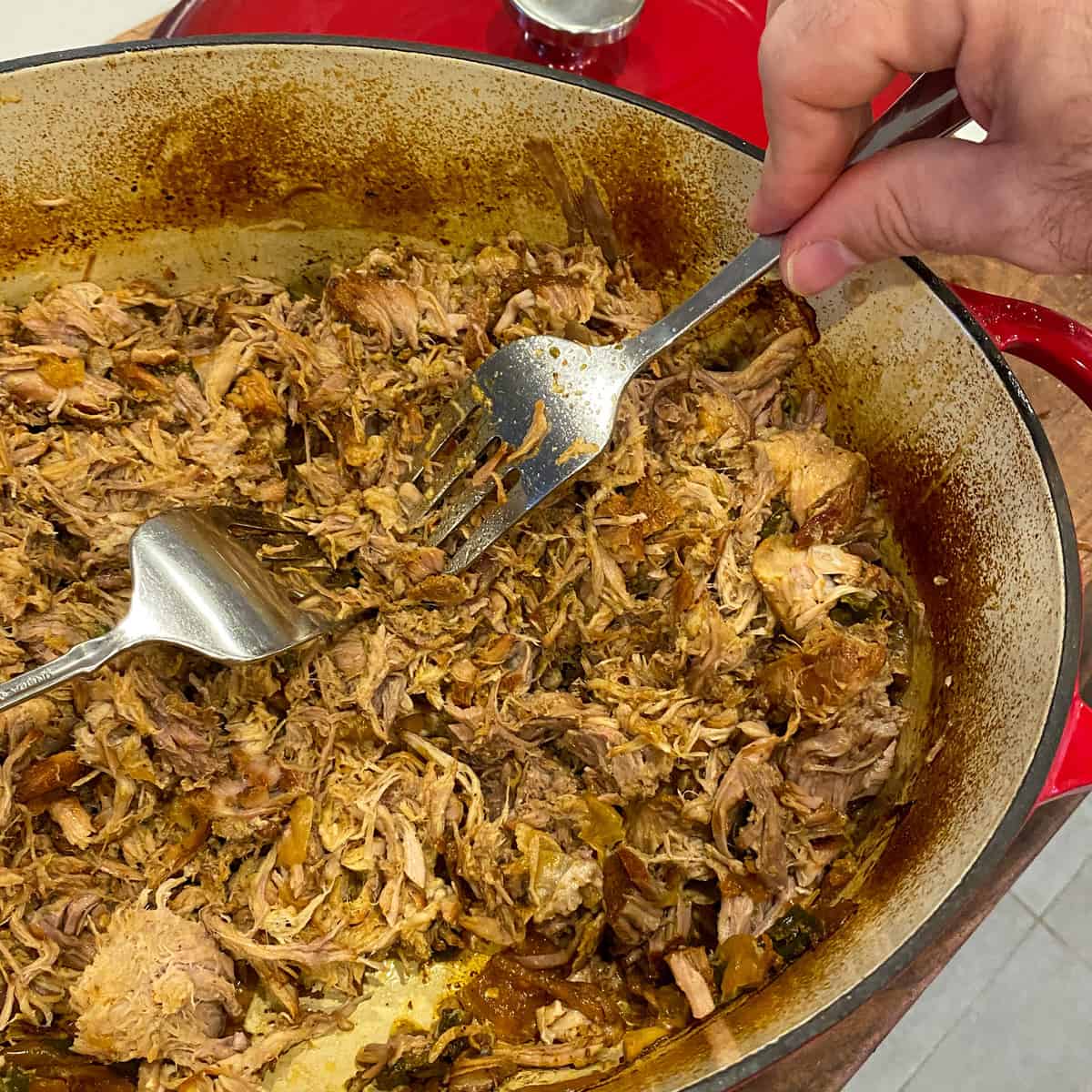 Time to Shred!
Grab a couple of forks and use them to pull and shred the pork into thin strands. I used larger serving forks when I pulled the meat, but regular forks work just fine as well. Make sure that all the meat has been shredded and there are no big chunks of pork. The cooked onions and peppers will get mixed in with all the meat and add to the flavour.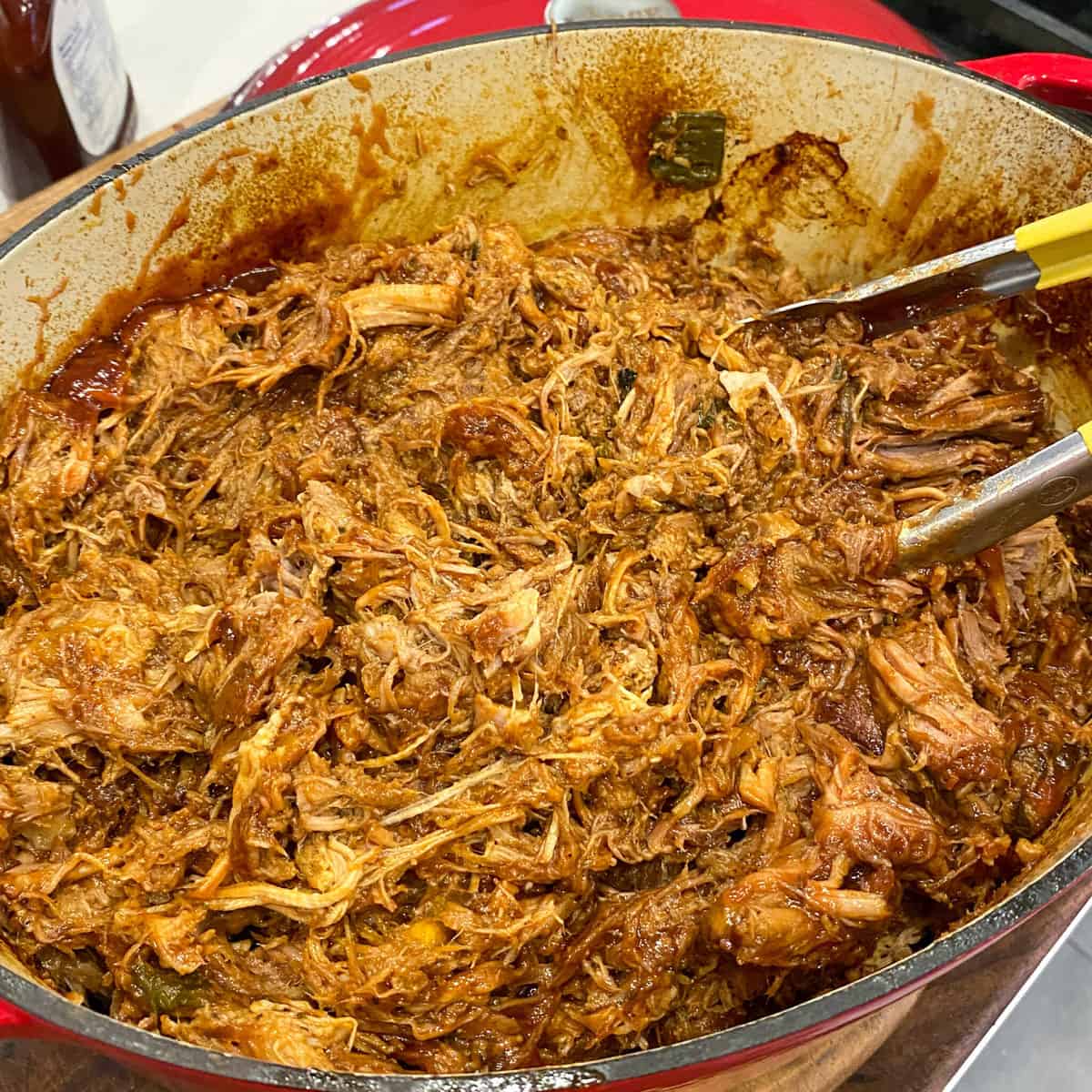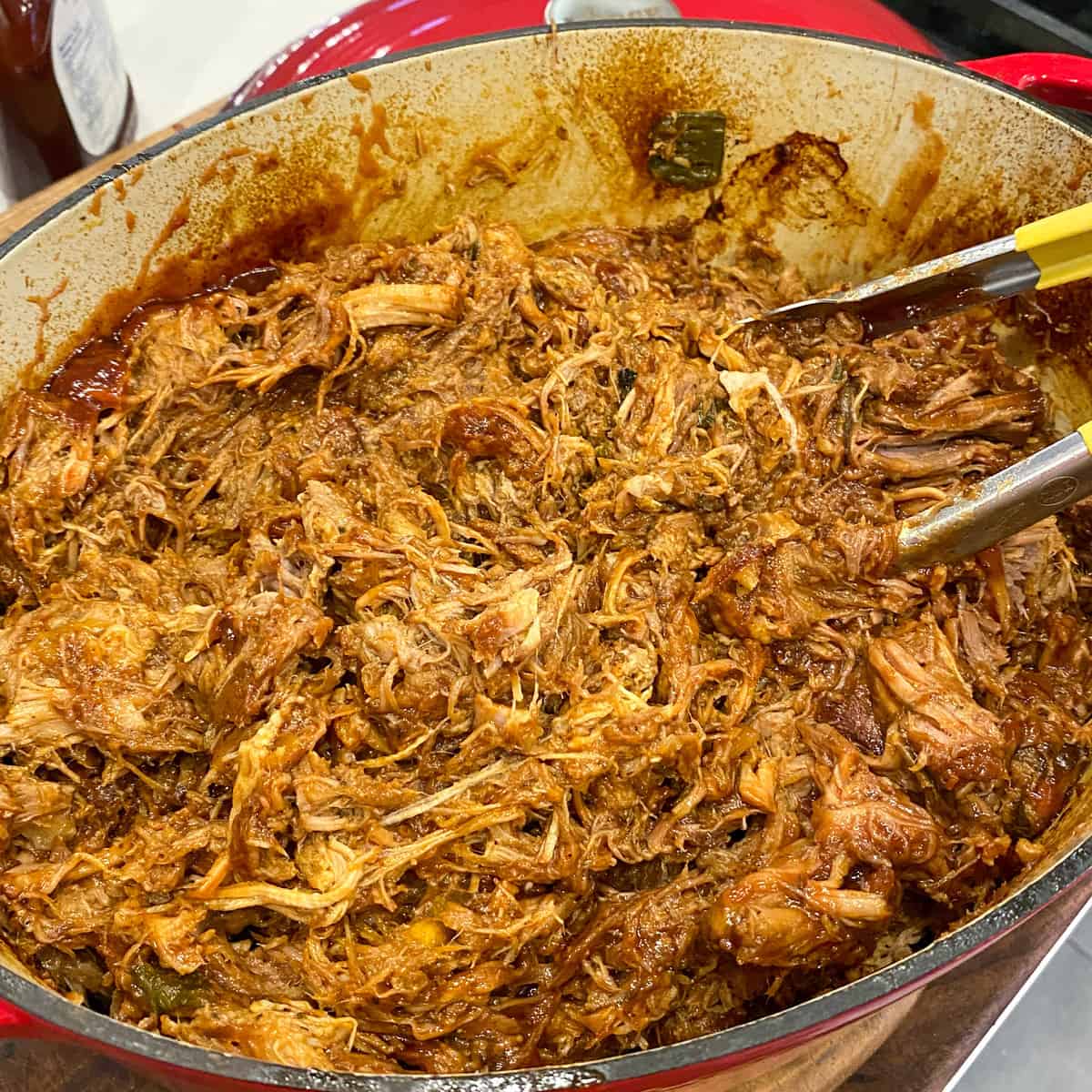 Sauce it Up!
Once the pork has been shredded it is time to add the sauce. Use whatever your favourite BBQ sauce is and stir it into the meat. While you could serve the pulled pork right now, I like to let it cook a little longer with the sauce. Put the lid back on and place it back in the 300F for only about 30 minutes. After that, the pulled pork is ready to get piled high on a nice fresh bun!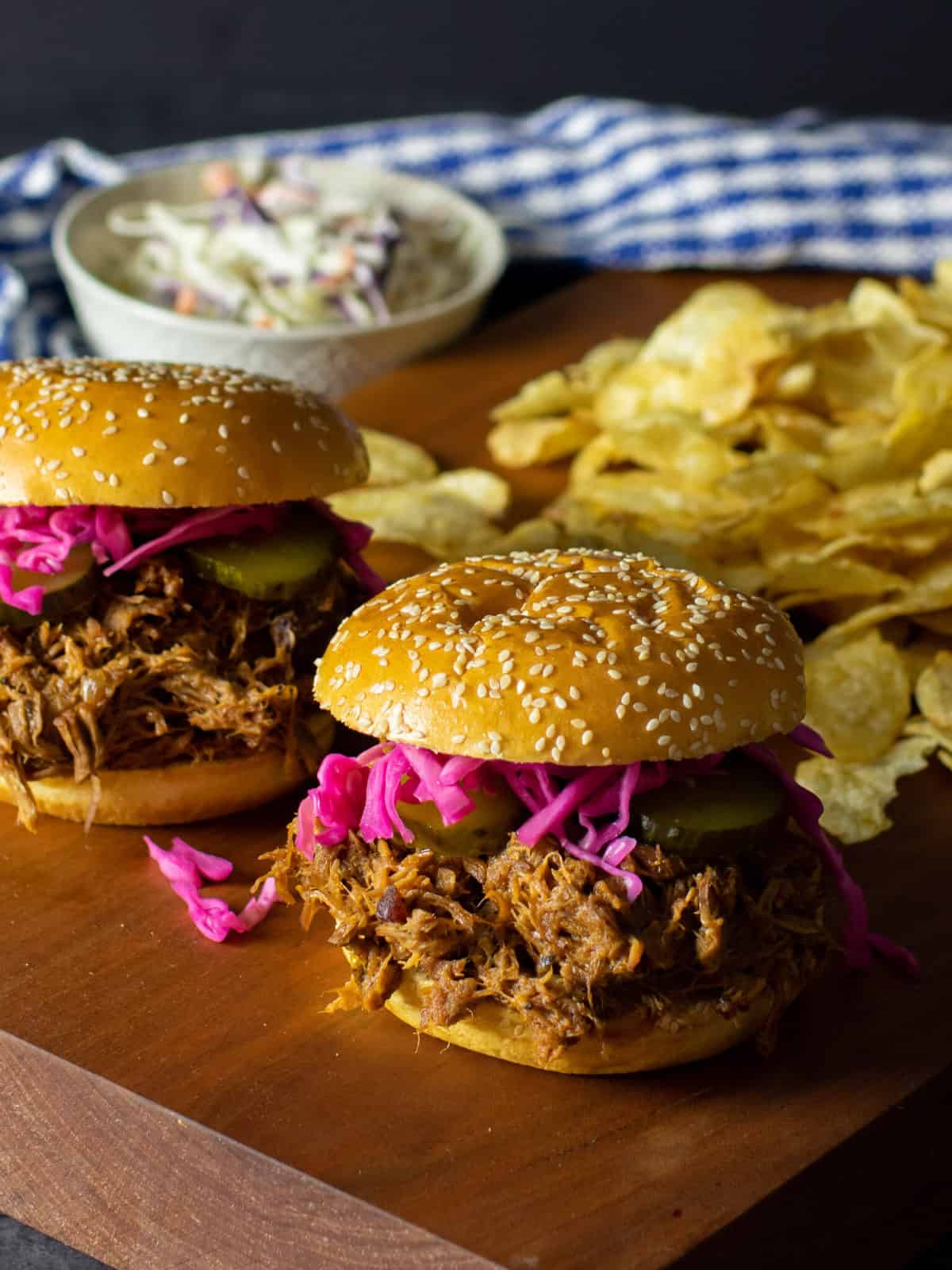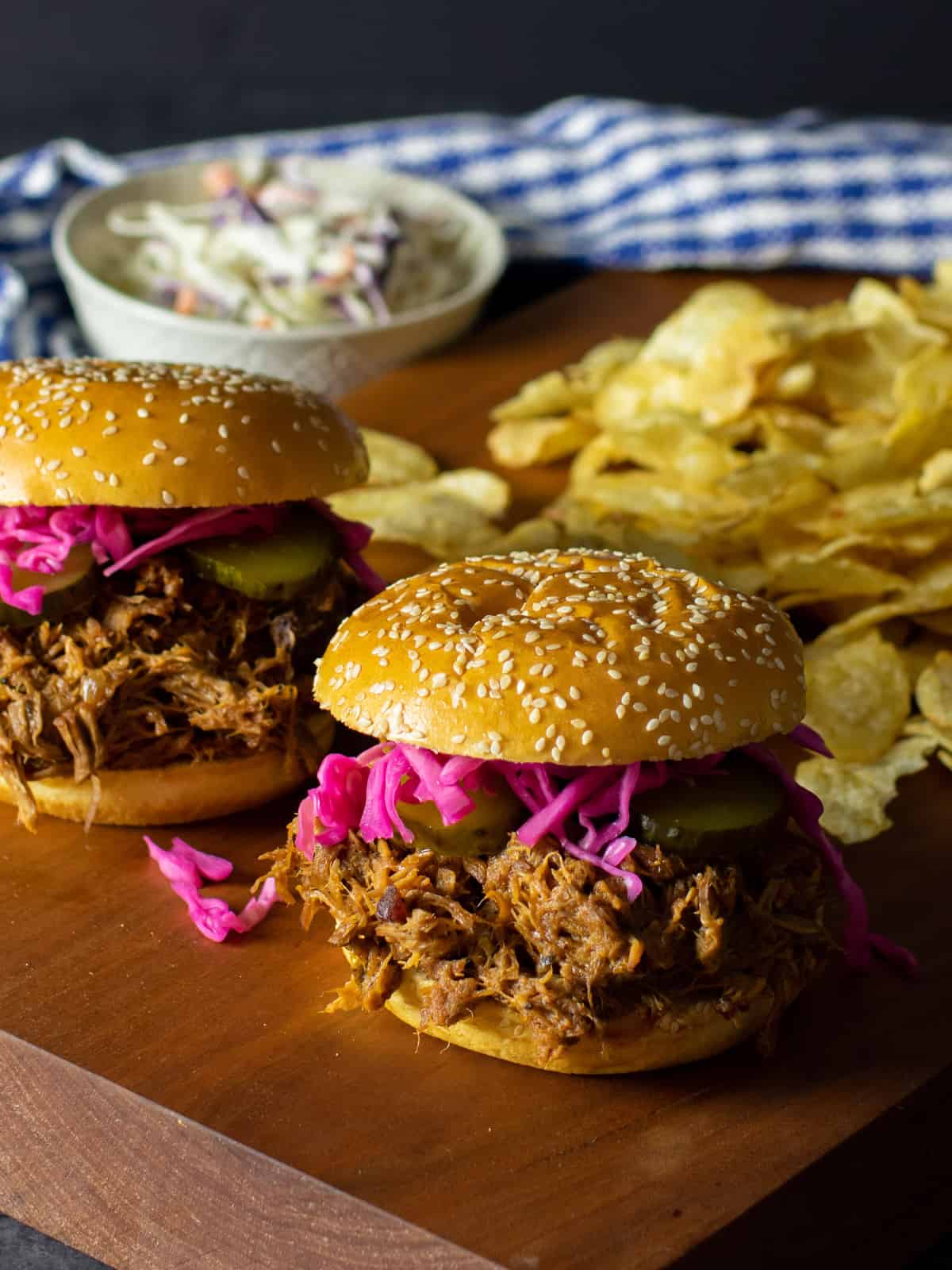 What is the Best Topping with Pulled Pork?
Pulled pork on a bun is so good. While it is great all by itself between two halves of a fresh brioche bun, adding a couple extras can make it spectacular.
First, I often squeeze a little extra BBQ sauce on top. Love that sweet sauce with the meat. Next, I like to top the pork with some cole slaw or pickled red cabbage. The crispness that comes from the cabbage is just perfect. I also enjoy adding some slices of bread and butter pickles and even some jalapeño peppers!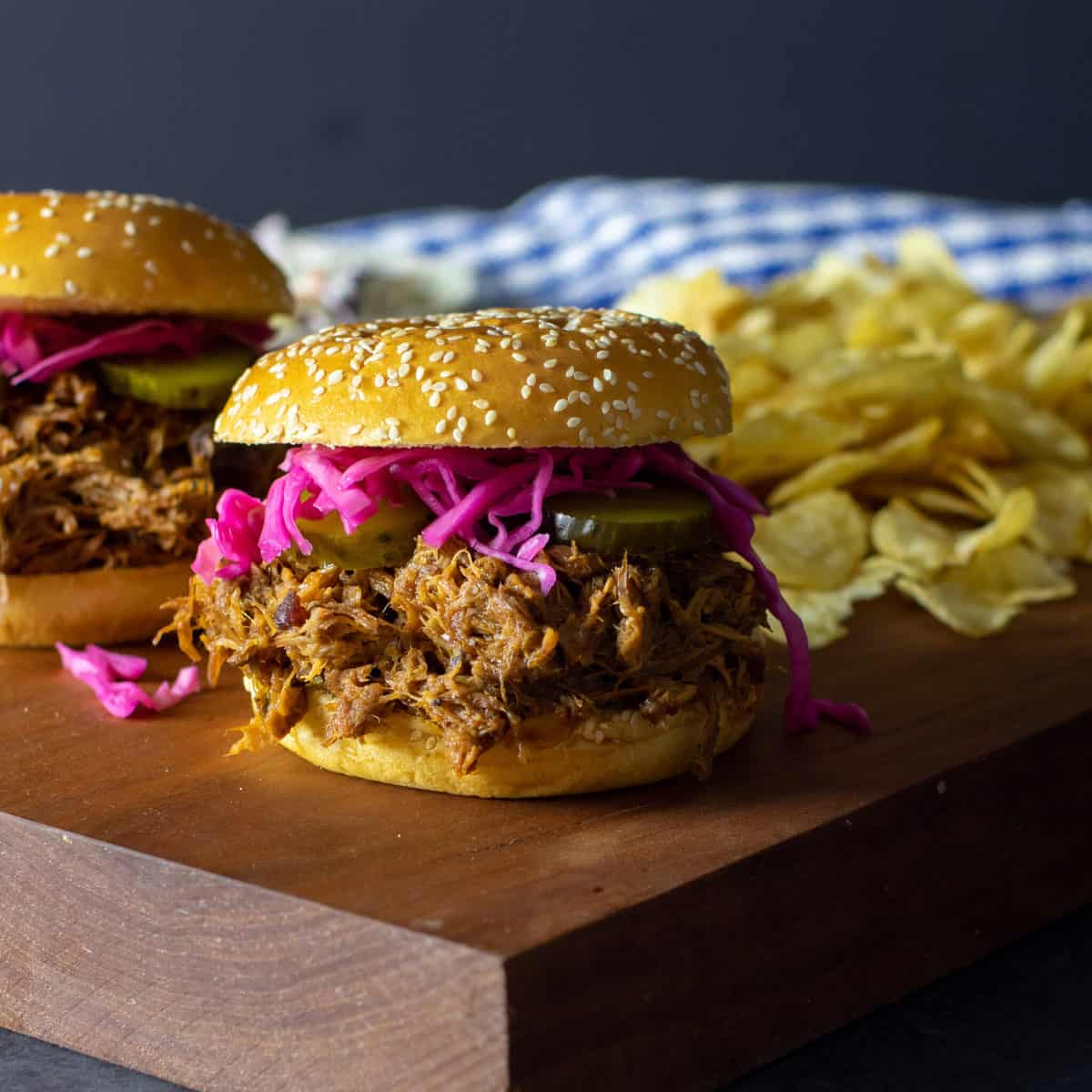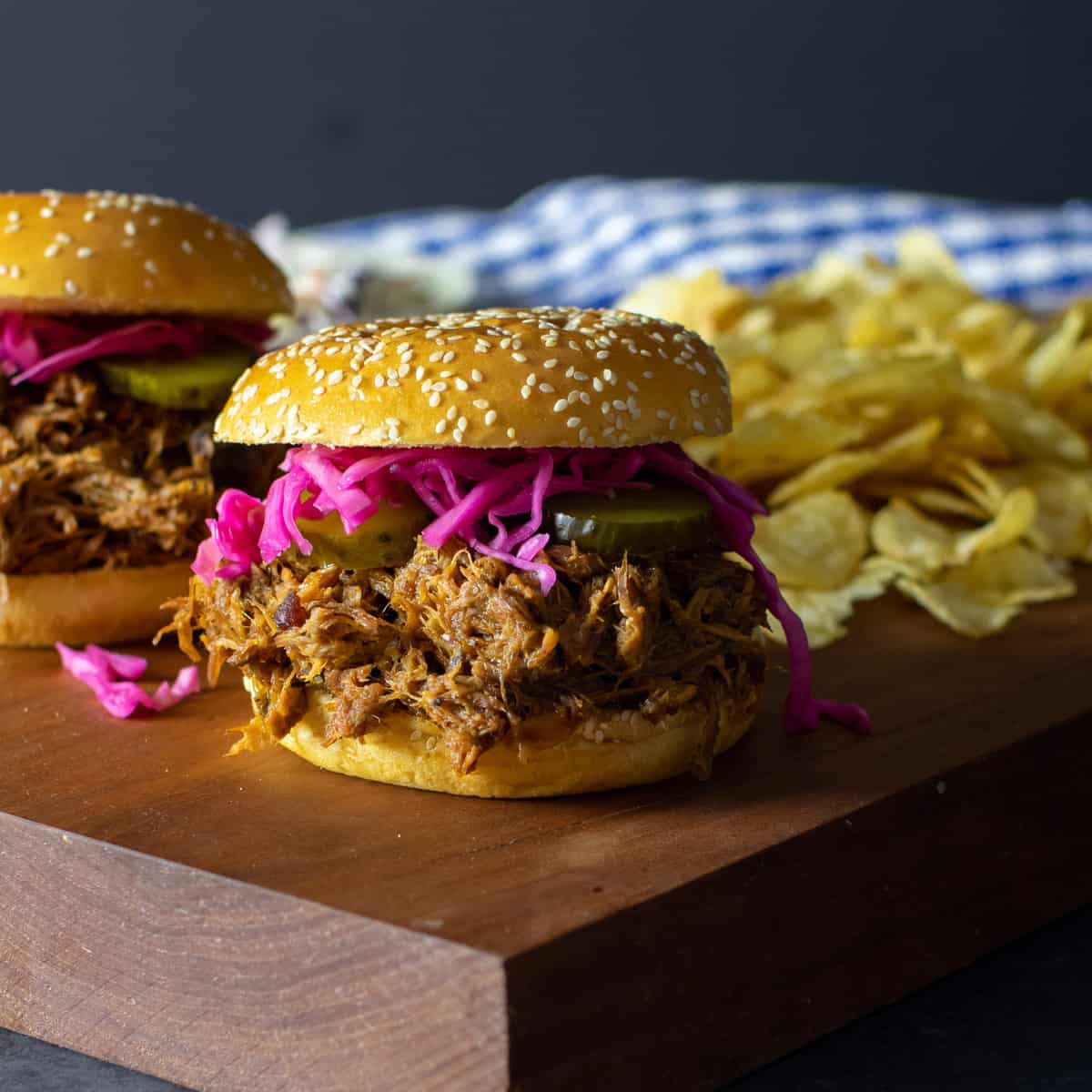 Recipes using Leftover Pulled Pork
Anytime I make pulled pork, I like to make lots so that there are leftovers. Here are some great recipes to use the some extra pulled pork made in the oven.
Pulled Pork Cooked in the Oven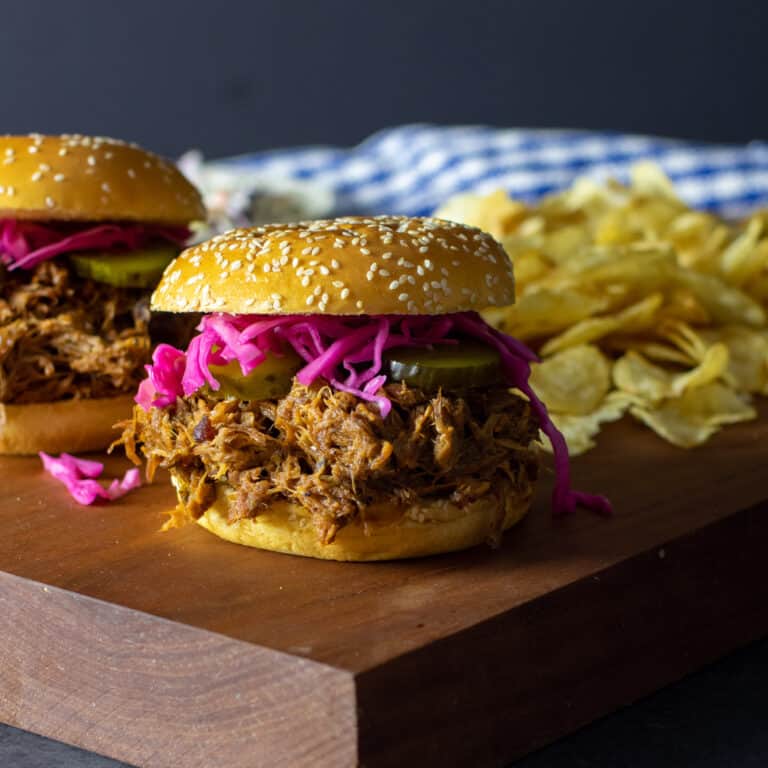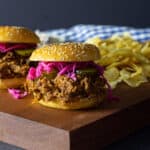 Print
Simple instructions for how to make pulled pork in the oven with very few ingredients. Perfect sweet BBQ flavour in the meat that is amazing on a bun with cole slaw and bread and butter pickles!
Servings: 12
Ingredients
3-5 pound pork blade roast , or pork butt, picnic or pork shoulder roast
2 medium red onions , peeled and chopped
3 poblano peppers (or green peppers) , cored and chopped
3 tbsp chili powder
1 tbsp black pepper
2 tsp salt
1 tsp garlic powder
1 can pop
2 cups BBQ sauce
Instructions
Preheat oven to 300F.

In a separate bowl, mix the chili powder, black pepper, garlic powder and salt.

Cut the roast into 3 inch sized chunks. Rub the spice blend all over all the pieces of pork.

Mix the pork roast with the chopped onion and peppers in a large dutch oven or other suitable roasting pan. Pour the pop all over the pork and cover with a lid.

Bake in the oven for about 4 hours, or until the pork is so tender that it will easily shred with a fork.

Take out of the oven and use a turkey baster to remove the excess liquid. Use tongs to remove any bones and excess fat.

Use two forks and shred the pork meat into thin strands. Stir in the BBQ sauce so that the meat is thoroughly coated in the sauce.

Cover with the lid and place back in the oven for another 30 minutes.

Serve on a bun with extra sauce, cole slaw and pickles, if desired.
Nutrition
Per serving:
Calories: 217kcalCarbohydrates: 27gProtein: 15gFat: 6gSaturated Fat: 2gCholesterol: 46mgSodium: 966mgFiber: 2gSugar: 20g