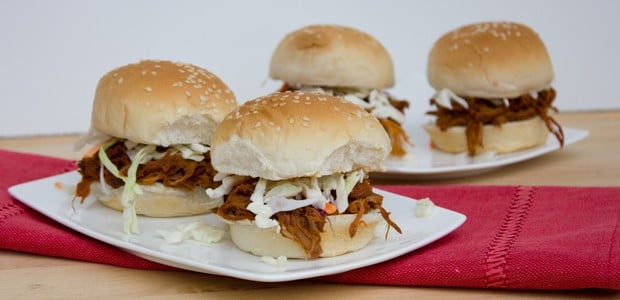 I love pulled pork.
Really, I do.
I have a serious weakness for the stuff. Scoop some pulled pork on a bun with shredded cabbage and I am one happy man!
Now, pulled pork, done in the smoker with a nice spice rub and homemade BBQ sauce – that is dynamite. Occasionally though, there is the need for something quick and easy. Enter these pulled pork sliders!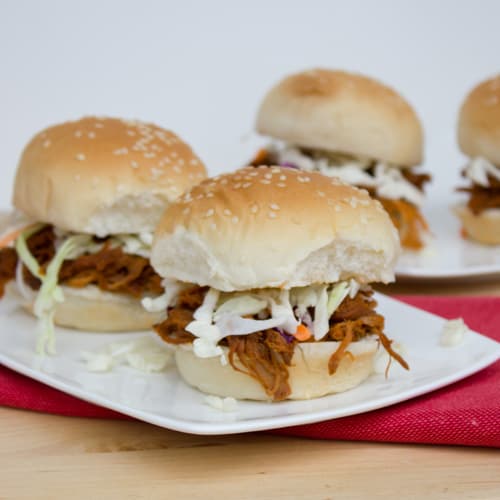 The recipe for this pulled pork could not be simpler. From the list of ingredients to the cooking method, this pulled pork is a snap. The pulled pork is cooked in the slow cooker with pop. Yes, that's it – POP!
You pick the kind- Coke, Pepsi, Root Beer, Dr. Pepper, Vernors!
After 8 hours in the slow cooker, shred the meat and mix it with your favourite BBQ sauce. Another hour or two in the slow cooker and you are rockin' and ready to put those sliders together.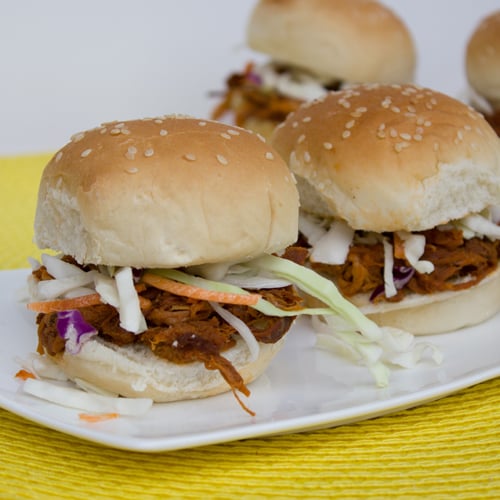 Many have heard the list of ingredients and were skeptical. Actually, I was, until I tried it. I never expected them to be as good as they are. Every time I make them they are a HUGE hit. Give them a try – you will not regret it!
Pulled pork sliders are great to make for game night. They are perfect party food!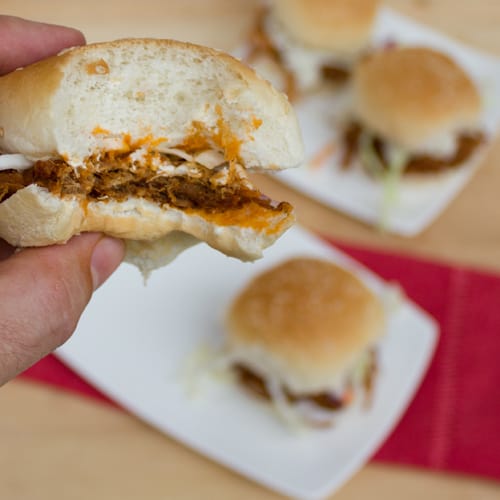 Pulled Pork Sliders - easy to make with pop and BBQ sauce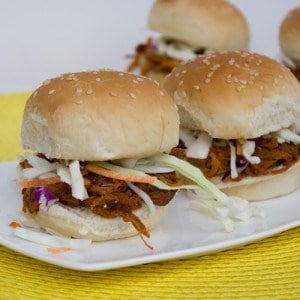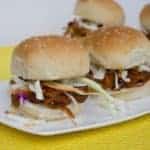 Print
This pulled pork on a slider bun is a snap to make with very few ingredients and cooked in the slow cooker. Great for game night and the perfect party food.
Servings: 24 sliders
Ingredients
a 3-5 pound pork roast (shoulder, butt, etc.)
2-3 cans of pop (cola, root beer, Dr. Pepper)
1-2 bottles of BBQ sauce
cole slaw mix or shredded cabbage
24 slider buns
Instructions
Place pork roast in a slow cooker and fill with pop so that the roast is totally covered in the pop.

Cook on low in the slow cooker for 8 hours.

Remove the pork roast from the slow cooker and empty the pop out.

Shred the pork with two forks.

Place the shredded pork back into the slow cooker and mix with the BBQ sauce. There should be enough BBQ sauce so that it is quite 'saucy'.

Cook on low for 1-2 hours.

Scoop some pulled pork on a slider bun with shredded cabbage.